Get an annual Advantage subscription for as low as $81
This is a challenging time for independent insurance agents, and the next six to twelve months are somewhat uncertain. To support you during these times, Big I New Jersey created a program to give you a low cost-of-entry into a highly visible 12-month marketing opportunity that will keep you in front of insurance shoppers.
Exclusive to Big I New Jersey, members can save an additional $200 off an annual Advantage subscription. This offer can be combined with some other current promotions TrustedChoice.com is offering and the Trusted Choice Marketing Reimbursement Program, which offers a $250 reimbursement for eligible agencies.
Now, more than ever, it is critical for independent agents to continue to market themselves to prospective insurance shoppers to attract new business. An Advantage subscription on the industry's leading website will give your agency this visibility and allow TrustedChoice.com to recommend you in real-time to preferred online insurance shoppers.
But, hurry! This promotion will only be available for a limited time.
Get set up with your new Advantage profile by contacting your New Jersey Senior Account Executive, Amy Smith at (860) 836-1658 or Amy.Smith@TrustedChoice.com. You can also schedule a time to talk here.


The many ways you can save:
See all of the Advantage subscription features and options here.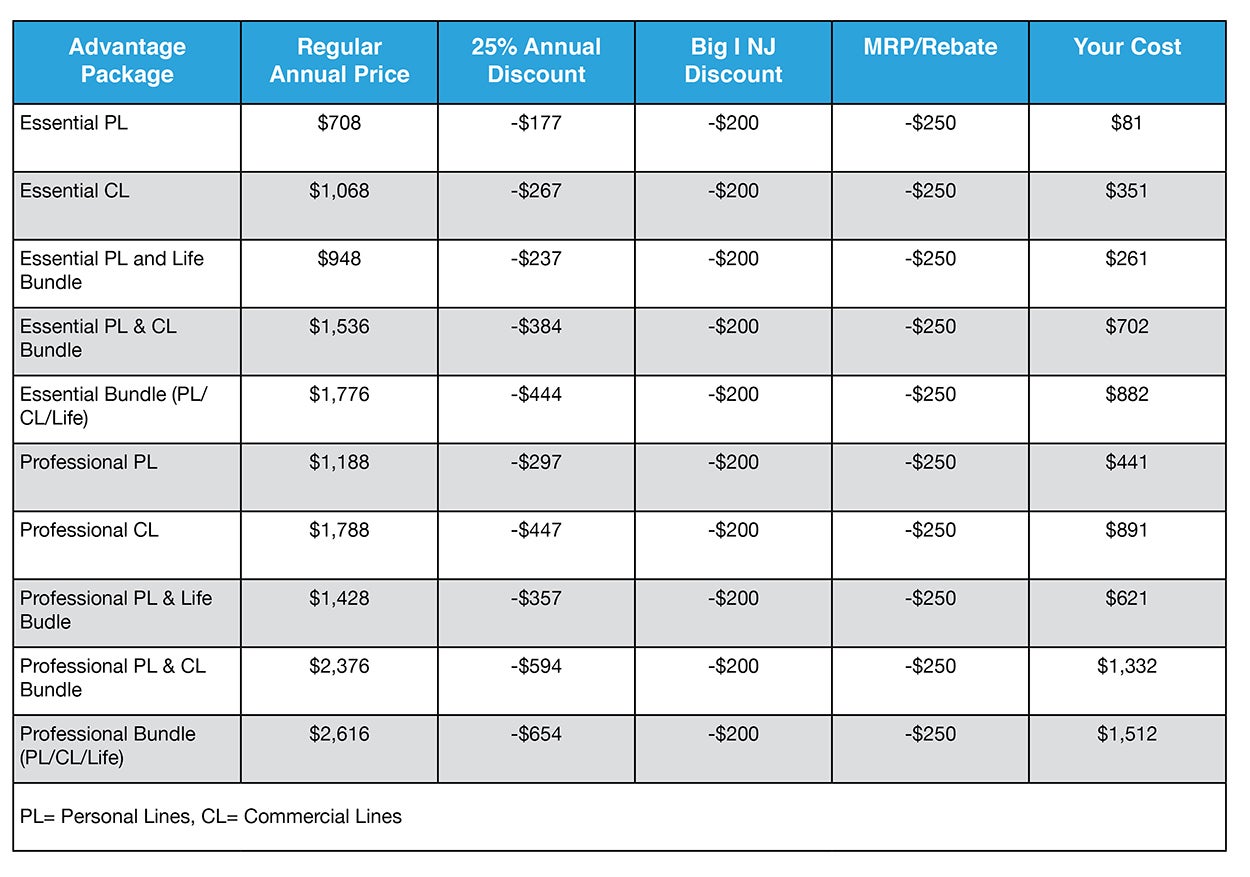 Disclaimer: One (1) $200 discount is valid for any Big I NJ agency member in good standing that is not currently an Advantage Subscriber. Packages cannot be bought separately and must be either bought single or in a bundle option as listed above. Discount cannot be used to subscribe additional locations or branches. Agency must subscribe to the annual contract to be eligible for the discount. Additional $250 in marketing reimbursements from Trusted Choice national is subject to eligibility per the 2020 MRP Guidelines. Discount is available for a limited time only. Non-transferrable. No cash value.