Annuity Rates
(Your complete guide to annuity rates.)

Uncle Sam wants us to save for retirement. That's why annuities have special features and tax benefits. They are intended to provide retirement income.
How do you know if an annuity is right for you? How do you compare annuities? One place to start is understanding annuity rates.
Contact a local independent insurance agent. Ask them if an annuity is right for you.
First Things First.. What's an Annuity?
Annuities are policies issued by insurance companies. They pay a regular guaranteed income for life or a period of years. You buy an annuity policy by making a single payment or a series of payments.
Deferred annuities accumulate money for a period of time before the policy pays income.
Immediate annuities start paying income right away.
Traditional qualified annuities are part of a traditional pension plan or IRA. They are purchased with before-tax dollars. Roth-qualified annuities are part of a Roth IRA or pension plan. They are purchased with after-tax dollars. Non-qualified annuities are personally owned and paid for with after-tax dollars.
Annuity Rates and Fixed Deferred Annuities
Fixed deferred annuities accumulate money at a stated rate of interest. "Annuity rate" is often used to refer to a fixed deferred annuity rate of interest. The rate is guaranteed for 1, 3, 5, 7 or 10 years. Fixed annuity interest rates are generally higher than CDs or savings accounts. The rate of return you get is based on the insurance company's portfolio of US government and highly rated corporate bonds.
The insurance company absorbs any market risk. What's the benefit? You are getting the returns of a large, diversified and professionally managed bond portfolio with no market risk.
Fixed deferred annuity rates change regularly. Annuity rates are one way to compare fixed deferred annuities offered by different insurance companies.
5-Year CD vs. 5-Year Fixed Deferred Annuity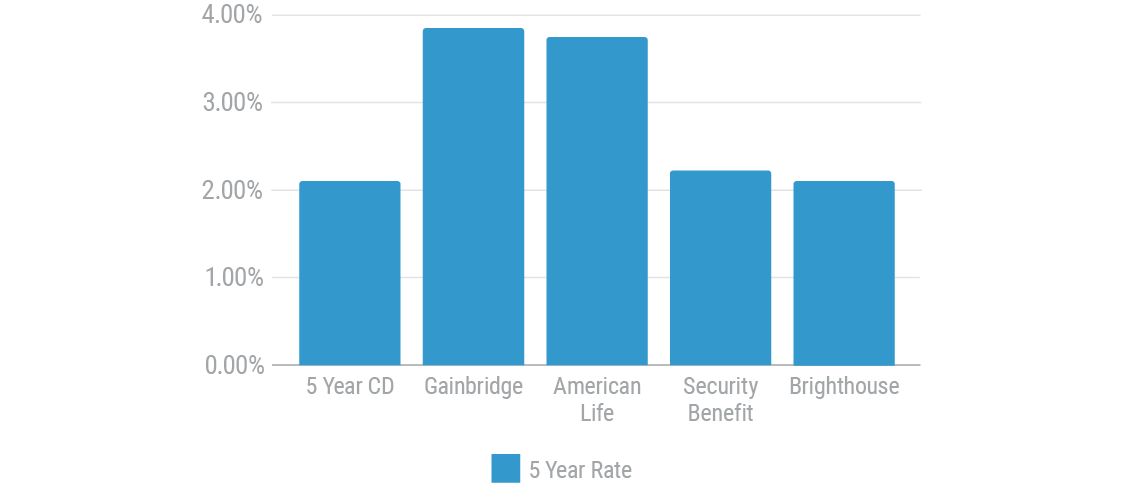 Highest Published 5-Year Rate as of 10/28/19
Get Annuities from the Experts
Our independent agents shop around to find you the best coverage.
Annuity Rates and Fixed Immediate Annuities
Fixed immediate annuities start to pay income 30 days to 1 year after the purchase payment is made. The annuity rate is applied to the purchase payment to calculate the guaranteed income.
Immediate annuity rates are based on age, sex, and interest rates. Some insurance companies offer more competitive rates than others. Here's an example:
Sample Life-Only Payout for Male Age 65, $100,000 Single Premium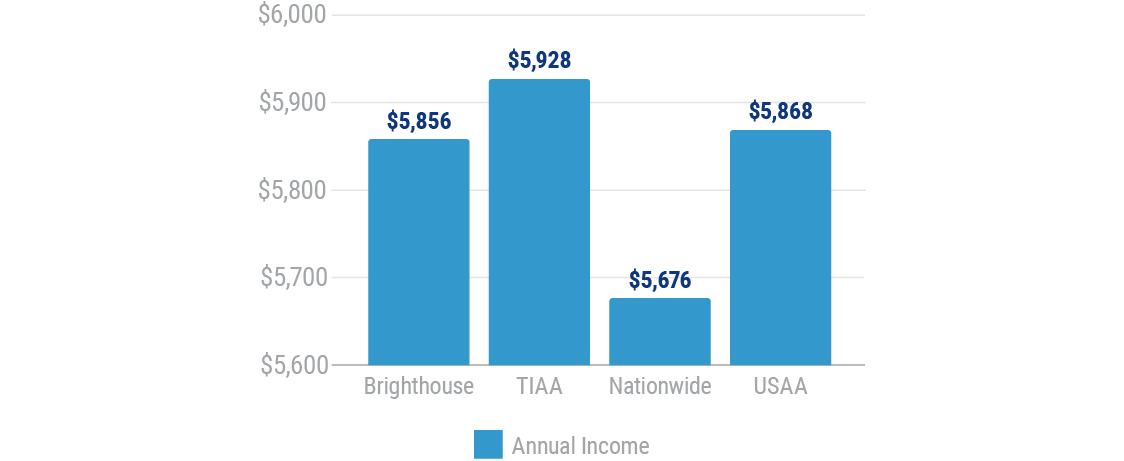 Available as of 10/28/19. For illustrative use only.
Ratings
Fixed annuity rates are often impacted by an insurance company's financial strength rating. A company with a lower financial strength rating might be offering a better fixed deferred or immediate income rate. That's not necessarily bad, but make sure you make an informed decision.


Highest Ability To
Meet Obligations
Medium Ability To
Meet Obligations
Lowest Ability To
Meet Obligations
A.M. Best
A++ to A-
B++ to B-
C++ to C-
Moody's
Aaa to Aa
A to Baa
Ba to Caa
S&P
AAA to A
BBB to B
CCC to C
Fitch
AAA to AA-
A+ to BBB-
BB+ to CC
What Next?
If you are considering purchasing an annuity, it pays to shop around. Talk to your independent insurance agent. They can simplify the process for you.
TrustedChoice.com Article | Reviewed by Jeffrey Green
©2023, Consumer Agent Portal, LLC. All rights reserved.
Sources
The advisors guide to annuities John Olsen
Brighthouse Financial
Nationwide
TIAA
USAA