Life Annuity Specialist
(The good news is, you're getting very close)

So you've been doing some research on all types of different annuities. You've been both online and offline, talked to friends, family, neighbors, co-workers, and even strangers on the street.
And who could blame you, you're obviously excited about the investment opportunity that annuities can afford you. But where do you go to get all your questions answered? And how do you find the right company?
It's a safe bet that an independent insurance agent is the right call, but it's a good idea to know about all of your options so you can decide who is right for you.
How Do I Find an Annuity Specialist?
There are a million ways to find the right annuity specialist, and you've probably already tried a few of them. But if you want the best results, you'll want to follow the best options, like:
Just ask: You could, of course, just call your current insurance provider and ask for one. Almost any major insurer will have agents licensed to sell annuities. However, going this route means you're locking yourself into one company's agents and one company's offerings. You won't be offered products from competing companies, and you'll probably be assigned to the next available agent licensed to sell annuities. That does not mean that person will be an annuity specialist.
Ask Google: This is what many people do, but doing a general web search is going to turn up a multitude of websites, some of which will be ads and many of which won't be relevant or helpful. Fine-tuning a web search to find an annuity specialist won't be easy. It's safe to say that this is the hard way.
Use the TrustedChoice.com search tool: Simply make your choices and follow the prompts. (Don't worry — your information is safe and won't be sold or shared without your consent.) You'll then be presented with a list of recommended agents in your area. You can browse through these agents, select the ones offering annuities, and click the button to contact them. You'll receive a phone or email response from them shortly.
Use another search tool: In the following section you'll be told about two more search engines provided by organizations that certify annuity specialists. Those search engines are likely to be your surest way of finding a true annuity specialist.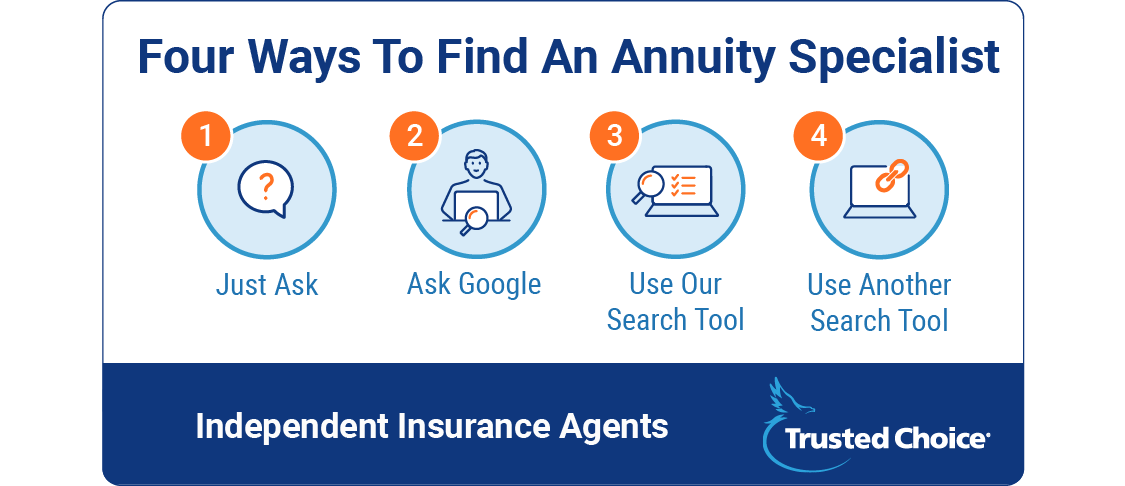 However you go about finding them, every agent you find in your searches should be able to sell you an annuity. However, that doesn't mean they're an annuity specialist, or even that they're highly experienced with annuities.
Begin by simply asking an agent if they're an annuity specialist. If they say they are, then proceed to the next section below.
Get Annuities from the Experts
Our independent agents shop around to find you the best coverage.
How Do I Know if an Annuity Specialist Is Qualified?
Anyone licensed to sell annuities can claim to be a specialist, so how do you know for sure who is and who isn't? Two certifications are offered for annuity specialists, by two separate industry organizations.
If you want to be sure the person you're dealing with knows annuities inside and out and has extensive experience dealing with them, you want to choose an agent who has one of the following certifications:
Certified Annuity Specialist: This certification is offered by the Institute of Business and Finance (IBF) [Link to "Certified Annuity Specialist"]. This is a rigorous certification that requires extensive training and industry experience, along with continuing education requirements. You can be sure that any agent holding a CAS certification is indeed an annuity specialist who is up to date on all types of annuity products and can advise you on what would best suit your needs. Note that IBF has a search tool that allows you to find CAS-certified specialists in your area. Simply click here [Link to "Find an Advisor"] and narrow your search by clicking the "Annuities" checkbox to find an annuity specialist in your area.
Life and Annuity Certified Professional: This certification is offered by the National Association of Insurance and Financial Advisors (NAIFA) [Link to NAIFA main page]. This certification has requirements comparable to the Certified Annuity Specialist, so either certification is equally reassuring that the agent you're dealing with truly is an annuity specialist. Note that NAIFA maintains a registry of LACP-certified agents that you can search by clicking here [Link to NAIFA LACP search page] to find an annuity specialist in your area.
Why Choose an Independent Insurance Agent?
Independent insurance agents simplify the process of shopping for and comparing annuities. They will explain the complex terms for you, cut through the jargon, and make sure you understand the fine print.
But perhaps most importantly, they work for you — not one insurance company. They can compare annuity products from many companies and pick the ones that are best for you at the best possible price.
They'll also be there for you in the future if your needs change or questions arise. They work for you, and their only job is keeping you satisfied now and in the future.
Looking For More Information?
If you're considering an annuity, you'll find a massive library of additional information available here to help guide your decisions.
©2023, Consumer Agent Portal, LLC. All rights reserved.
https://icfs.com/find-financial-advisor
https://icfs.com/certified-annuity-specialist
https://www.naifacertcom.org/