ATV Liability Insurance
(Making sure you're covered properly.)

What can happen out on the trail or in the backwoods? Almost every driver of an off-road vehicle has experienced a mishap or injury at one time or another. ATV liability insurance is designed to help you pay for the expenses associated with an accident, whether people, property, or both are involved.
Contact an independent agent today for advice on the type of coverage you should buy. Whether you're looking for 3-wheeler insurance or coverage for your UTV, an independent insurance agent can help you choose how much liability insurance you need.
What Does Liability Insurance Cover?
Property damage: Liability insurance pays for repairs up to your defined limits in the event of collisions and damage to the other rider's quad.
Bodily injury: Liability insurance pays for the associated bodily injury costs, up to your limit, if an accident occurs and the other rider needs to seek medical attention.
Legal fees: Liability insurance often covers your legal defense should a lawsuit be filed against you after a collision.
What Is Liability Insurance?
Liability is defined as legal responsibility for your acts or omissions. You can be held responsible for an accident that causes harm to another person or their property by negligence, aggression or human error. ATV liability insurance protects you from high costs associated with accidents and injury.
If you have questions about ATV liability insurance, the minimum requirements in your state, or how much coverage is right for you, talk to a local agent. An independent agent will work with you to review your risks and discuss coverage plans that meet your needs.
What Are the Limits on Liability Coverage?
Policies have three primary limits:
Bodily injury for one person
Bodily injury for all persons involved
Property damage
You choose limits in these areas when you purchase your quad or 3-wheeler insurance plan.
If your policy has a 30/60/15 limit and you have an accident, your insurance plan will pay up to $30,000 for one person's injuries, up to $60,000 for all injuries in the accident, and up to $15,000 for property damage.
In a scenario where you cause an accident that results in $100,000 in injuries to the other rider and a passenger, and $20,000 in property damage, altogether the cost of the accident is $120,000. This is illustrated in the following example: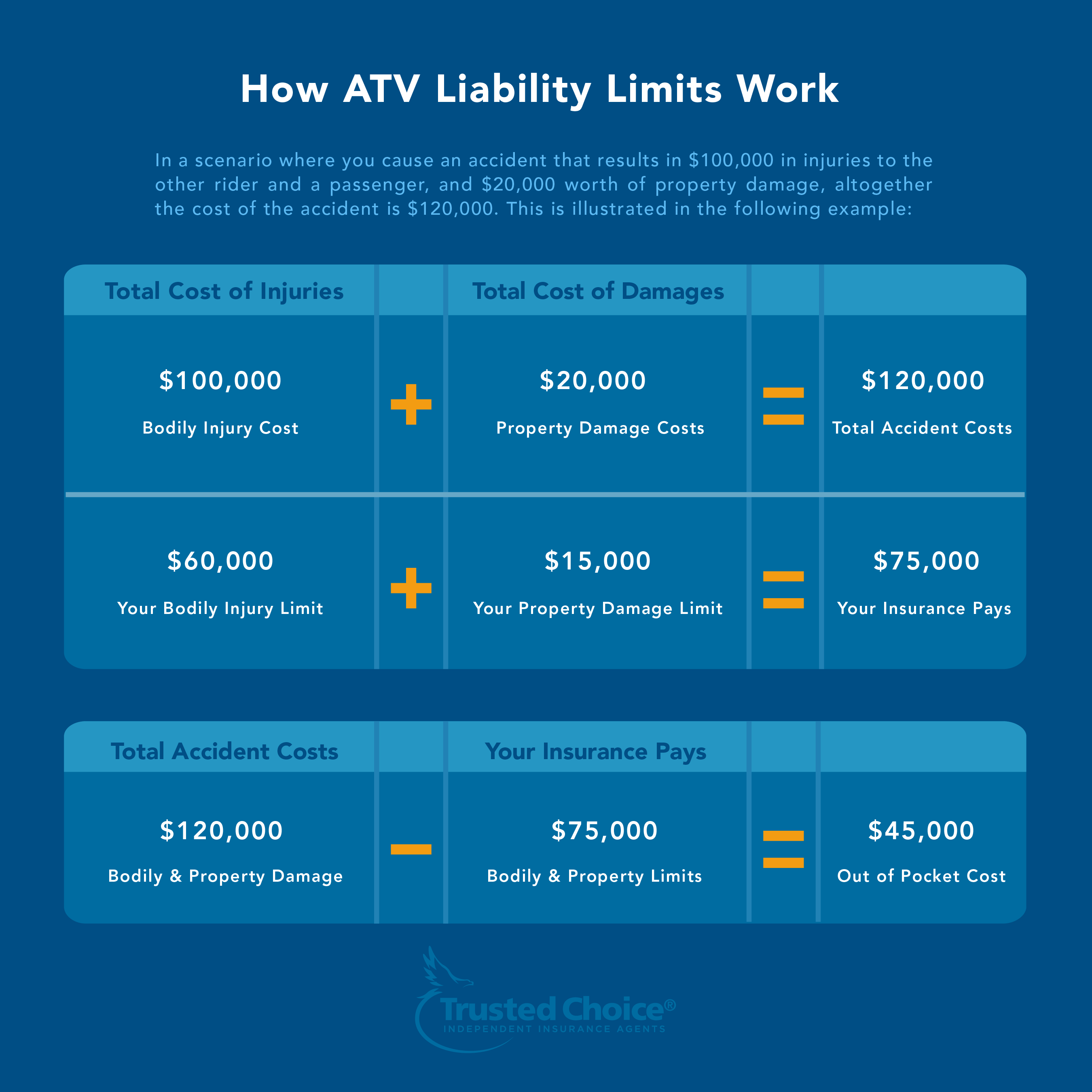 Because the cost of bodily injury is $40,000 more than your limit, and the cost of property damage is $5,000 more than your limit, you would owe $45,000 out of pocket to cover the cost associated with this claim.
Get Extra Protection with an ATV Umbrella Policy
The costs associated with injury, property damage and legal fees can add up fast, and can quickly soar past the limits you have set on your policy in the event of an accident. To protect yourself from incurring costs that exceed the limits of your liability policy, you may wish to consider purchasing an umbrella policy.
In the example above, an umbrella policy would kick in after you reach your liability limits, covering the remaining $45,000 you owe.
How Much Does Liability Insurance Cost?
The cost of ATV liability insurance will depend on several factors, including the limits you set and your deductibles. To save money on off-road vehicle insurance, consider choosing a quad or 3-wheeler with a less powerful engine, because this can have a dramatic impact on the affordability of your insurance.
You can also choose higher deductibles, maintain a good driving record, and ask your agent for discounts that may be available in order to make your coverage more affordable.
Find an independent insurance agent today to learn more about ATV liability insurance. Because these agents are independent, they can compare rates from multiple providers and help choose a plan that meets your needs and budget.
TrustedChoice.com Article | Reviewed by Jeffrey Green
©2023, Consumer Agent Portal, LLC. All rights reserved.