Cabin Cruiser Insurance
And how can you find the right coverage?

A cabin cruiser is similar to a yacht but smaller, easier to transport and store, and less expensive to purchase. At the end of the day, you still have a water vessel that needs protection from damage and accidents with a cabin cruiser insurance policy.
Whether you cruise on the water a few times a year or all year long, an independent agent can help you find cabin cruiser insurance that fits your needs and your lifestyle. Here's what to look for.
What Is Cabin Cruiser Insurance?
Cabin cruiser insurance will generally fall under a boat insurance or watercraft insurance policy. With this insurance, you'll have a combination of boat liability, property, and medical coverage that protects you from a variety of potential risks and scenarios that could result from using and storing your boat.
If you store your boat at your home, you may be able to get some limited coverage from your homeowners policy for damages from severe weather. Most likely, your homeowners policy will not provide enough coverage for your cabin cruiser, but it's worth looking into.
Cabin Cruiser Statistics
Even though cabin cruisers are typically used for leisurely boating, accidents still happen. The following are cabin cruiser accident stats in recent years.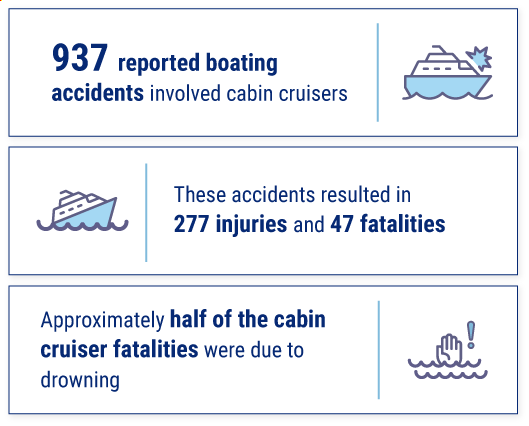 The top three causes of cabin cruiser accidents were improper lookout, operator inattention, and machinery failure
The three most common accident types were collision with another recreational vehicle, collision with a fixed object, and grounding
As you can see, there are some risks you take when you climb aboard your cabin cruiser and take to the water. Make sure you're protected from the unexpected by insuring your assets.
What Does Cabin Cruiser Insurance Cover?
A basic insurance policy will provide coverage for any of the potential events that could damage your boat. Whether someone is injured on your boat, you're in a collision, or a hurricane destroys your cabin cruiser, most policies include the following four coverages.
Medical coverage
Personal property
Damage liability
Bodily injury liability
Optional coverages include:
Uninsured/underinsured boater
Comprehensive coverage for equipment damage due to fire, theft, vandalism, weather, or transporting
Emergency assistance
Coverage varies by provider, so be sure to learn about all the options offered by each insurance carrier you're evaluating before you purchase. The lowest priced policies may not offer the coverage you want.
Save on Boat Insurance
Our independent agents shop around to find you the best coverage.
Is Cabin Cruiser Insurance Necessary?
While you may not be required by your state to carry boat insurance, some lenders require coverage on your cabin cruiser for the life of your loan. In addition, many marinas require boat owners to have insurance in order to dock their vessels.
Requirements aside, having cabin cruiser insurance is a good idea. New cabin cruisers can run about $50,000 — so it's a wise strategy to protect your investment.
Additionally, because cabin cruisers are designed to carry several passengers, you are likely to have guests on board with you. If someone were to be injured in an accident, you could be held liable for bodily injury or property damage.
Total damages caused by recreational boating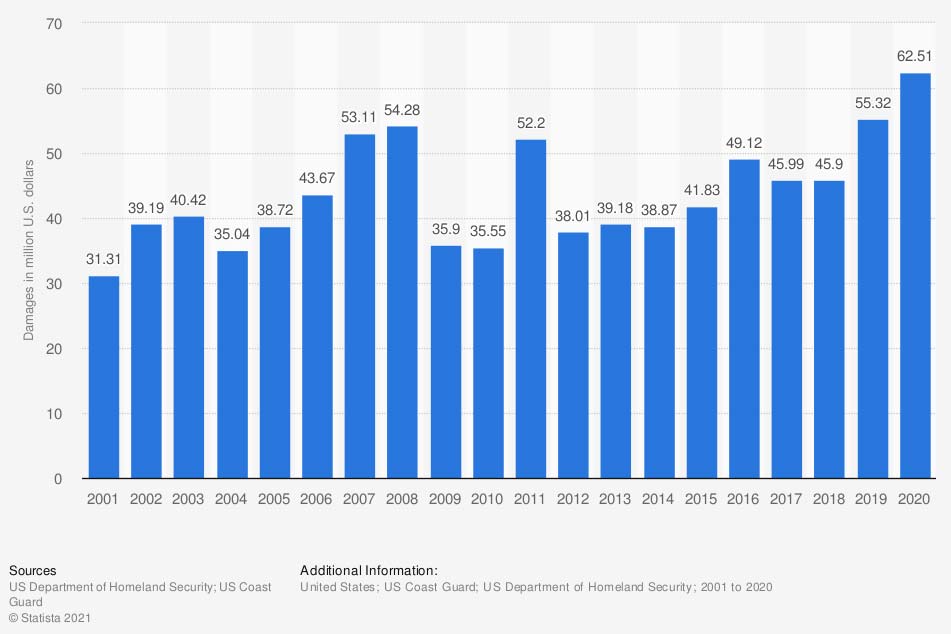 In recent years, recreational boating accidents have caused more than 62 million in property damage.
Is Cabin Cruiser Insurance Expensive?
The cost of your boat insurance policy may vary significantly depending on several factors. These include, but are not limited to the following.
The insurance provider
The value, size and horsepower of your boat
The value of the equipment you keep on your boat
Whether you choose actual value or replacement value coverage for your boat and equipment
The amount of your deductible
How and where you store your boat when it is not in use
Your driving record and claims history
Additionally, many insurance companies have several discounts available. You can usually receive lower rates when you have successfully completed a boating safety course.
Save on Boat Insurance
Our independent agents shop around to find you the best coverage.
Find the Best Cabin Cruiser Insurance Policy
Comparison shopping for the best boat insurance policy can be time consuming. You will need to provide each insurance carrier with a number of details that they need to provide you with an accurate quote.
The easiest route is to let an independent agent do this work for you. They'll chat with you, free of charge, about how you use your cabin cruiser and the amount of coverage you need. After, they will shop carriers and provide you with your options and advise you on the best coverage for you.
©2023, Consumer Agent Portal, LLC. All rights reserved.
https://uscgboating.org/library/accident-statistics/Recreational-Boating-Statistics-2020.pdf