Yacht Insurance
Finding the perfect coverage has never been easier.

Yachts are a luxurious way to be on the water, but owning a yacht means having the right insurance in the event of damage or being destroyed. Because of their price, repair or replacement is likely to be very expensive making the proper coverage crucial for boat owners.
Before using your yacht, an independent agent can work with you to create a customized yacht insurance policy to your specific watercraft, its value, and how you use it.
Boating Statistics
No one likes to think about the dangers of boating, but accidents can happen and it's best to be prepared in the event that you face unexpected hardship. Whether you hit another boater, have an incident with a passenger, or your boat is damaged while being transported or docked, lots of things can lead to a financial headache for you.
Here are some statistics about boating accidents.
Cabin motorboats, which include yachts, accounted for 14% of all boating accidents
Only about 20% of all boaters who drowned were on vessels larger than 21 feet
Operator inattention was cited as the leading cause of accidents involving cabin motorboats
What Is Yacht Insurance and What Does It Cover?
Yacht insurance is a specialized type of boat insurance for luxury boats. Yachts can be used for personal as well as commercial use, so insurance policies must be created to accommodate each of those needs.
While yachts, like most boats, depreciate over time, they still generally have a much higher than average value. Because of their high values, a standard boat insurance policy may not provide enough coverage for your vessel.
The components of yacht insurance are similar to standard boat insurance coverage.
Bodily injury and property damage liability: Covers the costs associated with injuries or property damage you cause to another person, as well as legal fees. If the liability limits in your yacht insurance policy are not adequate to protect your assets from a lawsuit, you may want to consider buying an umbrella liability policy, which provides a much higher liability limit.
Collision coverage: Pays for damage to your boat after a collision with another boat or object.
Comprehensive coverage: Covers non-collision damage or loss, including theft, fire, vandalism, or damage caused by an object other than another boat.
Additional yacht insurance options to consider
Uninsured/underinsured boaters insurance: Covers any damage or injuries from an accident with an uninsured or underinsured boater. Since boat insurance is rarely required by law, if you have a significant amount invested in a vessel, this is a good insurance option to discuss with your agent.
Medical payments coverage: Covers medical expenses and funeral expenses for anyone on that is injured, entering, leaving or while on your boat.
Equipment and personal effects coverage: Pay to repair or replace damaged or lost items such as gear, fishing equipment, cameras, and other personal belongings.
An independent agent can work with you to determine the appropriate coverage for your needs. Because these agents work with multiple insurance companies, they can help protect all of your interests with a broad range of insurance coverage, all from one agency office.
Is Yacht Insurance Different from Standard Boat Insurance?
Yacht insurance provides similar types of coverage as standard boat insurance. However, yachts have some specific differences from standard boats, and yacht owners generally need certain protection that regular boat insurance does not provide.
For example, a yacht policy tends to restrict hauling on a trailer to only a few hundred miles, while boat insurance tends to provide coverage for trailering over longer distances.
Also, deductibles for yacht policies are very flexible, instead of having set amounts like $250, $500 or $1,000. In addition, yacht policies can include coverage for raising and removing a sunken yacht, while boat policies generally do not include this coverage.
Is Yacht Insurance Required?
Yacht insurance is not typically required by state law. However, sailboats often do have insurance requirements. So, if you have a sailing yacht, insurance may be required by law.
Yacht club membership statistics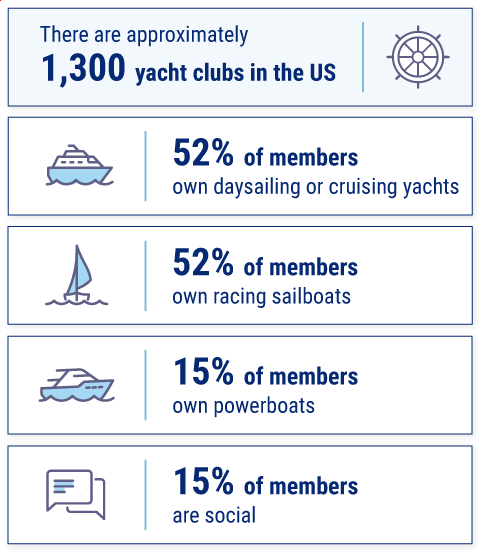 You will also need to buy insurance to protect your investment in your vessel if you finance the purchase of your yacht through a lender.
Many marinas require that you have insurance in order to slip your boat at the marina. Check your local marina's guidelines, and be sure to learn about your state's laws and regulations.
Do I Need Yacht Insurance?
A yacht can range in price from $300,000 to several million dollars. Purchasing one is a big investment and having the ability to insure your investment can ease your mind if there's an accident or your yacht needs repairs or replacement.
Insuring your yacht is also not just about the boat. In the event that an injured party files a liability claim against you, you will want to have enough coverage in place to protect your boat, home, savings, investments, and future income.
Assessing your financial situation will help you to determine how much yacht insurance you need.
Save on Boat Insurance
Our independent agents shop around to find you the best coverage.
How an Independent Insurance Agent Can Help with Yacht Insurance
A local independent agent will talk with you, free of charge, to learn about your yacht and insurance needs. They'll gather multiple quotes for you from several different companies and help you compare options and rates. Your agent can assist you with every aspect of your insurance and will be your point of contact if you need to file a claim.
An independent agent can help to prevent gaps in coverage that leave you exposed to risk. You will know you are getting the right coverage for your needs, and that you are not paying for any unnecessary coverage.
©2023, Consumer Agent Portal, LLC. All rights reserved.
https://www.ussailing.org/wp-content/uploads/2018/01/Demographics2010.pdf