Business Insurance Claims FAQ
(All your executive questions answered)
Whether something crazy happened at the office today, or you're just trying to prep in advance, it's important to know how to properly handle a business insurance claim.
So let's walk through a few Qs and As to get you on the right track. And if you have any other questions after we're done, call your insurance agent—they're always ready to help.
When Should I File A Business Insurance Claim?
Immediately after the incident. Easy as that. The sooner you file a claim, the sooner you'll be compensated and can get things squared away. Then, back to business as usual.
Save on Business Insurance
Our independent agents shop around to find you the best coverage.
How Do I File A Business Insurance Claim?
The first step is the easiest: Get ahold of your insurer. Most companies make it pretty simple to do so, by:
Calling the insurance company by phone
Logging into your account online
Contacting your insurance agent
And when you're ready, make sure you have the following info handy:
Your policy number
The date and location of the incident
Your contact information and information about all others involved
A description of the incident
Other details as requested by your insurance company
Your insurance company will review your request, evaluate the damage, and determine how much compensation is owed to your company.
In some cases, the insurance adjuster will be able to cut a check on-site after reviewing the damage. JACKPOT! But for larger, more complex claims, payment processing may take a bit longer.
How Are Replacement Values Determined in Property Damage Claims?
When you file a property damage claim, your compensation depends on whether your policy provides for replacement cost value (RCV) or actual cash value (ACV).
If you have an RCV policy, you will be reimbursed in one of two ways. The first is for the cost of replacing damaged/destroyed property with a new item of the same kind and quality.
The other is for the cost to repair the property to its original quality. It all comes down to which option the adjuster feels is most appropriate, given the damage.
But if you have an ACV policy, your adjuster will first determine if the property can be repaired. If so, you will be compensated for the cost to get it back to where it was before the incident.
If not, your insurer will consider the original cost of the property and subtract a bit for deterioration/depreciation to determine its actual worth. And that is the amount you will be compensated.
What If My Business Is Sued in a Liability Lawsuit?
First off, you should notify your insurance company right away. Your insurer will then take a close-up look at your coverage and determine whether you have the right liability insurance to cover against the suit.
If you do, your insurance company will begin an in-depth investigation into the claim and pair you up with some proper legal counsel. Then your attorney will work to settle the dispute in a way that pleases everyone.
Save on Business Insurance
Our independent agents shop around to find you the best coverage.
What If an Employee Is Injured at Work?
Your immediate priority is the care of the injured employee. If medical attention is required, they should be transported to the nearest emergency room. Make sure you properly document the whole incident, too—when, where, why, what, who and anything else you can think of.
Any follow-up treatment, or initial treatment if the incident was only a minor, non-threatening injury, should be handled within the network of medical providers listed by your workers' compensation insurance policy.
When you file a claim, you will need to provide your insurance company with:
The injured employee's name, contact information and wage information
A written statement documenting how they were injured
Witness statements and accident scene information
The name(s) of any medical provider(s) who treated the injury
Photographs of the object that caused the injury, if applicable
Your workers' compensation insurance company will then work with you and your employee to handle any ongoing treatment needs for the injury.
What If I Have More Questions?
You probably will—there's just no way we could cover every unique business insurance claim question here.
But your local independent insurance agent is a super-great resource who would be happy to explain your business insurance coverage, the claims process, and pretty much anything else insurance-related you can think of.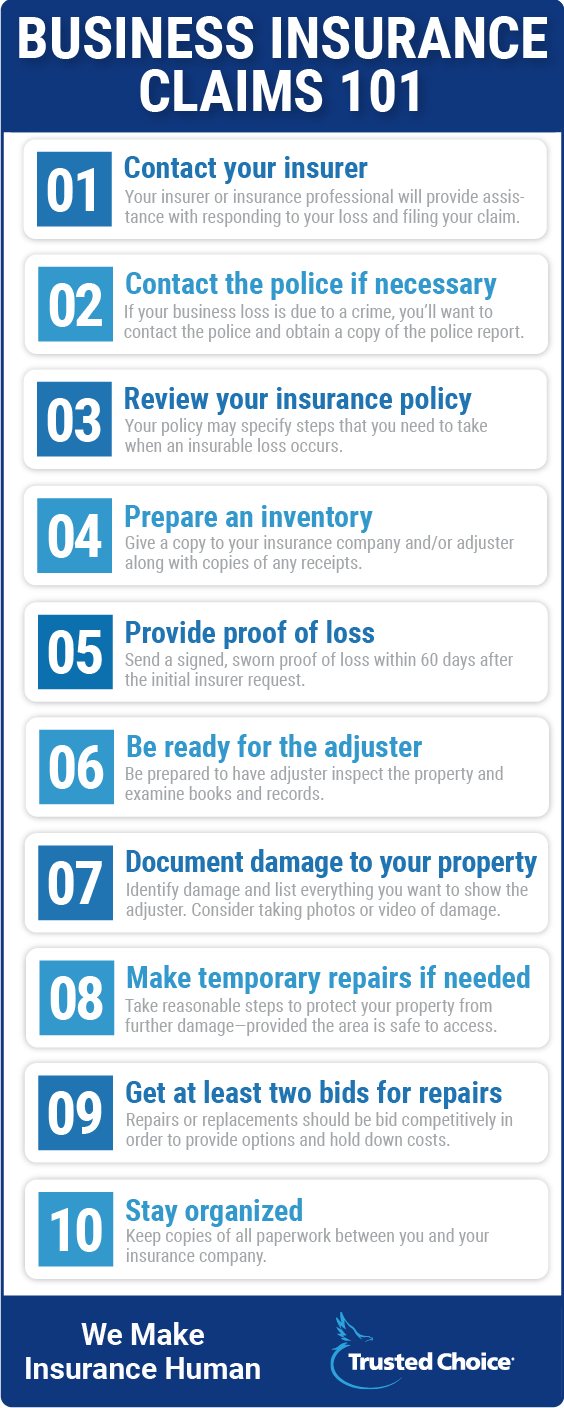 TrustedChoice.com Article | Reviewed by Paul Martin
©2023, Consumer Agent Portal, LLC. All rights reserved.