Cheap Business Insurance
(Because protected and "budget-conscious" is a win-win.)

When you're in the business of making money, saving money is just as important. But before you go searching for business insurance, we need to warn you: Cheap insurance comes at a cost. And it can be a big one, too.
Luckily, our independent insurance agents are here to help you find the best coverage at the best price, without costing your business a ton of money and heartache. But first, let's talk more about why cheap is bad.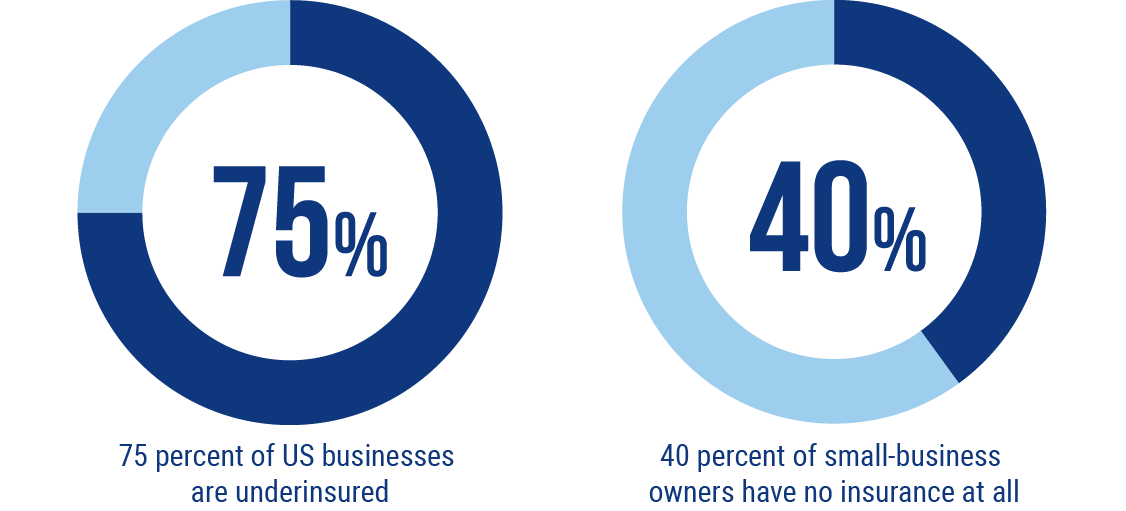 Save on Business Insurance
Our independent agents shop around to find you the best coverage.
Why Cheap Insurance Is Never Better
It's like every wise father-in-law always says, "You get what you pay for." This goes for insurance, too, if you cut the wrong corners, your business will definitely pay for it.
As great as saving money is, if your business catches on fire and you don't have the proper coverage because you wanted to save a couple of bucks, you may literally watch it all go up in flames.

But there is a way to save money on your business insurance AND get the coverage you need. And we're here to help you find it.
Where to Find Cheap Business Insurance
First of all, we don't want you to have cheap insurance. No, we're not trying to be mean. We're trying to help. We want you to have proper business coverage that you pay less for. Let's just call it the "right" insurance from here on out.
Finding the right insurance is all about going to the right place. A simple Google search will pull up page after page of insurance companies claiming to offer the cheapest and greatest insurance, but how do you know what you're really getting? The answer is you don't. And some places are better than others to look for insurance.
Online vs. through an agent: We love the Internet just as much as the next guy or gal, but you lose the personal touch of working hand-in-hand with an agent who will also serve as a trusted advocate. An algorithm can calculate your risks, but only an agent who has been shopping for business insurance for years will know the secret ways your business can cut costs. Plus, the way they can get your costs so low is by lowering, or even completely removing, certain coverages. And that's where things can get messy.
Direct vs. through an agent: If you were buying a house, would you walk into a room full of realtors and let them start throwing home choices at you? No. You'd find someone you trust, explain your dream home to them, and work closely with them to find exactly what you're looking for.
Buying insurance for your business is no different. While you can work directly with an insurance company, their agents have no ties to you or your business. You're just another sale.
However, our independent insurance agents are in it for the long haul. And they're not there to push a certain company's coverage. With the freedom to shop multiple companies, they'll help find whatever works best for you.
Tips for Cutting Costs on Business Insurance
Our job here is to help you find the right business insurance, and that means finding you the right price. Honestly, we just love talking about cutting costs with business insurance. And it's so easy, too.
A little bit of this, and a little bit of that, and you could be saving thousands. A few tricks to helping you lower your premium without missing out on valuable coverage include:
Raise your deductible: If your business policy has a $1,000 deductible, ask your agent to provide you with a quote for a $5,000 or $10,000 deductible to significantly lower your premium.
Insure property using actual cost value: If you're working out of an old building that may benefit from catching on fire, consider insuring the actual cost value of the building vs. the cost to rebuild.
Package it up: Package policies, like a business owners policy (BOP), are often cheaper than individual coverage and a great option for small to medium businesses.
Create a safe workspace: Install sprinklers, fire alarms, and security cameras, and show that you're working hard to prevent a potential insurance claim.
Work closely with an insurance agent: Specifically one that specializes in insurance for your type of business. They'll know insider money-saving secrets you don't.
Hopefully you noticed we didn't mention liability insurance. That's because liability is one part of your policy you don't want to mess with. So don't even think about touching it!
Save on Business Insurance
Our independent agents shop around to find you the best coverage.
What's So Great about Independent Insurance Agents?
You know better than anyone else that experts in certain fields exist for a reason. Independent insurance agents are like personal consultants hired by your company to create efficiency in your business insurance at the best possible cost.
They'll work with you to understand your business and the risks at hand, and they'll shop different insurance carriers to find a policy that fits your needs.
Even better, they're local, so they'll understand the business scene in your state and know exactly where you can cut back and where you should boost up.
They'll then deliver it on a silver platter so you can go back to making more important decisions, like whether or not to hire that new HR manager.
TrustedChoice.com Article | Reviewed by Paul Martin
©2023, Consumer Agent Portal, LLC. All rights reserved.
https://newsroom.thehartford.com/releases/the-hartford-reports:-more-than-40-percent-of-small-businesses-will-experience-a-claim-in-the-next-10-years
https://www.business.com/articles/to-file-or-not-to-file-a-business-insurance-claim/