Simplified Employee Pension Plans
Finding the Best Simplified Employee Pension Plan
(To help retain your talented employees)

Employer contributions that go towards your employees' future retirement plans can be a great way to retain top talent. Employer contributions can help workers grow their retirement savings and make it easier for them to retire when the time comes.
It is important to find the right type of retirement offering for your business. An independent insurance agent can advise you with the proper simplified employee pension plan that suits the financial needs of your business and your employees.
Save on Business Insurance
Our independent agents shop around to find you the best coverage.
What Is a Simplified Employee Pension Plan?
A Simplified Employee Pension Plan (SEP) makes it easier for employers to invest money toward the retirement of their employees, as well as toward their own.
The savings can accumulate in the individual retirement accounts or annuities (IRAs) that are set up for each employee and can only be accessed once the employee is finished working.
Are Simplified Employee Pension Plans Mandatory?
No. Just as it's not mandatory to offer any sort of retirement plan or contributions, SEPs are not required by law. If you are considering the growth and retention of your employees, then a SEP or retirement plan will aid in the process.
Why You Should Offer a Simplified Employee Pension Plan
A SEP IRA is as easy to put in place as a traditional IRA. After the initial contribution amount is set up, the SEP IRA does what it is assigned to do.
There are no filing requirements like in a 401k plan, and there are fewer record-keeping regulations than other retirement plans. A SEP is meant to be a simple retirement option for your employees.
A key advantage of an SEP is the high annual maximum contribution limit. Annual contributions by an employer to an employee's SEP IRA can be up to whichever is less: 25% of total compensation or $55,000.
What Is the Difference between a Simplified Employee Pension Plan and a SIMPLE IRA Plan?
While a business of any size can use an SEP, to qualify for a SIMPLE IRA (Savings Incentive Match Plan for Employees Individual Retirement Account), a business must have 100 employees or less.
With an SEP IRA, only the employer can contribute to the account, and every employee receives the same percentage of contribution.
For a SIMPLE IRA there are two contribution formulas that can be used:
Option 1: Matching contribution up to 3% of an employee's compensation.
Option 2: A 2% nonelective contribution for each eligible employee. This means the employer will pay regardless of whether the employee makes their own contribution towards the account.
The maximum employee contribution for a SIMPLE IRA has a $12,500 annual limit, or $15,500 limit if over the age of fifty.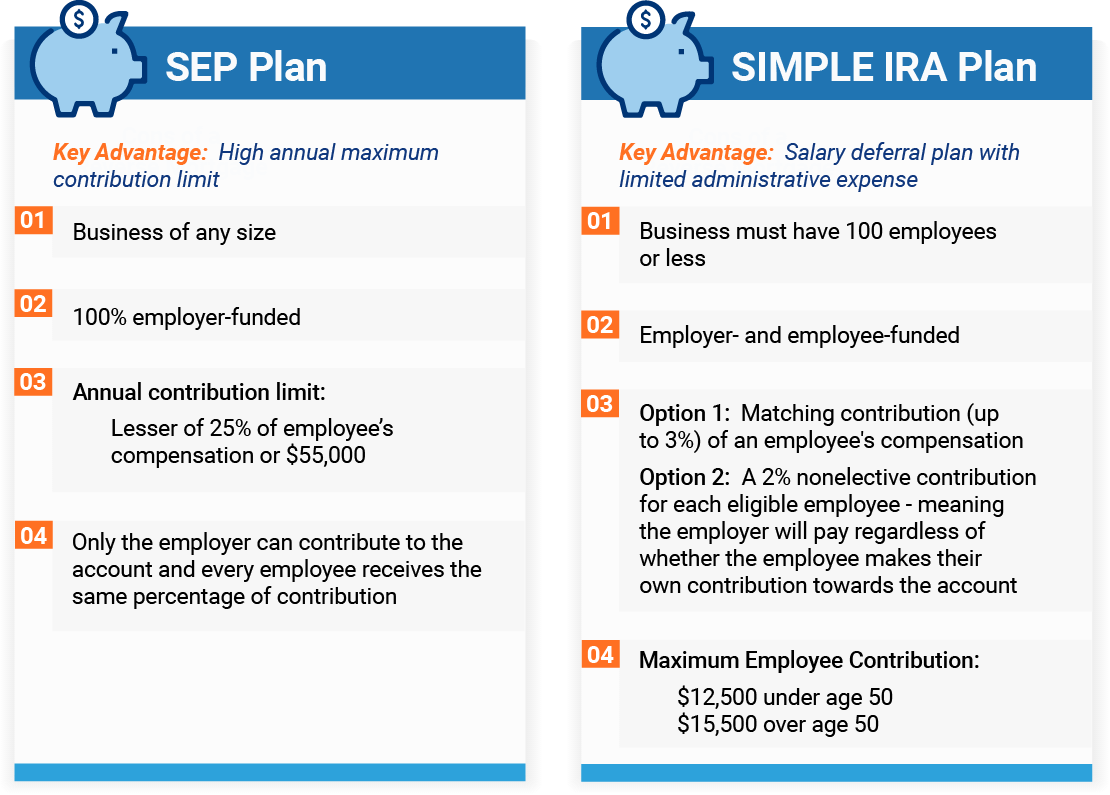 How Will a Simplified Employee Pension Plan Affect a Paycheck?
Since only the employer can contribute to a SEP, it will make no difference in the employee's paycheck. However, as the business owner, you'll experience the benefit of this money being a pre-tax contribution.
Can You Do a ROTH and a SEP in the Same Year?
Since the SEP contributions are made by the employer, employees can also contribute to a ROTH IRA.
ROTH IRA: This is an individual retirement account. A maximum contribution of $5,500 per year or $6,500 if over age fifty can be made.
However, ROTH IRA contributions are limited based upon total adjusted gross income.
Total adjusted gross income: This is the total income reported that's subject to income tax.
If an individual makes more than $135,000 as a single filer or $199,000 as a married couple filing jointly in a year, they cannot contribute to a ROTH IRA.
Save on Business Insurance
Our independent agents shop around to find you the best coverage.
Benefits of an Independent Insurance Agent
Simplified Employee Pension Plans can be stressful and confusing. An independent insurance agent's role is to simplify the process. When it comes to employee offerings and your taxable contributions, it is important to be advised by a professional.
Independent insurance agents are there to make sure you understand the coverage you are receiving. They will carefully assemble a list of options and break down the insurance language so you can make an educated decision.
Finding and Comparing Quotes for Simplified Employee Pension Plans
Your independent insurance agent will review your needs and help you evaluate which type of SEP makes the most sense. They'll also compare policies and quotes from multiple SEP providers to make sure you get the most competitive pricing.