Classic Car Insurance
Cover your classic for its full value. But watch out for mileage limits.

You've spent a lot of time and money on your classic, antique, or vintage car. It's your pride and treasure. With all of that time and money invested in your classic car, you'll want to buy the appropriate insurance. Since regular cars devalue over time and classic cars typically increase in value over time, you'll want a specialty car insurance program to protect your cherished vehicle.
There are many insurance companies that offer classic car insurance. Some are large national carriers while others are smaller specialty companies. Talking with a trusted independent insurance agent can give you multiple options and can ensure that you're getting the exact coverage that you want, without overpaying.
Save on Car Insurance
Our independent agents shop around to find you the best coverage.
What Is Classic Car Insurance?
Classic car insurance is a specialty type of auto insurance that covers various types of classic and antique cars. Classic car insurance is similar to standard car insurance, but there are key differences that reflect the unique nature of classic cars.
The main difference with classic car insurance is how the car is valued. Standard auto insurance policies pay actual cash value, or ACV, on claims. Actual cash value takes depreciation into account on the value of the car. And since cars lose their value fairly quickly, this can result in a much lower claims check than what you paid for your vehicle.
What Qualifies as a Classic Car?
There are basically two definitions of classic cars:
1) The strict definition of a classic car in insurance
2) The commonly used word 'classic' to describe any type of older vehicle
Both definitions are used to describe vehicles that are at least 20 or 25 years old. But there are subcategories of vehicles that are used to describe different types of vehicles that are between 20 years old and over 100 years old.
In this article, the term 'classic car insurance' will be used liberally to describe any type of older vehicle, whether it's a true classic car, antique car, hot rod, modern collector car, or any of the other vehicle types that fall under the classic car umbrella.
Types of Classic Car Coverage
Since there is no standard definition of what a classic car is, other than that they are normally over 20 years old, each insurer may classify your vehicle a little differently. Normally, this won't affect your coverage, it's just that each insurance company handles these vehicle types a little differently.
Generally, the different categories of classic vehicles include: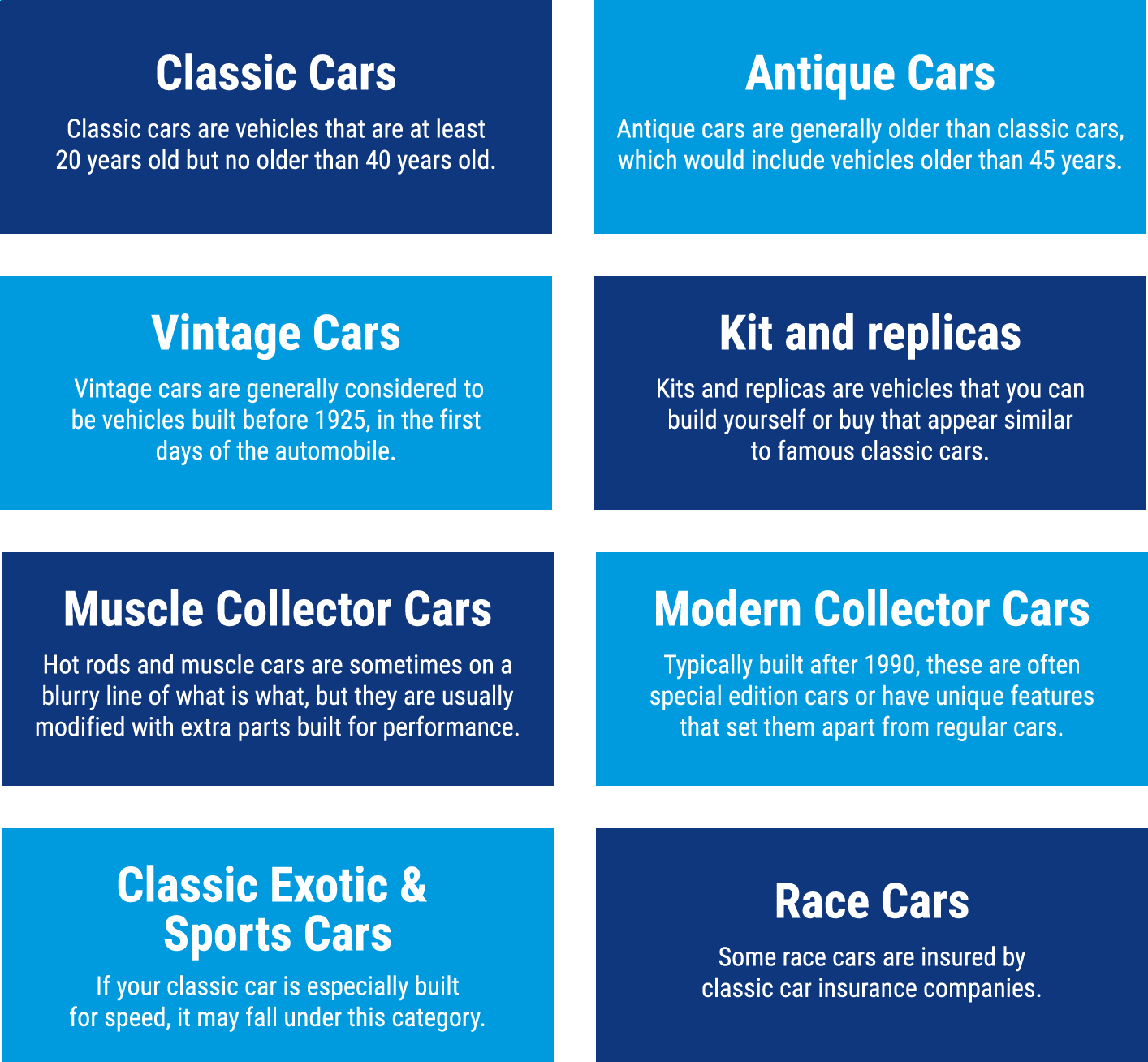 Classic cars. Normally, classic cars are vehicles that are at least 20 years old but no older than 40 years old. Some states and insurance companies extend this definition to cars built between 1915 and 1948, which is how the Classic Car Club of America defines the term.
Antique cars. Antique cars are generally older than classic cars, which would include vehicles older than 45 years.
Vintage cars. Vintage cars are generally considered to be vehicles built before 1925, in the first days of the automobile. Other definitions may have a narrower window of cars built between 1919 and 1930.
Kit and replicas. Kits and replicas are vehicles that you can build yourself or buy that appear similar to famous classic cars. They are valuable in their own right and have their own classification.
Muscle cars and hot rods. Hot rods and muscle cars are sometimes on a blurry line of what is what, but they are usually modified with extra parts built for performance. Likewise with street rods, though they are typically built for comfort instead of performance.
Modern collector cars. These are often special edition cars or have unique features that set them apart from regular cars. They are typically built after 1990 but still fall within the large 'classic car' realm of insurance.
Classic exotic and sports cars. If your classic car is especially built for speed, it may fall under this category. Some of these vehicles are involved in racing, which often excludes coverage while on the track.
Race cars. Similar to exotic and sports cars, some race cars are insured by classic car insurance companies. There probably won't be coverage while on the track, but you may be able to insure your race car for an agreed value as long as it's not racing.
These categories aren't set in stone and vary with each state and insurance company. They mainly serve to help organize the different types of vehicles, rather than just having one broad 'classic' car category.
Most classic car insurance companies won't have any problem insuring most of these vehicles. Standard insurance companies may only be willing to insure vehicles built after 1930 or 1940, which means you'd need to find a specialty company that can insure any of these older vehicle types.
Who Sells Classic Car Insurance?
Classic car insurance is sold by various insurance companies that normally sell standard car insurance as well. Some of these companies are among the largest car insurers in the country, such as Progressive, Safeco, and State Farm. But not every standard car insurance company sells classic car insurance.
Standard car insurance companies that can insure your classic car still may not be the best insurance option. They may offer agreed value on your car, but probably won't come with any of the extra perks and coverage options that specialty classic car insurers have.
| | |
| --- | --- |
| Insurance companies that offer specialty car insurance: | Star Rating |
| Hagerty | |
| Grundy | |
| American Modern | |
| American Collectors | |
| Condon Skelly | |
| Heacock | |
| J.C. Taylor | |
There are other insurance companies that specialize in and only sell classic car insurance. These companies can insure your 1970 Corvette but won't insure your 2015 Tahoe. They offer specialized insurance coverages for classic cars. Often, these companies focus on excellent claims and customer service to help set them apart from the larger companies, which may be able to offer better rates.
The Best Classic Car Insurance Companies
There are many excellent classic car insurance companies, including both specialty insurers and traditional insurers that also do standard auto insurance. One person's best company is another person's worst insurance experience, so these are simply good starting points with companies that have a good reputation for classic car insurance and are likely to be a great fit for you. But it's always worth comparing options and speaking with an independent insurance agent to find the best classic car insurance option for you.
The Best Classic Car Insurance Companies
Best overall classic car insurance company: American Modern
American Modern has a little bit of everything. It can insure nearly any type of classic vehicle, is available in all 50 states, and also comes with a wide range of discounts that could save you nearly 50% on your premiums. It also offers a host of perks and even an unlimited mileage driving plan. American Modern's availability, coverage options, and perks make it a top choice for classic car insurance.
Best for classic car culture: Hagerty
Hagerty values classic car culture so much that it created its own special club for classic car enthusiasts, called the Hagerty Drivers Club. This classic car club has special member events, discounts on supplies for your classic car, and even includes free towing up to 150 miles along with $100 in roadside assistance services.
In addition to its classic car culture, Hagerty enjoys a very good reputation for its claims service. Its online reviews are especially positive, with thousands of reviews giving the classic car insurer a very favorable rating on its claims service.
Best for valuing classic cars: Heacock
Heacock is a smaller classic car insurance company, but it does offer coverage in all 50 states. It has fairly strict requirements for its drivers, but the company will work with you to determine your classic car's value without having to get an appraisal. It will perform its own personalized valuation of your car through a virtual inspection and by discussing the car with you.
Best for insuring classic cars with rising value: Grundy
Grundy is another classic car specialty insurance company that excels in many areas, but in particular does well with vehicles whose value may increase over time. Grundy offers inflation protection on your vehicle, though this is an extra coverage option that will cost more money. But it can protect your car's value for up to 150% of its original agreed value.
Best for driving your classic car daily: Safeco
Most classic car insurers put a cap on the number of miles you can drive in any one year. In addition, they typically don't want you driving your car around every day. Safeco is an exception to this rule with its regular use option. By choosing regular use with Safeco, you'll be allowed to drive your classic car daily and for up to 10,000 miles annually. This option does cost more, so drivers looking at Safeco who don't need this can opt for the limited use option that allows up to 5,000 miles annually.
How Do I Qualify for Classic Car Insurance?
Qualifying for classic car insurance isn't quite as simple as just owning a classic vehicle. Most classic car insurance programs have fairly strict requirements for the drivers on the policy. However, if you don't meet any of these requirements, you may still be able to buy a classic car insurance policy through a large national insurer that also does classic cars, such as Progressive.
Most classic car insurance programs and specialty insurance companies have some combination of the following driver requirements:
Minimum age. You may have trouble getting classic car insurance if you're under the age of 25.
Safe driving record. Insurers have different requirements here, but most want to see no more than 1 accident or violation in the last 3 to 5 years.
Driving experience. In addition to being at least 25 years old, many insurance companies will want to see that you've had experience driving classic cars.
Have primary auto insurance. Classic car insurance isn't meant to replace standard auto insurance. Your insurance company will want you to have a separate car insurance policy for your regular vehicles, possibly with high liability limits.
Vehicle safeguards. Since the insurance company is likely to be covering your classic vehicle with agreed value, which may be tens of thousands of dollars or more, it will want you to protect your vehicle. It may want to see that you keep your vehicle in an enclosed and secure garage or storage space.
Vehicle maintenance. Most classic car insurance companies won't want to cover vehicles that you're working on and restoring. They'll want you to keep your vehicle in top condition with regular maintenance performed by licensed mechanics.
Vehicle use. There are likely to be strict requirements for how you use your vehicle. Depending on the insurer, you may not even have coverage if you're using your vehicle to drive to work or run errands; they'll only want pure pleasure use for your classic car.
Miles driven. Related to vehicle use, many insurance companies will put a cap on your annual miles driven, possibly around the 6,000 mile mark or thereabouts.
What Should I Look for with Classic Car Insurance?
There are a few things that you'll probably want to prioritize when looking for a classic car insurance program. While most of the classic car insurers are similar, they do have some differences and you might not want to necessarily look for the cheapest insurance on your classic car.
With classic car insurance, it's important to know, understand, and verify the coverages that you have and what's not covered, because you don't want to get into an accident and find out that you don't have coverage on your valuable car.
Agreed value. Agreed value means that you and your insurance company will agree on the car's value, usually through an appraisal. This value will be what your car is covered for on your insurance policy, and it won't depreciate or go down over time.
Miles allowed. Classic car insurance programs vary considerably in the number of miles they allow you to drive your car. Most classic car insurers will have a limit of between 1,000 and 6,000 miles a year.
Event coverage. Your classic car insurer might not cover you if you drive your car to special auto events or exhibitions. If they don't, then you may need to buy a separate commercial auto policy just for that event, or you could switch to a company that does cover classic car exhibition events.
Specialty towing. Many classic car insurance programs will include flatbed towing for your vehicle, which can help protect it from further damage.
Specialty repair shops. Classic cars often need specialized parts and labor, which are usually more expensive than regular auto repair shops.
Costs and Discounts for Classic Car Insurance
The standard rule of thumb for classic car insurance is that it costs about 30% less than regular car insurance. However, there are many variables involved that may change that number, possibly making it more expensive than your standard car insurance. Just having an agreed value insurance policy is always more expensive than an actual cash value policy, regardless of the type of insurance policy.
The exact price of your classic car insurance will depend on many of the same factors that determine your standard car insurance policy, such as:
Your vehicle's value
Insuring a classic car worth $30,000 is obviously going to be much less expensive than insuring a classic car worth $150,000. Values of classic cars can vary considerably, which could make your high value classic car more expensive to insure than your standard car.
Driving history
Most classic car insurers have strict driver eligibility requirements anyway, but having a clean driving record will help keep your premiums down.
Location
Classic car insurance companies still use location as a rating factor, so your premium in parts of California or New York may be more expensive than the same policy in Ohio.
Vehicle safety
While some insurers may require you to secure your vehicle in a locked garage, others will simply give a discount if you take extra steps to protect your vehicle.
However, there are a few reasons that typically make classic car insurance less expensive than regular car insurance, even with agreed value taken into account.
Less miles driven
Even though nearly all classic car insurance programs have miles driven requirements, it's also normal that classic car owners don't drive their vehicles as much. Less miles driven means there's less of a chance that an accident will happen.
Vehicles are cared for
Insurance companies are more willing to insure classic cars on an agreed value basis, partly because they know that classic car owners are more likely to keep their vehicles in tip-top shape and take the extra steps necessary to protect them.
Fewer accidents
Standard car insurance rates are partly determined by the number of accidents that happen in a given state or area. With classic car insurance, those accident numbers don't apply, since it's a specialty market, and classic cars simply don't get into as many accidents as regular cars.
Most classic car insurers don't offer the standard discounts that you'll find with regular car insurance, though each company may offer one or two discounts. The larger insurance companies are more likely to offer discounts, such as a multi-policy or multi-vehicle discount, than smaller specialty companies.
Expert Tips on Classic Car Insurance

Paul Martin, a leading and trusted insurance professional with vast experience in the industry, offers these additional tips for classic car insurance:
"When comparing classic car insurance programs, it's all about the physical damage protection on your vehicle. There are three big issues:
How often will you use the auto?
How do you store the auto?
How much will the company put on your car?
The price of your insurance will hinge on the answers to these questions. For example, let's say you're insuring a fully restored 1966 Jaguar. If you can guarantee that:
You won't drive it more than 60 days a year, or
You will restrict your use to parades and car shows, or
You can guarantee that it will be stored in a locked garage,
Then the insurance company will probably agree to insure it. Regarding the maximum value (it's called stated amount), that's the maximum amount that the insurance company will pay on your vehicle. It's a common thing on super-expensive vehicles."
Comparing Classic Car Insurance Programs
Many classic car insurance companies have a good reputation for customer service, or at least a better reputation for customer service than most standard auto insurance companies. But the choices can still be overwhelming when you're trying to compare different classic car insurers' programs and rates.
An independent insurance agent can help guide you through the classic car insurance process and is likely to have a few classic car insurance companies that they can get you a quote from. A trusted and local independent insurance agent can also help you fit a classic car insurance policy with your other insurance policies and can make recommendations about how to maximize your coverage while minimizing your bill.
Frequently Asked Questions about Classic Car Insurance
Generally, yes, classic cars are cheaper to insure than newer standard cars. There are many variables involved that may mean your classic car is more expensive to insure. But on average, a standard classic car will be about 30% less expensive to insure than a standard, new auto. Coverage for older standard vehicles that only carry liability are likely to be less expensive than classic car insurance.
Classic cars are usually cheaper to insure than regular cars because they get into fewer accidents, so there are fewer claims payments made on classic cars. Regular car insurance rates are in large part determined by the cost of claims payments. Insurance companies have to take in enough money to fully pay claims. With fewer claims, rates can be lower.
There isn't a set rate that you'll pay with classic car insurance. On average, it may be around 30% less than regular car insurance, but that isn't set in stone. You may pay a few hundred dollars a year for a $10,000 classic car, or you may pay thousands of dollars a year for a car worth $100,000.
If you can't buy classic car insurance but have a classic car, you'll probably need to put your vehicle on your regular car insurance policy. At the very least, you'll still need liability coverage when you're driving it, which a regular car insurance policy will provide. But keep in mind that you'll probably have actual cash value (ACV) coverage, which means you won't get the full value of your car if you have a claim.
Each classic car insurance company has slightly different vehicle requirements. Some will insure almost any type of car that could be considered a collector vehicle, whether it's new or old. Other insurers will want the car to be at least 20 or 25 years old to qualify for a classic car insurance program.
Yes, you need some type of car insurance for a classic car. Any vehicle that's driven on the road or registered with the state needs insurance to be legal. Nearly every state requires at least liability coverage on these vehicles, including classic cars. If you want to insure your classic car for its full value and like the extra perks and coverage options of a classic car insurance program, then you can go through a classic car specialty insurance company.
The standard definition of a classic car is any car that's over 20 or 25 years old. However, there are modern collector cars that are less than 20 years old that could be insured under a classic car insurance program.
TrustedChoice.com Article | Reviewed by Paul Martin
©2023, Consumer Agent Portal, LLC. All rights reserved.
https://www.iii.org/article/insuring-your-classic-car
https://www.claimsjournal.com/news/national/2016/08/03/272543.htm
www.statista.org