Buick Enclave Insurance
A Guide to Buying Insurance for the Buick Enclave
(And how you can get started today)
You're in the market for a large SUV with seating for up to eight, and the Buick Enclave made your short list. Along with plenty of room for passengers, this car offers numerous standard features and generous cargo space. Best of all, you won't have to pay a luxury price to get this higher-end family vehicle.
The Enclave first rolled off Buick's production lines in 2008 and is still being manufactured. The Enclave gets top safety scores and has a lower MSRP compared to other luxury SUVs. Insurance for this vehicle runs about $1,000 a year, lower than the national average of $1,474.
An independent insurance agent can find you the best insurance available at the lowest prices for your Buick Enclave. First, find out how other factors can influence your rates.
How Much Does Buick Enclave Insurance Cost?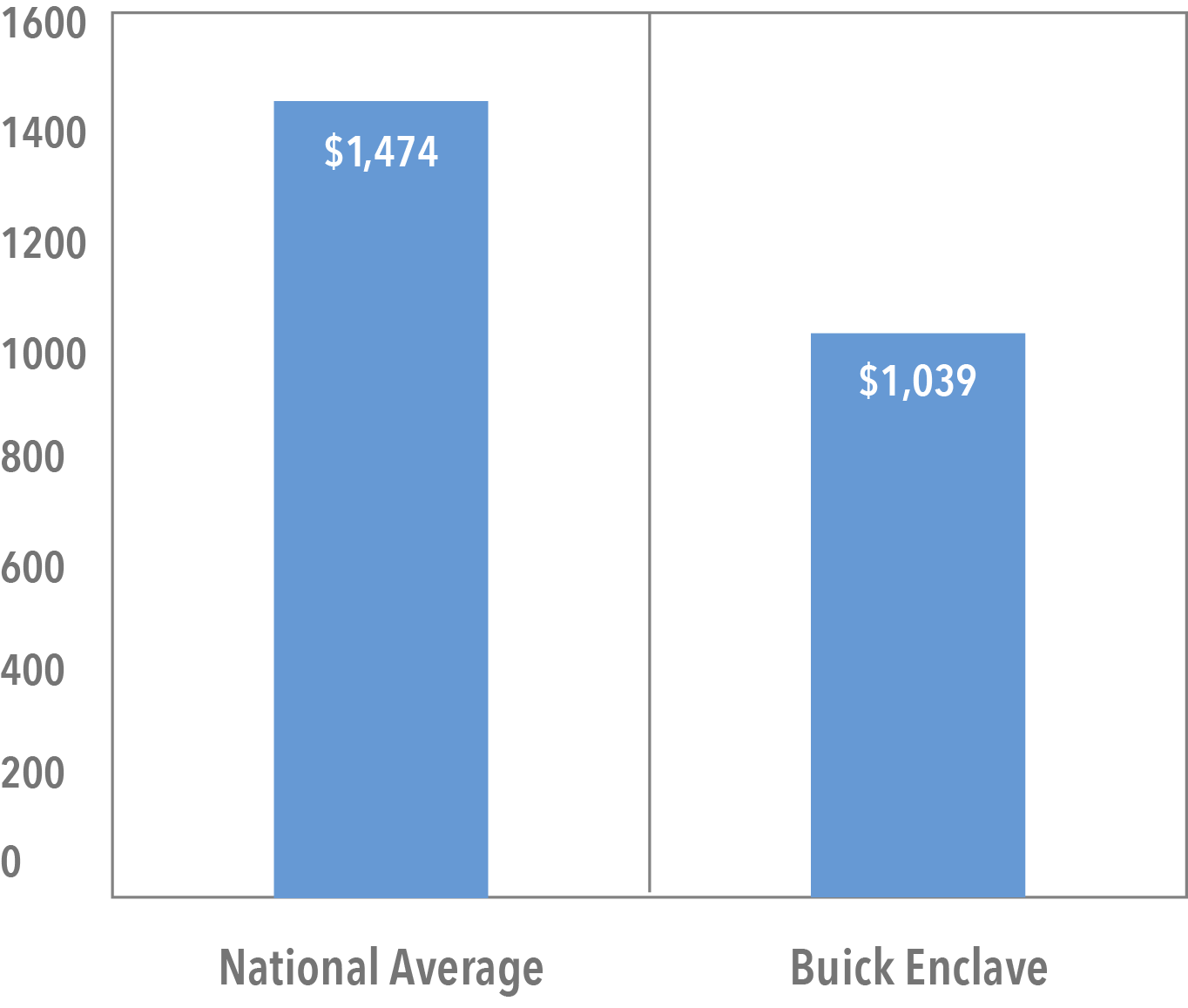 At an average cost of $1,039 per year, insuring the Buick Enclave is cheaper than the national car insurance average of $1,474.
If your Buick Enclave is involved in a crash with another vehicle, you want to be sure your insurance policy includes comprehensive coverage. This helps you not only repair your Buick, but also the other person's vehicle.
If you have passengers, you want to be sure an insurance policy includes liability coverage, to help them pay for medical care. As the nearly 13% of drivers on the road without insurance find out, these expenses can be significant when they are paid out of pocket.
Unless this is your first vehicle, you probably already know that your gender, age, driving history and location will affect the cost of a policy. Many insurance companies also consider the MSRP, your credit score, the vehicle's safety rating and the age of the car.
Most states have a minimum amount of liability coverage that you must include in your car insurance policy. However, these minimums are often too low to sufficiently protect you if you are involved in a crash.
Liability-only car insurance policies will not help you repair your vehicle; they will only help you pay for injuries or damages you cause to another driver.
You also need comprehensive insurance, which will help you repair or replace your vehicle in the event your car is stolen or vandalized, or damaged by fire, weather or other non-traffic related events.
What Influences Insurance Costs for MId-size SUVs?
Different states require drivers to carry different amounts of liability coverage in car insurance policies. This can impact the cost you will pay for insuring your Buick Enclave. Also, if you choose an Enclave model with all-wheel drive, you could pay less than your state's average because of the added safety of AWD.
Mid-size SUVs like the Enclave are generally 15% to 20% more expensive to insure than smaller vehicles such as sedans. However, you may find that premiums will vary from model to model, depending on the size of the engine and other factors, such as how the vehicle rates on safety and the likelihood of theft.
You can further reduce the price you pay to insure a Buick Enclave by taking advantage of these most popular car insurance discounts:
Bundle your car insurance with other policies, such as your homeowners insurance.
Add your Enclave to an existing car insurance policy.
Pay your premium in one payment.
Take a defensive driving class.
Buick Enclave Auto Theft and Safety Ratings
The crash test data for the Buick Enclave resulted in excellent safety ratings by the Insurance Institute for Highway Safety (IIHS). A "Good" rating from the IIHS is the highest mark a vehicle can receive. In crashworthiness, the Enclave received the following ratings:
Moderate overlap front: Good
Side: Good
Roof strength: Good
Head restraints and seats: Good
With dual front, rear overhead and third-row seating airbags, a post-collision safety system, and a remote anti-theft alarm system, the Enclave is loaded with features insurance companies like. It also has a lower risk of rollover than many other popular large SUVs.
You may also be able to install non-factory safety features to improve the Enclave's ability to protect you and passengers even more. These packages may also reduce your Buick Enclave car insurance costs.
Another factor that can affect your insurance rates is the risk of theft. Vehicle thefts have been trending downward in the 23 years since they peaked at 1.6 million in 1991, falling 58% to 699,594 in 2013, according to the National Insurance Crime Bureau.
As a result, 56% percent of Americans rarely or never worry that their car will be stolen, according to a 2014 Gallup poll.
However, national statistics do not reflect the rate of auto thefts in all areas, and there are some that have not seen such drastic decreases. If you live in a city that makes the top 10 list of locations with the highest rates of vehicle thefts, it could impact your car insurance rates.
Costs of Buick Enclave Repairs
The cost to repair common body parts for the Buick Enclave that are damaged during a crash is comparable to the national averages. The front bumper does cost a bit more for the Enclave at about $100 more than average.
Never rely on the other driver's insurance company to pay for your repairs. Not only is there a chance the other driver is uninsured, but state laws also dictate who files the insurance claim.
Even if the accident is not your fault, if you live in a state that has no-fault car insurance laws, you will most likely have to file a claim with your insurance company and not "the other guy's."
In these states, the accident must meet certain thresholds, such as severity of injury or a monetary limit for medical bills, before the other person's insurance company will pay for your damages.
Where to Find Car Insurance for Your Buick Enclave
Knowledgeable, independent agents are always available to answer any questions you may have about your car insurance options.
These experienced agents can locate a variety of quotes from a number of different insurance companies, enabling you to choose a policy with the best coverage at the most affordable rates for your Buick Enclave insurance. Contact a Trusted Choice agent today to find out how you can protect you and your new SUV.