Honda Element Insurance
Insurance Buyer's Guide to the Honda Element
(Everything you need to know - and more)
Honda manufactured its compact crossover SUV, the Element, from 2003 to 2011. With excellent safety ratings and a lower purchase price, the Element is loaded with features that car insurance companies like.
These factors and more can affect your premiums. Honda Element owners can expect to pay about $693 annually on car insurance.
Independent insurance agents can help you find the best car insurance available, but before you make the call, find out if the Element is the right vehicle for you.
How Much Does Honda Element Insurance Cost?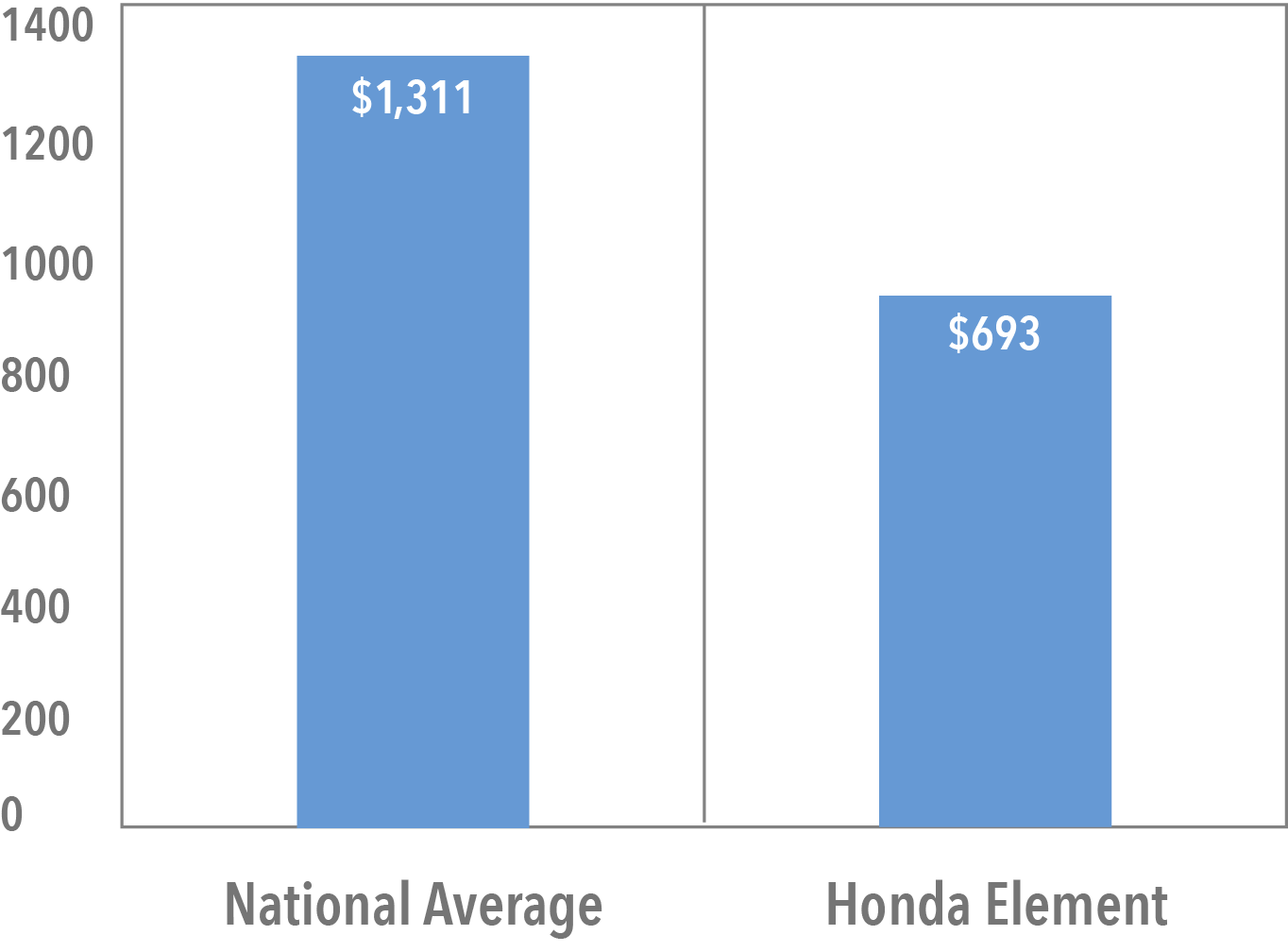 The average annual cost to insure a 2011 Honda Element can be around $693. That's almost half the national average of $1,311.
If your compact crossover Honda Element is involved in a crash with another vehicle, it may be the one to take the majority of the damage. However, you still want to be sure your insurance policy will help you repair, not only your Honda, but also the other person's vehicle.
If anyone is hurt, you want to be sure an insurance policy will help them pay for any medical care. Failing to purchase insurance means you can be held responsible for paying for any repairs or injuries to another party out of pocket.
Also, if you're involved in a crash with one of the 1 out of 10 of drivers who go without insurance, you want to be sure you are protected.
It's challenging to calculate the average cost to insure the Honda Element SUV, because many factors will affect the premium on a used vehicle.
Most people know their gender, age, driving history and location will affect the cost of a policy, but many insurance companies also consider the MSRP, the vehicle's safety rating, and the age of the car.
A Honda Element will have a lower MSRP because it is a used vehicle, and generally that means lower car insurance rates. However, much older cars can still be more costly to insure.
That is because an older car is more likely to be totaled in a crash, and the owner is more likely to replace it entirely than pay to have it repaired. You may be surprised to learn that a 2011 Honda Element may actually cost less to insure than the 2003 version.
What Influences Insurance Costs for Compact Crossover SUVs?
Each state requires drivers to carry its own minimum liability limits in order to legally drive on public roads. This means the cost to insure a Honda Element varies from state to state.
If you have a claim-free driving history, you could pay less than the state average. You can also take advantage of one or more of the insurance industry's most popular car insurance discounts by:
Combining your car insurance with another policy, such as your homeowners insurance.
Insuring all of your household's vehicles under one policy.
Taking a defensive driving course.
Sport utility vehicles like the Honda Element are generally 15% to 20% more expensive to insure than sedans. However, because this model is a compact crossover, the insurance costs are not as high as a typical midsize or large SUV that can cause some serious damage.
The MSRP weighs heavily on the overall cost of insurance, which is another reason SUVs tend to be more costly to insure than smaller, less expensive cars. For most insurance companies, the cost of the vehicle is the first and primary consideration when setting the price of the policy.
Hondas tend to have a significantly lower MSRP than similar models from other car makers. In the case of a used Element, the MSRP will be far lower than a new SUV from another manufacturer, impacting your insurance premiums.
Honda Element Auto Theft and Safety Ratings
The crash test data results for the Honda Element made this model a popular choice among drivers who have safety concerns. This SUV received outstanding ratings from the Insurance Institute for Highway Safety. "Good" is the highest mark a vehicle can receive in crashworthiness, and the Element was given the following ratings:
Moderate overlap front: Good
Side: Good
Roof Strength: Good
Head restraints and seats: Good
Unfortunately for Honda owners, this manufacturer seems to be a favorite among car thieves, which can increase your car insurance rates. Honda models rank among the top two most stolen vehicles in the U.S.
Older vehicles are also more likely to be stolen than newer ones, because of the popularity of anti-theft devices that manufacturers add to their newer models. According to the FBI, a vehicle is stolen every 43 seconds. You can protect yourself against the risk of having your Element stolen by doing the following:
Park off-street whenever possible.
Never leave personal property where it can be seen from outside.
Always keep the doors locked.
Install anti-theft devices such as kill switches, GPS tracking or other theft alert systems.
Following these tips can not only prevent your vehicle from being stolen, it can also help keep your car insurance rates lower.
Cost of Repairs for the Honda Element
The most commonly needed vehicle repair costs for the 2011 Honda Element are above the national averages. Because the car is older, parts may be more difficult to find and may cost more.
The price of vehicle repairs can affect your car insurance rates. A vehicle that has significantly high repair costs will have higher insurance premiums, since insurance companies will have to cover the costs if your vehicle is damaged.
Where to Find Car Insurance for Your Honda Element
Now that you have made the choice to purchase a Honda Element, there is only one decision left. Where should you buy insurance? Knowledgeable, independent agents are always available to answer any questions you may have about insuring your compact crossover SUV.
These agents can find you a variety of quotes from a number of insurance companies, enabling you to choose the best coverage at the most affordable rates. Talk to an agent in your area today.