Honda Odyssey Insurance
What Should You Pay to Insure a Honda Odyssey?
(Finding the right coverage for your Honda Odyssey)
You have been searching for a vehicle to transport your expanding family and the Honda Odyssey, with its fuel-efficient V6 engine, quiet cabin, configurable second-row seat, easy-to-fold third-row seat and top crash test scores, has caught your attention.
These features have helped propel the Odyssey to the top of the list among consumers in the minivan category. They also have an impact on the lower-than-average insurance cost of $768 for this Honda model.
Before you talk to an experienced insurance agent at about your Honda Odyssey insurance options, find out what will help determine your rates.
How Much Does Honda Odyssey Insurance Cost?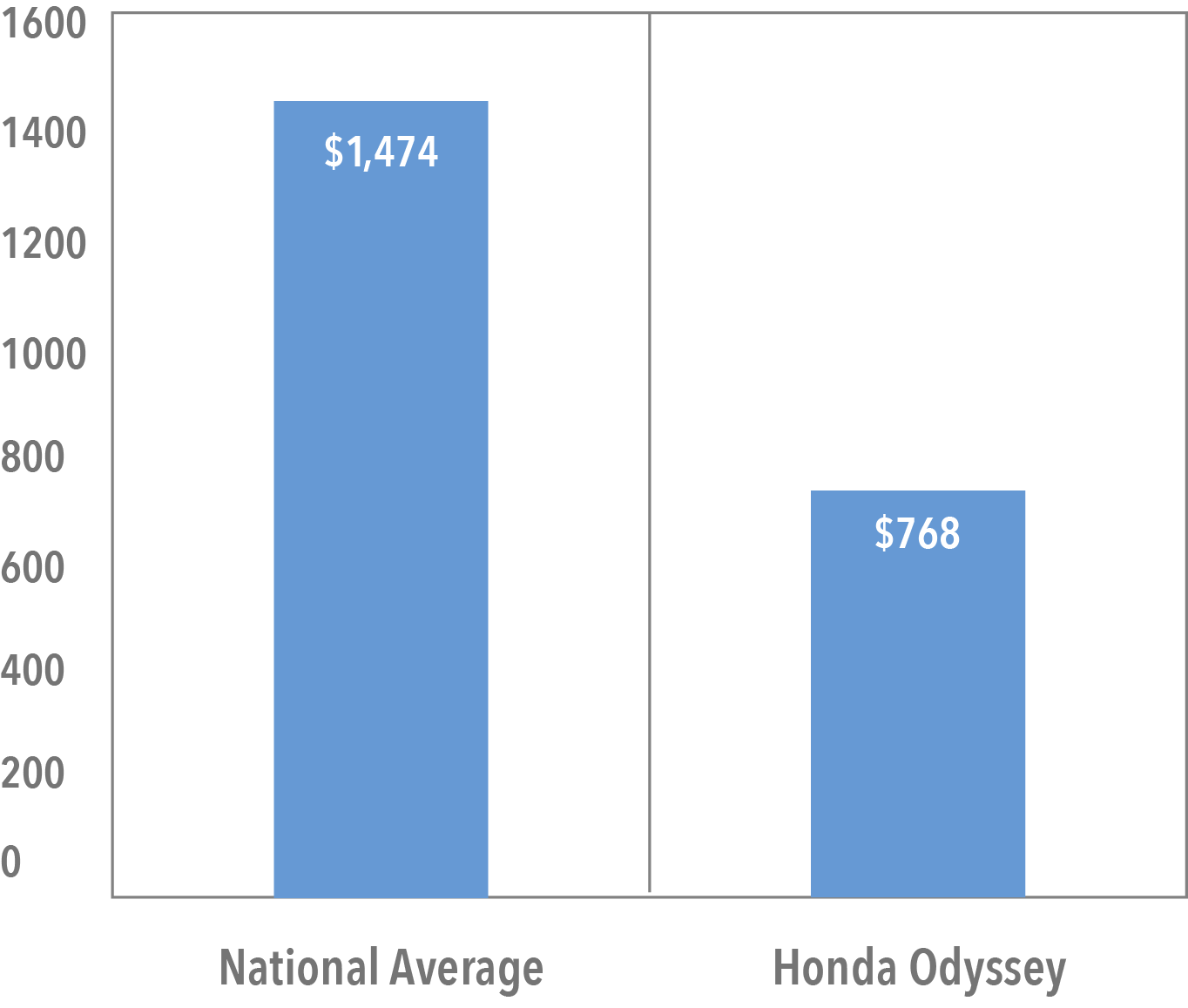 The average annual cost to insure a Honda Odyssey is $768, significantly lower than the national average of $1,474. It is also a lot less than what you would pay if you found yourself in a crash without insurance.
The 1 out of 10 drivers who operate vehicles without insurance eventually discover that the out-of-pocket costs of an accident are far more than the price of a premium.
You are probably aware that your age, gender and driving history can play a major role in what you pay for car insurance. The MSRP also greatly affects your premium; more expensive cars and SUVs have higher insurance rates.
The safety rating and theft rate of a minivan can also influence the cost of insurance. If you are less likely to be injured in a crash because you drive a safer vehicle, your rates will be lower than if you drive a car that flunked its crash test.
You can take steps to bring premium rates on a Honda Odyssey even lower by taking advantage of these popular discounts:
Bundle your car insurance with another policy, such as your homeowners or renters insurance.
Insure all of your household's vehicles under a single policy.
Pay your premium in one payment for the year.
Take a defensive driving course.
What Influences Insurance Costs for Minivans?
The price you pay for car insurance on a Honda Odyssey will be affected by where you live. Each state has its own minimum liability requirements in order to lawfully operate a vehicle on public roads.
Other location factors, such as commuting distance, crime rates, and where you usually park your minivan, can also help insurance companies determine your rate.
In general, minivans are less expensive to insure than most other vehicle models. Insurance companies figure a soccer mom is going to be a much safer driver than a sports car driver. Minivans also tend to fare much better in crash testing than other, less solidly built vehicles.
Honda minivans, such as the Odyssey, often receive even less expensive insurance quotes than their minivan counterparts, because the Honda brand has a reputation for reliability, safety, and a lower price tag.
Honda Odyssey Auto Theft and Safety Ratings
According to the Insurance Institute for Highway Safety (IIHS), the Honda Odyssey performed exceptionally well in avoiding accidents and keeping occupants free from injury.
The crash test data for this model was so impressive that the IIHS named the Odyssey among its 2016 Top Safety Picks. "Good" is the highest rating a vehicle can receive from the institute, and the Odyssey achieved the following ratings:
Small overlap front: Good
Moderate overlap front: Good
Side: Good
Roof strength: Good
Head restraints and seats: Good
Older Odyssey models did not score as high as the 2014 versions and newer, although they still outperformed many other minivans in the safety department. The Odyssey does come with a crash avoidance system that can be upgraded with an optional safety package at the time of purchase.
Hondas are attractive vehicles, not only for consumers, but for thieves as well. Unfortunately, this manufacturer occupies several slots among the top most stolen vehicles.
However, minivans are not usually a target for grand theft auto. While a vehicle's risk of theft can affect your insurance rates, opting for a minivan can help mitigate any increases you would see in your car insurance premiums.
Costs of Repairs for the Honda Odyssey
If your Honda Odyssey is involved in a crash, chances are you will need to repair the front bumper, windshield, grille, or a combination of all three. These are the most commonly damaged parts in an accident.
The good news is that the Odyssey costs less to repair than your average vehicle. Not only can this save you money at the repair shop, but it can also reduce your car insurance rates. Vehicles that cost more to repair cost more to insure.
Remember, when you file a claim with your insurance company following a car accident, you will most likely pay a deductible for any repairs. The remaining balance is what the insurance company will pay. Be sure to choose a deductible that you can afford should you need to file a claim.
Where to Find Car Insurance for Your Honda Odyssey
If the Honda Odyssey is the minivan that fits your life, it's time to find the right insurance policy for your vehicle. Knowledgeable, independent insurance agents are always available to answer any questions you may have about your Honda Odyssey insurance options.
These experienced agents can assist you by finding a variety of quotes from a number of different insurance companies, allowing you to choose the policy with the best coverage at the lowest rates. Contact a Trusted Choice agent today to find out more.