Jeep Grand Cherokee Insurance
How the Safety of the Jeep Grand Cherokee Affects Insurance Rates
(Everything you need to know - and more)

When the Grand Cherokee was first introduced it was considered a major breakthrough in the SUV category and one of the only luxury SUVs available.
A luxury interior combined with the fact that it was the first SUV to have a driver's airbag as standard equipment across all trim levels made the Grand Cherokee an instant hit with both automotive journalists and consumers.
A few years after being released, the Grand Cherokee hit annual sales of 300,000 vehicles. The love affair with the Grand Cherokee continues to this day with 216,000 units being sold in 2016.
Safety was a major selling point and that tradition continues with the latest Grand Cherokee. It earned a five-star rating from the National Highway Traffic Safety Administration.
It is loaded with standard and advanced safety features, which help keep the cost of insuring it very affordable. The average annual premium for the Grand Cherokee is $1,124.
This is considerably lower than the national average of $1,474. Although the average rate sounds reasonable, depending on your personal circumstances this number can change drastically.
An independent agent can help you find a great Jeep Grand Cherokee insurance policy at a price that works for your budget. They can also advise you on coverage levels as well as making sure you are receiving all available discounts on your policy.
How Much Does Grand Cherokee Insurance Cost?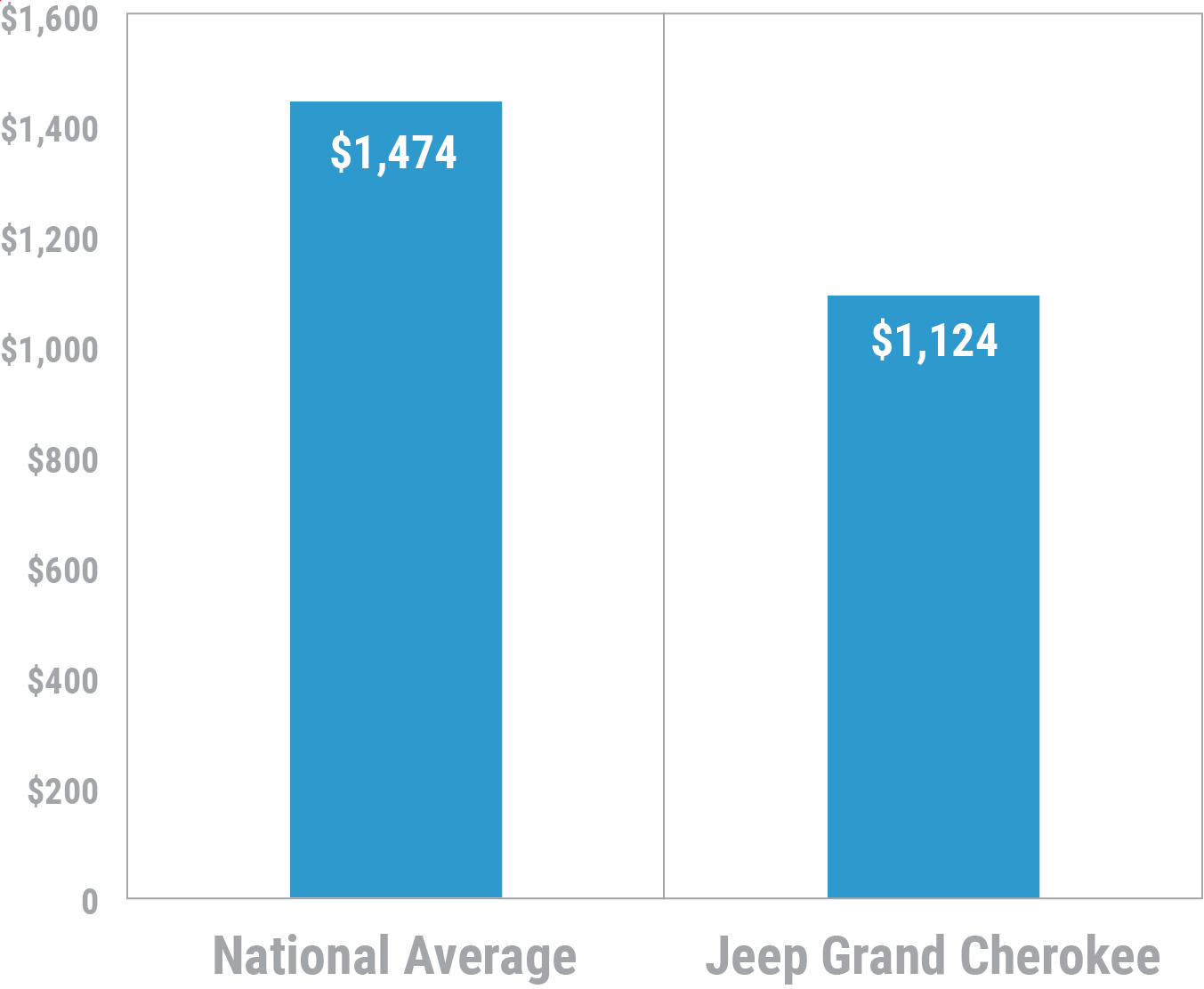 The Jeep Grand Cherokee is very affordable to insure with the average annual premium coming in at $1,124. This puts it well below the national average of $1,474.
Insurance companies take many factors into consideration when calculating premium, some that are under your control, and others that are not. One major factor that is completely out of your control is uninsured drivers.
Nationwide, 12.6% of drivers are out on the road without coverage, but that figure can be much higher in certain states.
If you live in Oklahoma that figure is an astounding 26%, in Florida it's 24%, and Mississippi rounds out the top three with 23% of drivers hitting the road without insurance.
Insurance companies must cover the cost of claims when uninsured drivers are involved in accidents, and that cost ends up being passed on to insured drivers in the form of higher premiums.
While uninsured drivers push your rates up, discounts can help you balance that number out. Insurance companies offer a variety of discounts to their customers, making sure you are getting a lower premium. A few of the most common discounts are:
Bundling: Purchasing your car insurance from the same insurance company you use for your homeowners, renters, or life insurance. Discount amounts vary, but up to 20% is common.
Safety Features: Airbags, motorized seat-belts, anti-lock brakes, electronic stability control and tire pressure monitors are just a few features that should garner you a discount.
Safe Driver: Requirements vary by insurance company, but many offer a discount to drivers who have gone at least three years without a ticket or accident.
Security Features: A factory-installed or third-party security system will usually result in a significant discount.
A Trusted Choice agent will make sure you are getting all the discounts that you are qualified to receive. They will gather Jeep Cherokee insurance quotes from a wide variety of companies and present the best options to you.
Grand Cherokee Auto Theft and Safety Ratings
Safety features and ratings are a major component when it comes to calculating insurance premiums. Luckily, the Grand Cherokee is loaded with safety features and does well in safety tests.
The 2017 Grand Cherokee earned a five-star rating from the National Highway Traffic Safety Administration. The Insurance Institute for Highway Safety backed up their findings with their highest rating of "Good."
The Grand Cherokee comes standard with a wide variety of safety features that should lower the cost of insurance. They include multistage airbags located throughout the vehicle, and electronic stability control, electronic roll mitigation, anti-lock brakes and all-speed traction to help maintain control.
Optional advanced safety features can drive your insurance costs even lower. Insurers love technology that helps prevent accidents or minimizes damage because it prevents claims. In most cases, insurers offer discounts for certain advanced safety features.
The Grand Cherokee has a number of them, including lane departure warning with lane keep assist, forward collision warning with active braking, and blind spot monitoring.
Another factor that will affect your car insurance premium is risk of theft. If your vehicle is popular with car thieves, your premium will be higher, regardless of whether you have ever had a car stolen.
Car theft is big business in the U.S., with FBI statistics showing that 707,758 cars were reported stolen in 2015. This equates to a motor vehicle being stolen every 45 seconds.
The track record of the Grand Cherokee is mixed when it comes to theft rates. While it has not made the Top 10 list of stolen vehicles in recent years, it was number eight in 2013. If your Grand Cherokee does end up being boosted, here are a few tips on how to handle the claim:
Verify that it's actually been stolen: It's not uncommon for people to forget exactly where they parked or later realize they parked in a tow-away zone and the car has been towed. Take a few minutes to make sure your car has actually been stolen before calling the police.
Call the police: If it turns out your car has really been stolen, call the police immediately. Statistics show the sooner you contact the police, the better chance you have of seeing your car again. File a police report, which you will need for your insurance claim. Take photos of where the car was last parked and write down details about the day so you have a clear record of what happened for your claim.
Contact your insurance agent: After you have dealt with the police, the very next call should be to your insurance agent. They will help you file a claim and obtain a rental, and they will keep you apprised of the status of your claim. Here are a few things to keep in mind:

Comprehensive coverage: In order to be covered for theft, you must be carrying comprehensive coverage. This type of insurance covers theft, vandalism, fire, flood and even damage caused by animals.
Actual cash value: Most auto insurance policies are actual cash value (ACV) policies. This means that depreciation is taken into account when calculating your payout. Unfortunately, cars depreciate quickly, losing 25% of their value in the first year. In many cases, your payout may not be enough to replace your vehicle with a similar car. Consider a replacement value policy, which will replace your car with a similar vehicle; depreciation is not taken into account with these policies.
Waiting Period: It can take a few weeks to receive a payout as your insurance company investigates the claim. Be prepared for some tough questions, since the number one suspect is often the vehicle owner. In addition, insurers often have a waiting period to make sure the vehicle isn't recovered. Be prepared by adding a rental car endorsement to your policy.
Where To Find a Grand Cherokee Car Insurance Policy
The Jeep Grand Cherokee is a great family vehicle. If you are shopping for one, or are already a proud Jeep owner, properly insuring it is key.
A Trusted Choice agent can help you shop for a Jeep Grand Cherokee insurance policy that offers the coverage you need at a price that fits into your budget. They will ensure that all of the discounts you qualify for are applied to your policy and present you with the best insurance plan.
Contact an independent agent in your area today.