Mitsubishi Endeavor Insurance
How to Save on Your Insurance Premiums with the Mitsubishi Endeavor
(Easily finding the right coverage)
While the Mitsubishi Endeavor is no longer in production, its legend lives on. If you are looking for a great used car, you can't go wrong with the Mitsubishi Endeavor. The Endeavor is a roomy midsize SUV that comes with a V-6 that provides plenty of power, and it's nicely outfitted with airbags and anti-lock brakes.
The Endeavor is a great choice regardless of whether you are looking for a daily driver, a second car, or even a vehicle for your newly licensed teen, because of its safety rating and low insurance costs.
A Trusted Choice® independent agent can advise you on the best insurance options for your particular Mitsubishi Endeavor. Find an independent agent near you to learn more about Endeavor auto insurance.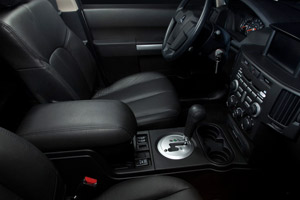 The Endeavor gets great scores when it comes to safety. The National Highway Traffic Safety Administration (NHTSA) gave it "Good" ratings on moderate overlap front and side crash tests, and it comes with standard electronic stability control (ESC). What's more, it costs less than $10,000, making it a great buy for a used vehicle.
The Endeavor is equipped with a 3.8-liter V-6 that produces 225 horsepower, giving it enough power for all your driving needs. It also comes standard with front-wheel drive and a four-speed automatic transmission; all-wheel drive is also available, if you need added traction in bad weather.
While it has plenty of power, the Endeavor is not a speed demon. It's also fairly easy on gas, getting 15 mpg in the city and 21 mpg on the highway, which makes it a great car for commuting.
Here are just a few of the safety features that come standard on the Mitsubishi Endeavor:
Interior features:
Front and rear head airbags
Dual front side-mounted airbags
Child seat anchorsFront seatbelt pretensioners
Passenger airbag occupant sensing deactivation
Exterior features:
4-wheel ABS
Ventilated front disc/solid rear disc brakes
Stability control
Traction control
Electronic brakeforce distribution
All of these safety features can help drive down the cost of car insurance. Contact a Trusted Choice agent now to get a variety of insurance quotes for your Endeavor.
The Costs of Owning an Endeavor
When deciding on a used vehicle, it's important to take all costs into consideration, not just insurance. Older vehicles often have higher maintenance and repair costs. Maintenance and repair costs over five years of ownership run close to $6,000 for the Endeavor.
Fuel costs add another $11,700 but this number can vary wildly depending on how much the vehicle is driven. Calculations for the cost to insure the Endeavor put it at $4,800 over five years, but again, this figure can vary depending on many factors.
One factor in your favor is the low theft rate of Endeavors. According to NHTSA data, thieves are not particularly fond of the Endeavor; the theft rate is 1.71 per thousand vehicles, which is dramatically lower than the national rate of 3.58.
Insurance companies love statistics, which means that cars that are favored by thieves are hit with a penalty when it comes to insurance costs.
Save on Car Insurance
Our independent agents shop around to find you the best coverage.
How to Get Endeavor Auto Insurance
The type of car you drive has a major impact on your insurance rates. Factors such as the cost of the car, its safety record, how likely it is to be stolen, and even repair costs all affect the cost of your premium.
The Endeavor scores high on many of these variables. It has a good safety record, is shunned by thieves, and has reasonable repair costs. Because it's a fairly large vehicle and isn't super speedy, insurance costs are quite reasonable, even if you have a teen driver.
A Trusted Choice agent can help you navigate the insurance waters when you are searching for an Endeavor insurance policy. Using an independent agent is the best way to find high-quality coverage at a price that will not break your budget.
Contact one of our independent agents now for multiple quote options and to answer any questions you may have regarding your Endeavor insurance policy.