Nissan Juke Insurance
Does the Look of the Nissan Juke Affect Insurance Rates?
(Here's a quick guide on how everything works)
The Juke has a unique look. It has developed a strong following of people who love the quirky design that makes it different from other cars. Its strong performance makes it a pleasure to drive and the well laid-out interior ensures a comfortable ride.
Although the Juke stands out from the crowd, it doesn't seem to be a target for thieves and achieves a very respectable safety rating, which makes insuring the Juke very affordable. The average annual price of insuring the Juke is around $830, which is well below the national average of $1,474.
If you want to make a splash out on the road, a Juke may be the perfect car for you. A Trusted Choice® agent can help you protect your Juke with a great insurance policy. Our independent agents will scour the market and find the coverage you need at a price you can afford.
How Much Does Nissan Juke Insurance Cost?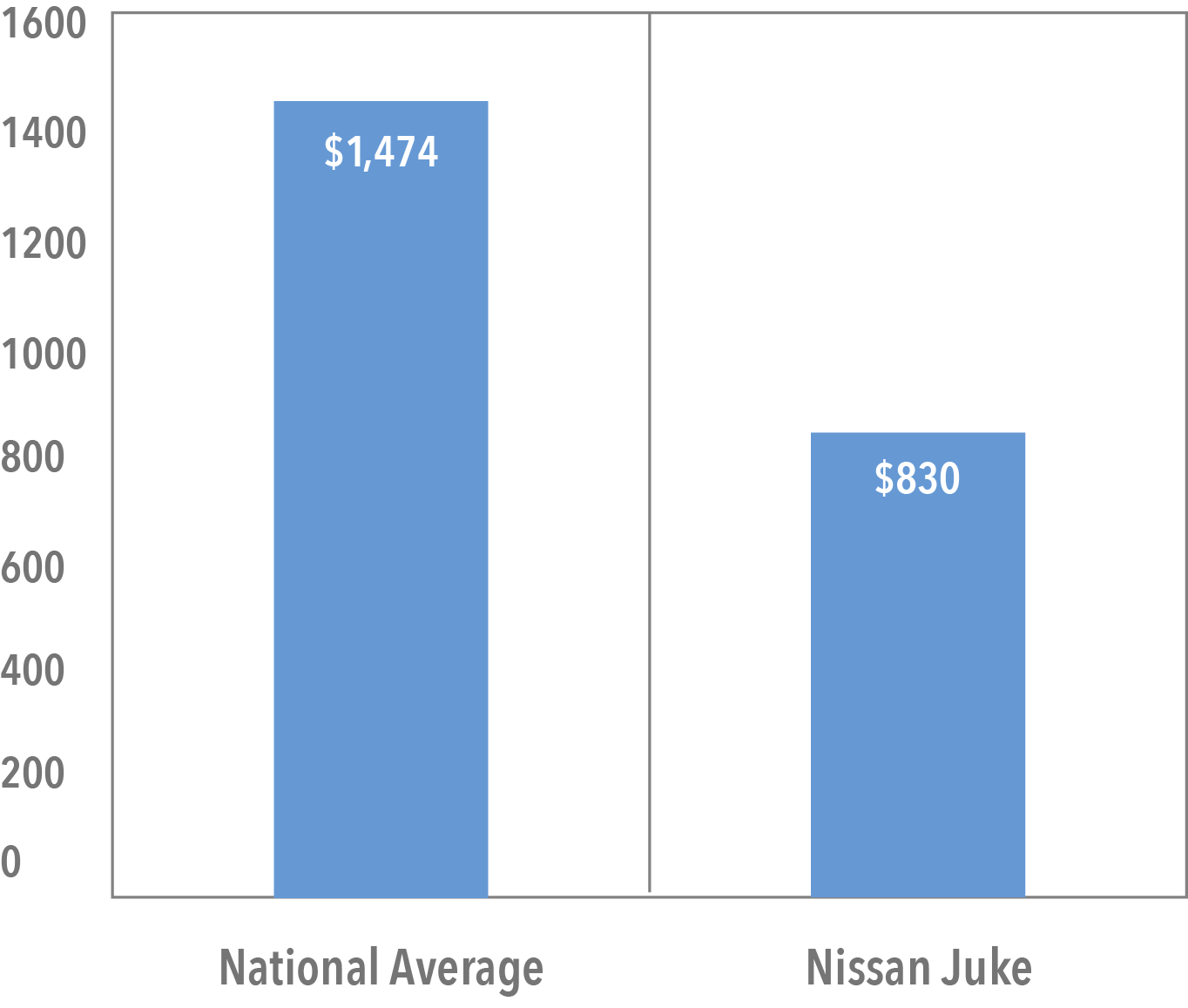 The annual cost of insuring a Nissan Juke is roughly $830, much lower than the national average of $1,474.
Many factors that impact your car insurance rate are within your control, including your driving, credit and claim records, but there are other factors that you cannot control that also affect your rate.
Uninsured drivers are just one of those factors; unfortunately, about 12.6% of drivers are uninsured, which raises rates for everyone. Insurance companies have to cover the cost of claims for uninsured drivers, and that cost is passed onto insured drivers via higher premiums.
While the Juke is fairly easy on the pocketbook when it comes to insurance costs, there are ways to lower your premium even further. One of those ways is to get as many discounts as possible. Insurance companies offer a variety of discounts, which can significantly lower your premium.
If you are unsure whether you are getting all of the discounts that you qualify for, a Trusted Choice agent will gladly review your current policy. Some discounts you may recieve are:
Bundling: Insurers will almost always offer a discount to customers who purchase car and home or renters insurance. The discount can be significant in many cases, up to 25%.
Low Mileage: If you have a short commute or just don't drive your vehicle that often, you may be able to get a discount. The mileage requirements will vary, so check with your insurer.
Defensive Driving Course: Most insurers will offer a discount to drivers who pass a defensive driving course. Check with your insurer for courses that are approved.
What Influences Insurance Costs for Crossover SUVs?
The Nissan Juke falls in the middle when it comes to insurance costs. It's crossover status makes it popular with families, which helps push down premiums. Insurers consider a number of factors when quoting premiums, including:
Safety Features: Insurers love safety features because they help to minimize damage in an accident, and in some cases even prevent the accident from happening in the first place. The Juke has plenty of standard safety features as well as optional safety equipment that ups the safety factor.
Family Vehicles: The Juke is a crossover, and these vehicles tend to be popular with both young adults and families. Vehicles that are primarily driven by parents who have kids in the car tend to be less expensive to insure because these drivers are usually more cautious.
Nissan Juke Auto Theft and Safety Ratings
The National Highway Traffic Safety Administration doesn't have theft rates for the Nissan Juke, but it never makes any of the top 10 stolen car lists, so it's a pretty safe bet that the Juke is not a common target for car thieves.
If you are unlucky enough to have your Juke stolen, you will need comprehensive insurance to cover the cost of replacing it. Comprehensive coverage protects your vehicle against damage from theft and vandalism as well as damage caused by storms, falling objects, and even animals.
If you need to add comprehensive coverage to your policy, a Trusted Choice independent agent will be happy to answer any questions you have about this important insurance and help you find a great comprehensive policy.
Safety ratings will also have an affect on your insurance premium, and the Juke scores very well in all safety categories, except one.
The Insurance Institute for Highway Safety (IIHS) gave the the Juke the highest rating of "Good" in all categories except small overlap front, which got a "Poor" rating:
Moderate overlap front: Good
Side impact: Good
Roof strength: Good
Head restraints and seats: Good
Small overlap front: Poor
The small overlap front test replicates what happens when the front corner of a vehicle collides with another vehicle or an object like a tree or utility pole. This crash test is a challenge for some safety belt and airbag designs because occupants move both forward and toward the side of the vehicle.
Safety ratings affect insurance premiums for a couple of different reasons:
Minimize Damage and Claims: A car that scores well on safety ratings will protect vehicle occupants better in a crash, which results in fewer and less expensive claims. In some cases, safety technology such as autonomous braking will help minimize or prevent damage from a collision.
Safer Drivers: According to industry statistics, drivers who research safety ratings and buy highly rated vehicles tend to drive more safely and file fewer claims.
Costs of Repairs for the Nissan Juke
When it comes to repair costs, the Juke is about average. Replacing or repairing a front bumper on the Juke costs roughly $690, while the national average is $675. Bumpers can be a little pricey to repair or replace these days because they are filled with sensors for the airbags and other safety systems.
Repairing your vehicle falls under the collision portion of a car insurance policy. This is optional coverage, and if you are not carrying it, the cost to repair or replace your vehicle after a collision will fall to you. Collision coverage comes with a deductible that you must pay before your insurance policy will step up and pay the balance.
As with most car insurance coverages, it is best to pay for small damages out of pocket and save your coverage for major incidents. Numerous small claims can dramatically impact your insurance costs.
Where to Find Car Insurance for Nissan Juke
If you are shopping for a Juke or already own one, you need the perfect insurance policy to protect both you and your vehicle. A Trusted Choice agent can help you find the right policy at a price within your budget.
Our agents will shop dozens of insurance companies to make sure you are getting the best deal on your Juke insurance policy.
Contact an independent agent today to start your Nissan Juke insurance quote.