Nissan Leaf Insurance
How Being Classified as an Electric Vehicle Affects Nissan Leaf Insurance Rates
(Here's what you need to know about Nissan Leaf insurance)
If you are in the market for an all-electric vehicle, the Nissan Leaf is a great choice. It has a spacious cabin for a subcompact category, and its 107-mile range on a single charge makes it a great commuter vehicle.
The Leaf gets good safety ratings, and its low theft rates make it affordable to insure. The average annual premium for the Leaf comes in at $866, well below the national average is $1,474.
If you are making the move to an all-electric Leaf, an independent agent will help you find the best policy for your new ride. Our agents will work hard to make sure your Leaf is fully protected with a policy that fits in your budget.
How Much Does Nissan Leaf Insurance Cost?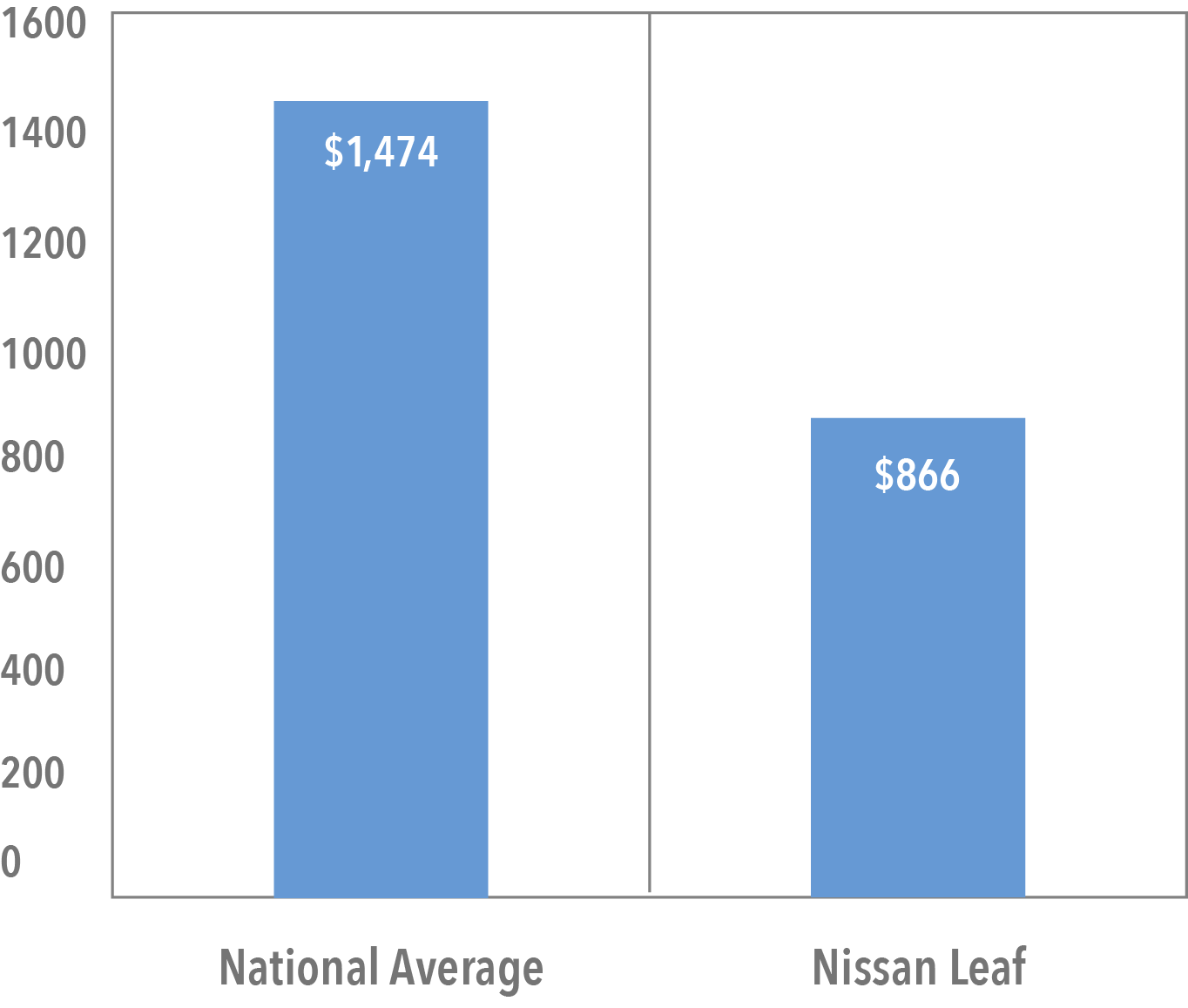 You can expect your annual insurance costs for a Nissan Leaf to run roughly $866. This puts the cost of insuring the Leaf well below the national average of $1,474.
While the Leaf is less expensive to insure than the national average, electric vehicles are generally more expensive to insure than gas-powered cars. This is because of their higher value and more expensive repair costs mainly due to the cost of replacing the battery.
When it comes to car insurance, there are a number of factors that you have control over, such as your driving and claim records, but other factors may be out of your sphere of influence. One of those factors is uninsured drivers.
Industry statistics show that about 12.6% of drivers are not carrying insurance, which pushes up rates for all drivers. Insurers have to cover the cost of claims for uninsured drivers, and they pass those costs on to insured drivers via higher premiums.
Even though the Leaf is pretty affordable to insure, discounts can bring down the cost of your insurance even further. All insurance companies offer discounts to their customers, and your job is to make sure you are getting every discount you are entitled to receive.
A Trusted Choice agent will review your current policy and ensure that you are getting all of the discounts that are available. They can also shop your policy to make sure you are getting the best coverage at the best price.
While discounts are a great way to lower your premium, there are other factors that will affect your premium. Insurers will consider all of these factors when setting your premium:
Credit Rating: Insurers give a lot of weight to your credit rating, so if you have a poor credit score, expect a higher premium. Do your best to improve your score by paying bills on time and reviewing your credit report for errors. If your score improves, shop your coverage.
Driving Record: This will also have a major impact on your premium. Avoid speeding tickets and accidents to ensure you are getting the best rate.
Claim Record: This is another major factor that insurers consider. Numerous claims on your policy will lead to higher rates and in some cases, cancellation. Save your insurance for major incidents and pay for small damages out of pocket.
What Influences Insurance Costs for Subcompacts?
The Leaf has a few factors that will impact insurance costs in a negative way. Because it's small, and is considered a subcompact, and also because it 's an all-electric vehicle, your premium costs may be a bit higher:
Accidents: According to a study by the Insurance Institute for Highway Safety, small vehicles have the highest rates of driver deaths per 1 million registered vehicles, which will impact Nissan Leaf insurance. Smaller vehicles have less mass to absorb the damage caused by accidents. This leads to more serious accidents and more expensive claims.
All-Electric: Electric vehicles have a much higher starting price than other subcompacts, and their battery system makes repairs very expensive, all of which will be reflected in your insurance premium.
Nissan Leaf Auto Theft and Safety Ratings
The National Highway Traffic Safety Administration doesn't have theft rates for the Nissan Leaf, but it does not make any of the top 10 stolen car lists, so it's unlikely the Leaf is a high-value target for car thieves.
Leaf owners should be aware that theft of battery packs does occur. These batteries are expensive and can cost up to $5,000, which is why thieves target them. A battery theft will be covered by your insurance policy, as long as you are carrying comprehensive insurance, but your premium will go up after a claim.
Safety ratings will also have a big impact on your insurance cost. Luckily, the Leaf gets excellent safety ratings in all but one category.
Even though the Leaf is not considered a Top Safety Pick, it does manage to get the highest rating of "Good" in all categories except small overlap front, where it received a score of "Poor" from the Insurance Institute for Highway Safety:
Moderate overlap front: Good
Side impact: Good
Roof strength: Good
Head restraints and seats: Good
Small overlap front: Poor
The small overlap front test replicates what happens when the front corner of a vehicle collides with another vehicle or an object like a tree or utility pole. This crash test is a challenge for some safety belt and airbag designs because occupants move both forward and toward the side of the vehicle.
Insurers love safe vehicles for a couple of reasons:
Minimize Damage and Claims: High safety ratings mean the car will protect occupants when a crash occurs, which results in fewer and less expensive claims. In addition, some modern safety features such as autonomous braking may prevent an accident altogether.
Safer Drivers: Industry statistics show that drivers who choose safe vehicles usually drive more safely and file fewer claims.
Costs of Repairs for the Nissan Leaf
Repair costs for the Leaf are actually lower than the national average, as long as the battery pack is not involved. As an example, the cost to repair or replace a front bumper on the Leaf is $600, while the national average is $675.
Bumpers can be expensive to repair because they are loaded with sensors for the airbag and other safety systems. This can lead to an expensive repair if your front bumper is damaged or destroyed.
If your vehicle needs to be repaired, you will have to be carrying collision insurance, or you will be covering the cost of repairs out of pocket.
Collision insurance will cover the costs of repairing or replacing your vehicle if it is damaged or destroyed due to a collision. There is a deductible with collision coverage, which you must pay before your insurer will pay the balance.
It is always a good idea to pay for small damages out of pocket and save your
insurance for major claims. Numerous small claims on your policy will dramatically increase your insurance costs.
Where to Find Car Insurance for Nissan Leaf
If you are currently shopping for one or have a Leaf charging in your garage, a Trusted Choice agent can help you find a perfect policy to protect your vehicle.
Our agents will do all of the shopping for you, comparing quotes and making sure you get all available discounts before presenting you with the best options.
Contact an independent agent today to start your Nissan Leaf insurance quote.