Nissan Sentra Insurance
What You Should Be Paying to Insure Your Nissan Sentra
(A quick guide on finding the right coverage)
The Sentra has been a staple of the Nissan lineup since 1982 and has long been a favorite of automotive critics, thanks to its affordable price, fuel economy and safety features.
It has been popular with consumers as well, ranking number three in the Top 10 best-selling small cars of 2016. It is widely considered an extremely reliable vehicle.
The Sentra is well outfitted for its price point, gets great gas mileage, and is loaded with standard safety features. It's an excellent entry-level car, but can also function well as a daily driver or affordable commuter car.
But how does the popularity and functionality of the Sentra relate to insurance rates?
The average annual premium for a Nissan Sentra is $1,279, making it very affordable to insure and operate. Safety features are a major factor in the Sentra's popularity and helped it earn the Insurance Institute for Highway Safety (IIHS) highest safety rating of "Good."
A long list of standard safety features not only keeps you and your family safe, but also keeps insurance premiums low.
Work with an independent agent to find out how you can get the best price on Nissan Sentra insurance. A local agent will make insuring your Sentra quick and easy. They can shop a wide variety of companies to find the right policy for your needs while also advising you on coverage levels and discounts.
Insurance Costs for the Nissan Sentra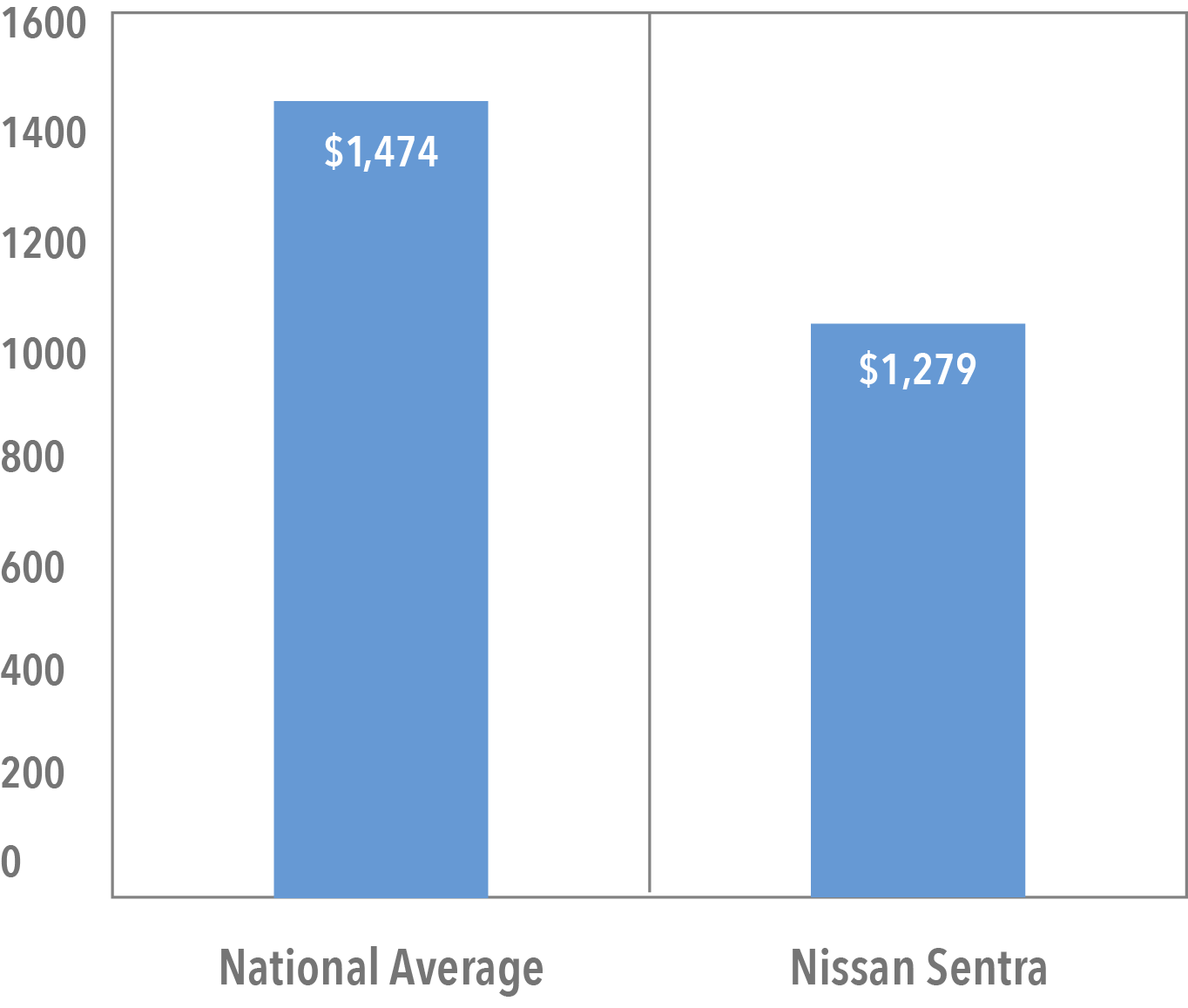 Insurance for the Sentra is fairly affordable. The average annual premium for a Nissan Sentra is $1,279, which compares well against the national average of $1,474. These figures are for the base model, so costs will be slightly higher for a top-end Sentra.
While the average premium for Sentra is very affordable, a number of factors can impact your insurance costs. This includes uninsured drivers. Nationwide, that figure recently hit 12.6%.
Uninsured drivers push up the cost of car insurance rates because insurance companies must cover accidents when they are involved. This cost is passed on to all drivers in the form of higher premiums.
Insurers will also consider the following when setting rates:
• Age: If you are young and male, you will pay the highest rates. Premiums tend to drop as you get older and gain experience.
• Martial status: Statistics show that married people have fewer accidents, so their premiums are lower.
• Credit score: A low score will result in a much higher premium.
• Driving history: This is a major factor. Numerous tickets or accidents can dramatically increase your insurance costs.
A Trusted Choice agent will help you determine what factors are impacting your premium and can help you find an excellent policy at a great price. They have access to dozens of insurers and will find the best policy for your particular situation.
Nissan Sentra Auto Theft and Safety Ratings
Safety features can have a major impact on insurance rates, and the Sentra is outfitted well for an entry-level vehicle.
The Sentra earned the Insurance Institute for Highway Safety (IIHS) highest safety rating of "Good" on all tests, including the small overlap front impact test.
This test, which is often difficult for smaller vehicles, replicates what happens when the front corner of a car collides with another vehicle or an object. The Sentra also achieved a four-star (out of five) ranking from the National Highway Traffic Safety Administration.
Standard safety features such as antilock brakes, stability control, tire-pressure monitoring, front-seat side airbags, full-length side curtain airbags and active front head restraints will usually result in a discount on your insurance rates.
Advanced safety features that are available as optional equipment will drive your Sentra insurance rates even lower. Expect a significant discount if your vehicle is equipped with blind-spot monitoring, rear cross-traffic alert, or forward collision mitigation with automatic braking.
Theft rates also impact insurance rates, and if you are driving a car that is frequently stolen, you will most likely be paying more for your coverage. Luckily, the Nissan Sentra is not particularly popular with car thieves.
However, taking a few extra precautions can prevent your car from being stolen and may result in a discount on your insurance rates.
Garage it: Keeping your car in a garage protects it, not only from thieves, but also from severe weather. Most insurers offer a discount for garaged vehicles.
Alarm it: Adding an alarm system to your vehicle will deter thieves and usually results in a significant discount. Adding a locator service like LoJack may also qualify your car for a discount.
Always lock it: Car thieves tend to take the path of least resistance. The simple act of always locking your vehicle may save it from being stolen.
Remove your valuables: Laptops, electronics and other valuables left in the car are enticing to thieves. Hide or remove your valuables when the car is parked.
When it comes to a stolen car, you must be carrying comprehensive coverage to be covered. This is optional, but is usually required if you have a loan or lease on your vehicle. It not only protects against car thieves, but also covers damage from floods, fires, and even animals.
Where to Find Car Insurance for Nissan Sentra
If you are in the market for a Nissan Sentra, or already have one sitting in the garage, you will need the right insurance policy to help protect it.
An independent agent can help you find a Nissan Sentra car insurance plan and customize it for your specific needs. Our local agents can shop for a wide variety of insurance companies to find a policy that fits your budget and offers the greatest protection. Contact an agent today.