Nissan Versa Insurance
(Here's how you can easily find the right coverage)
The Nissan Versa is a compact four-door sedan. It is very affordable and offers a wide variety of options and amenities. Nissan Versa insurance is lower than the national average, but in general, compact and subcompact cars may cost more to insure than larger, more sturdy and family-friendly models.
The 2016 Versa earned mostly "good" ratings from the Insurance Institute for Highway Safety (IIHS), and the 2017 model offers several safety features that can offset higher insurance rates.
Compact and subcompact cars like the Versa are typically economical to purchase and drive, but their small size and tendency to be driven by younger drivers in more densely populated areas may impact your insurance rates. The Nissan Versa is also popular with thieves, another factor that can raise insurance rates.
An independent agent will help you find insurance for your Nissan Versa. Your agent can help you get quotes from multiple insurance carriers, so you can choose the quality, affordable coverage that meets your needs and budget.
How Much Does Nissan Versa Insurance Cost?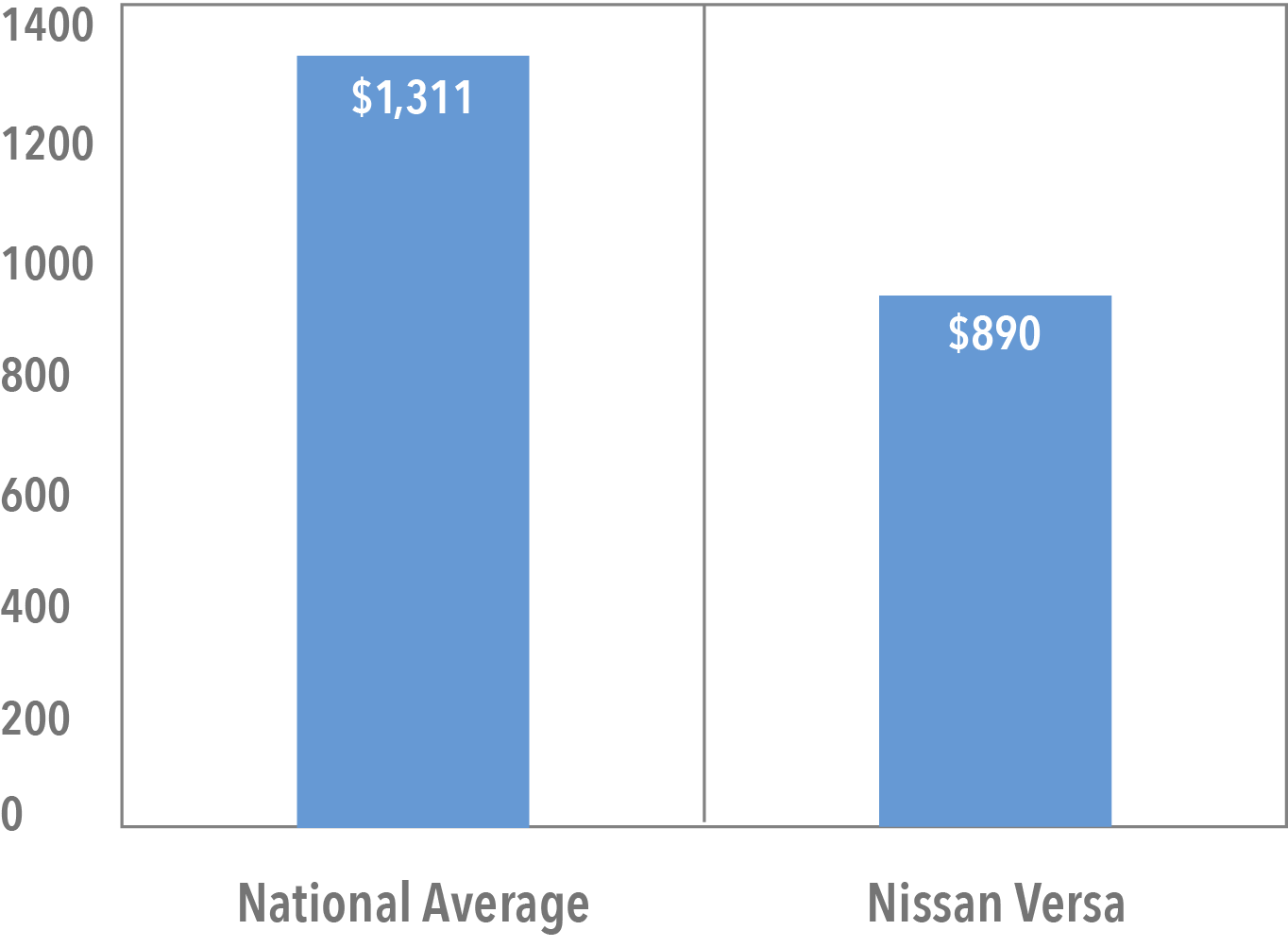 The average annual insurance cost for the Nissan Versa is about $890. This is lower than the national average of $1,311.
In general, insurance companies assess your vehicle's record of claims and the costs associated with repairs and passenger injuries. Larger and safer vehicles tend to cost less to insure, as do sedans, which tend to be driven by older, more cautious individuals and those with families.
Smaller sedans like the Versa often cost more to insure because they tend to be driven by younger drivers, and their size may make them less safe relative to other vehicles.
Where you live and a several other factors influence your auto insurance rates, too, so not every Nissan Versa owner will enjoy low insurance costs. Your Nissan Versa insurance rates will also be determined by:
Your age and gender
Your driving record
Your marital status
Your credit history
How much you drive
The types of coverage and deductibles that you choose also impact your insurance rates. Higher coverage limits cost more. Any optional coverage that you purchase will also add to your Versa insurance rates. But if you choose higher deductibles, you can lower your rates somewhat.
Most insurance companies offer a variety of discounts to drivers who qualify. Talk to an independent insurance agent about some popular insurance discounts that you may qualify for, such as:
Multi-policy discount
Multi-vehicle discount
Safe driver discount
Good student discount
What Influences Insurance Costs for Compact Cars?
Insurance companies look at several factors when determining insurance costs for a particular type of vehicle, including:
Initial purchase price of the vehicle
Repair costs
History of accidents and claims
Safety ratings
Speed and power
Theft ratings
Unfortunately for Nissan Versa drivers, the cheapest cars to insure tend to be large, safe, and sturdy cars like minivans, SUVs and trucks. Compact and subcompact vehicles rarely appear on any "cheapest cars to insure" lists.
Small and compact cars like the Versa tend to be driven by younger drivers in more densely populated areas, bringing a higher risk for theft, accidents, and injuries than larger, family-friendly models.
Nissan Versa Auto Theft and Safety Ratings
Insurance companies treat safer vehicles more favorably because they are less likely to have to pay costly claims for passenger injuries and repairs. Cars with lower safety ratings are generally more costly to insure.
Having certain safety features can also earn you a discount on your insurance rates. Insurance companies often offer discounts for vehicles with anti-lock brakes, airbags, and automatic seat belts.
Auto theft plays an important role in how much your Versa insurance costs. According to the FBI's Uniform Crime Report, more than $4.5 billion was lost nationwide to motor vehicle thefts in 2014. These losses are often in the form of auto insurance claims, so they are of great concern to auto insurance companies.
The National Crime Information Center reported 19,759 thefts of smaller vehicles from 2009 to 2012. Vehicles in the compact and subcompact class were targeted the most among smaller vehicles, with 5,550 subcompact vehicle thefts during that period.
The Nissan Versa was one of only two subcompacts that made the list of the top 10 most stolen compact and subcompact vehicles.
Comprehensive coverage is important for vehicles that are popular with thieves. It pays for losses due to theft and certain other perils. If you own a Nissan Versa, you should also take steps to protect your car from theft.
Install an alarm system
Always park in safe, well-lit areas
Never leave your car running while unattended
Always lock your vehicle
Most insurance companies offer an anti-theft discount when you install an alarm system. This can help offset higher insurance costs for vehicles that have high theft rates.
Repair Costs for Nissan Versa
The Nissan Versa costs less to repair than the national average. Popular, inexpensive cars generally cost less to insure because replacement parts cost less and are easier to find.
Insurance companies are concerned with repair costs because these costs reflect what they may have to pay out if you have to file a claim after an accident. The Versa's low repair costs may help to offset some of the factors that make insuring it more costly relative to larger vehicles.
Save on Car Insurance
Our independent agents shop around to find you the best coverage.
Where to Find Car Insurance for Nissan Versa
The Nissan Versa is a dependable subcompact sedan that offers a variety of amenities. An independent insurance agent can help you shop around and find the best coverage for your needs and budget.
Find a local independent agent who can work with multiple insurance companies, and can help you with all of your insurance needs. Be sure to talk to your agent about any auto insurance discounts that you may qualify for, to help you keep your Versa insurance costs low.