How to Buy Car Insurance
Buying Car Insurance in 7.5 Simple Steps
(Finding the right coverage needs the right directions, too)

Spend an hour watching TV any given night and you'll be bombarded by car insurance ads. Companies brag about the lowest prices, the most experience, or even the nerdiest mascots. Unfortunately, those ads are so heavy on the sales pitch that they skimp on the more important details, like how to find the right insurance for your situation.
But don't worry, our independent insurance agents can help. And they aren't tied to any one carrier, so they're free to find the best rates and best options across multiple companies. Then, in the end, they'll help you decide what's right for you, from the perfect price to the proper coverage—all while breaking down all that fancy insurance jargon into plain English. Nice, huh?
So, let's talk about the ins and outs of car insurance and what you need to keep in mind when finding the right coverage for you.
How Does Car Insurance Work?
Car insurance is a simple contract between you and an insurance company. With it, you agree to pay them monthly, quarterly, or yearly (these payments are called "premiums") and in exchange, they'll cover your costs if you get in an accident.
Most insurance companies will ask you to pay for a certain amount of damage before their coverage kicks in. This amount is called a "deductible." Generally speaking, lower deductibles are good and higher deductibles are bad, but a lower deductible does mean you'll pay more in premiums.
That's the basic premise for ya—we'll break down the finer points later. Now let's talk how you shop.
Step 1: Have a Reason to Buy Car Insurance
Among the most common reasons to shop for car insurance are saving money, upgrading your coverage, or buying a new car. If you've already got car insurance, you can skip ahead to step 2. But If you're buying a new car, know this:
You need to have insurance before you drive a new car off the lot! Car insurance is a legal requirement in nearly every state. So start by contacting your agent and telling them a few details about yourself to help get the ball rolling.
Here's what you need to do right away while car-shopping to avoid breaking the law:
If you don't have insurance: Call an insurance agent before you buy the car, so they can get a policy ready for you behind the scenes. (A couple days' lead time is good.) When you decide on a car, call your agent and finalize the insurance before you drive away.
If you already have insurance on a different car: Report the new car to your insurance company within the time frame they specify in your policy. This could be as little as 3 days, but more commonly, it's 30 days.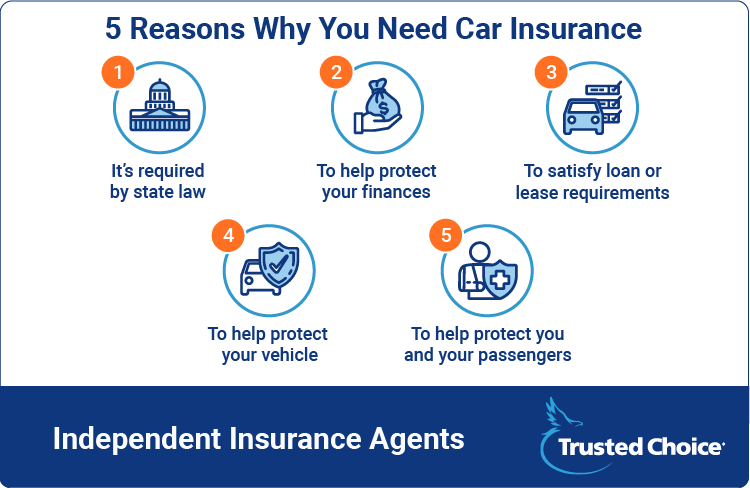 Step 2: Fill Out an Application
Car insurance is based on a giant math problem. Companies make an educated guess about how likely you are to get into an accident based on your age, history, location, and a number of other things (even marital status!).
To do this math, companies need your info. This starts when you fill out an application online or in person (if you're old-school like that) so they can figure out what insurance to offer you. Not sure what to put down? An independent insurance agent can help, and they can even fill out the application for you.
Step 3: Decide How Much Car Insurance You Need
Once the numbers have been crunched, you'll usually be left with 3 or 4 prices for different types of insurance. You'll need to decide which one best meets your needs. Here's what you will and won't get with each:
Liability insurance: This is the minimum you need to meet the legal requirements for car insurance—and trust us, it's pretty minimum. This covers damage to other drivers, bikers and pedestrians if there's an accident, but it won't pay a dime to you for repairs or medical bills.
Comprehensive insurance: Comprehensive insurance isn't really comprehensive. It's a kind of catch-all insurance that covers weird scenarios like hail, wind, fire, theft, and accidents with wild animals. It's also called "all but collision" insurance, because that more clearly describes what it does.
Collision insurance: This covers your damage and medical expenses if you get into a collision with another vehicle or inanimate object, like a lamp post or a brick mailbox.
All of the above: The Rolls Royce of car insurance, this type blends all of the above to create a supercharged insurance that's ready for anything—but it's more expensive than plain old liability. This insurance can include great extras like roadside assistance and extra medical coverage, too.
There's no one right answer to what you'll need. If you're leasing, you'll be required to have collision and comprehensive coverage so the company isn't left high n' dry if your car gets wrecked—ditto if you have a car loan. On the other hand, if you're driving a paid-off rustbucket that's not worth repairs, liability-only will make more sense for you.
You should also consider how badly you need your car. Do you drive for work? Are you the designated picker-upper of the kids from school? Springing for better insurance could be a worthwhile investment, since it often comes with perks like faster service and rental car coverage.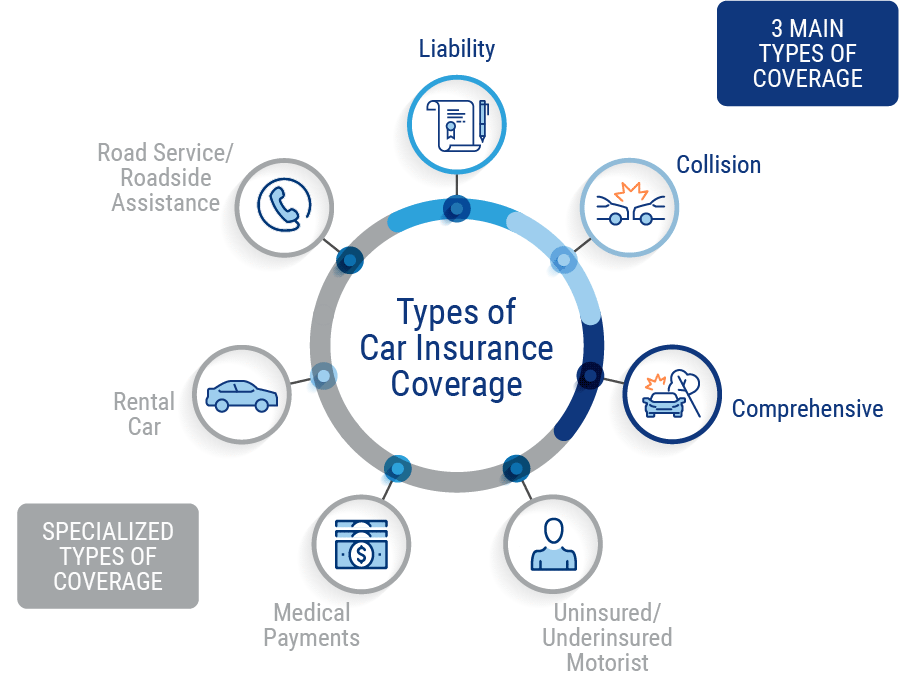 Step 4: Compare Insurance Companies
Once you've decided what kind of insurance you want, you'll still likely have to choose between a few different insurance companies (called "carriers" in the biz). Qualities to compare between carriers include:
Discounts: Discounts lower your premiums. Carriers offer all sorts of discounts, from common ones like military and veteran discounts to more niche ones, like good student discounts. Don't be shy about asking what discounts a company offers and which discounts have already been applied to your quote.
Company size: Would you prefer a mom 'n' pop shop on Main Street or a sleek high-tech corporation? There's no right answer, just your preference, but be sure to factor it into your decision.
After-hours support: Check out a carrier's website to feel out their hours and claims support options. Most car insurance companies offer 24/7 accident reporting, but their hours for regular customer support with your bill or policy may be much more restrictive.
Step 5: Find the Best Prices
Before you make it official, double-check that you're paying a fair amount for car insurance. Things that can push costs higher include living in a big city (more traffic = more fender benders), a sketchy driving record (a bunch of tickets and/or accidents), and an expensive car.
On the other hand, good-to-excellent drivers of mid-range vehicles can expect lower costs. Here's a rough average of what they can expect to pay each year:
For liability only: Only about $200-$400 per year, but you'll be on the hook for all your own repairs.
For comprehensive + liability OR collision + liability: Either type plus liability costs about $400-$800 per year. Comprehensive + liability is a more common combo.
For the whole shebang: Full coverage car insurance costs about $800 per year and up. That stings, but you'll get awesome coverage to match.
Expect your costs to go way up if you commit a driving-related crime like a DUI or reckless driving. DUIs can push costs into the thousands each year and can even cause your insurance company to drop you if they decide you're too big a risk.
Step 6: Seal the Deal
Once you've picked a quote, finalizing your insurance is as simple as a signature. Congrats! You did it. Whether you simply changed insurance companies or bought insurance for the first time, we're celebrating right there with you.
Step 7: Cancel Your Old Policy
Starry-eyed over your brand-new, super-awesome policy? Enjoy the honeymoon, but don't forget to break it off with your old beau, too. Luckily, your new insurance agent can deal with it for you. You'll usually be required to put the cancellation in writing for legal reasons. Once that's done, you're free.
Step 7.5: Don't Screw Up While Selling Your Old Car, Either
You should never, ever remove insurance on a car until you have proof you sold it. That's because you could be liable for damage if the new owner gets into an accident in your old car before they buy their own insurance, to the tune of hundreds of thousands of dollars. Ouch.
Here's how to avoid this nightmare scenario:
Fill out a bill of sale so you have proof you sold the car. No cutting corners. You need this paperwork to protect yourself, no matter how trustworthy you think the buyer is. The bill of sale form is usually attached to your car's title, ready to fill out: No DMV trip required. (That's the new buyer's job when they get a new title after the sale.)
Only cancel the insurance once the signed, dated bill of sale is in hand. Keep paying premiums until that point, even if you're not driving your old car. Bills suck, but giant, life-ruining, hundred-thousand-dollar bills and legal fees suck more.
The Awesome Benefits of an Independent Insurance Agent
Independent insurance agents are pretty much the ultimate life hack when it comes to buying insurance—car, home, or whatever . They work for you, not the insurance companies, so they can find you the right prices with the right company for you. They'll also help you with the boring parts of the application process.
Their help doesn't stop there, either. if you get in a jam and need to make a claim, they'll help you meet deadlines and file paperwork so you can maximize the benefits you're entitled to. Pretty sweet, eh?