How to Buy Car Insurance
How To Buy Car Insurance
Knowing the process can save you money now and prevent headaches later

Car insurance is required in nearly every state and highly recommended in every state. If you drive uninsured, you can be on the hook for thousands of dollars of injury costs and property damages if you're responsible for an accident, plus your license will probably be suspended.
The car insurance buying process doesn't have to be complicated, and often companies try to make it as quick and painless as possible. But there's no substitute for knowledge, which is where having an independent insurance agent help walk you through the process could secure you with key coverage options you might otherwise have missed. Plus they'll probably be able to find you the lowest rates.
How does car insurance work?
The basics of car insurance revolve around liability, which kicks in if you're responsible for somebody else's injuries or property damage. If you're held liable for injuries or property damage, the insurance company will pay for the cost of those damages, including defense costs and settlement money if your accident goes to court, but only up to the limit that you choose when you buy your policy.
Of course, there are many other types of coverage options that you can choose when buying your car insurance policy, including insuring your own vehicle for accidental damages, such as theft, hail damage or getting into an accident with another vehicle.
Most car insurance policies are effective for either 6 months or 12 months and will remain in force for that entire period as long as you keep paying your insurance premiums.
How to shop for car insurance
There are two main ways to shop for car insurance: by yourself by going through an insurance company's website, or by talking to an independent insurance agent. Both ways will require you to submit quite a bit of information, but it's important to start the process as early as possible before you need the insurance to kick-in.
1. Before you buy a car
If you don't currently have insurance and are planning on buying a car, it's best to give yourself plenty of time to shop around for car insurance. You will need to have a policy in-force before you drive the car off the lot, and will likely need to show proof of insurance to the dealer before you do so.
Starting the process early can also give you more time to find the lowest rates. If you wait until the last minute, you'll probably have to go with the first company you get a quote from and could pay hundreds of dollars more than if you had compared multiple quotes.
If this is your first car and you've never had insurance, you might run into difficulties finding an insurance company that you can buy from. Most insurance companies require you to have previous insurance. If you're starting from scratch, your options will be more limited at first, but we'll address that in step 3!
5 reasons why you need car insurance
2. Decide how much car insurance you need
Liability
The main thing you'll want to consider is your liability limits. The cheapest option for you is always going to be to go with the lowest possible limits, aka state minimum limits. However, this isn't always recommended.
If you're responsible for a serious car accident, you'll be on the hook to pay for whatever your car insurance doesn't. For example, let's say you carry the state minimum liability limits of $25,000 bodily injury per person, $50,000 bodily injury per accident, and $25,000 property damage. This is often shortened to $25,000/$50,000/$25,000 or even 25/50/25.
If the total amount of damages from your accident is $200,000, which is entirely reasonable considering the cost of urgent medical care, then you would be responsible for paying up to $150,000 - $175,000 to the injured person. And if you don't have that money, the court could seize your house, your car, and even your future earnings to pay for it.
Another important coverage is uninsured/underinsured motorist coverage. With so many uninsured drivers on the road, they won't be able to pay for your injuries or damages. This coverage can pay for your own injuries and damages if the other driver doesn't have insurance or doesn't have high enough limits to cover your costs.
So, it's best to err on the safe side and choose as high of liability limits as you can comfortably afford. A safer liability limit to start with is $100,000/$300,000/$100,000.
Your own car
As far as your own vehicle is concerned, you'll simply choose whether you want comprehensive coverage, collision coverage, or both.
Collision coverage pays for damage to your own car if you get into an accident with another vehicle or solid object, while comprehensive coverage covers you for nearly everything else, such as theft, hail damage, falling objects like trees or branches, cracked windshields, and even hitting an animal on the road.
If you have a claim, the insurance company will pay to fix your vehicle based on its market value, which the company will decide at the time of the claim.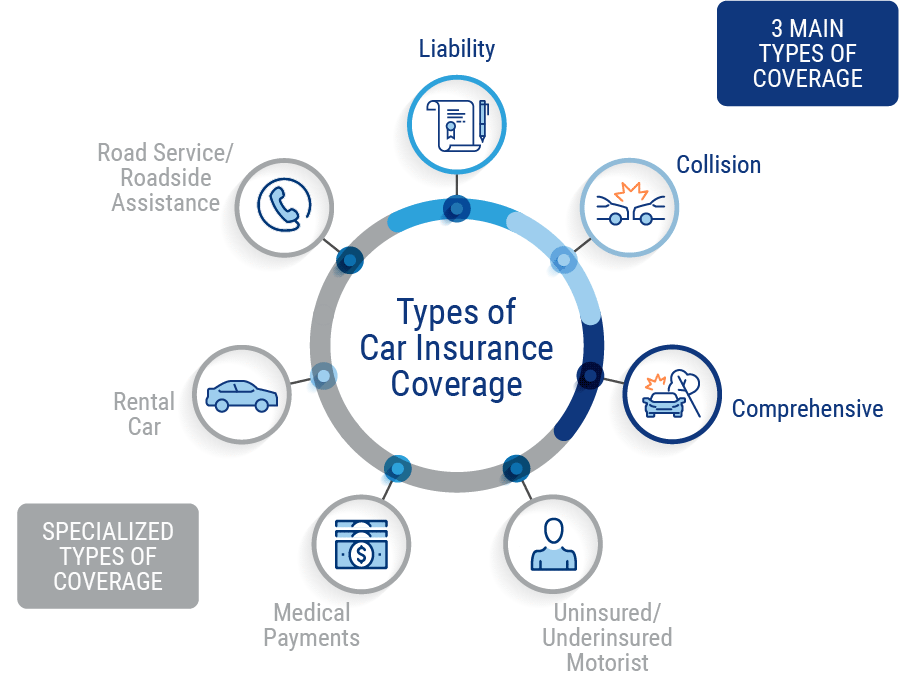 Save on Car Insurance
Our independent agents shop around to find you the best coverage.
3. Compare insurance companies
If you let an independent insurance agent do the shopping for you, she/he will go to work comparing and sorting out all the different companies and present you with the top two or three options.
To get a car insurance quote, whether online or through an agent, you'll need at least the following information:
Full names, date of births, and drivers license numbers for all licensed drivers in your household
VINs on all vehicles to be insured
Garaging address for all vehicles, if it's different from your home address
The name and address of any financing or leasing company
Prior violations and accidents you've had in the last 3 to 5 years
In general, here are some things to look for when you're comparing car insurance companies:
Discounts. All car insurance companies offer some type of discounts, though you may not be eligible for all of them. Ask about all the ways that you can save money on your policy.
Claims reputation. Almost all car insurance companies have some negative reviews when it comes to claims, but some have many more negative reviews than others. How fast they pay and whether they'll try to lowball your car's value are the two most common complaints. Ask your independent agent about the company's claims reputation that you're looking at.
Tech options. Most national insurance companies have sleek apps and robust websites that let you do almost anything on your own, while smaller regional companies might not.
Customer service. Sometimes the opposite of tech options, many regional companies have a strong reputation for customer service, while some of the largest national brands do not.
If you have a current insurance policy or are listed as a driver on somebody else's, then you're considered to have continuous insurance and should be able to get a quote from just about anybody. But if you don't have a current insurance policy, you'll probably have to stick with a large, national company like Progressive or GEICO, at least for 6 months.
4. Find the best option
The best option might not be the cheapest option for car insurance. The best option for you will have the right type of coverage that you want, be competitively priced, and will be strong in the areas that you want, such as technology or customer service.
Speak with an independent insurance agent about the pros and cons of your top choices. They'll be able to help point out areas that your company is strong in and can help you decide which option is the best for you.
Save on Car Insurance
Our independent agents shop around to find you the best coverage.
5. Finalize your new policy
Once you've picked a company, you'll need to sign an application, which can be done either online or in-person with an agent. Your driving record, or MVR, will also be run if it hasn't been already. If you haven't disclosed any accidents or violations in the last 3 to 5 years already, then your rate could change after your MVR is run.
At this point, you've probably already selected your billing plan. Most companies allow you to pay monthly, either by mail or by automatic withdrawal from your checking account or credit card. You can also pay quarterly, semi-annually, or annually. Many insurers will give a discount if you can pay for the entire 6 or 12-month policy up-front.
Submit your application, verify the date that you want your policy to start, and send in your first payment, and you will have an active insurance policy!
6. Cancel your old policy
If you do have an existing car insurance policy, or you're listed as a driver on somebody else's policy, you'll want to cancel that whenever your new policy starts. You don't have to wait until the same day that your new policy starts, however.
For example, if your new policy starts on September 1st, you can call or notify your old insurance company on August 20th and tell them that you want to cancel effective September 1st. Alternatively, you can typically "backdate" the cancellation. So you could wait until, say, September 5th, and then call and cancel effective September 1st.
If you're selling your old car, be sure to keep the insurance on it until you have documented proof that you no longer own the vehicle. Otherwise, whoever you sell it to could get into an accident and say that it's still your car, but you wouldn't have insurance coverage on it anymore.
What to watch out for when buying car insurance online
The temptation and danger of shopping online for car insurance is to just find the lowest possible price. As we mentioned earlier, this might not be in your best interest. There are also many different types of coverage options available on a car insurance policy, some of which you might actually want.
For example, if you see that adding rental car coverage is going to cost you an extra $60 a year, you might be tempted to opt-out. But if your car gets damaged and you need a vehicle to drive, having that coverage on your policy will give you money to rent a car.
Save on Car Insurance
Our independent agents shop around to find you the best coverage.
The benefits of an independent insurance agent
Understanding the ins and outs of car insurance is what independent insurance agents do every day, and can leave you with a car insurance policy that you can afford and one that you're happy with.
An independent insurance agent will look at multiple companies, some of which you may not have ever heard of, but that are excellent companies when it comes to rates, customer service, and claims. They can explain what each type of coverage is that you might need, and can also ask the right questions to help you determine which type of policy is best for you.
Simply put, an independent insurance agent can be your guiding expert on finding you the best car insurance policy for your situation.
TrustedChoice.com Article | Reviewed by Andrew Flueckiger
©2022, Consumer Agent Portal, LLC. All rights reserved.