Teenage Car Insurance
(Quick answers on teenage car insurance)
When your teen is about to get a driver's license, you need to start thinking about young driver insurance. Whether your teen will drive a family car or a car of their own, you still need car insurance.
And like most parents, you probably have a lot of questions. We have tried to briefly answer some of the most common questions parents have about car insurance for young or new drivers.
Maybe you actually have asked this question—a lot. But do you know the real answer? Simply put, teen drivers are the riskiest age group to insure.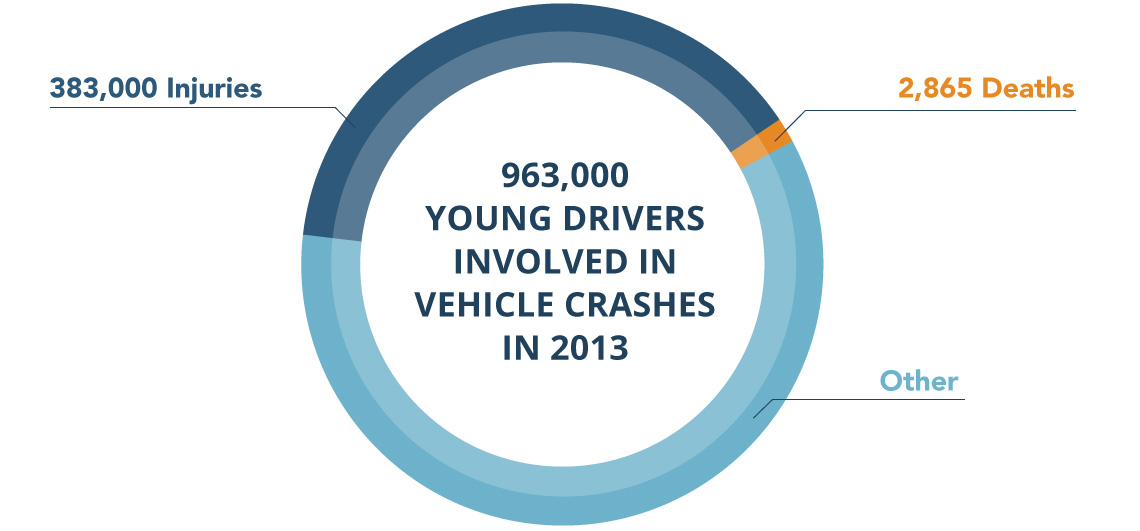 963,000 drivers aged 16 to 19 were involved in police-reported motor vehicle crashes in 2013, resulting in 383,000 injuries and 2,865 deaths (AAA). Motor vehicle crashes are the leading cause of death among 15- to 20-year-olds (National Center for Health Statistics).
Most experts agree that immaturity and lack of driving experience are the two main factors that cause teen drivers to have such a high crash rate.
Because they are new drivers, teens often fail to recognize hazardous situations and don't respond appropriately. In addition, teens are more likely to engage in risky activities such as speeding and tailgating.
2. What Makes Teenagers More Prone to Accidents?
Teens as a group are risky drivers. In addition to immaturity and an inability to appropriately recognize risky situations, they face numerous risk factors that impact their likelihood of getting into accidents.
Low risk perception: How many times have you said, "My teenager thinks she is invincible"? Unfortunately, this statement is often true, even when teens are behind the wheel of a car. Young drivers underestimate the risks they face and overestimate their ability to respond.
Risk taking: Invincibility, again. Teen drivers are more likely to engage in risky driving behaviors like speeding, tailgating, running red lights, violating traffic rules, making illegal turns, passing dangerously, and failing to yield.
Skill deficiencies: Young drivers are new drivers. They haven't yet mastered the skills they need to stay safe.
Alcohol and drug use: Unfortunately, substance abuse is a leading cause of serious crashes among teen drivers. And teens with alcohol or drugs in their system are even more prone to crashes than older drivers who may have consumed similar substances.
Distraction: Teens are easily distracted by many things, including having their friends in the car while they drive. In fact, the fatality risk of 16- and 17-year-old drivers is three times higher when they are driving with passengers than when they are driving alone.
Night Driving: Night driving takes practice, and teen drivers are less experienced night drivers than their adult counterparts. In addition, teens are more likely to be tired and even under the influence of drugs or alcohol at night.
3. When are teens added to a car insurance policy—when they get a learner's permit, or when they get a driver's license?
Requirements for adding teen drivers to your insurance policy vary among states and insurance companies, especially during the time a teen has their learner's permit.
Some insurance companies base their rules strictly on whether or not the teen has a license, while others base their requirements on the age of the teen. Your Trusted Choice® insurance agent can help you determine when you need to report your teen driver to the insurance company.
4. If my teen has a driver's license but does not drive, will my insurance rates still increase?
The short answer is yes. Insurance companies have no way of knowing if your teen is or isn't actually driving. Also as mentioned before teens are risky and unpredictable. They could jump behind the wheel of a friend's car without your knowledge and in this case they would still need protection.
If you're trying to keep premiums down while your teen is licensed and certain they never drive, you could have them surrender their license to the DMV.
The DMV will likely provide written documentation of that surrender which can be given to your insurance company as proof. Some companies may lower your rates in this case, but the are not obligated to do so.
Save on Car Insurance
Our independent agents shop around to find you the best coverage.
5. Should I put my teen driver on their own car insurance policy to save money?
Adding a teen driver to your car insurance policy can potentially raise your rates significantly (anywhere from 20% to 180% depending on your state), but it is always best to add your teen to your family policy rather than purchase a separate policy.
In one example cited by Consumer Reports, adding a 16-year-old driver to a married couple's family policy resulted in a 250% increase in premiums. If that teen is insured separately, the rates could be even higher.
If you purchase a separate policy for your teen driver, you might be tempted to purchase insufficient coverage limits or exclude them from your other policies. This is never a good idea in a family where any driver could operate any of your vehicles at any time.
6. Will we have coverage if my teen has an accident but is not on my insurance?
There might be coverage if an uninsured teen driver is involved in an accident, the majority of policies in the U.S. cover all members of the household without you having to report them as drivers.
However, some policies may restrict coverage for family members to those that were reported to the company when the policy was put in place. If for some reason your teen was specifically excluded from your auto insurance policy, you will not have coverage for the accident.
7. When, if ever, do teen auto insurance rates begin to go down?
Typically, teen driver insurance rates tend to drop after the driver experiences three years with a clean driving record. Depending on your state, rates may drop by 50% after three accident- and ticket-free years, with another drop after six years with a clean driving record.
Young adult drivers may find that their rates decrease based on how long they've been driving without an accident. After age 25, car insurance rates should go down again (if the driving record remains clean).
8. How can I save money on my teen driver insurance premiums?
Be sure to shop around for car insurance quotes for your teen, as rates vary among insurance companies. Insurance companies offer a variety of discounts that apply to teen drivers. These include:
Good student discount
Defensive driving discount
Low-mileage discount
Safety features discount
Multi-policy discount
Driver monitoring discount
Your Trusted Choice insurance agent can help you find an insurance company that offers a variety of teen driver discounts.
9. How much will my car insurance premiums go up if my teen has an accident or gets a speeding ticket?
If your teen driver cannot keep a clean driving record and is instead involved in a crash or receives a speeding ticket, expect your rates to increase significantly—perhaps as much a 20% to 40%.
And insurance companies are not simply punishing you; teen drivers represent a significant portion of the costs related to motor vehicle injuries in the U.S.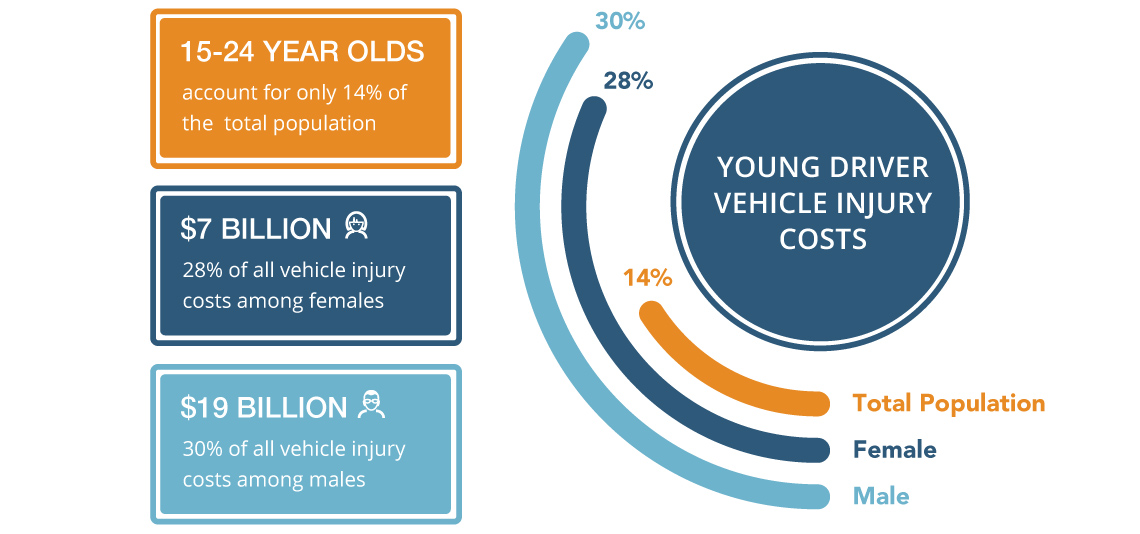 According to the Centers for Disease Control and Prevention, young people aged 15 to 24 represent only 14% of the U.S. population, but they account for 30% ($19 billion) of the total costs of motor vehicle injuries among males and 28% ($7 billion) of the total costs of motor vehicle injuries among females.
10. Does the type of car that teens drive affect premium costs?
Yes, and while teen rates are always going to be high, the car you choose will help you save some money. Your teen may fantasize about a fast sports car or a powerful SUV, but the best cars for teens are mid-sized sedans.
From an insurance perspective, small cars are considered less safe, while sports cars encourage speeding. Large trucks or SUVs are more prone to rollover crashes.
The best idea might be to provide your teen with a somewhat older vehicle that will cost less if it is involved in an accident, and that doesn't come with any of the inherent safety concerns of other types of vehicles.
Save on Car Insurance
Our independent agents shop around to find you the best coverage.
How to Find the Right Insurance for New Drivers
Finding good car insurance for teens and keeping rates under control is far from simple. Get your teen started on the right foot by making sure they take a high-quality drivers education course and have plenty of behind-the-wheel experience before you allow them to head out on the road.
In order to find high-quality coverage that addresses your family's specific needs, you should work closely with a local, independent agent who has experience working with families and teen drivers.
An independent insurance agent can obtain quotes from multiple, reputable insurance companies so you can find the best combination of cost and coverage for your needs. What's more, your independent agent will help you get all of the auto insurance discounts that your teen is eligible for.