Earthquake Insurance
Having the proper coverage in place will leave you much less rattled after a disaster.

Keeping your home or business safe means anticipating all disasters, even those caused by Mother Nature. But if you're unsure of which natural disaster coverages are required, trying to establish the right combination of protections for your home or business can be confusing. You might not know whether to get additional coverages, like earthquake insurance.
Fortunately independent insurance agents can help you determine if adding earthquake insurance is the right move for your home or business. They'll even be able to get you set up with the right policy for your needs. But before we get too far ahead of ourselves, here's a closer look at earthquake insurance and if it's required in your area.
How Common Are Earthquakes?
When considering the importance of earthquake insurance, it's handy to know just how prevalent these disasters are. Check out some earthquake stats below.
Between 1974 and 2003, there were more than 21,000 earthquakes of magnitude 3.5 or greater recorded in the US.
During the observed period, 42 states reported at least one earthquake event.
Since 2001, the number of earthquakes in the US has increased dramatically — up from 2,3242 in 2000, to 8,496 in 2010.
Alaska and California accounted for 80% of the seismic activity in the US.
Hawaii and Nevada rank third and fourth for seismic activity in the US, accounting for 11% combined.
Knowing that thousands of earthquakes take place across the nation annually, it's easier to see just how critical earthquake insurance is, especially for those that live in high-risk areas.
What Does Earthquake Insurance Cover?
Earthquake insurance provides crucial protection for your home or business in the event of an earth movement disaster. These perils are not covered under standard homeowners insurance or business insurance policies, so additional coverage is required.
While policies can vary, earthquake insurance typically includes coverage for the following:
Your home/business's structure
Your home/business's foundation
Your home/business's interior
External or detached structures, such as sheds
Disastrous events resulting from an earthquake, such as cliffs collapsing onto a business or a home sliding down a hill
Additional living expenses if you're forced to live elsewhere temporarily while repairs are made to your home
Optional coverages can include:
Building code upgrades
Land restoration costs
Emergency repairs
Not all policies include coverage for external structures. In order to qualify for insurance reimbursement, your home or business must have been damaged due to activity from earth movement. Note that if an earthquake has recently occurred in your area, it might not be possible to get a new earthquake insurance policy for up to two months.
An independent insurance agent can help explain even more about the importance of earthquake insurance, and how it could protect your home or business. They'll be able to get you set up with the right coverage ASAP.
Is Earthquake Insurance Mandatory?
If you live in an area at high risk for earthquakes, such as near a fault, your mortgage lender for your home or business may actually require you to have earthquake insurance. Otherwise, earthquake insurance is typically optional.
If you live in an area prone to these disasters, having earthquake insurance can save you a lot of money in the long run. The damage from just one earthquake can be devastating, and literally shake a building to its core. Having to pay rebuilding fees out of pocket could lead to bankruptcy for a home or business owner.
Who Sells Earthquake Insurance?
Earthquake insurance is available from many different insurance companies, and the best way to find the right carrier for you is through working with an independent insurance agent. These agents know which insurance companies to recommend to match your individual needs, and can provide informed suggestions based on company reliability, rates, and more.
While many insurance companies might offer earthquake insurance, finding coverage could also depend on the area you live in. Here are a few of our top picks for earthquake coverage.
Earthquake insurance companies
One earthquake insurance company outshines its competitors:
Farmers Insurance has been a strong competitor since its formation in 1928. The carrier is considered financially sound by A.M. Best and has received good ratings across the web.
Farmers offers the following coverages under its earthquake policies:
Structural repair coverage
Rebuilding coverage
Temporary housing coverage
Personal property replacement coverage
Quality coverage combined with a user-friendly website earns Farmers Insurance its spot as our top pick for earthquake insurance. An independent insurance agent can further help you decide if Farmers is the right carrier to meet your coverage needs.
Who Needs Earthquake Insurance?
While earthquake insurance is optional in many areas, those who live in high-risk zones absolutely need to have coverage to avoid huge financial consequences. That includes folks who own a home or business or rent in the following areas: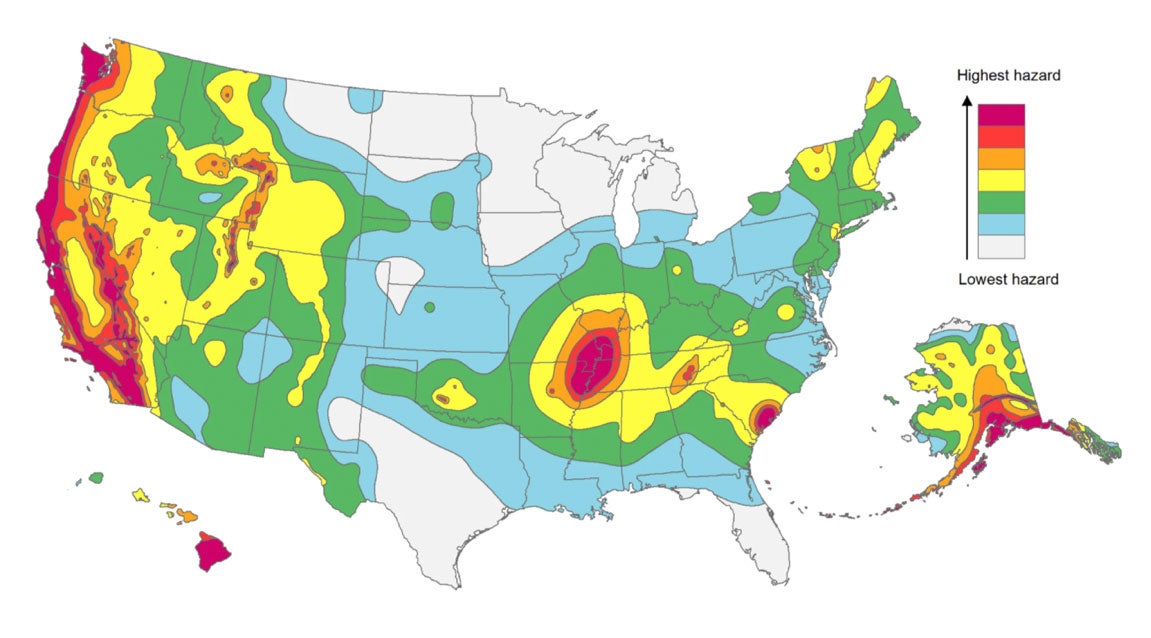 The highest risk areas for earthquakes are:
Alaska
California
Hawaii
Idaho
Kentucky
Missouri
Montana
Oregon
South Carolina
Tennessee
Washington
Wyoming
If you're a homeowner, renter, or business owner in any of these states, reach out to an independent insurance agent soon to get equipped with the proper earthquake insurance to protect your property.
What to Look for in an Earthquake Insurance Policy
You'll know an earthquake policy is right for you when it provides all the basic coverages necessary to repair your house and belongings, as well as temporary living expenses; or in a business's case, the building and inventory. Here's a breakdown of an earthquake insurance policy for better reference.
An Inside Look at an Earthquake Insurance Policy
Pays for:
Repairs to the home/business and attached or sometimes detached structures.
Repairs to personal belongings like clothes and furniture, or business inventory and products.
Additional living expenses for staying in a temporary residence while undergoing repairs to the home.
Doesn't pay for:
Fire damage after an earthquake: This is covered by homeowners or business insurance already.
Vehicle damage: You'd need a personal or commercial comprehensive auto insurance policy for this.
Flood damage: You'd need a flood insurance policy to cover this, even if the flooding resulted from an earthquake.
Sinkholes: This coverage can be purchased separately or as an endorsement to homeowners insurance.
An independent insurance agent can greatly assist you in selecting a legitimate earthquake insurance policy that meets your needs.
How Much Earthquake Coverage Do I Need?

When determining how much coverage is right for you, your independent insurance agent can certainly suggest ideal coverage limits for your policy. Your policy's limits might be the same as your homeowners insurance policy's at first, such as 10% of your dwelling's overall coverage for your personal property. This amount can be increased, however.
Earthquake policies can also come with higher deductibles compared to home insurance, sometimes at 10% to 20% of the dwelling coverage limit. These policies also often come with separate deductibles for dwelling coverage and personal property coverage. An independent insurance agent help review your policy and break this down further for you.
Is Earthquake Insurance Expensive?
Earthquake insurance may seem costly at first, but because your home or business is probably your biggest investment, protection from all natural disasters is necessary. Homes located directly over or near a fault line have the highest risk of damage, so policies for these homeowners often come with the highest premiums.
Homeowners can reduce their costs, however. Homes made of wood generally cost less to insure than those made of brick. This is because wood-constructed homes are more flexible and can better withstand the jarring motions caused by an earthquake.
Also, homeowners can often receive lower premiums by retrofitting their homes to make them better able to withstand an earthquake. This can be done by securing the structure to the foundation and installing a sprinkler system in the home.
Save on Earthquake Insurance
Our independent agents shop around to find you the best coverage.
How Are Earthquake Insurance Rates Determined?
Like many types of coverage out there, earthquake insurance policies consider several factors to determine their cost. These factors often include:
Your exact location
Your home or business structure's age
How big your home or business is
The value of the property
The type of soil on the property
Building materials used in the property
Your proximity to fault lines and historical seismic activity
The average cost of an earthquake policy in the US is $800 annually. Renters, however, might pay less than $300 annually for a policy with a 5% deductible, $50,000 in personal property coverage, and $1,500 in loss of use coverage. An independent insurance agent can help find quotes and provide exact figures for the cost of earthquake insurance in your area.
How Costly Are Earthquakes to the US?
While earthquakes may not be as frequent or costly to the US annually as other natural disasters like hurricanes, they still leave quite a mark, both physically and financially.
Estimated overall losses due to natural disasters in the United States in 2019, by type (in million U.S. dollars)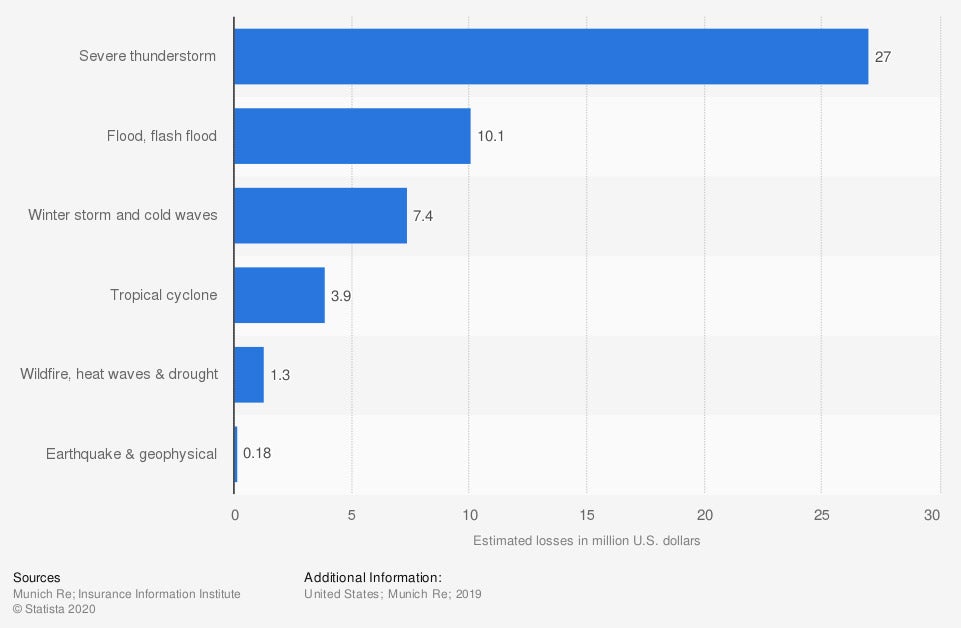 In 2019, earthquakes cost an estimated $180,000 in total losses. While this is considerably less than severe thunderstorms (at $27 million in losses), this amount is still high enough to warrant having the proper coverage.
How Do Earthquake Insurance Claims Work?
If an earthquake destroys your home or business, your insurance company will reimburse you up to the amount of your policy's coverage limit, minus the cost of the deductible.
| | |
| --- | --- |
| Here's an example: | |
| Earthquake policy coverage limit: | $150,000 |
| Earthquake policy deductible amount: | 15% |
| Claim amount submitted to insurance company: | $150,000 |
| What you'd pay: | $22,500, or 15% of the overall coverage |
| What the insurance company would pay: | $127,500, or the remaining 85% |
An independent insurance agent can further break down how earthquake insurance claims work, and how much you'd get reimbursed if you had to file a claim.
Frequently Asked Questions about Earthquake Insurance
Standard earthquake policies provide coverage for your home or business's dwelling as well as limited coverage for the property inside, and additional living expenses.
Comprehensive earthquake policies cover your home or business's structure, your personal property or inventory, additional structures, and additional living expenses.
To determine how much coverage you need, work with an independent insurance agent to figure out how much it would cost to rebuild your home or business. You'll also figure out the cost to replace the property inside and for coverage for additional living expenses.
Yes, though it might be offered as optional coverage depending on the policy. Emergency repairs up to 5% of the insured value of the home or business can be included, as well as the same amount for debris removal.
Yes, optionally. Typically up to $10,000 in building code upgrade coverage is available.
In part. Earthquake insurance typically offers up to $10,000 in coverage for the land that supports your insured home to restore or replace it. No additional coverage for landscaping is usually offered.
TrustedChoice.com Article | Reviewed by Paul Martin
©2023, Consumer Agent Portal, LLC. All rights reserved.
Statista
irmi.com
iii.org