How Does an Insurer Define a Flood
The One Simple Way Insurers Define a Flood
(Here's how to tell if your homeowners insurance will cover water damage in your home)

Sometimes it feels like insurance companies speak a different language from the rest of us. To normal people, a flood is just a bunch of water. To an insurance company, a flood has a specific definition, and your insurance payout could hang in the balance of what it is.
Luckily, we're here to interpret the definition of flood insurance and what that means for your insurance coverage. And if you need expert help, our independent insurance agents are on hand to answer questions and help you find the right coverage to keep your home and family safe.
Save on Flood Insurance
Our independent agents shop around to find you the best coverage.
How Does an Insurer Define a Flood?
Insurers define flood damage as any damage caused by a natural gathering of water. This includes:
Snowmelt
Overflowing rivers and other bodies of water
Hurricane storm surges
Flash floods due to heavy rain
Mudslides
In short, if it's caused by Mother Nature having a bad day, it's a flood. Floods aren't covered by your homeowners insurance, they're covered by flood insurance instead.
Most expensive flood disasters in the United States from 1978 to 2018, by National Flood Insurance Program (NFIP) payouts (in million U.S. dollars)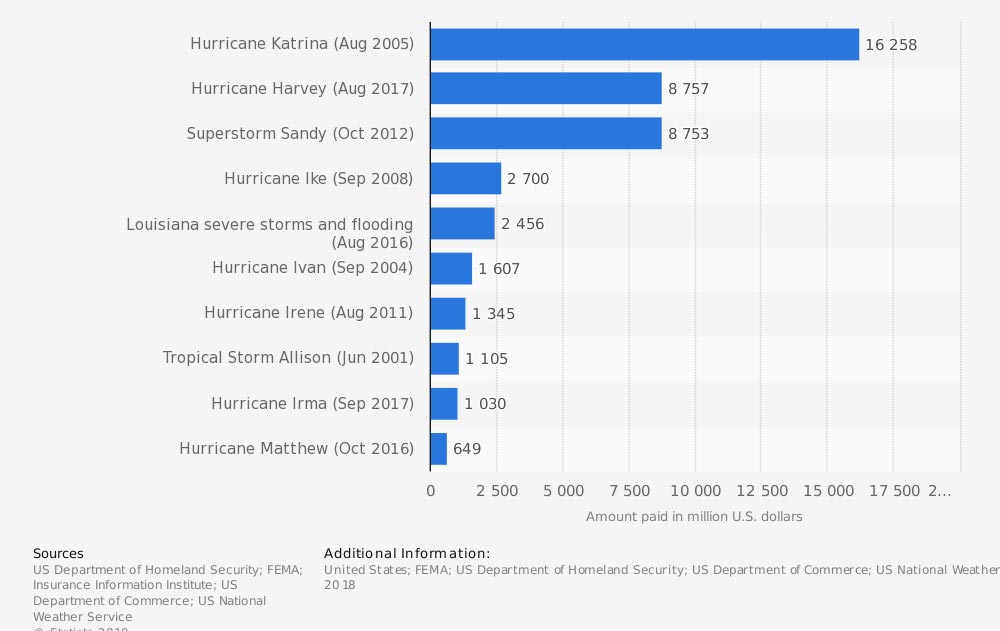 Hurricanes have dominated the list of the most expensive flood disasters of the past 40 years, but smaller events can also cause significant damage to homeowners.
Floods typically cause 1-2 billion dollars in damage each year, but in 2016 damages topped 10 billion. In 2017, floods cost Americans a whopping 60 billion dollars.
Flood Damage Vs. Water Damage
Some water damage is unnatural. This includes damage caused by:
Burst pipes
Malfunctioning appliances
Home construction mishaps
Water damage due to putting out a fire (sprinklers, hoses, etc.)
These things are treated differently than flood damage. Even if a pipe bursts due to a hard freeze, that's still considered unnatural water damage because that water wouldn't have been there without human involvement.
This type of water damage doesn't require flood insurance. It's likely covered under your regular homeowners insurance as long as you weren't being wildly negligent, like attempting amateur construction without the right permits or precautions.
Does Homeowners Insurance Cover a Flood?
Homeowners insurance will never cover a flood. Floods follow predictable patterns and often cause massive, expensive damage. The risk models used to decide how much your homeowners insurance should cost aren't designed to account for floods.
Luckily, there's flood insurance, which does take all of the special risks of flooding into account.
What Is Flood Insurance?
Flood insurance covers damage to your buildings and possessions if they are damaged due to a flood. It steps in where homeowners insurance steps back.
Flood insurance is based on FEMA flood maps and is highly regulated by the federal government. For example, if your home is located in a FEMA-designated flood zone and you've received any kind of federal money for that home (including mortgages backed by Fannie Mae or Freddie Mac), then you are legally required to carry flood insurance.
You can check whether or not your home is located in a flood zone by using FEMA's Flood Map Service Center portal.
But floods aren't just confined to flood zones. A flood zone simply means a place where floods are more likely to occur. If the damage is natural, then according to insurers, it's a flood, and if you don't have flood insurance, you're on the hook for any repair and replacement costs.
Value of National Flood Insurance Program payments in selected states in the United States between 1978 to 2017 (in billion U.S. dollars)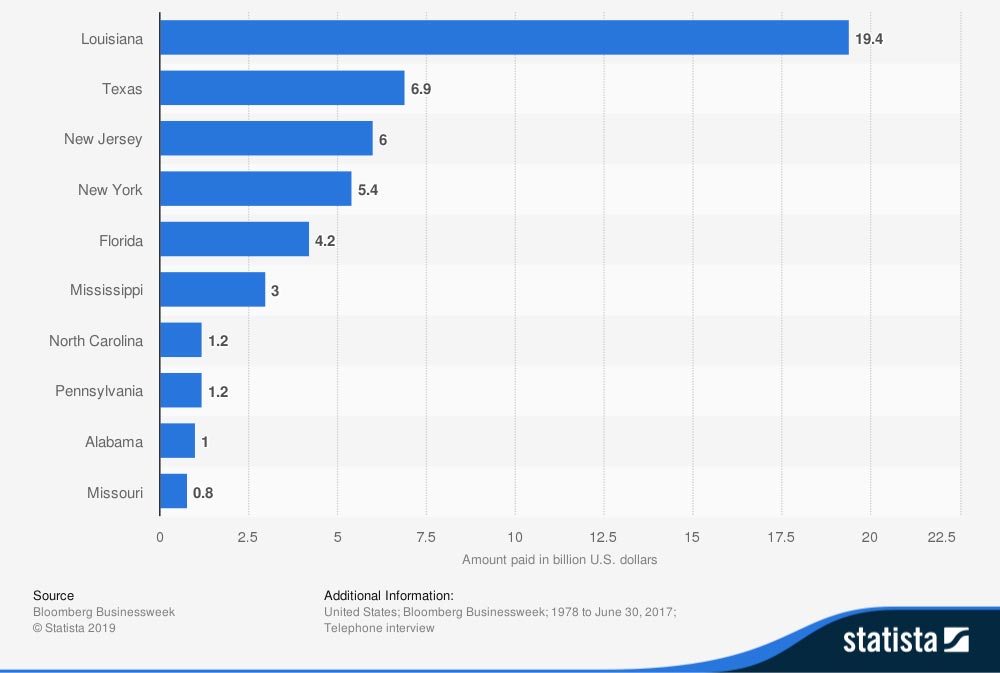 The National Flood Insurance Program paid out over 19.4 billion to policyholders in Louisiana between 1978 and 2017. Other states who received big payouts include Texas, New Jersey, and New York.
Will My Insurer Cover My Entire Basement If It Is Flooded?
Because basements are located underground and are extremely vulnerable to flooding, even flood insurance may not fully cover your basement. That's because FEMA's flood maps (which underpin everything about flood insurance) are based on the risk of flooding at ground level, not underground.
However, it is common for major appliances in your basement to be automatically covered by flood insurance, or sometimes even your homeowners insurance, because they're such important parts of your home. These could include:
Water heaters
Water softeners
Boilers and other heating equipment
Laundry room appliances
Always ask your independent insurance agent about what's covered in your insurance policies, especially when it comes to expensive and crucial items like appliances. Otherwise you could be forced to pay to repair or replace them yourself.
Many people use their basement for extra storage. If you're one of them, especially if you're storing or plan to store valuable items there, then it's even more important to ensure that you have the right coverage. An independent insurance agent can help you ask the right questions.
Save on Flood Insurance
Our independent agents shop around to find you the best coverage.
Do I Need Flood Insurance?
If you're located in a FEMA flood zone, then you definitely need flood insurance. In fact, you probably already have it unless you own your home outright and aren't subject to the legal requirement to carry it.
But even outside of a flood zone, most people still need flood insurance because most people don't have enough spare cash to pay to rebuild their home and replace all their stuff at a moment's notice. That's the scenario you're facing if a freak flood strikes your home.
If you're on the fence about flood insurance, take a good look at these factors to get a clearer picture of the potential costs and benefits of flood insurance:
Your savings (specifically, how much you can realistically afford to pay to repair and replace things yourself).
The value of your home and belongings.
Whether or not you have a second home or other safe place to go while you pay your own way to rebuild.
The history and lay of the land of your home, property, and neighborhood. Are you located on high ground or low?
FEMA flood maps which include data on flood risks in areas outside of flood zones.
Our expert independent insurance agents can also help you evaluate whether flood insurance is right for you. They'll round up quotes and go over possible discounts so you have the most information possible to help you make your decision.
We hope the question of flood vs. water damage always stays in the abstract for you. But if rising waters do strike, now you know how insurers decide what is and isn't a flood, and what will and won't be covered by your homeowners insurance.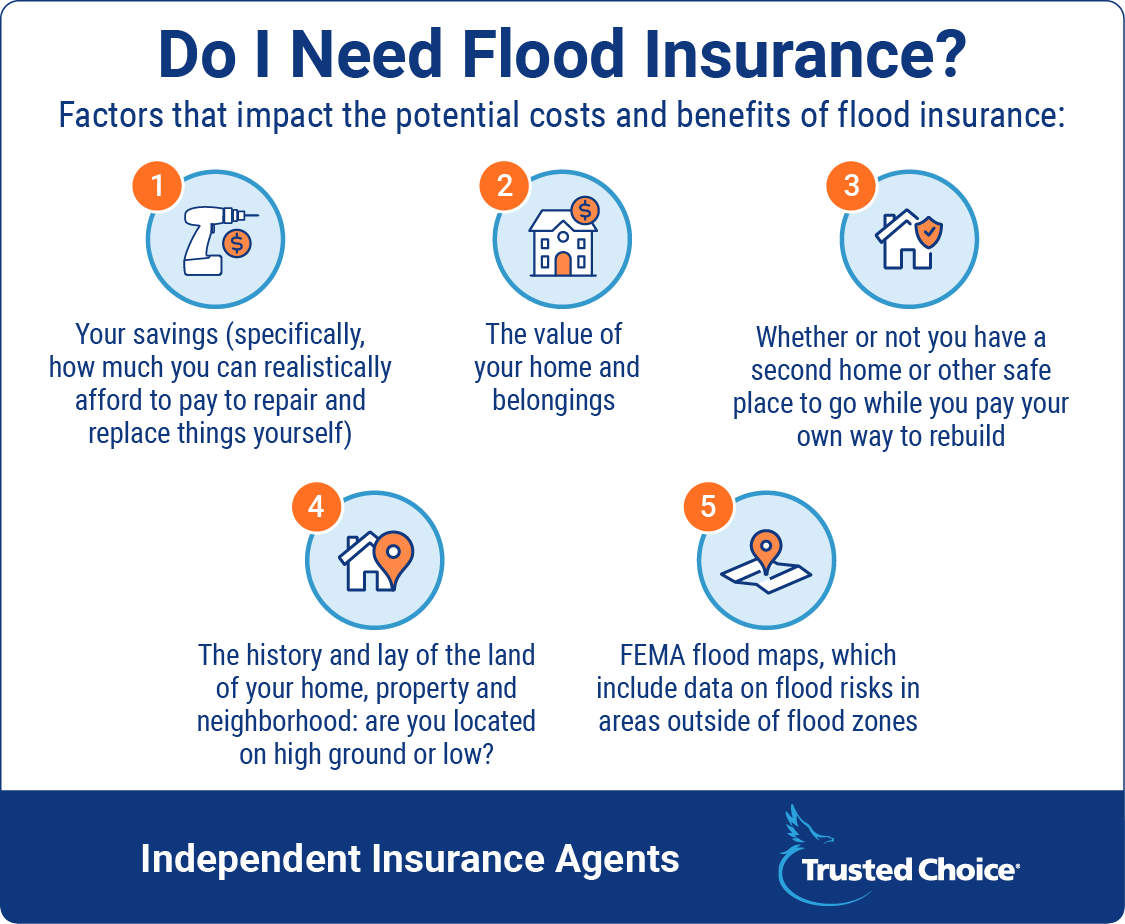 TrustedChoice.com Article | Reviewed by Paul Martin
©2022, Consumer Agent Portal, LLC. All rights reserved.