Supercharge Your Health with 6 Amazing Essential Oils
What is an essential oil?
According to the Oxford English Dictionary, the word "essential" pertains to something that is "absolutely necessary" and "indispensably requisite." But the National Association for Holistic Aromatherapy (NAHA) (www.naha.org) notes that the word, in this instance, is derived from "quintessential oils," indicating a fifth element – in addition to fire, air, earth and water – that represents the "spirit or life force."
Yet mention essential oils to most people, and you'll get a puzzled reaction.
"Aren't those the little bottles of scented oil you find in health food stores that can be used to freshen up potpourri?" Or, "You mean, like the patchouli oil hippies used to wear?" (Of course, contemporary beauties like Julia Roberts and Olivia Wilde have been quoted as saying they have a fondness for patchouli too.)
In fact, for most folks in the United States, these highly scented, naturally derived oils are an enigma: rarely purchased, barely used and not essential at all. But like beautiful music, fragrant essential oils used in the right way can wake up your senses, lead to a feeling of vibrant health and well-being, and add a touch of joy to your day.
True essential oils are extracted from aromatic and medicinal plants through physical means: by distilling with steam, cold pressing or maceration. They are, in effect, the aromatic essences of various plants. And as with all pure, beautiful scents, these fragrances can be healing to the mind and spirit, evocative, sensual and clarifying.
Where can I purchase essential oils?
Pure essential oils can be found online or at many health-oriented shops. One of the most popular brands is Aura Cacia, with almost 100 oils, including bergamot, rosemary, sweet orange and wild chamomile, plus an organic line. The company website also features a range of "how to" articles.
Shop the Wyndmere site for novel ways to incorporate essential oils into everyday life, including pocket inhalers, skin patches and soy candles. Spark Naturals is also a well-regarded line.
How should I use essential oils?
One of the main uses for essential oils is aromatherapy and holistic healing. And while you can find a trained aromatherapist (naha.org is a good place to start), we can all find simple ways to use these oils to enhance our quality of life.
According to Sherab Dolma, who works at Whole Foods in New York City, three of the top-selling oils in their Whole Body division are lavender, peppermint and eucalyptus – all intense-but-calming fragrances that can soothe the high-stress daily grind of one of the world's busiest cities.
A few caveats: Essential oils should never be used directly on the skin or without dilution, as they can cause irritation or allergic reactions. The oils should also never be ingested (with certain exceptions like food-safe lemon or peppermint oil); they are for topical use only. And always use caution (or consult with a physician) when using essential oils on children, as with any concentrated, plant-derived substance.
Instead, the oils should be used sparingly, mixed into a neutral, preferably unscented, base: either a body care product, such as an unscented shampoo or moisturizer, or a neutral "carrier" such as jojoba, almond or coconut oil. Jojoba oil is thought to be the most easily absorbed. By contrast, almond oil stays slick on the surface of the skin and is often used for massage.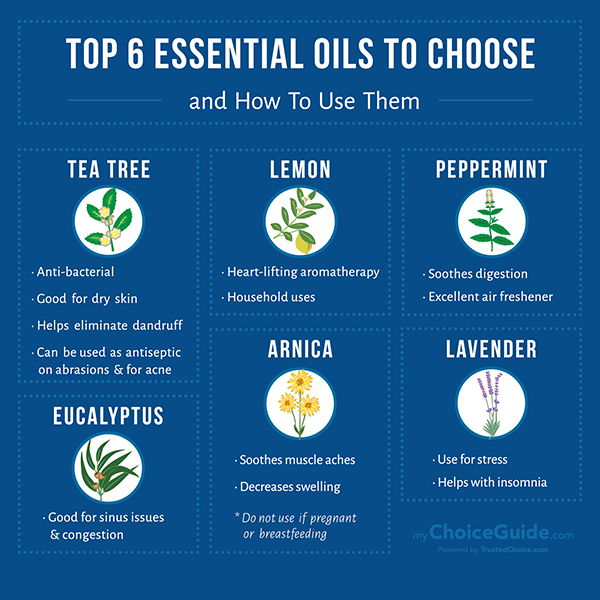 Share This Image On Your Site
The 6 top essential oils to choose from
Are you experiencing a touch of dandruff? Add a few drops of tea tree oil to your shampoo. This oil is considered to be anti-bacterial and is good for dry skin. Tea tree oil (diluted) is also used as an antiseptic on abrasions and for acne.
Lavender oil is popular as a soothing antidote to a stressful day and is thought to assist with insomnia. Jill Winger's The Prairie Homestead blog has a number of recipes for creating homemade air fresheners using essential oils, including lavender. Be sure to shake well and spray into the air, not directly on bed linens (as oil can stain fabric). Lavender oil can also be used to refresh lavender sachets used in drawers and closets.
Eucalyptus oil is good for sinus issues and congestion when mixed with a bit of peppermint oil, applied to the chest and inhaled for beneficial "clearing" of the nasal passages (like a natural Vicks® VapoRub). Try this recipe for a homemade version, from Mrs. Happy Homemaker blogger Crystal Light Faulkner.
I like to put a few drops of pure peppermint oil on cotton balls and tuck them away in closets and kitchen cabinets. Peppermint oil is an old folk remedy used to repel bugs and mice, and it can give your home a fresh, clean smell (great if you've been cooking with onions, garlic or cabbage). Gale Levy's backdoorsurvival.com blog has a great page listing 20 Practical Uses for peppermint essential oil.
Arnica oil is used to soothe muscle aches, decrease swelling and speed blood reabsorption for bruises and closed wounds. Weleda Arnica Massage Oil with lavender and rosemary is meant to be "warming," and is used for aching muscles. (One caution: Arnica should not be used by pregnant or breast-feeding women.) The Weleda line in general is known for pioneering use of botanicals.
Lemon oil is a lovely, fragrant essential oil, cold-pressed from the rinds of lemons. For a happy, heart-lifting aroma, use lemon oil in a diffuser to scent your home or office; Amazon offers an excellent selection of reasonably priced aromatherapy diffusers.

Dr. Hauschka, an iconic natural line, makes a Lemon Lemongrass Body Oil. For some additional uses for lemon essential oil, also check out the "Food is Medicine" blog by holistic healer Dr. Josh Axe.
However you use essential oils in your daily routine, these tiny bottles of oil will wake up your senses and supercharge your feeling of well-being. So experiment – and enjoy!