Full-Fat or Non-Fat, Plain or Flavored? Choosing a Healthy Greek Yogurt

If you indulge in dairy products for the calcium and protein that milk products can provide, you know about one style of yogurt that has achieved supernova popularity in recent years – and that's any yogurt labeled as "Greek."
I remember my first encounter with this "new" type of yogurt. While out bicycle riding in New York City a few years back, I was handed a free cup of Chobani Greek yogurt, pulled from a cart by a girl in a promotional t-shirt.
Intrigued by her claim that Greek yogurt was much higher in protein than traditional yogurt, I sat down, spooned up a bit and felt … confused. This was like no yogurt I had ever tasted. It was very dense and thick – almost chalky – and slightly sour. I wasn't an instant fan; but the more I ate, the more the creamy, solid texture grew on me. I liked that it wasn't too sweet. I knew that athletes liked to add extra protein to their diets. And so the next week, I found myself at the market, buying Greek yogurt.
Nowadays, Greek yogurt is a bona-fide health craze, along with kale, chia seeds, cocoa nibs and green juice; and more and more brands are jumping on the bandwagon.
There are many different factors to look for when choosing a healthy Greek yogurt. Here are some things to consider.
So many Greek yogurts, so many choices.
What makes Greek yogurts special? A very high protein content, a thick and smooth "mouth feel" (similar to the texture of sour cream) and a healthy dose of probiotic cultures such as L. acidophilus, L. bulgaricus, S. thermophilus and bifidus – helpful in assisting with a healthy digestive tract.
Since the nutritional content for most top brands of plain Greek yogurt (without any added flavorings or sugars) is fairly similar across the board, I looked at each company's labeling and website for any additional claims that may help in making a choice:
Fage (pronounced Fay-yeh). Although "The #1 yogurt in Greece" does not claim to be organic, the company states that "The farmers who supply our milk and cream pledge not to treat their cows with rBGH" (bovine growth hormone – a synthetic hormone meant to increase milk production).
Stonyfield Farms (based in Londonderry, NH) is all about organics; they make their certified USDA Organic Greek yogurt "without pesticides, artificial hormones, antibiotics or GMOs" (ingredients not genetically engineered in a lab). Their site also features a handy "yogurt substitution guide" showing how to substitute Greek yogurt for sour cream, butter, mayonnaise and more in recipes and the stats for each.
Chobani does not claim to be organic, but states that they "source from regional farms that provide us milk from cows not treated with added growth hormones like rBST." Chobani is also non-GMO and uses no preservatives, and the company claims to be working towards sustainability (recycling their acidic whey byproducts – which can damage the environment – as supplemental feed/fertilizer for local farms).
Wallaby Organic (based in Napa, CA) is made "in small batches using premium organic milk from small, pasture-based farms"; the company even lists the specific farms (all in Sonoma and Marin counties in Northern California) on their site and explains the farming practices of each.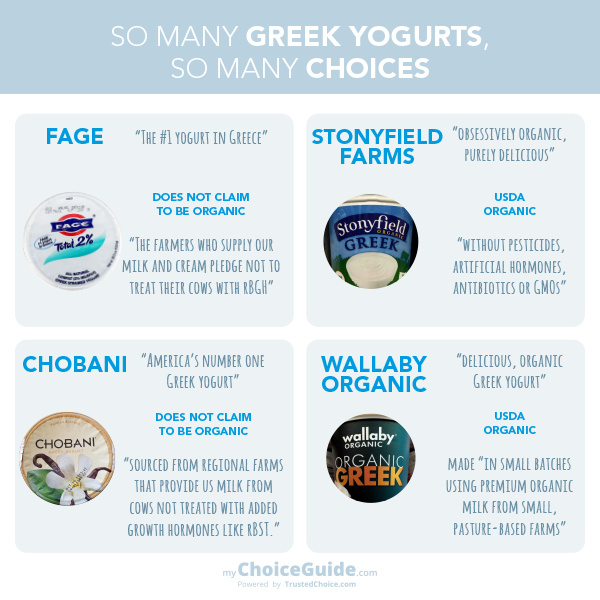 Should you buy full-fat or no-fat Greek yogurt?
In addition to "healthy manufacturing" practices, many brands of Greek yogurt offer whole milk, low-fat and no-fat versions to choose from.
To see how nutritional values compare, I looked at a one-cup serving of the three types of Fage Plain Greek yogurt – Total (whole milk), 2% (lowfat) and 0% (non-fat) – and discovered that while the calcium and sugar levels are exactly the same, the calorie count does go up as the fat content rises; the full-fat Fage also has slightly less protein.
Here are the nutritional values for a one-cup serving of all three varieties: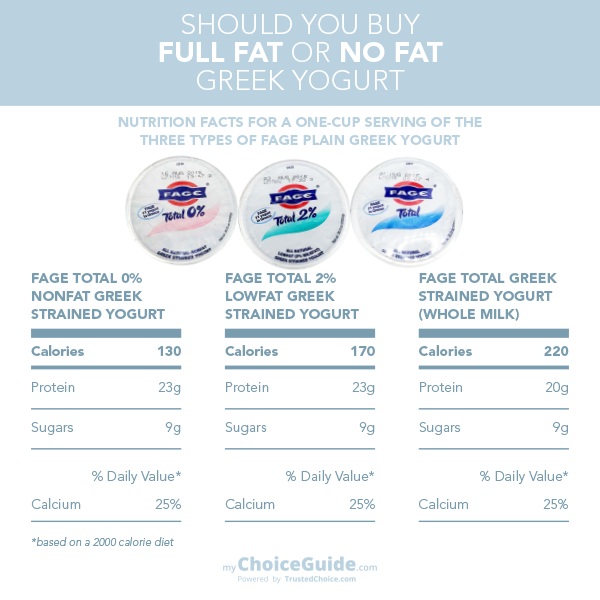 Says Krista Jordheim, RD, MPH, dietetic technology program director for Normandale Community College in Bloomington, MN:
"Often times people choose the low-fat yogurt over the full fat because they have been trained to believe that 'fat is bad.' However, we all need a certain amount of fat in our diets; therefore, I would recommend that a consumer choose the yogurt that tastes best to them. My concern lies with the fact that most women do not get enough calcium in their diets and yogurt (full or fat-free) is an excellent source of calcium."
If you're looking for a good middle ground, a one-cup serving of the plain Fage 2% Greek yogurt has 3g more protein and 50 fewer calories than the full-fat; and some people believe that consuming a higher-fat yogurt may leave you feeling more satisfied.


Greek, yes. Added sugars, maybe not.
Finally, as manufacturers rush to add the word "Greek" to new products as a way to spur sales, take heed of nutritional labels.
Flavored Greek yogurts such as Chobani's new "flip" line – including a "Key Lime Crumble" flavor with graham crackers and white chocolate (200 calories and 19g of sugars in a 150g serving) – can be significantly higher in calories and sugars and are not as nutritionally dense.
For a healthier treat, buy plain yogurt and add your own toppings (organic, if possible):
fresh blueberries, strawberries, raspberries
sliced bananas, fresh or dried figs, dried mulberries
fresh pomegranate arils (seeds)
cocoa nibs
chopped walnuts, almonds, pistachios or pecans
raisins or chopped dates
chia, sunflower or flax seeds
a drizzle of coconut sugar, honey or maple syrup
fresh chopped tomato and basil, with a drizzle of balsamic
Or use Greek yogurt in a dip, on a baked potato or in any recipe and enjoy!