Dad or Dud of the Year? The Right Camping Gear Makes a Difference.
Sometimes the difference between "Dad of the Year" and "Worst Trip Ever" lies in your choice of camping gear. Indeed, when it comes to camping, choosing the right gear is half the battle. It can make packing, prepping and pitching that much easier once you arrive at your camping destination.
Will McGough is a travel and outdoors correspondent for Gear Patrol, a top-rated Internet site for all things camping. He knows a thing or two about camping gear, so I asked him to serve as my guide as I present you with three "must-haves" for your next camping trip. My hope is that some of the camping gear options listed in this article will help your next camping trip go off without a hitch.
Sleep Matters, Especially When You Are Camping
Comfortable, quality sleep is essential. Will recommends that you purchase a top-notch sleeping bag and sleeping pad. They are two of the most important factors necessary for comfort when camping in the wilderness. A few great choices, if you will be camping in colder temperatures, are:
Each has unique features with regard to their insulative properties, weight and price.
Concerning sleeping pads, if you suffer from back problems, you'll probably want something akin to the Exped SynMat 9 LW Sleeping Pad from Next Adventure. It offers great back support, has an R6 insulation rating, and is easy to store when not in use. For something high-quality but a bit more rudimentary, the Therm-A-Rest Trail Lite Sleeping Pad, with its foam-based support, is a great option.
Here's a money-saving tip: To get one of the best sleeping pads on the cheap, simply buy those square foam jigsaw puzzles that you find in kids' daycare centers. I use them, and they work great for me. They only cost a few dollars and last for years. If one should rip or tear, they're easy to replace. They're not a good idea, however, if you suffer from back problems.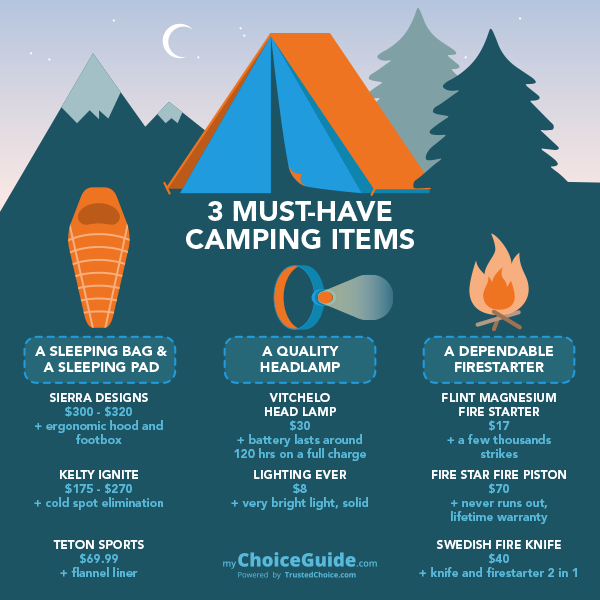 Share This Image On Your Site
Shed Some Light on Your Camp Site
The next must-have item Will recommends is a quality headlamp. He strongly advises that you procure one that has a red-light setting. That way you won't have to worry about blinding your family or camping buddies with the bright light. Several different models are available, but for the sake of convenience, we can whittle them down to two basic types: expensive and cheap.
If you frequently go on long camping trips, then you'll want a more expensive model like the Vitchelo V800. This headlamp costs around $30 and the battery lasts around 120 hours on a full charge. If you're more of a weekend excursion camper, a cheaper model like the $8 Lighting® EVER, will suffice. You can even find some models for $1.50 with a little searching. The important thing is to find one that best suits your individual needs.
Don't Forget Your Fire!
To wrap this up, I offer you one more must-have camping item. Consider it a bonus from a fellow outdoorsman. What do I recommend? A firestarter. I mention this because no matter how prepared you are, lighters malfunction and matches get wet. You need to have a dependable firestarter.
When I think of fire, I always think of my son, Ethan. He is something of a survival expert himself and always wants to start his fires "from scratch." He uses a flint/magnesium stick firestarter made by Leisure Pro. It's cheap, works well, and is good for a few thousand strikes. If you need something a lot more durable, I recommend something like the FireStar Fire Piston by Wilderness Solutions. It's heavy-duty, lightweight, and made to stand up to the elements. Best of all, it never needs recharging; it uses air pressure to generate combustion. A final option to consider is the Swedish FireKnife®. It's a great utilitarian tool that's a both a knife and a firestarter. This little beauty can split tinder, cut kindling, clean fish, cut rope, and start a fire. The knife is made by Mora, one of the top knife manufacturers in the world. Priced at just $40, it's a steal!
The bottom line is, you're going to need fire when you go camping. Having a backup means of starting a fire is just smart thinking.
Happy Camping!
We all want to give our kids unforgettable outdoor experiences. Trail hikes in the morning, fishing in the afternoon, and campfire ghost stories at night. That's camping bliss. It doesn't get any better.
Now, armed with the right camping gear, you'll be ready to tackle your next camping trip like a pro. You'll have the tools you need to create a great experience for all involved, which is what it's all about anyway, right?