A Secret of Stylish Women: The Perfect Necklace for Every Neckline

There's an amazingly stylish woman in your life. You know the one: You admire her from near or far and wonder how she does it.
It may be your child's teacher, a local shop owner or a neighbor. Whatever her role, she is always beautifully dressed and stands out from the crowd. Her outfits are chic and effortlessly put together.
Whenever you see this style icon – or perhaps she's an actress, singer or celebrity you admire, pictured on the red carpet or in the course of her daily life, looking sharp – it makes you wonder: What's the secret of well-dressed women?
The answer: It's all in the details.
Or as Coco Chanel said, "Fashion fades, only style remains the same."
True style is all about subtlety; and one element of that is pairing your outfit with the perfect necklace. As with all accessories, jewelry should enhance your outfit; not obscure, complicate or compete with it.
A necklace for every neckline.
My father was a master metalsmith and jewelry designer, and I was helping design pieces that were sold in shops around the country while still in my teens. Even today, I can't pass a jewelry store without stopping in. Jewelry is my passion!
So how can you choose the best necklace for 7 top necklines? Below are some flattering options that run the gamut from faux to fine jewelry, at a wide range of price points.
Crewneck
Thin, short chain necklaces do not work well with crewnecks; they can get caught on the edge of the fabric and hide inside. Instead, go bold! A monochromatic crewneck dress will come to life when accented with a big, colorful piece.
J. Crew has become known for their bold, sparkling "collar" necklaces, featuring chunky, glittering faux crystals, that retail in the $100-$150 range. It's a casual look for day, but dressy at night. Check the site for frequent sales.
For a similar look at a more modest price, Target offers a line of showy bib necklaces with big, shiny acrylic "gems" that mimic more expensive brands at an incredible price, often for under $35. And Chico's features an eclectic selection of fashion necklaces – including beaded "torsades"– priced at $50-$100.
V-Neck
Most V-necks look lovely with a 15" to 18" chain necklace, with or without a pendant; this flattering neckline is the perfect frame. For a "Boho chic" look – especially with deep "V" necklines – layer two or three thin gold, silver or beaded necklaces of different lengths and textures.
Me & Ro makes delicate 18K or 10K gold and sterling silver hand-beaded chains and tiny pendant necklaces that are perfect for layering; some have Eastern-inspired spiritual or religious symbols. The collection is 100% made in New York City, and although pricey, is timeless and collectible.
For a similar look at a more affordable price, Satya Jewelry creates delicate, yoga-inspired necklaces of plated brass; many items retail for under $100.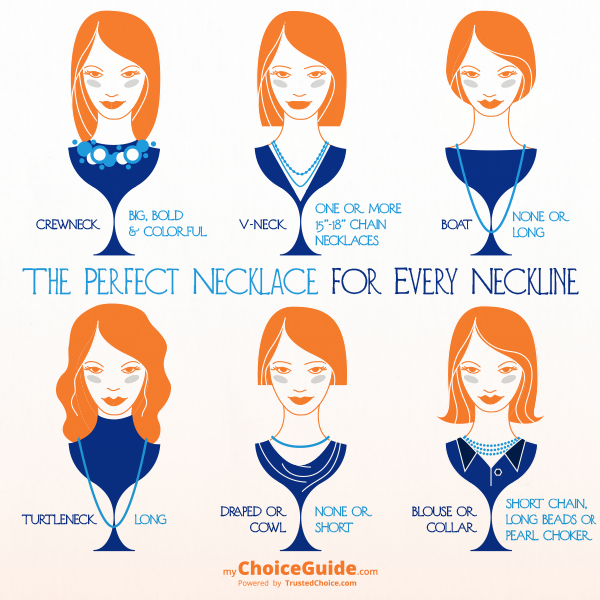 Bateau/Boat
My own preference with this sharp, straight-across neckline is no jewelry at all. Picture elegant Audrey Hepburn in her black bateau cocktail dress in "Sabrina." But if you want to accent a boat neck top with a necklace, go long.
If price is no object, browse the "Meditation Bell" necklaces by fine jeweler Paul Morelli. They are 18K gold or silver chains up to 36" in length, some with tiny jingle bells, designed to display a gorgeous selection of mix-and-match clapper-bell charms studded with petite diamonds and precious stones. It's the stuff of fantasy!
If you can't spend a fortune on fine jewelry, create a DIY charm necklace by attaching vintage or sentimental charms to a sturdy sterling silver or gold-filled chain with open links, using pliers and "split ring" jump rings. Supplies can be purchased online or from a local bead shop; many also offer instruction.
Turtleneck
As with boat necks, turtlenecks work best with necklaces of at least 18." Consider beaded strands or a long cord with a pendant.
Semi-precious gemstone or wooden knotted "Mala" (Buddhist prayer bead) necklaces – with or without tassels – are very of-the-moment and can be acquired from various shops on Etsy.
Draped/Cowl
A 3-D neckline is so voluminous that a necklace may simply get lost (or tangled) in the fabric. Hoop or chandelier earrings may best complement this style; however, if you'd like to wear a necklace, choose a short style that fits above the neckline.
Blouse/Collar
A collared blouse is one of the most polished, flattering necklines. It works well with short, delicate chain necklaces, long strands of beads or – in a nod to classic elegance –real or faux pearl chokers.
The Smithsonian Museum Store offers the "Jackie Kennedy Triple-Strand Faux Pearl Necklace," – a reproduction of the former first lady's favorite Coco Chanel piece – lovely with a button-down or Jackie-style shift dress.
Plunging
Thanks to the Kardashians, J-Lo and "Real Housewives," wide, plunging necklines cut way down to there are now ubiquitous – on TV, at least. However, most women may only occasionally sport this sexy style, perhaps for an evening event.
Pair it with a long, dangling lariat, drop or "Y" necklace (a choker with a single chain that drops into the décolletage) for a fresh, current look. Lariats – which close by looping through a ring, rather than with a visible clasp – can also be worn with designs that plunge in the back, with the drop or pendant falling down behind.
Saks Fifth Avenue offers an excellent selection of slinky lariat necklaces, both fashion and fine, by designers such as Michael Kors and Zoe Chicco.
Whether your neckline is round, "V" or square, wide or deep, classic or daring, the most important thing is to take a chance and experiment. If you like what you see in the mirror – and it makes you happy – you simply can't go wrong.