Find a Sunscreen that Fits Your Shopping Personality

As you begin each new day, there are a number of decisions you make that affect your state of well-being, both for that day and – as time goes by and the results of your choices accumulate – possibly for years to come.
Should you have green juice or coffee? Take vitamins or not? Sit down to a bowl of stone-ground oatmeal or grab a sugary breakfast bar to go? Head to the gym, or sleep in?
But there is one thing you must do, without fail if you hope to avoid premature (or deepening) wrinkles, sun spots and the potential for cancerous changes to the delicate skin on your face – you should apply a facial sunscreen every day.
There are a wide variety of sunscreens available with various "active ingredients" and formulations, at a range of price points and SPF ratings, specifically designed for the delicate skin on this most visible part of your body.
What is SPF?
SPF – or "Sun Protection Factor" – is the degree of protection a sunscreen offers against UVB rays, the sun's "burning" rays.
An SPF 50 lengthens the amount of time you're protected before you burn and provides a bit more protection than an SPF 30, but proper application is key. Sunscreen must be applied liberally and reapplied every 1½ to 2 hours to retain effectiveness, as active ingredients wash off, sweat off and break down over time.
SPF is not the only measure of a sunscreen's effectiveness. UVA rays penetrate deeper into the dermis and are a primary cause of skin aging; both UVA and UVB rays can contribute to the development of skin cancer. Always choose a product that is labeled "UVA/UVB" and/or "broad spectrum."
In general, you should use skincare products first, then facial sunscreen, and apply foundation and cosmetics last.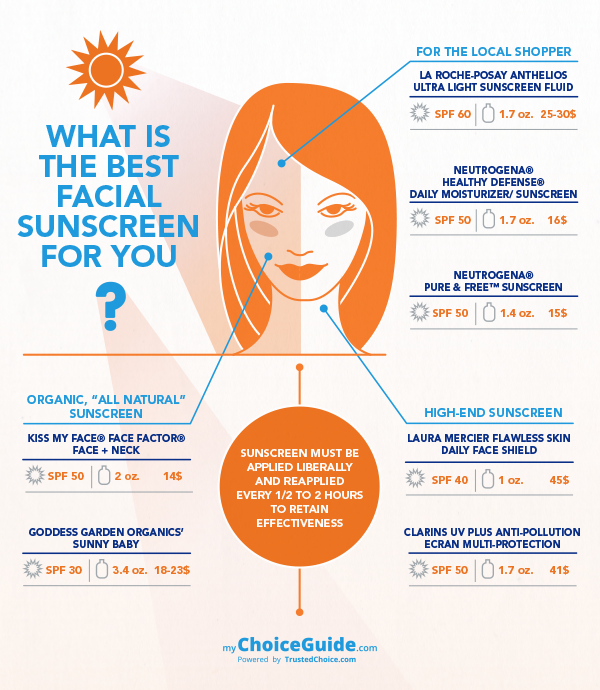 Share This Image On Your Site
So how can you choose which sunscreen to use?
I stopped in at Target, Bloomingdale's and Whole Foods to seek out the best facial sunscreens and discovered that whether you prefer to shop at a drugstore, department store or health food store, many excellent choices are available.
If you like the ease of shopping at your local big chain or drugstore.
At a local Target store in Los Angeles, a "brand-agnostic" beauty concierge showed me a few of their best-selling products.
In the top spot is a "premium" drugstore brand, La Roche-Posay Anthelios Ultra Light Sunscreen Fluid, SPF 60. This sunscreen has a wet/dry feel with a matte finish, is fragrance and paraben-free, and has UVA/UVB protection. A light, non-greasy lotion, it also absorbs quickly and is a good choice to use under make-up. A 1.7 oz. bottle sells in the $25 to $30 range, depending on the retailer.
At a more economical price point is Neutrogena® Healthy Defense® Daily Moisturizer/ Sunscreen SPF 50 (1.7 oz.), which retails for around $16; while Neutrogena Pure & Free™ sunscreen (Broad Spectrum, SPF 50) boasts of "100% naturally sourced" ingredients and is fragrance-free (1.4 oz., around $15).
For more youthful consumers, Neutrogena's oil-free Clear Face line claims to be "break-out free" (if you're prone to blemishes). For athletes, the brand's Sport Face sunscreen is water- and sweat-resistant (each 3 oz., around $13 a tube).
If you enjoy high-end brands and you're willing to pay for them.
Of the many luxury lines available at Bloomingdale's, several salespeople singled out two well-reviewed products: Laura Mercier Flawless Skin Daily Face Shield SPF 40, (1 oz., $45) and Clarins UV Plus Anti-Pollution Ecran Multi-Protection Broad Spectrum SPF 50, an oil-free, non-chemical formulation that uses plant polymers and 100% mineral filters (1.7 oz., $41).
Both products include titanium dioxide, go on dry and sleek and absorb quickly, for ease of use under make-up. In general, you should use skincare products first, then facial sunscreen, and apply foundation and cosmetics last.
If you prefer your skincare to be organic and/or "all natural"
At Whole Foods, a skincare consultant singled out Kiss My Face® Face Factor®: Face + Neck sunscreen in SPF 50 (2 oz., around $14) that promises "no nanoparticles, artificial colors or fragrances."
Also popular at health food stores: mineral sunscreens, particularly formulations made with titanium dioxide and zinc oxide. The saleswoman confided that many customers with sensitive skin use sunscreens formulated specifically for babies and children on their faces, such as Goddess Garden Organics' Sunny Baby line that stresses "powerful protection without chemical sunscreens" ($18 to $23).
If you prefer to shop online, many of these brands can also be found at amazon.com and drugstore.com, sometimes at a discount.
And remember, even in winter, on overcast days or when just going to and from the office, it's important to wear protection on your face and limit your time in the sun – especially from 10 a.m. to 2 p.m. Use a sunscreen that provides broad-spectrum UVA/UVB protection, wear wrap-around sunglasses with UV protection, and if possible, wear a hat.
Finally, don't forget to discard any sunscreen after two years, as the active ingredients eventually break down. As skincare technology advances, new – and even more effective – options are always becoming available.