Looking to Get a Dog? Here's How to Choose Your New Best Friend

Choosing a dog is never an easy undertaking. Choosing to get a dog in the first place is sometimes an even more difficult first step. But once you decide you want to bring a dog into your family, very few things will change your mind. When you do get your four-legged furry friend, it will —hopefully — change your life, for the better, forever.
In early 2001, my husband and I, living in San Francisco at the time, were looking for a dog. We visited shelters, rescue groups and breeders in search of our new dog. But then a friend back home in Chicago sent an email with a photo of the cutest seven-week-old puppy with the subject line, "I found your dog." Needless to say, I flew out the following weekend and brought Emma, a gorgeous brown and black Shepherd/Lab/Sharpei mix, back home to San Francisco with me. She was our sweet girl for nearly 13 years, then we lost her to cancer in October 2013. While it was incredibly hard to say goodbye, we still think of her daily and are now ready to start looking for our next fur baby. If you're reading this, you might be ready to get a new dog as well, but may wonder, "How do I even go about starting my search?"
Questions to Ask
Unless you find and rescue a stray on the side of the road during a vacation (Think it never happens? It definitely does!), you may already have an idea about your dream dog. With dozens of breeds, however, narrowing your choices can sometimes be a little tricky. Sure, black Labs, goldens and Boston Terriers seem to be everywhere, but you may want to look around for someone unique. You never know when you're going to find that special new friend —or when he may find you.
There are many things to consider when looking for a dog:
How big is your home? Small dogs like Chihuahuas or Shih Tzus make great city dogs, while Australian Shepherds need space to run around.
Do you have a yard or live near a park? All dogs need exercise, but mid-sized and large dogs, as well as breeds like Greyhounds and Jack Russell Terriers, need room to run. At the minimum, you should walk a dog for 25-30 minutes at least once a day. By not allowing your dog to exercise, you run the risk of coming home to find chewed up pillows, shoes and more.
Are kids involved? A dog is a great way to teach kids responsibility, but certain dogs might be better around kids. Dogs like Beagles (energy to keep up with the kids), Bulldogs (sturdy and can handle a lot), Collies (great herders) and Retrievers (loyal, protective and easily trainable) and mid- to large-size mixed breeds (fewer health issues, smart) all make great family dogs.
Are you allergic to certain breeds? You should find out before bringing a dog home, but there are ways to live with your dog should you have allergies.
Can you afford a dog walker if you're gone most of the day? The average cost for a dog walker is $15 to $20 a day, but it gets your dog out of the house for 20 to 30 minutes to get some exercise and do its business. And even though dogs sleep much of the day, they still crave company.
How much spare time do you honestly have for the dog? Dogs are natural pack animals and you need to be able to bond with and spend quality time with the dog. These 10 commandments should help you decide.
The list goes on, but these are all things you need to consider when deciding whether to get a dog. Once you know you can make a commitment for the duration of the dog's life, you can begin your hunt. While going through a breeder guarantees you'll know the dog's pedigree, it can be expensive. Purebreds can cost anywhere from $300 to $3,000, and designer dogs like Puggles or Labradoodles average between $2,000 and $3,000. That is just to buy the dog; it doesn't even take into account vet bills, food, gear and more while he's little and for the duration of the dog's life. Annual vaccinations alone can cost about $100 a year after more expensive puppy shots. On the flip side, the cost of adopting a dog can range from $0 to $250, but that often covers shots, exams and other things the shelter provides while caring for the dog. Plus, there are so many sweet, wonderful dogs — mixes and purebreds — out there just waiting to get rescued and taken into a forever home.
Online Tools for Dog Adoption
You can also visit your local shelter or humane society and use social media. But the best place to start is online, and there are a few wonderfully helpful sites to get you going.
Petfinder.com lets you cast a wide net for your search. Its database spans all of North America and is updated daily so you can find who is out there waiting to meet you. The site links up with more than 14,000 shelters and rescue groups, lets you specify desired breed, age and gender and connects you with the adoption source via phone or email.
If you're unsure about the type of dog that will best suit your lifestyle, DogTime.com helps you figure it out. With its Buzzfeed-like online quiz, it asks a series of questions and ultimately offers suggestions for a good match. You can, of course, browse its extensive database of dogs available for adoption in the U.S. and see information about each, including health (is it spayed or neutered?), disposition (does it get along with other dogs?) and more. DogTime also has a deep library of helpful content, including training tips.
AdoptaPet.com, a non-profit service backed by Purina and Bayer, gives you the normal search options, but also throws in a few fun terms under breed, like "gentle giants," "mini mutts" and "Taco Bell Dog's Little Amigos." You can search near or far, whether a dog has special needs, and by color, which can make a difference. Think about it: If you have a light-colored couch and get a shedding dark dog, you'll be vacuuming a lot more often. Not fun. The site also offers a great list of 10 important things to know about dog adoption.
The Ultimate Dog Choosing Decision Matrix
According to the American Kennel Club in 2014 the following ten breeds were the most popular; Poodle, Golden Retriever, Labrador Retriever, Boxer, German Shepherd, Bulldog, French Bulldog, Beagle, Dachshund and the Yorkshire Terrier. When pinned against each other this is how the large breeds measure up: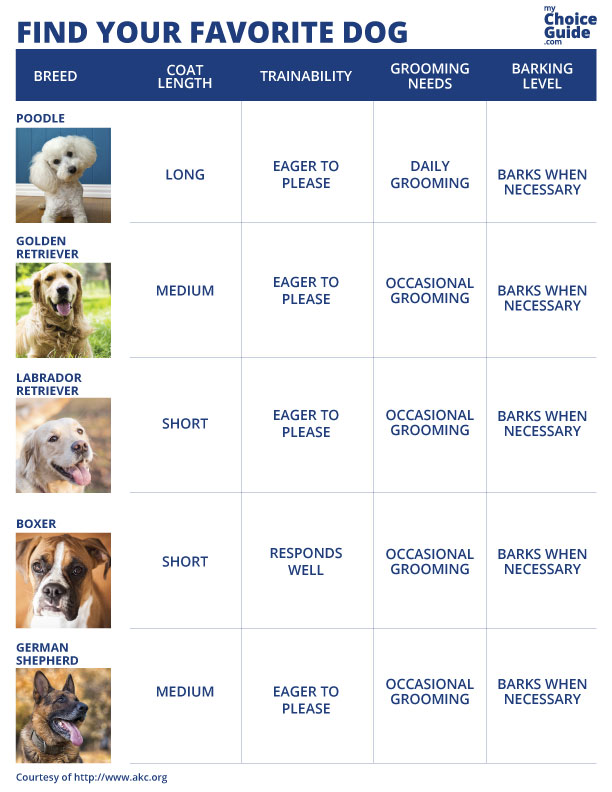 Share This Image On Your Site
And here is how the 2014 most popular small breeds measure up: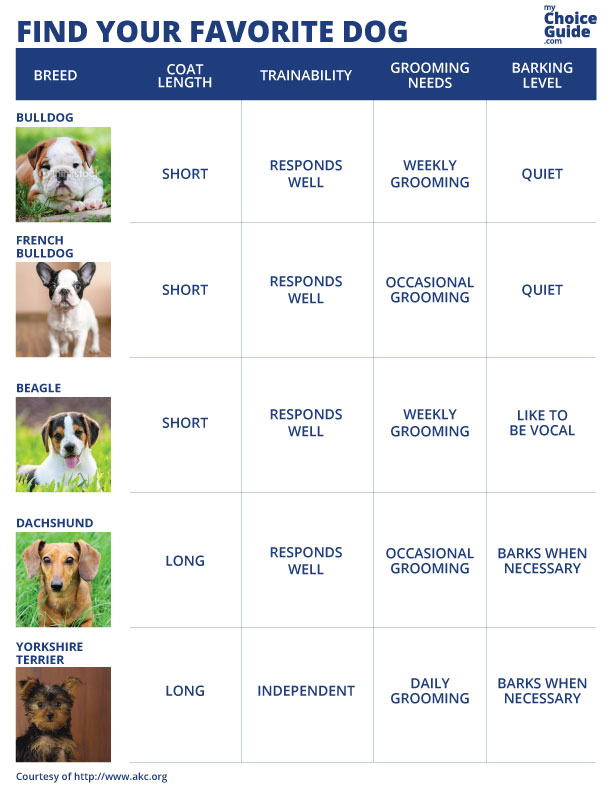 Share This Image On Your Site
So you thought choosing a dog was a simple process? It can be, but you also have to devote time to making sure you find the right dog. Ultimately, you'll be welcoming a new member into your family and you want a good fit. Otherwise, you may need to choose the best training class next.