Make Sure You Don't Choose a Rotten Pumpkin Ever Again


You see them almost everywhere you go this time of year—in stores, seasonal foods, decor and restaurants. But have you ever wondered how to choose and use pumpkins for decor and cooking yourself? Well, this pumpkin primer will give you substantial guidance and a number of resources to get you started choosing, decorating with and cooking with pumpkins.
What exactly is a pumpkin?
You've probably asked yourself this question. Is it a squash or a gourd? Is it a fruit or vegetable? According to Aaron Cox of Cox Farms in Centerville, VA, "Pumpkins, squashes and gourds all come from the same plant family, Cucurbitaceae. The plant is grown for its fruit, which is the part we harvest to eat, carve, or use for decorating." Also called curcurbits, pumpkins are part of the cucumber family, where you'll find melons, too.
While they're frequently confused with gourds, there are major differences between the two. Mature gourds have hard shells with a few seeds inside (which you can hear if you shake them). They're typically used for decoration (since they're available in an array of colors, shapes and sizes) and little else. They're not edible.
Pumpkins also come in a variety of sizes and types and have thick but somewhat fragile rinds or skins. They can be used as food and decoration. However, not all pumpkins work well for both purposes, though all can be consumed or used to decorate. "You probably wouldn't want to eat the same pumpkins you carve or decorate with, though," says Cox, who grew up on his family's sprawling, 116-acre farm, which buys most of its pumpkins.

Buying Pumpkins for Cooking and Decorating
Whether you're choosing a pumpkin for cooking or decorating, you want to select those specifically for each purpose because they're not typically the same. "When choosing a pumpkin for cooking and eating, taste and texture are most important—you want a sweet one, like a sugar pumpkin," says Paula Penn-Nabrit, JD, who is an exceptional home cook and is well-known in her Westerville, OH home for her culinary skills.
An avid gardener and mother of three grown sons who owns a management consulting firm, she adds, "Buy your pumpkins at a local farm or pumpkin patch where the growers can help you select the sweetest, most delicious ones." Pumpkins purchased locally tend to be fresher and you can learn exactly how they're grown, particularly if you're trying to avoid pesticides. They can also be organic.
Seri Kertzner of Little Miss Party Planner in New York City, who uses pumpkins to decorate, agrees with Nabrit about buying locally. "We always buy our pumpkins at our local farm stands on Long Island or at the weekly Union Square Greenmarket."
When purchasing pumpkins for decorating, however, says Cox, "Selecting a decorative pumpkin is a very individual matter, but is usually all about what the pumpkin looks like."
Cox adds that when choosing a pumpkin for either purpose, "There are so many factors to consider, including color, texture, shape, size, and stem. But remember: Some of those super cool-looking pumpkins were grown just for how neat they look, without concern for how they taste. So, you definitely want to use a different set of criteria when you're choosing pumpkins for eating."
In terms of cost, whether you buy them at the local grocer or local farm stand, Cox says, "Typically ornamental/carving pumpkins are larger and less expensive, while cooking pumpkins are smaller and a bit more expensive."
Just make sure whatever the purpose, you buy them with care. Make sure the shell or rind is solid and unbruised. Your pumpkins should have no holes, nicks or gouges, and the stem should be firmly attached. They should be a normal color for the type of pumpkin they are and have no rot, mold or other indicators of decay. Pumpkins with any signs of damage will deteriorate quickly once at home and may be unsafe to eat.
But avoid the "poke" test. "While many recommend poking them to see if they're firm, poking pumpkins can bruise them, causing them to to begin to rot," warns Cox.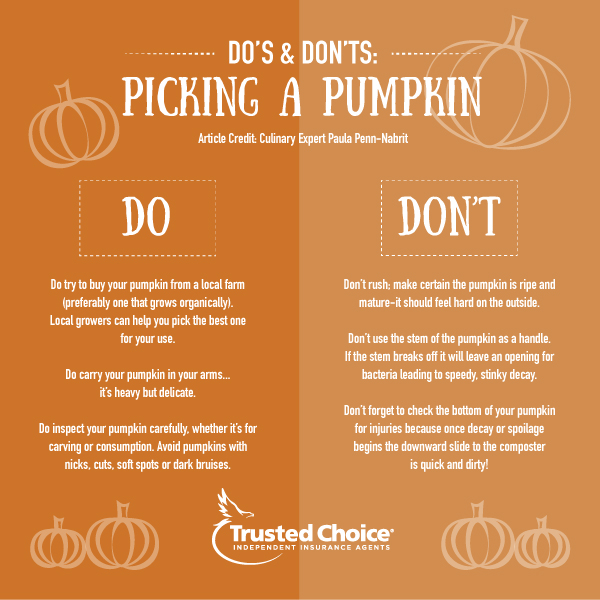 Cooking with Pumpkins
When it comes to cooking with pumpkins, Cox and Penn-Nabrit agree, smaller sweet pumpkins are the best choice. "Small sugar pie pumpkins are sweet and dark orange, traditional in their appearance and, as the name implies, great for cooking," states Cox. Moreover, there are numerous creative ways to cook with pumpkin beyond traditional pumpkin pie.
"Pumpkins can be used in sweet or savory dishes," explains Penn-Nabrit. She provides some examples of such dishes, too. "Pumpkin bread, pumpkin butter, pumpkin ice cream, pumpkin chutney, and of course, roasted pumpkin seeds!" she enthuses.
Actually, there are multiple ways to use pumpkin seeds in cooking, and other recipes for pumpkin abound across the internet, on blogs, websites and social media sites like Pinterest. You can make light or more traditional versions of pumpkin dishes.
Fresh pumpkins are seasonal and are typically available from late summer through the fall months. Penn-Nabrit recommends that you "splurge and get the sweetest, ripest pumpkins you can find" for cooking. "Be extravagant in your pumpkin purchase," she insists. "You can use almost every portion of the pumpkin except the stem and the stringy center, so there's no waste. You can also freeze and can pumpkins for use year-round." She adds that you should also use only the best ingredients for pumpkin dishes.
Cox agrees that there are multiple ways to cook pumpkins, and also says there are many types you can choose for that purpose, including those most never consider. He gives a few examples, including the neck pumpkins and cheese pumpkins. They are the same species and similar in color. But neither looks like a traditional bright orange pumpkin or each other. "Both are delicious," he says.
And both are the kind commonly found in canned pumpkin, which can be used in lieu of fresh pumpkin in recipes. Penn-Nabrit sees this as a great option, since much care is put into making these products for sale.
If you decide to carve out pumpkin meat in the process of decorating, make sure you cook or appropriately store the fruit if you intend to eat it. Otherwise, it will spoil quickly and become inedible.

Decorating with Pumpkins
Pumpkin decorations aren't just for Halloween, as many people think. In fact, using pumpkins ornamentally can be as much fun and be done with as much versatility as cooking them. And pumpkin decor can go far beyond traditional carving, though there are multiple ways to carve pumpkins. There are also fun kid's projects you can do using pumpkins. And, of course, there's festive fall decor.
But pumpkins can be used year-round for decorating, and there's a wide array of pumpkins to choose from when decorating. Enthuses party planner Kertzner, "We love to decorate with white pumpkins! How nice is it to have a white base to play with?"
You can actually purchase white pumpkins, which have a different shape from traditional orange ones with edible orange fruit, or you can paint pumpkins white or any other color. In fact, you can paint or decorate pumpkins just about any way you like. "We glue everything to pumpkins, including rhinestones, buttons, feathers and pom poms," says Kertzner, who suggests that you consider your color pallet and purpose for the pumpkins and then choose materials.
You'll also choose the size and type of pumpkin based on decorative function. Kertzner has used them for baby shower decorations and gluing on glitter for New Year's decor. She's also hollowed them out and used them to hold olives, flowers or candles or written a dinner menu on them with a marker. "That way, your guests know what you're serving for dinner," she says.
Decorated pumpkins can be very family- and pet-friendly as long as you keep them out of reach of small children and pets. Use non-toxic materials on them if you have children or pets, and consider chemical or other sensitivities of other family members. "If you're worried, stick to the natural ideas of carving your pumpkin to use as a vase, bowl or candle holder," says Kertzner, who along with her business partner, Michelle Bachman, is a mom.
Handle Pumpkins with Care
Pumpkins can also be damaged by kids and pets if they aren't carefully stored. Cox says, "I've seen my own and other kids pick them up by the stem, which can break and cause rotting to begin, as well as drop, kick, roll and throw them."
He adds, "And dogs like to grab smaller pumpkins with their jaws, bite them and trot around with them like trophies." All of these things can seriously damage pumpkins, and once their skin has been broken, they quickly deteriorate.
Extreme heat and cold can damage pumpkins, too, and they should be kept from both. Finally, says Cox, while you can usually leave uncarved pumpkins out on a stoop for months and they look great, "Beware of pumpkin deception. Sometimes they look fine from above, but the bottom has rotted completely. While that can be simply messy outdoors, if it's resting on a wooden floor or surface indoors, it can damage the finish."
Don't expect carved pumpkins to last They will show signs of mold and rot within 24-48 hours, and will last a maximum of 10 days after carving.