8 Glamorous DIY Halloween Costumes That Won't Break the Bank


It's that time of year again – Halloween is 'round the bend.
You'd love to look cool, cute and clever this year, but you really don't want to:
Spend a pile of cash at one of those Halloween superstores that crop up every year (with their exorbitantly priced Star Trek costumes and Donald Trump rubber masks); or
Spend hours assembling something complicated out of tissue paper, glue, yarn and balloons.
What to do? The answer is simple. Shop in your own closet!
You can DIY (do it yourself) for Halloween this year – and make your own costume (or a fun "couples costume"), using clothes that are already in your wardrobe – with just a few simple, inexpensive props. Do you want to look glamorous and sexy? Dress with an artistic flair? Or join the fun with a witty, matching couples look? The choice is yours.
Best of all, whatever choice you make, these easy, breezy costume looks can be assembled in a jiffy – and at a very reasonable price.

Glamorous/Sexy DIY Costumes
Audrey Hepburn in "Breakfast at Tiffany's." If you have long hair, this one is easy! Twist your hair, then pin it up and add a rhinestone brooch, tiara or clip. Grab a little black dress out of your closet, preferably a sleeveless shift; don elbow-length black gloves, a pearl choker (faux or real); and, of course, carry a long, vintage-style cigarette holder (and remember – you don't actually have to light the cigarette).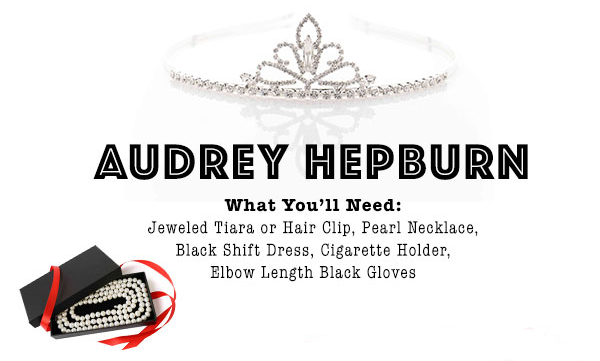 Glampire. Vampires are always in style. This outfit is easy because you only need one or two inexpensive props to make it work and can select an outfit from your own closet. (Unless, of course, you need an excuse to go out and shop for fancy new dress-up clothes, in which case, shop away!) Pick any glamorous outfit you'd like – the dressier the better. Apply very glam makeup paired with plastic vampire teeth and a trickle of fake blood running down your chin.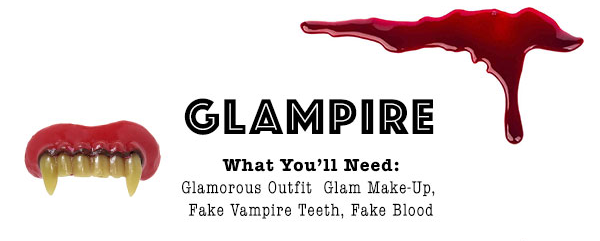 Artistic DIY Costumes
Frida Kahlo. Pin up your hair (if you can braid it first, so much the better), stick in a handful of silk flowers (for reference, simply Google "Frida Kahlo" on the Web), use dark brown eyeliner to draw on a unibrow, and add a white or bright peasant blouse with a long, flouncy, colorful skirt. The real Frida also liked to accessorize with dangling earrings, 1950s-style cat-eye sunglasses and bright red lipstick. Although you may wish to forgo the unibrow for vanity's sake, remember: The unibrow is what makes you Frida.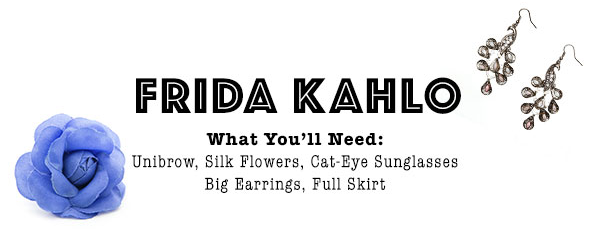 Modern Medusa. Tease your hair a bit (or use a wig or clip-in hair extensions); then wind 3 or 4 rubber snakes through the strands, using clips to secure them (for maximum effect, the snake heads should poke out). Since you are a Modern Medusa, any fab cocktail dress will do, worn with boots or heels. Add extra-smudgy, smoky eye makeup and the lipstick of your choice: green or black if you really want to get into character, or wine or red, if you'd prefer to look cute – or at least, as fetching as a woman with serpents-for-hair who turns men into stone can be.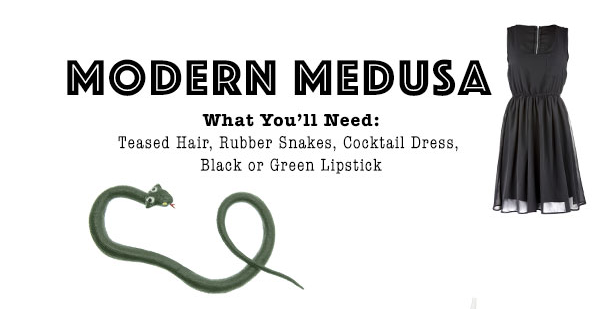 Jellyfish. This idea is from Martha Stewart, the Queen of DIY. All you need is a clear or white umbrella and some long sheets of bubble wrap. Cut the bubble wrap into long, thin streamers (a few inches wide and 4-5 feet long) and staple dozens of them all around the edge of the umbrella, so they hang down like tentacles when you hold it open over your head. Wear all white, smudge white powder or makeup on your face and paint your fingernails with white or pale pink nail polish. Just remember – you'll have to hold that umbrella up all night.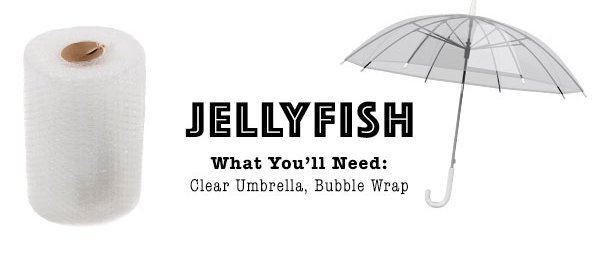 Easy Breezy and Fun DIY Costumes for Couples
Need a quick costume for your husband or partner? Why not pair up and wear an easy DIY couples costume? Here are a few simple ideas (these are especially good for men who don't want to dress up or put on a "real" costume):
Bacon & Egg. Wear all brown. Brown pants, brown T-shirt, brown shoes. If you want to be ultra-rad, poke earring wires through strips of cooked bacon for "eau de bacon" earrings to perfume the air. (You might want to put your hair up, so you don't smell like cured pork for weeks!) Then cut a round circle from a large piece of yellow art paper and attach it to the front of one of your hubby's plain white T-shirts. Now you're a strip of bacon and he's a sunny-side up egg. Stick in a fork!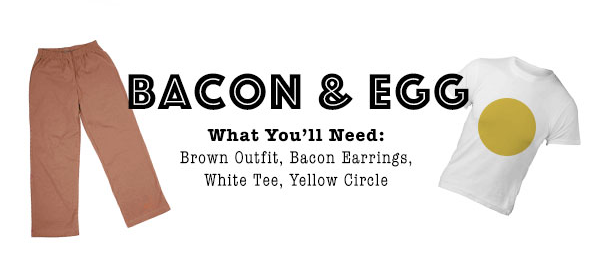 "Grease." Become a classic couple by emulating the final scene styles of Danny Zuko and Sandra Dee. All you need are tight leather pants or leggings, red high heels and an off-the-shoulder black top. For added effect, curl your hair and add some volume with lots of hairspray. All your guy needs are some tight black jeans, rolled up at the bottom, a white T-shirt and a black leather jacket. Cap it all off with some Converse-style sneakers and a slicked back hairstyle.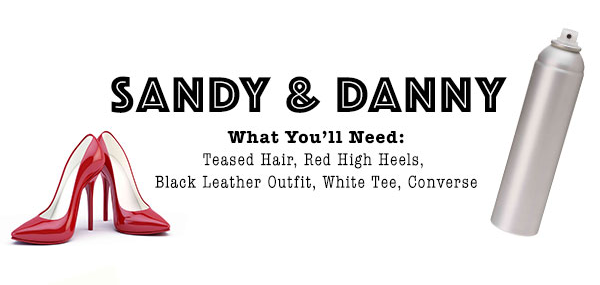 Salt & Pepper. The ultimate "straight from your closet, no props needed" costume. He wears all black and a big white letter "P" on the front of his shirt. You wear all white and a big black letter "S" on the front of your shirt. If you want to embellish, make salt and pepper earrings and/or necklaces using those tiny packets you find in takeout cafes. And remember: Life's always tastier with a bit of seasoning.