Your Guide to the Best Apple Picking Experience This Fall

Change is in the air. Summer heat is slowly changing to fall chill, leaves are starting to turn colors and you're pulling your chunky sweaters out of the closet. But before we fully slide into winter, let's take advantage of all the great things fall has to offer, including apples. This is the time of year when apples at orchards come into season, and they're ripe for the pickin'.
With hundreds of U-pick apple orchards around the country growing 2,500 different varieties of apples, your ability to get a bushel of delicious, crunchy apples is just a short ride away. But before you pile the family into the car and hit the road for an hour or two, there are some tips to consider so you can have a great apple-picking experience. And that extends into what to do once you leave the orchard to head home.
Call Ahead
"The number one thing that can wreck an experience is when people don't call ahead," said Brad Hines, the creator of ApplePickingOrchards.com, an orchard directory covering much of the United States. "The farmers could be out that day or they may have had a bad crop and might not be picking. Anything can change at a moment's notice."
Hines suggests asking the following:
whether the farm has full-sized or dwarf trees.
what kind of apples are in season and being picked at that time.
whether dogs are allowed (some farms do, others don't).
whether the farm is open.
He added that many farms have a voicemail recording set up to let you know most of that information.
More Tips for a Good Apple-Picking Day
Sure you can just drive up to an orchard and have at it, but being prepared beyond knowing whether the farm is open can help make a better apple-picking excursion for you and your family. Some tips we got from apple-picking resource PickYourOwn.org include the following:
Plan for a change in the weather. You can always remove a raincoat or sweatshirt if it gets warm, but if it's cold or wet and you're unprepared, it can derail an otherwise fun time.
Wear old clothes and shoes. It could get muddy and messy out there and you don't want to mess up good shoes or new clothes.
Bring money for entry fees and apple bags. Some farms offer free admission, but others charge a fee for picking bags, which often will include the price of admission. For example, C.N. Smith Farm in East Bridgewater, Massachusetts, charges $25 for a 10-pound peck bag, which allows three people to enter the orchard, and $45 for a 20-pound half-bushel bag, which gives six people entry. You can also bring your own containers to transport the fruit home.
Pack snacks, drinks and a picnic. There may not be any concessions on the farm (although many sell cider and apple doughnuts!) and if you have kids, you know they can get hungry. It's better to be prepared
How to Pick Your Apples
First, ask the farmers or orchard staff what varieties are ripe and ready for the picking. They'll also point you in the direction of where to find those trees and should also let you know what apple varieties have been picked over.
Believe it or not, there is a bit of an art to picking apples. Be sure to avoid apples with bruises or apples that are starting to rot. "There is literal truth to the expression, 'One bad apple spoils the bunch,'" Hines said. "If you place a rotted or bruised apple in the bag with the rest of the apples, it will accelerate the ripening."
Even before you put apples in the bags, you need to get them off the trees. Apples on the outside of the trees will ripen before those growing inside, so pick those first. You want to put your hand around the apple, twist and then pull. That should give you a quick, clean and easy release from the branch.
You may also think about investing in an inexpensive fruit-picker basket. This is a red cage that sits on the end of a long pole to help grab apples on higher branches in taller trees. It also helps prevent you from bruising apples as you pick. They can range from around $10 to $70 depending on the type of basket and pole you want and can be found online or at some hardware stores.

Storing Your Apples
Gently place the apples into the bags or baskets to avoid bruising them. This will help keep them fresh longer.
Once you get them home, Hines said to keep apples cool. "Think of it like storing wine," he said. "Cool and dry is key. We store our apples in a corner in our garage."
You want to keep your apples in a container to avoid any bugs or fruit flies getting into them. And don't wash apples until you're ready to eat them. They may have a dusty film over them; that's OK. Keeping that film on the apples will help extend their shelf life.
If you plan to keep apples through winter, PickYourOwn.org suggests wrapping apples individually in sheets of newspaper and stacking the apples. This will keep them from touching and possibly accelerating the ripening process.
How to Use Your Apples
PickYourOwn.org suggests these apples for your fall recipe creations: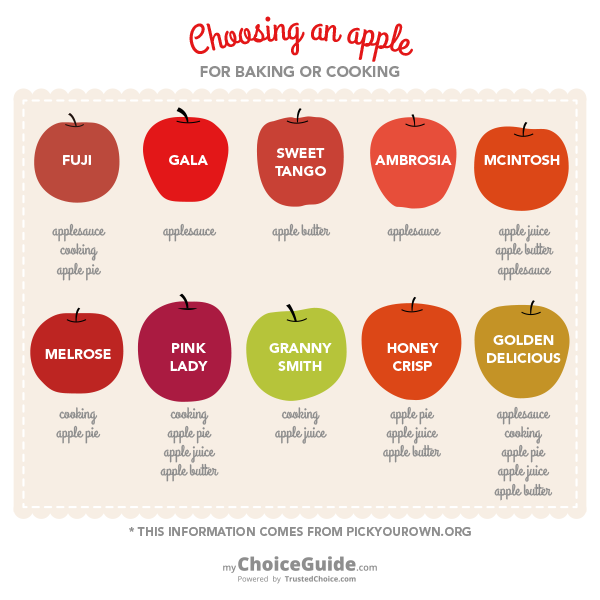 Once you have your apples home, what to do with them? Yes, you can simply eat them raw, but some apples are made for eating and others are better for cooking. You can make applesauce, apple pie or cobbler, grill apples to use alongside chicken or pork dishes, make them into an apple-honey vinaigrette or add them to a pumpkin or butternut squash soup.
But you can also get more creative. Hines will often cut off the tops of apples, spoon out some of the insides and use them as votive candleholders. Or you can follow a simple recipe to make an essential oil from the apples to make perfume, candles or a scent to fragrance a room.
So now that you have your fall apple-picking trip planned, where will you go? Let us know if you have any fun memories of apple picking or if you are making this a new family tradition.