Non-Trucking Liability
(Here's how it works and how to get it.)

Truckers know that if you're not hauling, you're not making money. But sometimes you need to take your tractor on the road without a trailer, and that can cause a big commercial vehicle insurance loophole—one that could leave you on the hook for thousands of dollars.
Non-trucking liability insurance is there to close that loophole and protect your business. When you're ready to make a move, our expert independent insurance agents are here to help you shop for the coverage you need.
What Is Non-Trucking Liability Insurance?
In short, it's a kind of commercial auto insurance that protects your truck tractor when you're not hauling (called bobtailing). Regular car insurance won't cover truck tractors, even if you're driving your tractor for personal use. That means you could be on the hook for a lot of money if you get into an accident off the clock.
When you're hauling, you're protected by your client's insurance or by your own business insurance. But when you're bobtailing, only non-trucking liability insurance will pay for the damage and legal costs caused by an accident.

Why Is Non-Trucking Liability Insurance Important?
Non-trucking liability insurance protects you, your trucking business and the people around you. Here's why:
It fights legal battles for you: If you're sued, rightly or frivolously, liability insurance will foot the bill for your legal representation and any damages you owe. It makes the stressful legal process much easier to handle.
It covers damage so you don't have to: Liability insurance won't pay to cover damage to your own vehicle, but it will pay for damage you caused to others. It's way easier to budget for insurance premiums than it is for a sudden $100,000 cost—which helps your business stay solvent and profitable.
It guarantees that you'll be able to pay if you hurt someone or damage their property: If you're at fault for an accident, paying to make the other parties whole isn't just the law, it's the right thing to do. Liability insurance helps you make things right as fast as possible.
Greatest challenges for truckers in the trucking market in the United States in 2018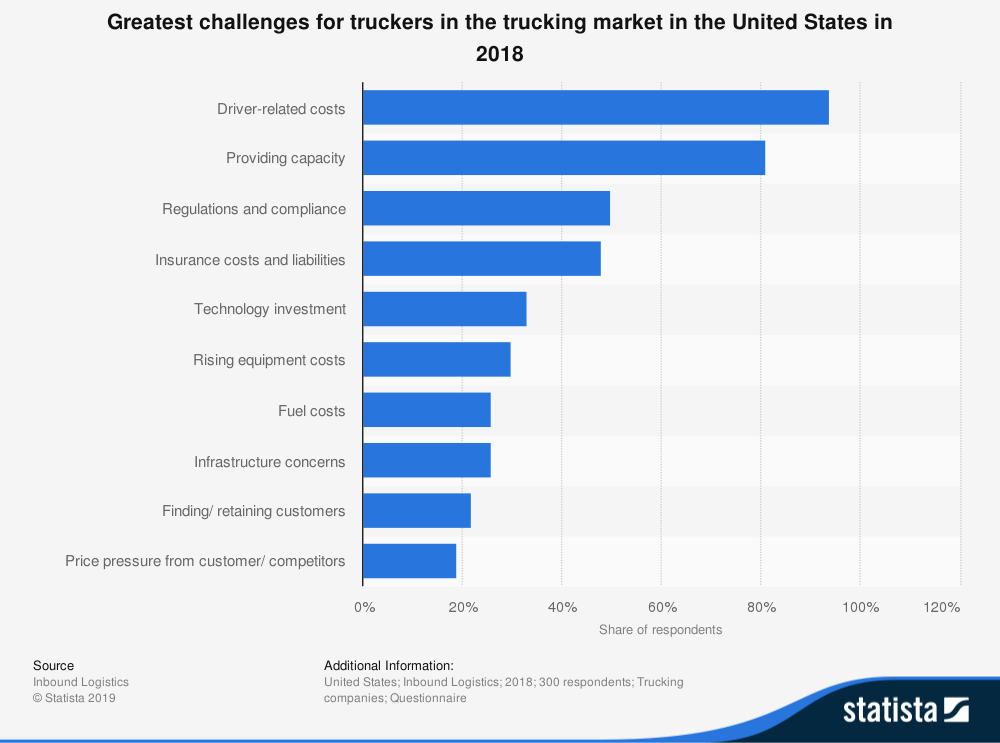 Insurance costs and liabilities ranked as the #4 concern of US truckers in 2018, just behind regulations and compliance and above technology investment, rising equipment costs and fuel costs.
Non-trucking liability insurance helps protect you from those liabilities, and it can be a surprisingly affordable part of your trucking insurance.
Non-Trucking Liability and Physical Damage Insurance
As with personal car insurance, damage you cause to other vehicles and people is insured differently from damage to your own vehicle. Liability insurance covers the former, while physical damage insurance covers the latter.
Non-trucking liability insurance covers the damage you may do to others, as well as any related legal costs. Physical damage insurance covers any damage that happens to your own truck tractor, whether that damage is caused by other drivers or natural events like hail.
You can usually purchase physical damage insurance for your truck tractor at the same time as non-trucking liability insurance. You may even get a discount for bundling them together in a single commercial auto policy.
Do I Need Non-Trucking Liability Insurance?
All truckers need non-trucking liability insurance. Whether you're in your personal car or a business vehicle like a truck tractor, it's illegal to drive without liability insurance.
In addition to being legally required, non-trucking liability insurance is also just plain smart to have. It keeps you from having to pay many thousands of dollars in legal fees and damages in case of an accident. It also gives you peace of mind so you can focus on running your business.
Industry revenue of "general freight trucking, long distance, truck-load" in the US from 2011 to 2023 (in billion US Dollars)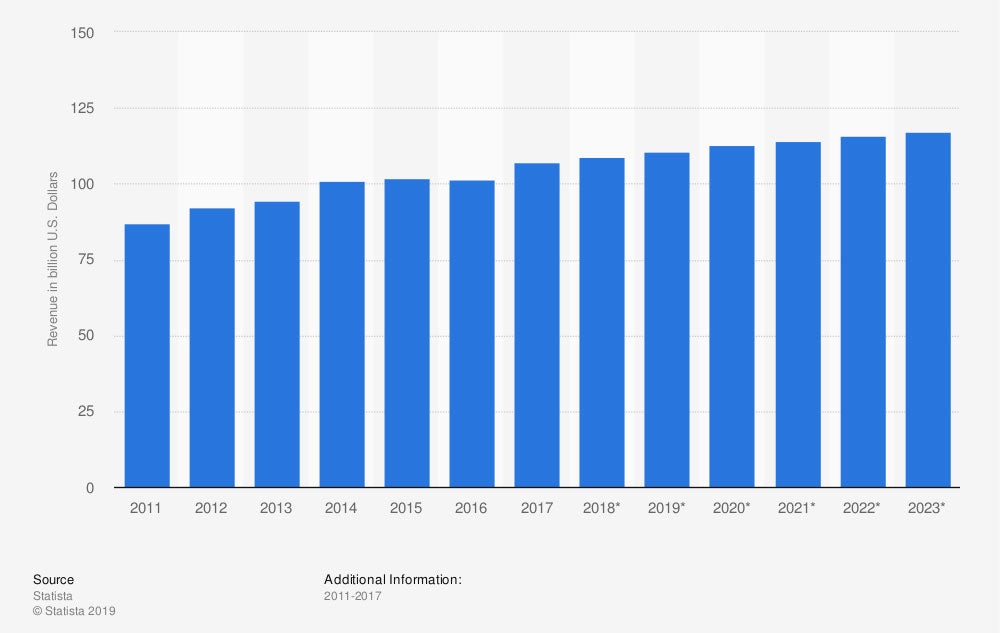 The trucking industry crossed $100 billion in revenue in 2014. It's only projected to grow. Your business can grow with it.
How Much Does Non-Trucking Liability Coverage Cost?
Non-trucking liability coverage is likely to cost a few thousand dollars per year. You should budget for it as part of your business insurance coverage. Having business insurance helps your trucking business run smoothly and stay profitable.
Non-trucking liability insurance can be bundled in with other policies like physical damage insurance as part of your commercial auto policy. You can work with an independent insurance agent to mix and match policies to create the business insurance that's right for you.
How Can I Get Non-Trucking Liability Coverage?
Start by contacting an independent insurance agent who's worked with truckers before. The agent you choose should have an established track record working with a few different insurance companies (called carriers), so they can shop around and find you the right deal.
You should feel free to ask your agent lots of questions to get a feel for their expertise. After you've chosen an agent, the next steps will look something like this:
Decide what kinds of coverage you want: If you're in the market for other kinds of business insurance, like physical damage insurance, now is a good time to buy. Bundling multiple types of insurance together can net you a discount.
Fill out applications: Your agent will fill out applications for you or help you fill them out yourself. Then, insurance companies will decide what prices and coverages to offer you. These offers are called quotes.
Compare quotes: Once you have a few different offers to consider, don't just go for the cheapest option right away. Talk with your agent about which quote is the right choice for your business. Ideally, you want an option that balances cost and effectiveness. Also ask about which discounts have been applied and whether you might qualify for more.
Once you've chosen a quote, your independent insurance agent can help you go over the fine print. Once you sign on the dotted line, it's a done deal.
Find Commercial Auto Insurance
Our independent agents shop around to find you the best coverage.
The Benefits of an Independent Insurance Agent
Independent insurance agents are a lot like truckers: They are free agents who bring their own skill set to the table and can shop around for the best contracts.
Unlike captive agents, who can only work for one company, independent agents are free to shop multiple companies to find you the best deal.
Independent insurance agents can also help you grow your business by making sure your insurance coverage keeps pace with your needs. That's less time you'll have to spend on red tape, so you can spend more on the road—or relaxing at home.
Non-trucking liability insurance is just one part of the business insurance that can make or break a trucker's bottom line. Don't bobtail without it.
TrustedChoice.com Article | Reviewed by Paul Martin
©2023, Consumer Agent Portal, LLC. All rights reserved.