Best Long Term Group Disability Insurance
(Financial backup for when you're out of work for the long run)

We never expect to be out of work for an extended period, but if you were to get in a serious accident tomorrow and weren't able to bring in income for several years, could you afford your bills?
If the answer is no, that's okay. That's why independent insurance agents are here to help you understand the benefits of the long- term disability insurance.
What Is Long-Term Group Disability Insurance?
Long-term group disability insurance protects you if you become ill or injured and are unable to continue to do your job for an extended period.
Disability insurance is not the same as workers' compensation. Workers' compensation is protection for when you get injured on the job. Disability insurance is for injuries and illness not related to your job.
Since this is a group disability insurance policy, that means it is offered through your company. While it's possible to purchase individual long-term disability insurance, you cannot personally purchase a group policy. You accept the policy terms through your employer.
How Does Long-Term Group Disability Insurance Work?
Since long-term group disability insurance is only offered through an employer, if you work at a company that has this insurance as an option, you should learn about it upon getting hired. Offering group disability insurance is not a requirement.
Long-term group disability insurance usually pays 50% to 60% of your income for an amount of time determined by your employee. Long-term policies are usually two, five, or ten years, or until retirement at age 65.
When hired, you'll have the option to accept the insurance or deny it. If you accept the insurance, you may have to pay a portion of or the full premium. However, 94% of employees get their premiums covered by their employers.
Percent of disability insurance plan participants whose employers paid full cost of insurance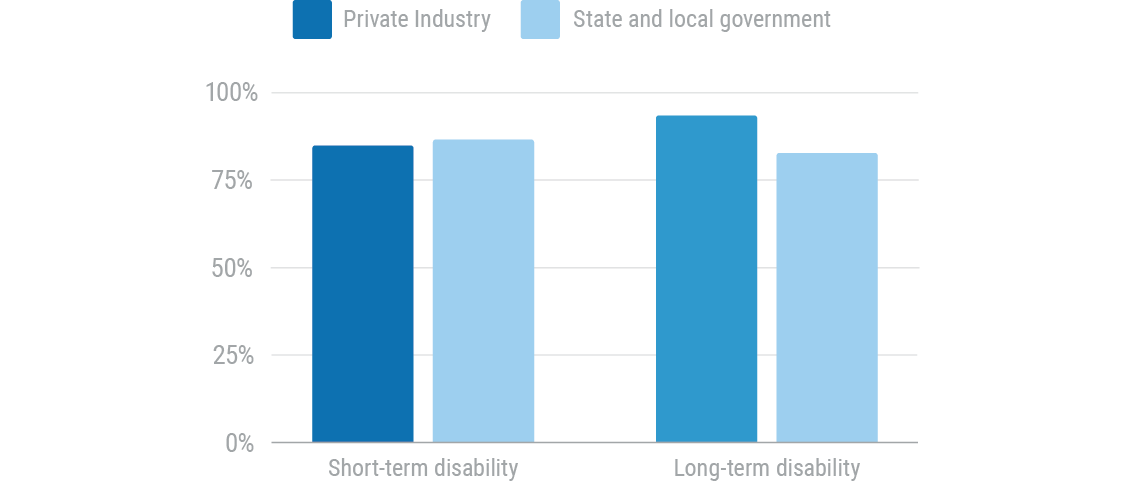 As you can see from the statistics above, nearly 100% of workers in private companies who have long-term disability insurance are getting their plans paid by their employers.
Save on Disability Income Insurance
Our independent agents shop around to find you the best coverage.
What Happens If I Become Injured or Ill Outside of Work?
Assuming you've accepted the long-term group disability insurance being offered by your employer, you're covered under the policy should you get in an accident or fall ill. So how exactly would things go down if you were to become disabled?
Let's say you're on vacation in Thailand and decide to go bungee jumping. Things go terribly wrong and you end up breaking your back and are unable to go back to work for the foreseeable future. Here are the steps you'll take.
Step #1: Obtain a benefits application: Work with your HR department to receive an application in order to receive your disability benefits.
Step #2: Fill out your portion of the application: You'll most likely need a variety of information, including
Your name
Social Security number
Date of birth
Address and phone number
Family members
Name of your employer and your occupation
Your work history and education information
Date of your injury or sickness
Last date worked
Your reason for disability
All medical providers and their contact information
Prescribed medications
And any other forms of income that you may be eligible to receive
Step #3: Fill out the employer portion of the application: Your employer will need to add some additional information to your benefits application, including:
Date hired
Effective date of insurance coverage
Earnings
Last date worked
Whether you returned to work
Other insurance benefits or income you are eligible to receive
Title of your occupation
Physical and mental requirements of your occupation
Step #4: File your claim: You'll turn in your application to file your claim to receive your benefits. You'll most likely need written proof of your disability from your doctor and possibly additional medical documents.
Step #5: Go through the elimination period: The elimination period is a waiting period, usually 90 to 180 days, before you can start receiving payments.
Step #6: Receive benefits: You'll begin receiving a portion of your income, usually 50% to 60%, for the amount of time determined by your provider.
Some policies have the intention of getting you back to work or receiving an income of some kind, while others will pay out until retirement. It's best to fully understand what is offered in your plan.
Is Long-Term Group Disability Insurance Right for Me?
Just because your employer offers long-term group disability insurance doesn't mean it's right for you. Determining whether you will benefit from this type of insurance will depend on a variety of factors.
What benefits does your company offer? Long-term disability policies vary greatly from employer to employer. Some will last longer than others, some function with the expectation that you'll come back to work, and many have specific guidelines and limitations. It's important to fully understand what is and isn't included in your employers' disability insurance.
Do you qualify for the benefits? Most long-term disability insurance plans require that an employee has been with the company for a certain amount of time, is equivalent to a full-time worker, and is willing to actively contribute to the plan.
Do you plan on changing jobs? If you change jobs, your group disability insurance will not follow you. If you think you'll be changing jobs, it may be worth looking into individual short-term or long-term disability in addition to what's offered through your current job.
How much do your bills cost? Some people are great savers and others simply aren't able to put away a lot of money each month. When calculating how much it would cost to continue to pay your bills without work, consider your mortgage, car payments, childcare, groceries, and other everyday expenses.
What is the benefit period? Long-term disability insurance benefit periods can run for a certain amount of years or until retirement.
Do you have a preexisting condition? Not all disability insurance will cover preexisting conditions. Understand your medical history so you know the type of coverage you need.
The above questions can help you determine whether a specific policy is better for you. It can also help you decide what types of policies to stay away from.
Usually, policies that have a lot of limitations and guidelines should be purchased with caution. The last thing you want to do is wind up with a policy that won't cover you in the event of an accident or illness.
Save on Disability Income Insurance
Our independent agents shop around to find you the best coverage.
What Long-Term Group Disability Policies Are the Best?
When it comes to choosing a long-term group disability policy, you don't get much say in the matter. Your employer will offer what they offer. However, there are some insurance companies that are more reputable for having good disability insurance. Those include:
Assurity
Guardian Life
Illinois Mutual
PIU (Petersen International Underwriters)
MassMutual
Mutual of Omaha
Ohio National
Principal Financial Group
The Standard
Ameritas
Leading group long-term disability insurance companies in the United States in 2018, by premiums (in million US dollars)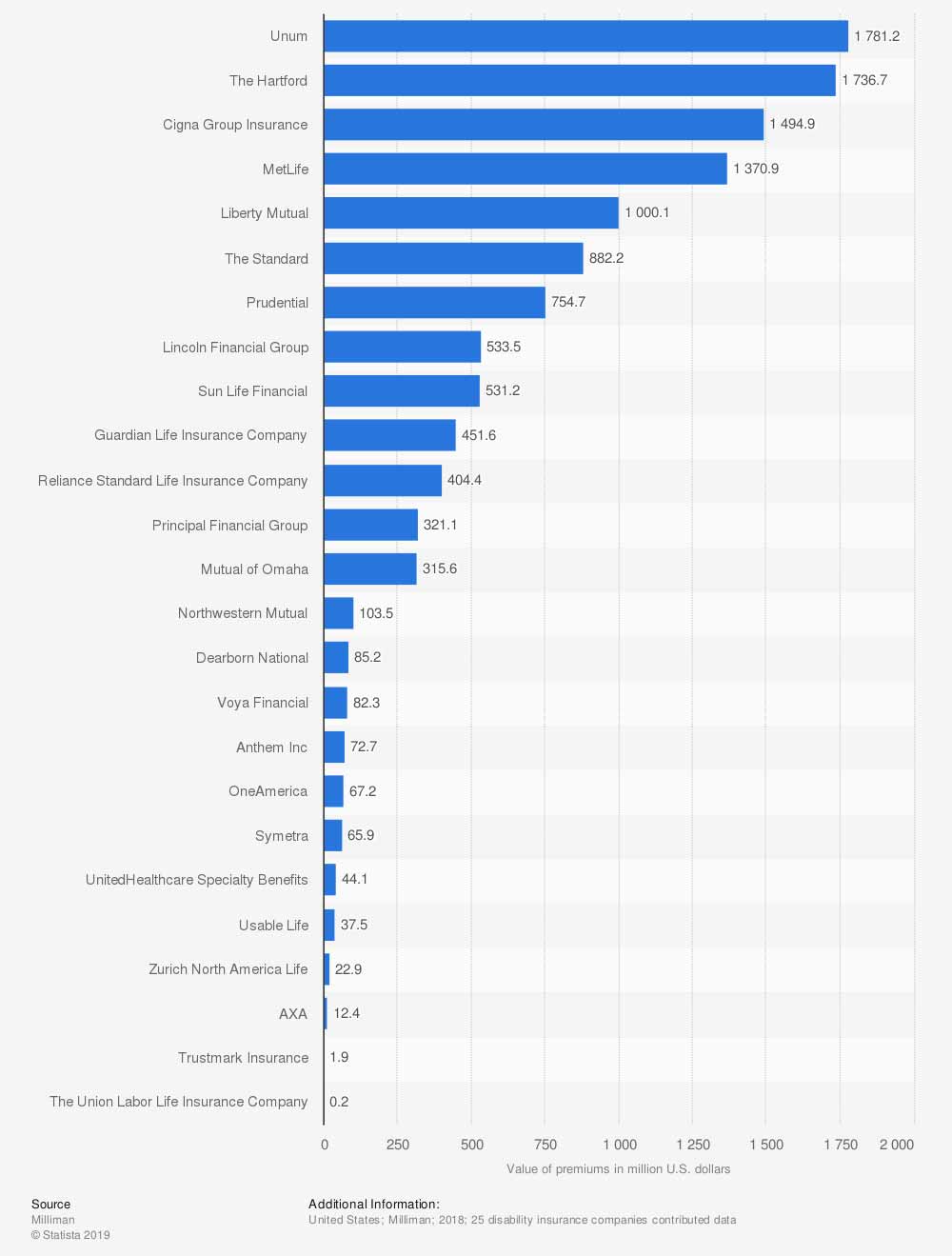 After 25 insurance companies contributed data on the amount of premium they received from disability buyers, it's clear that well-known companies are where people and companies are buying policies.
If you determine that your employer's disability package is not the best option for you, your independent insurance agent can help you find an individual long-term or short-term policy.
Save on Disability Income Insurance
Our independent agents shop around to find you the best coverage.
Why Independent Insurance Agents?
Disability insurance policies can be complex, and determining whether to accept group insurance or find your own plan can be time-consuming and frustrating. An independent insurance agent's role is to simplify the process.
They'll make sure you get the right coverage that meets your unique needs. Not only that, they'll break down all the jargon and explain the nitty-gritty, so you understand exactly what you're getting.
And in the unfortunate event that you need to file a claim, you won't be alone. Your agent will be right there to help guide you through every last step so you can keep paying for your life. How great is that?
TrustedChoice.com Article | Reviewed by Paul Martin
©2023, Consumer Agent Portal, LLC. All rights reserved.
https://www.iii.org/article/what-are-types-disability-insurance
https://www.goodfinancialcents.com/insurance-quotes/disability/best-companies/
https://oneamerica.com/newsroom/news-releases/harris-oneamerica-disability-insurance-survey
https://www.iii.org/article/will-my-employer-provide-disability-coverage