6 Questions to Ask When Choosing a Financial Planner

Choosing a financial planner can be easier than you think if you just know how. Given that this is one of your most important decisions—your financial planner will help you with major money decisions—you need to know what's key to consider. In fact, learning to choose the right financial professional is an important part of your personal finance education. This article will give you the tools necessary to make the right choice by asking six questions about the process and having experts answer them.
1. What is the purpose of financial planning?
You should understand the purpose of financial planning before beginning this process. According to certified financial planner Rebecca Schreiber of Pure Financial Education in Silver Spring, MD, "Financial planning is not about just the numbers; it's about comfort and control."
The fundamental question financial planning addresses, she says, is "What are you worried about and how can financial planning make that better?" The objective, says Schrieber, who got her certified financial planner designation at age 23 after being a child entrepreneur, "Is to use the numbers obtained through the process to change your life in meaningful ways so you'll be more comfortable and less frightened.
"P. Jeffrey Christakos agrees, adding, "The basic dream most people have is financial stability: bills paid, heat on and enough living space, for example." Financial planning helps you achieve those goals, says this CPF, CPA and lead advisor at Westfield Wealth Management in Westfield, NJ.
Whether you want to buy a big home, start a business, plan for retirement or just be able to, as Schrieber says, "swipe your card at the store and have no issues," financial planning is necessary.
2. What is a financial planner?
First know what a financial planner is not. They are not a stockbroker or salesperson. Many people who are engaged in those activities call themselves financial planners but they are not. Their goal is to make a commission selling you their products, not necessarily to do what's in your best financial interest.
Sterling Neblett, CFP, defines a financial planner as "Someone who you consult with to establish your financial life goals while mitigating risks, taking advantage of opportunities and minimizing tax burdens." The key here is that they help you formalize your plan based on your personal objectives. Continues Neblett, founding partner of Centurion Wealth Management in McLean, VA, "They help you determine your true objectives and develop a roadmap to take you to them.
"Again, their focus isn't selling you products. "The roadmap (plan) is much more important than the type of ride (financial products) you have," adds Christakos.
3. Why do I need a financial planner?
True financial planners help you stay real about your goals. They can be more objective about your goals than you can and keep you from walking off the proverbial cliff with a poor financial choice. Christakos says, "Sometimes you need someone to tell you that your dreams are unrealistic." Often, you don't have the resources—yet—to make your dreams a reality, and they'll tell you that. But how do they know?
Schreiber says, "You can get caught up in the emotional and human perspective, but the financial planner will step that back and take a look at where the cash flow gaps are." They look at the numbers you give them. "Financial planners look at the numbers behind your financial story and see your money issues from a quantitative perspective."
Your numbers identify the issues in your financial behavior that might keep you from achieving your goals so you can construct a plan to fix them, according to Schreiber. While you're responsible for executing the plan you create with your planner, they can help you get and stay on track.
4. What must I do to prepare to meet with a financial planner?
Start with financial education—do as much research as possible on financial planning. Make sure you have a basic understanding of it so you have a clearer idea of what a financial planner can—and can't or shouldn't—do for you. Use sites like MyMoney and 360 Degrees of Financial Literacy and publications like Money and Kiplinger to help you comprehend the fundamentals. Or take seminars from credible providers that are focused on giving unbiased personal financial advice rather than selling you a branded self-help program.
"In an educational environment, you won't be embarrassed to ask questions because you're there to learn," says Schreiber, who teaches financial literacy. "You'll know when you're ready to go to a financial planner because you'll be confident in your personal financial education and knowledge of financial planning." Your fears won't stop you from going.
Schreiber also emphasizes two other considerations before contacting a financial planner. "Figure out the most important questions you want to ask the financial planner and whether you want them selling you products." She explains, "The more products or time you buy from them, the more time they'll spend with you." That's why it's important to know the different types of financial planners available, what their designations and certifications mean, and their financial planning specialties.
But what if you have limited money for services? Then, Christakos says, "You need to find those that fit both your needs and budget." Sometimes that means using someone to check a plan you've created yourself to see if you're on the right track, or someone who offers low monthly fee-for-service plans.
5. How do I identify qualified financial planners?
Of course, you can ask friends and family. This often works, especially if they've achieved goals similar to yours, according to Schreiber. But, Christakos cautions, "If your friends are not financially astute, they may not be the best judge of who's best for you.
"Instead, he recommends searching websites like the Certified Financial Planning Board (which provides the Certified Financial Planner designation to financial planners who take their course and pass the rigorous exam), the National Association of Personal Financial Advisors or the XY Planning Network.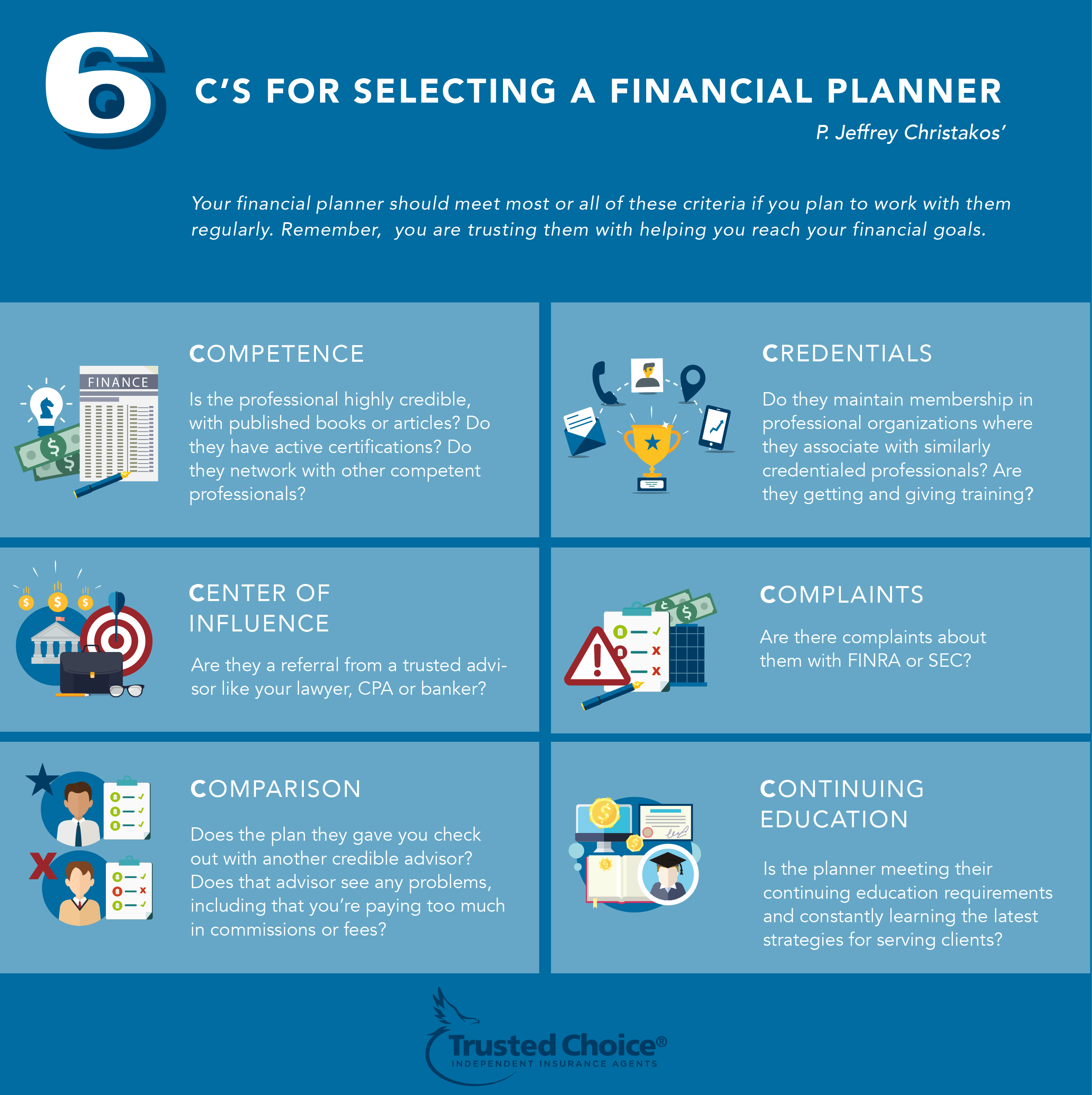 6. How do I choose among those I've found?
Learn how they're paid. Know the differences between "fee-only" and "commissioned-based" financial planners. Christakos says to ask, "Will they sell me advice or financial products?" He adds, "Make sure you know how you're paying them and what for and are comfortable paying for those services."
Also, there are numerous specializations and designations. Learn the different specializations and decide what type of financial planner you need based on your life stage and financial goals. If you want them to have a specific designation like "Certified Financial Planner" (which is recommended), make sure they do and their licensing is current.
Then, when you do identify some financial planners you want to call to set up an initial consultation, make sure they have a clean disciplinary history. Neblett recommends Broker Check on the website of the Financial Industry Regulatory Authority (FINRA), which regulates securities broker-dealers, or the SEC's Investment Advisor Public Disclosure site, which searches both registered investment advisors regulated by the agency and the FINRA database. "These searches will reveal whether they have a criminal history, or if there have been any legal actions, disciplinary actions, or client complaints," he explains.
Next, it's important to meet with several planners. "Most advisors won't charge for initial meetings and they will usually tell you in those meetings if they can help you, so you might as well meet with as many as you need to before choosing one," states Neblett.
When you meet, ask a lot of questions. You want a financial planner who is a fit for both your personality and goals. Schreiber suggests that you ask questions like, "What's your ideal client? Who are you looking to help and how do you really help them? What is your focus area? Do you have a lot of experience helping people in my life stage?" Get as detailed as possible and listen carefully to their answers. Ask for references from clients they've helped and check those references to make sure the clients have achieved optimal outcomes based on advice from that professional.
Finally, make sure you know whether the financial planner operates under FINRA's "suitability standard," which requires that advice or products simply be deemed suitable for you, or the SEC's "fiduciary standard," under which the planner is legally bound to provide advice or products in your best interest. If you follow these steps carefully, you have the best chance of choosing the right financial planner for your life stage and financial goals.