How to Buy Professional Kitchen Knives According to Your Budget
Find the right kitchen knives for you.

Choosing the right cutlery for your kitchen (or as a gift for someone else's) can be a daunting task when you want to make the right choice for both your needs and budget. Whether you go online or walk into a retailer, there are a dizzying array of options. You can select knife blocks with multiple tools or individual pieces of cutlery of different sizes, shapes, types, brands and purposes.
So how do you choose? Well, who better to ask than professional chefs and knife makers? We asked bladesmith (custom knife maker) Adam Marr of Marr Knives; Organic Personal Chef Terry Ryan of Cosmopolitan Delights in Tampa, FL; and former-butcher-turned-chef Nick Miller of the Bachelor Farmer in Minneapolis for their expertise.
They all agreed that there are four different categories of knives to choose from: entry level, mid-range, high-end and custom. What follows is an overview of each. But first, here's one piece of advice all three gave us.
Don't Automatically Buy a Knife Block Set
So, why would three professionals who started off with knife block sets (Wusthof, one of the most famous brands) recommend against buying one? Because you'll end up with many knives you don't need. Most people, because they don't know how to care for kitchen knives, says Marr, "Only use the others as the ones they use most become dull" and then conclude the entire set was poor quality.
Miller, who is a graduate of the Culinary Institute of America, agrees, adding, "Either buy a knife block with no slots or don't buy a knife block at all. Buy the knives you need and store them, properly, in a drawer in a knife guard, in a knife safe or on a magnetic rack." And you think you need the sharpener on the knife block? "It's better to have your knives sharpened twice a year by a professional," says Ryan, who uses a mobile sharpening service for restaurants. Both other pros agree with Ryan; Miller adds that it's okay to buy a whetstone and learn to sharpen at home. So what should you do instead? And what should you do if you already own a knife block set and want to add new knives?
Buy Kitchen Cutlery Based on Your Specific Needs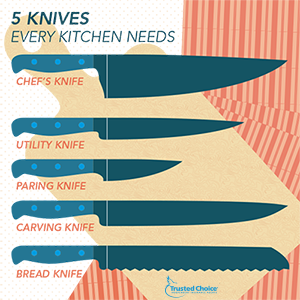 If you're just starting out, all three agree that you should spend the money that you'd spend on a knife block set on three to five key knife types: chef's, bread, carving, utility, and paring knives. These pros all agree you'll do most of your cutting work with a chef's knife and paring knife, though. So depending on what you do most in your kitchen, invest what you'd spend on a multi-tool knife block set on those key knives.
Choosing the best cutlery is also based on your budget, and the pros broke that down into the following four categories:
Entry Level. This is where knife sets are under $200 and an individual chef's knife is around $75 at most, with many costing considerably less. If you're not inclined to, or don't know how to, take care of kitchen cutlery, you should start here. Marr suggests that users in the former category buy kitchen knives at a discount retailer. For those who want to learn how to take care of cutlery while still being able to put knives through a dishwasher, Miller says, "Victorinox is the best bang-for-the-buck knife." This Swedish steel knife is durable, cuts well, and is dishwasher-safe and relatively inexpensive, with a chef's knife retailing for around $55. It's used by home cooks and pro cooks alike. "A lot of industry professionals endorse it as a very solid piece of equipment," he adds. Hampton Forge and Mercer are also strong contenders in this category.
Mid-Level. You're at this level when you're ready to upgrade and spend between $75 and $200 for a chef's knife. According to Marr, at this level, you can expect a quality-production (mass-produced) knife with a solid handle and good blade that holds the edge well with proper care. Cost varies by brand and type of use. Common brands at this level are German and include Wusthof and Henckels. This is also where you move into Japanese knife brands like Shun (for paring) and MAC. "Most Japanese knives are made with harder steel and have a finer edge and more fragile blade than most German knives," explains Ryan. Common Japanese chef's knife types are Santoku and Gyuto. Knives at this level require more care, including regular, usually professional, sharpening.
High-End. If you've advanced to this level (or your gift recipient has), you're buying semi-production knives made with high-end materials with some handwork, like hand-ground, hand-finished, or hand-sharpened blades and semi-custom handles. Whether German or Japanese, these are constructed with high-end steel, and because of their thickness (geometry), cut extremely well. These also have high "edge retention," which means they stay sharper longer. A single chef's knife is $200 to $300, but cutting performance is at its best at this level. German knives by Wusthof, the Zwilling knife by J.A. Henckels, and Shun Japanese knives are in this category.
Custom. These knives are exactly what they sound like, custom-made. These are luxury knives you buy because you're looking for something special, the pros say. Bladesmith Marr says, "You're looking for exotic steel like Damascus or special wood for the handle." Or, adds Miller, "You want to own a knife by a specific bladesmith." These knives can cost well over $300 and reach into five figures. "But," explains Marr, "a $2,500 custom knife isn't better than a $250 high-end production or semi-production knife. You're buying this knife because you love to cook and you can afford the best. This is a knife you really want in your collection, and it has a specific purpose. It's a knife you've always wanted." Top bladesmiths include Shigefusa, Watanabe, Heiji, Devin Thomas, Butch Harner and, Bob Kramer.
Three Key Takeaways:
Buy the best cutlery you can afford for your budget and needs. Rather than automatically default to a block set, invest the same money in the three to five key knives you need for everyday use separately and store them in the block, if you must have a block.
Add knives to your collection as you need them, based on their purpose. Continue to make knives an investment as key kitchen tools that are meant to help you do your cooking better and more efficiently.
Learn to take care of the knives you've bought. Either learn how to sharpen them yourself, or have them sharpened professionally once or twice a year, "Because sharp knives are safe knives," says Miller. And learn how to properly clean and store them to keep them in good working condition.
If you follow this guide and do your own research, you'll be choosing the best kitchen cutlery like the pros for you or a gift recipient.