Celebrity Landscaper Ahmed Hassan Offers Tips For Buying Your Next Lawn Mower
Find the right lawn mower for you.


Around midsummer we all start thinking about upgrading the "yard beast." You know, that thing sitting in the garage that we get tired of pushing around or wrestling on when it breaks down. Or maybe we want to upgrade lawnmowers just because we want one. We guys tend to behave like that from time to time (or so my wife tells me, at least).
When you are in the market for an upgrade, where do you start? I turned to celebrity landscaper Ahmed Hassan. You might remember him from the HGTV channel DIY show, "Yardcrashers" Since hosting the first five seasons of the show, he has stayed quite busy running Ahmad Hassan Landscape Services, operating two nurseries in the Sacramento area, and speaking at home and garden shows across the United States.
He freed up a few minutes this past weekend to speak with me about lawnmowers. Specifically, we chatted about choosing the right type of lawnmower for yard maintenance. Hassan says there is a bit more involved than simply choosing the one that looks the most impressive.
Tip 1: Understand the Different Types of Lawn Mowers
Hassan suggests that you first become familiar with the different types of push mowers and walk-behind mowers, so you know their advantages and disadvantages. There are four basic types.
Reel Mowers: Technically, this is the only lawnmower that can be classified as a "push mower," according to Hassan. The reason is simple: You are the horsepower (i.e., you do all of the work). The key to using this type of mower is to walk rather quickly. Doing so keeps the blades spinning fast and provides a nice, even trim for your lawn. Reel mowers are a great and eco-friendly option for small, flat yards.
Electric and Battery-Powered Mowers: These are handy for keeping small yards nicely trimmed. They don't have as much horsepower as gas mowers, but Hassan says they do a fine job as long as your grass is not too thick. They do have their downsides. Electric mowers have power cords that can keep you tethered and make it difficult to navigate around shrubs and other yard ornaments. With battery-powered mowers, once the battery runs out, you must stop mowing until the battery is sufficiently recharged.
Gas-Powered Mowers: These mowers are efficient at cutting grass because gas engines provide a lot of horsepower. Tall weeds and thicker lawns are no problem with a gas-powered mower. But be prepared to sweat! These mowers weigh substantially more than their electric counterparts.
Self-Propelled Mowers: In essence, these mowers do the work for you. They pull you along and are quite nice if you have a large lawn. They do tend to be more expensive, so if price is an issue, go with one of the other options.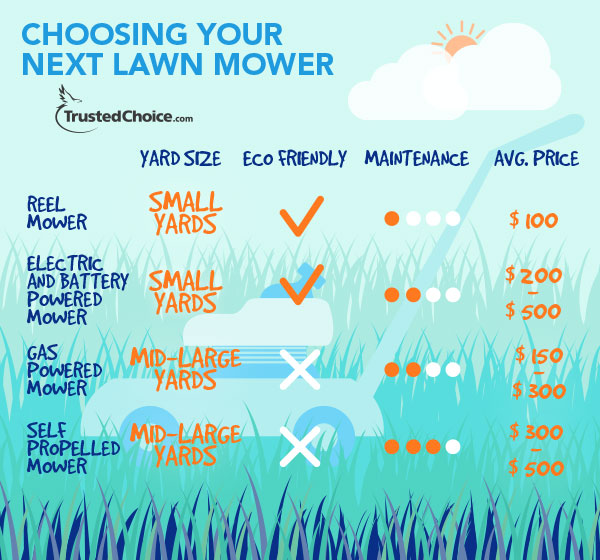 Most of these mowers offer variations and add-ons to make lawn maintenance more convenient. Some have mulching capabilities; there are standard side-discharge options and bag-fill options; several types come with variable height adjustment; and newer models feature a clean-out mount on the lawn mower deck—simply attach a garden hose to spray the grass off the blades underneath. It all boils down to what you're comfortable with, how high your budget is, and how much work you are willing to do.
Tip 2: To Thine Own Self Be True
This needs to be addressed because testosterone can affect decision-making. Most self-respecting guys won't admit that they have limits; but when it comes to mowing your lawn, you should know what your limits are. If physical exertion is an issue, then a self-propelled mower may be your best option. Hassan prefers self-propelled mowers because they let him save his energy for what he truly enjoys: planting shrubs, weeding, adding water features, and mulching. His suggestion is simple: Know your limits and take them into consideration before you make a purchase.
Tip 3: Buy the Right Mower for Your Lawn Size.
This is another important factor to consider before making a purchase. If you have a small to midsize yard, Hassan says most push mowers will do. Briggs & Stratton recommends riding mowers for any lawn larger than three-quarters of an acre. Beyond that, you have to determine how much pushing you actually want to do.
If your yard is around three-quarters of an acre, you might want a self-propelled mower with a large deck. If you have a small yard, a walk-behind mower with a smaller deck or a reel mower might suit your needs. These can actually help you with those hard-to-reach areas of your lawn, since their smaller size enables you to maneuver them into tight areas around plants and shrubs. Remember, you want to work smarter rather than harder. Choosing the right mower can make your lawn maintenance more efficient.
Tip 4: Consider the Terrain
If your lawn has uneven sections, cutting with a reel or standard walk-behind mower might not be your best bet. You will want to find a mower with large rear wheels; the larger tires enable you to easily navigate uneven terrain. Also, Hassan recommends that you avoid mowing inclines steeper than 15° with any type of lawn mower. Instead, he recommends that you pull out your trusty Weed Eater when those areas need a trim.
Which Is the Right Mower for You?
Once you have considered all of these factors, Hassan says lawn mower selection really boils down to answering the following questions: "What kind of experience do you want to have?" and "How much time do you have available?"
If you are looking for a vigorous workout, he recommends a reel mower. You will burn a lot of calories and it is a great way to be environmentally conscious, though he cautions that you should be prepared to "sweat a lot!" On the other hand, he tells me, "Some people simply don't want to spend a lot of time cutting their yard." In that instance, he recommends purchasing a mower that can get the job finished quickly. There are no right or wrong choices for lawnmower selection, according to Hassan. The best option for you depends mainly on your physical capability and the size and topography of your lawn.
Hassan highlighted one important fact at the end of our conversation. No matter what type of mower you choose, some basic maintenance will be required. All mowers need their blades sharpened periodically, as well as other maintenance such as changing the spark plugs, air filters and oil. However, lawnmower maintenance is not difficult, and you will get years of use from your mower as a result. It might last so long, in fact, that you will be able to pass it down to your son as a boyhood rite of passage. When that moment comes, you can smile knowing that you chose a great lawnmower and that you will never have to cut your grass again.