Your Great Credit Has Its Perks, Especially When Choosing Credit Cards

People with excellent credit—which means FICO scores over 740—already get the best rates and highest credit lines available with deluxe credit cards. In fact, credit cards for those with top credit range from deluxe to elite. But how do you choose among various issuers to get the best combination of features and benefits if you have great credit? To do that effectively, you'll need to focus on the features of these deluxe, premium and elite credit cards, based on your lifestyle and specific needs. And while we'll provide a few examples of credit card carriers with those features, it's for the purposes of illustration, not recommendation.
In fact, because there are so many carriers to choose from, the focus here is what perks your great credit can offer rather than specific credit card companies. With this information, you can choose a credit card based on those perks and your needs. So here are three questions you should ask as you research.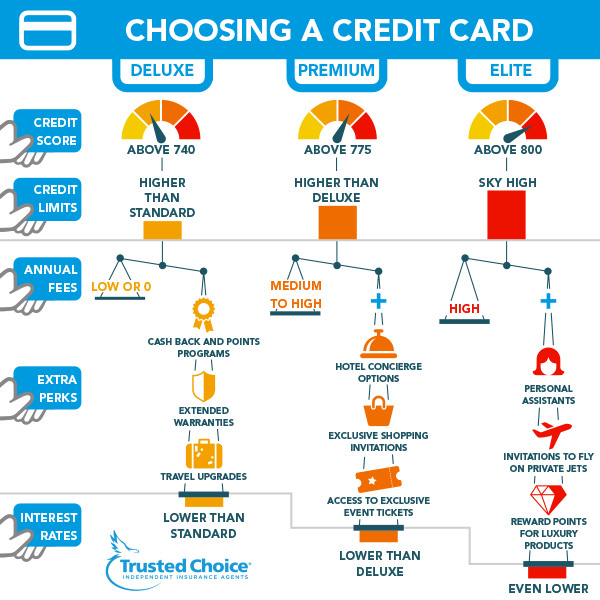 What kinds of perks should I be looking for in a credit card with my excellent credit?
Gerri Detweiler, director of education for the Credit web site, suggests choosing a card based on your spending habits. "The key to getting the right reward card is to really home in on your spending habits and the perks that will be the most valuable to you," she explains. The two most popular types are cash-back and travel rewards cards, but which you choose depends on the type of reward that is most valuable to you.
"Take cash-back rewards, for example. If you're earning 1% - 1.5% cash back that's not bad. But why settle for that when you can earn 2% cash back with a card like Citi® Double Cash or the Fidelity® Investment Rewards® American Express Card?," she adds.
These types of cards take discipline to track, though, especially if they have rotating cash back, says Detweiler. You have to be willing to register for certain categories, carefully track your spending and time your spending to when higher cash-back rewards are available. That can make them not so valuable for some people. "However, there are cards like the American Express Blue Cash Preferred® card, which offers 6% back on grocery purchases (for up to $6,000 in spending a year) that can be worthwhile," she maintains.
Of course, for frequent travelers, a travel rewards credit card is probably the best choice. "If you often fly a specific airline, then it may make sense to get that airline's cobranded card so you can earn miles, get free checked luggage and even earn elite status faster," Detweiler says. This is also true of cobranded hotel credit cards; regular use can lead to room and status upgrades, discounts and free stays.
"But if you're the kind of traveler who goes where the deals are, then a card that earns flexible travel rewards is going to be a better bet," she explains. Erica Sandberg, editor-at-large for Credit Card Guide, agrees. "Travel benefits are still the best because you get the most from your points."
And while there are deluxe credit cards that provide other types of perks, like gifts, event tickets, rental car insurance, travel insurance, extended warranties or purchase protection, there are often limitations on where and how you can use them. Sandberg says, "The value of these kinds of rewards depends on how much they benefit you. Rewards cards have to fit your lifestyle, otherwise, they're useless to you."
What kind of credit cards can I get with superb credit?
If your credit score is in the stratosphere, that is, 800 or above, and you have high enough income and spending habits, you can pretty much decide what kind of credit card you want and get it. While some of the most elite cards are highly selective about to whom they're issued, they offer benefits not available to those with less stellar credit. (Some of these charge cards do require that balances be paid off each month, however, so know which you're getting.)
From personal assistants, private jets and posh gifts to exclusive events, and even the materials with which the cards are made, when you have the best credit, you can expect the best perks and experiences with elite credit cards. Sandberg says that many cards offer great gifts, but adds, "They're only great if they're gifts and experiences you want, so choose a card that offers benefits you'll actually use."
So if these posh perks aren't part of your daily experience (and cards made of plastic are fine for you), premium cards still offer the same perks as other cards for excellent credit. But they're upgraded versions of those perks. For example, if you're a frequent traveler, you can use points earned to get upgraded rooms with free amenities not available during standard guest stays. You'll also have access to special services at hotels, like concierge and massage services or a tailor, simply for being a cardholder.
On airlines, being a card member may get you seat upgrades using frequent flyer miles or VIP lounge access and waived checked baggage fees.
With many of these premium cards, benefits like hard-to-get concert tickets or reservations at restaurants are available. What you get depends on what you find most valuable, so research both card offerings and limitations—like on where you can use shopping services or hotel rewards.
The excellence of these perks is a good thing, because you'll pay for them. "You can expect to pay $450 in annual fees for these elite cards," says Detweiler. But those fees may be offset by the benefits they provide. So determine if you'll see a return of at least that amount in benefits if you pay those fees, especially if you'll also have to pay an annual fee for each authorized user of the card.

What else should I be considering when choosing a credit card for great credit?
Sandberg says, "Don't immediately discount cards with high annual fees." You may be put off by them, but they may be worthwhile—check to see if they offer benefits you'd pay at least that much for annually, anyway. She says, too, "A low APR is nice, but it won't be important if you don't roll over balances."
And Detweiler adds, "You can leverage your exceptional score to sign up for cards with very generous sign-up bonuses, and you can afford to card surf more than someone with mediocre credit." So, says Sandberg, "Look for a card with the rewards and terms that are relevant to you."
Concludes Detweiler, "Know that you're in the driver's seat. Card issuers want customers like you, so take some time to find a card with the richest rewards and then enjoy it. You've earned it!