Crop Hail Insurance
What Does Crop-Hail Insurance Cover for Commercial Farms?
(Because crops even need protection against Mother Nature herself.)

Agribusiness farms of all kinds have valuable crops that need protection from the harsh elements of nature. No matter what their crops specifically consist of, hail damage can be especially damaging and costly, and hailstorms can come on quickly and without warning. Fortunately for agribusiness farmers, an independent insurance agent can get them equipped with the right crop-hail insurance for their needs. But first, here's a closer look at this essential coverage.
What Is Crop-Hail Insurance?

Simply put, crop-hail insurance is an agreement between an insurance company and a commercial farm owner in which the insurer agrees to cover losses relating to hail damage of the farm's crops. Depending on the specific policy, there may be other listed disasters that are covered as well. Crop-hail insurance allows farmers to recover financially following a severe hailstorm that could potentially cost them an entire season of labor.
Crop-hail policies are usually bought as supplemental policies. Commercial farm owners often choose to purchase other forms of farm insurance first, such as multiple peril crop insurance, which extends well beyond just hail damage. But for commercial farms that are at an increased risk of hail damage, supplementary crop-hail coverage can seriously help to protect their crops, profits, and hard work.
Who Needs Crop-Hail Insurance?
Basically any commercial farm that has crops in areas that are particularly at risk of hail damage, but farm owners may choose to purchase coverage whatever their location, just to be on the safe side. However, there are certain areas of the country where it's much more common for commercial farm owners to supplement their other farm insurance policies with crop-hail coverage.
Top Five States by Number of Major Hail Events, 2019
| | | |
| --- | --- | --- |
| Rank | State | Number of hail events |
| 1 | Texas | 872 |
| 2 | Kansas | 538 |
| 3 | Nebraska | 430 |
| 4 | South Dakota | 302 |
| 5 | Colorado | 294 |
| | United States | 5,392 |
(1) Hailstones one inch in diameter or larger.
Source: U.S. Department of Commerce, Storm Prediction Center, National Weather Service
In 2019, the five states with the highest reported number of major hail events were Texas, Kansas, Nebraska, South Dakota, and Colorado. Major hail events are classified as storms producing hailstones at least one inch in diameter. Commercial farm owners in these areas may be more inspired to purchase crop-hail coverage than in other states.
As for the kinds of farms that need crop-hail insurance, it really extends to all types of commercial farms, including:
Dairy farms
Grain farms
Mixed crop and livestock farms
Mediterranean farms
Livestock ranches
Fruit farms
Commercial gardens
This list is not extensive. Your independent insurance agent can help you to determine if your commercial farm would benefit from crop-hail insurance.
Recent Statistics for Crop Damage Caused by Hail
Crop Damage from Hail in the United States from 2014 to 2018 (in million US dollars)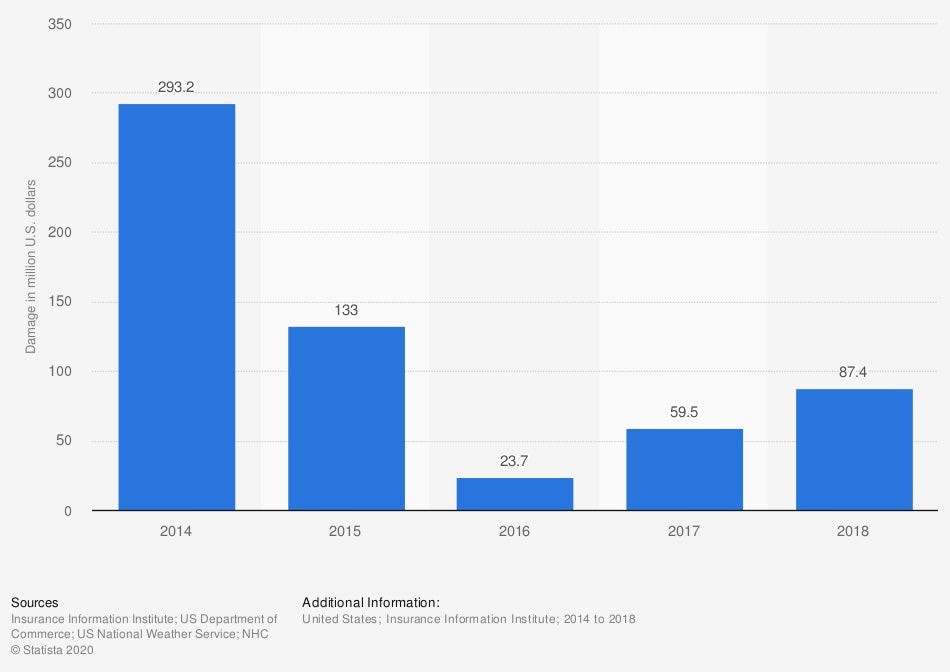 Losses due to hail damage to crops in the US amounts to millions of dollars annually. In 2014, hail caused $293.2 in damage to crops. As of 2019, this amount dropped significantly, but still amounted to $87.4 million in damage due to hail within a one-year period.
Hail reportedly causes 6% of all crop losses in the country annually. It's important to work with your independent insurance agent to ensure that your commercial farm is set up with all the protection it needs against this costly and damaging disaster.
Save On Farm Insurance
Our independent agents shop around to find you the best coverage.
What Does Crop-Hail Insurance Cover?
Crop-hail insurance is designed to protect farms and their owners from natural threats. The following basic natural disaster coverage is included in standard crop-hail policies across the country:
Crop-hail policies are sold on an acre-by-acre basis, so farm owners have the option to purchase coverage for only the high-risk areas of their farm. Once a crop is specified as being in a covered area under the policy, the insurance cannot be transferred to another area of the farm at a later date. Coverage can be purchased at any time during the growing season.
Farm owners may also choose to purchase any of the following available add-on coverages to their crop-hail insurance:
Lightning
Wind
Vandalism
"Malicious mischief"
Theft
Frost
Talk to your independent insurance agent about your specific farm's needs. They'll be able to help you determine all the coverages necessary to get your farm equipped with the absolute best protection against all natural threats.
What Doesn't Crop-Hail Insurance Cover?
Though crop-hail insurance policies are set up to protect against common destructive natural threats to farms, they don't cover everything. The following are common exclusions to crop-hail policies:
Drought
Excess moisture
Sudden frost (though this may be purchased as an add-on coverage)
Change in crop values/prices
Disease
Insect damage
You can talk over any concerns you may have about coverage exclusions with your independent insurance agent. They'll be able to ensure that you get set up with enough coverage to address all of your concerns.
How Much Does Crop-Hail Insurance Cost?
It really depends on a number of factors, like your farm's specific location and how prone that area is to hail and fire damage. The cost will also vary based on the type of crops you're insuring, the value of those crops, and how many acres you need to purchase coverage for. If you choose to purchase any add-on coverages, that will also influence the cost of your policy's premium.
Crop-hail policies often have low to no deductible, since hail can damage one area of a farm while leaving others completely untouched. Thus, hail claims can be cheaper for insurance companies than those stemming from other disasters that can befall farms. Your independent insurance agent can help hook you up with specific quotes for crop-hail insurance that meets your needs.
Benefits of an Independent Insurance Agent
Independent insurance agents have access to multiple insurance companies, ultimately finding you the best coverage, accessibility and competitive pricing while working for you. Find an independent insurance agent in your community here.
TrustedChoice.com Article | Reviewed by Paul Martin
©2022, Consumer Agent Portal, LLC. All rights reserved.
Statista
iii.org
investopedia.com