Crop Insurance for Farm
(And what insurance covers.)

On an agribusiness your crops are a pretty big deal. And a pretty big income stream. In fact, they may be the only income stream your farm has. Protecting your crops with the proper insurance policy is essential to running a smooth operation.
Your independent insurance agent is a knowledgeable resource when it comes to insuring your agribusiness, including your crops. Knowing how coverage works and where to get it is what every farmer needs to be aware of.
How to Insure Your Farm's Crops
Insuring your farm is one thing, but your crops are another. Your crop insurance policy is typically separate from your overall farm coverage but can sometimes be included on your main policy, depending on your carrier.
The best place to start is at the beginning. You'll need to have your independent insurance agent look at pricing and coverages for your crop specifications. So whether you have a modest few acres of wheat or are the leading soybean producer in your state, your coverage needs to apply adequately.
Your independent insurance agent will need to know the following to get started:
Your crop specifications - What are your crops, where will you be storing them, how much is there, and how many acres will your crops be occupying?
What are your crops worth - This isn't the sentimental value for your love of your crops, but how much it will cost to actually replace your crops, before, during and upon final completion of your product.
What preemptive protection do you have in place - Are there special measures you take to ensure that your crops are safe from pests, wild animals and predators? Are you using pesticides? What equipment are you using to care for your crops? Where are you storing your crops after growing and before distributing?
When to Insure Your Crops
Before, during and after, to put it simply. You will want to be sure you have coverage for your seeds before you put them in the tilled soil. During their care and growth, you'll need coverage to protect against the elements and predators. And also after the harvest, when you're storing your crops before they hit distribution. You may even need coverage for your crops while they are in transit to the buyer.
Your independent insurance agent is just the person you need to be having conversations with regarding your current or soon-to-be-grown crop. They have the know-how and experience to get the job done so you'll be prepared for planting season.
Cost of Insuring Your Crops
Take a moment and consider some cold, hard facts on crop damage numbers in the United States. The amount that you could spend on damaged and unusable crops is no joke, and it's worth a look.
Crop damage from hail in the United States from 2014 to 2018 (in million US dollars)

Now you know the damage to crops that can arise just from hail in a short period. It's best to have coverage in place for protection against perils before it's too late. The cost of that coverage, however, depends on the specifics of your crops, what your crops are worth, and exactly how much coverage you need. There are also two main sectors to receive crop insurance from. One is the private companies that your independent insurance agent works with. The other is the Federal Crop Insurance Corporation (FCIC), which also has an option for specific kinds of policies. The federal government also subsidizes farmer-paid premiums to reduce the cost to farmers. Speaking with your independent insurance agent will get you details on coverage and premium.
Save On Farm Insurance
Our independent agents shop around to find you the best coverage.
What Does Crop Insurance Cover, and What Does It Not?
When it comes to insuring your crops, you should have a pretty good idea of what goes into it by now. But what you need to know is what the policy will actually cover and what it won't.
What your crop insurance generally covers:
Crop-hail policies - These are provided by insurance carriers and can be obtained through your independent insurance agent. Crop-hail coverage is popular with many farmers because hail can totally destroy a significant part of a planted field while leaving the rest undamaged. If you're in a part of the US where hail is frequent, you may find yourself purchasing a crop-hail policy to protect high-yielding crops. Unlike other crop insurance, a crop-hail policy can be purchased at any time during the growing season and will protect your crops against hail damage.
Multiple peril crop insurance (MPCI) policies - These have to be purchased before planting and cover loss of crop yields from all types of natural causes including:
Drought
Freezes
Disease
Excessive moisture
Yield protection - if a loss in revenue occurs
Price protection - if a change in market price occurs and there is a loss
While in transit
Fire
Wind
And more, depending on the policy and carrier
MPCI is ran by the Federal Crop Insurance Corporation and provides a blend of a public and private partnership. Under this program, about 15 private insurance companies are authorized by the US Department of Agriculture Risk Management Agency (USDA RMA) to write MPCI policies. The private insurance companies are obligated to sell insurance to every eligible farmer who requests it.
What your crop insurance doesn't cover:
Some flooding - Not all flooding is covered by crop insurance, so knowing your policy offerings is imperative.
20% - There can be a type of coinsurance on a crop insurance policy, meaning you'd typically owe 20% of the claim and the insurance company would cut you a check for the remaining 80%.
How Are Crop Insurance Payments Calculated?
Figuring out crop insurance payment calculations can be a bit daunting unless you like math. To put it simply, your actual revenue is computed by multiplying your actual yield by the harvest price. You will receive coverage if your actual revenue falls below your revenue guarantee. The crop insurance payment is equal to the difference.
Clear as mud? No worries, your independent insurance agent can help and make sure you are getting all the facts and figures straight prior to purchasing your crop insurance policy.
The Best Crop Insurance Companies
The best is relative, but knowing the most-used in terms of who holds the biggest market share can be insightful. See the graph below for some good info, and then go chat with your independent insurance agent about it.
Market share of multiple peril crop insurance companies in the United States in 2018, by direct premiums written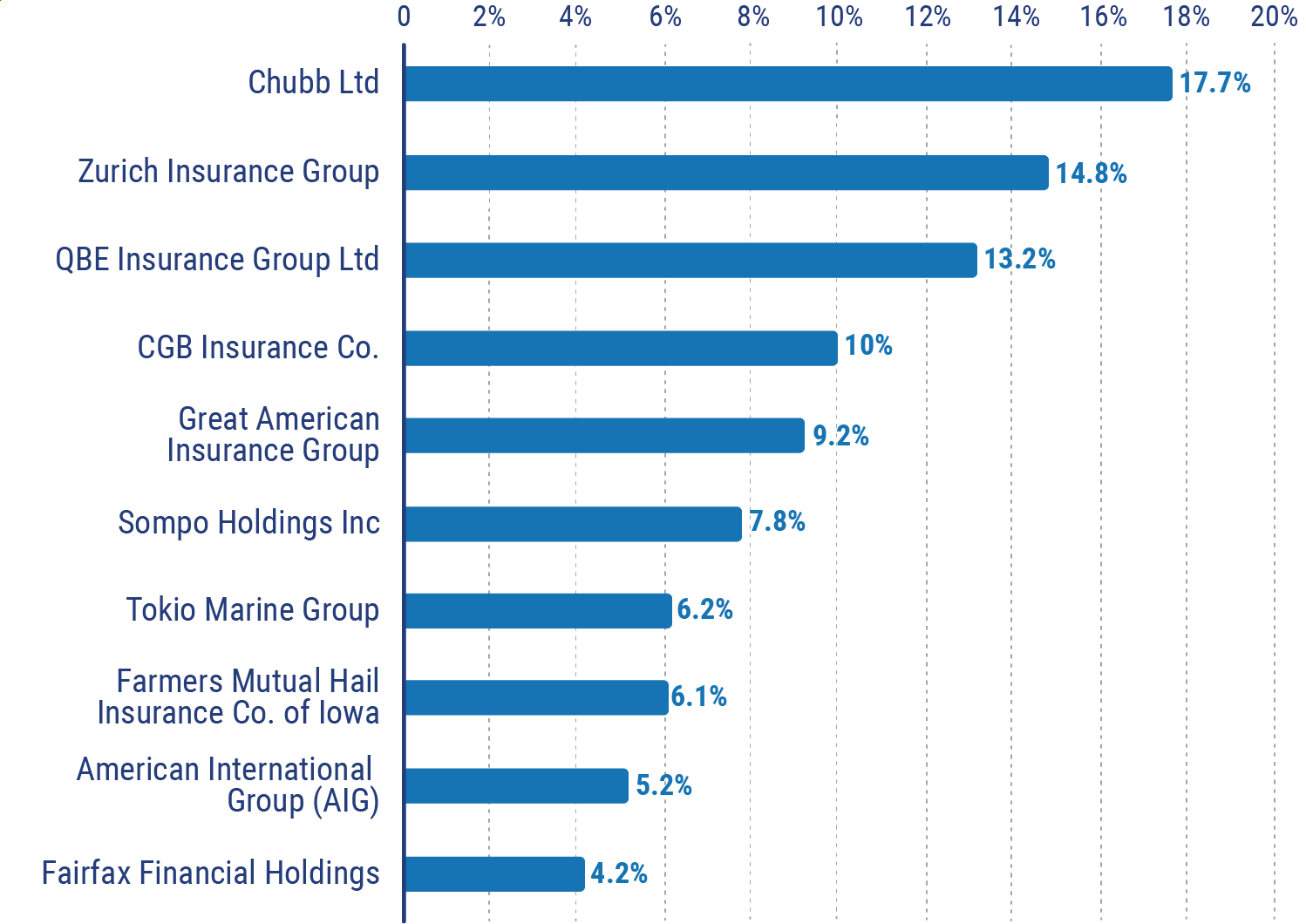 Benefits of an Independent Insurance Agent
Independent insurance agents have access to multiple insurance companies, ultimately finding you the best coverage, accessibility and competitive pricing while working for you. And as your farm grows and your needs change, they'll be there to help you adjust your coverage, up or down, to make sure you're properly protected without overpaying. Find an independent insurance agent in your community here.
TrustedChoice.com Article | Reviewed by Candace Jenkins
©2022, Consumer Agent Portal, LLC. All rights reserved.
https://www.statista.com/study/43091/crop-insurance-in-the-united-states/