Farm Crops in Transit Insurance
(Understanding who's responsible and how do you make sure your goods are protected.)

Your agribusiness crops are a pretty big deal. And a pretty big income stream in many cases. That means protecting your crops while they're in transit on the way to the finish line is essential to your business success. An independent insurance agent can help.
Your independent insurance agent is a knowledgeable resource when it comes to insuring all aspects of your agribusiness, including your crops on the road. Knowing how coverage works and where to get it is what every farmer needs to be aware of, so let's start with a little background.
Who's Responsible for Your Crops In Transit?
Insuring your farm is one thing, but insuring your crops is a whole different story. What about when your crops are being transported from your farm to the distributor or buyer? The majority of the time it will be your multiple peril crop insurance policy that will respond if there is any loss while on the road. However, there may be a rare occasion when the buyer is transporting the crops themselves, and then technically their policy should respond, since the product is in their care, custody, and control.
Typically when your multiple peril crop insurance would cover in transit:
You as the farmer signed a contract with the distributor or buyer such that the purchaser does not actually own the product until they have received and inspected the item. Therefore, since you are still the owner, your insurance would pick up the bill should something happen to the crops in transit.
Typically when a buyer's insurance policy would cover in transit:
Normally, the buyer's policy would respond to any loss of your crop while traveling from your farm to their facility if they are technically the owner of the product prior to receipt. Also, if they were the ones paying and hiring the delivery of the crops. And finally, if this is spelled out in the contract.
All contracts should clearly state which party is responsible for what, so there is a clear understanding of who's liable at which time.
First, you'll need to have your independent insurance agent evaluate how your crop business operates so they're sure you have coverage for every possible outcome.
Some questions your agent will ask:
How are your crops transported?
What do the contracts between you as the farmer and the purchaser look like?
Who is hiring the transportation company to get the crops transported?
What precautions are in place while the crops are being transported? This includes temperature control, proper storage containers, and packaging.
What is the maximum value of the crops at any given time while in transit?
What Is the Average Cost of Insuring Your Crops?
Take a moment and consider some cold, hard facts on selected crop values in the United States alone. The numbers are in the staggering billions with a "b". And with a value like that, it's clear that crop insurance is an absolute must, to protect your product until it's purchased and on tables around the world.
Selected crop values in the United States from 2015 to 2018 (in billion US dollars)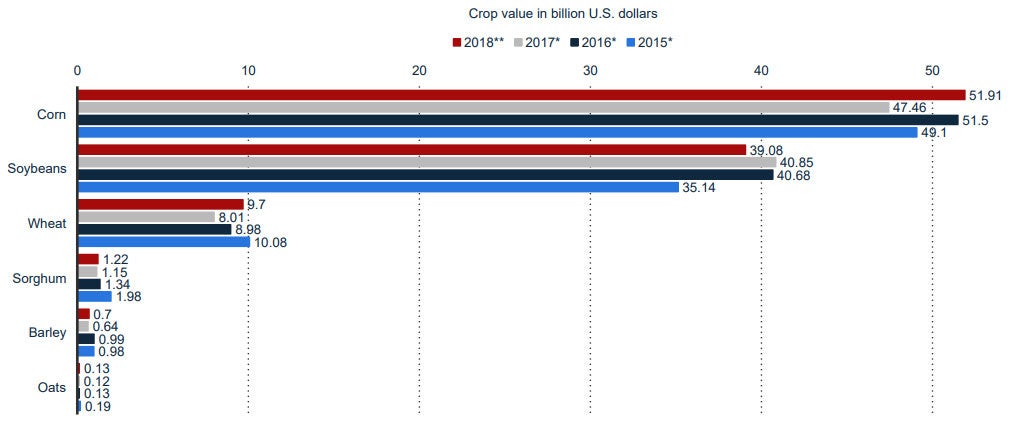 Some items that would influence the cost of crop insurance:
How much insurance you need will determine how much the policy costs. More coverage means more money.
What the value of your crops is will determine how much would be needed to replaced them, which again will result in more or less premium.
What precautions you are taking to avoid pests, animals and the like from damaging your crops.
What precautions you are taking in producing a high-yielding crop vs. a low-yielding crop.
How you store and package your crops.
The life of your crops. The longer the cycle and season, the longer they need insurance and the more things could go wrong.
Speaking with your independent insurance agent will get you exact information about coverage and pricing for your liability exposure.
Save On Farm Insurance
Our independent agents shop around to find you the best coverage.
What Does Crop Insurance Cover and What Doesn't It?
When it comes to insuring your farm's crop, it's important to know who's responsible for what. Below are some common coverages for your luscious crops, including in-transit coverage.
What your crop insurance generally covers:
Crop-hail policies : These are provided by insurance carriers and can be obtained through your independent insurance agent. This coverage is popular with many farmers because hail can totally destroy a significant part of a planted field while leaving the rest undamaged. If you're in a part of the US where hail is frequent, you may find yourself purchasing a crop-hail policy to protect high-yielding crops. Unlike other crop insurance, a crop-hail policy can be purchased at any time during the growing season and will protect your crops against hail damage.
Multiple peril crop insurance aka MPCI policies: These have to be purchased before planting and cover loss of crop yields from all types of natural causes, including:

Drought
Freeze
Disease
Excessive moisture
Yield protection - if a loss in revenue occurs
Price protection - if a change in market price occurs and there is a loss
While in transit
Fire
Wind
And more, depending on the policy and carrier
What your crop insurance doesn't cover:
Some flooding: Not all flooding is covered by crop insurance, so knowing your policy offerings is imperative.
20% coinsurance: There can be a type of coinsurance that is on a crop insurance policy, meaning you'd owe typically 20% of the claim and the insurance company would cut you a check for the remaining 80%.
Why Online Quotes Aren't Always the Best Way to Shop
Getting your insurance quotes online can be tempting. Sure, it's fast and easy, but are the quotes you are getting actually accurate? And are you getting quotes for all the different types of coverage your farm needs?
Online quotes cannot give you the whole picture. They often omit important coverage, which may result in you being unable to get compensation if something disastrous happens. And they can leave out cost-saving opportunities such as discounts and bundling opportunities that an independent agent can help you take advantage of.
Instead of getting an online quote, find an independent insurance agent near you, and schedule a one-on-one consultation to discuss your options for the best coverage for your in-transit crops.
Save On Farm Insurance
Our independent agents shop around to find you the best coverage.
The Benefits of an Independent Insurance Agent
Independent insurance agents have access to multiple insurance companies, ultimately finding you the best coverage, accessibility and competitive pricing while working for you. And as your farm grows and your needs change, they'll be there to help you adjust your coverage, up or down, to make sure you're properly protected without overpaying. Find a local independent insurance agent in your community here.
TrustedChoice.com Article | Reviewed by Candace Jenkins
©2023, Consumer Agent Portal, LLC. All rights reserved.
https://www.statista.com/study/43091/crop-insurance-in-the-united-states/