Farm Insurance Policies: Scenarios
(Time to understand exactly what you need to protect your farm, business, and livelihood.)
When you own an agribusiness, it's easy to get a bit overwhelmed with everything you have to protect. After all, your farm is not only your business, but it's probably also your home. This means the success of both can rely on each other, and having the right protection for both is one of the most important things you can do. But what kind of coverages does your farm need? Don't worry, an independent insurance agent can help you nail down exactly what you need.
Your local independent insurance agent will get to know you, your operation, and your goals, before shopping around multiple carriers to find the right blend of coverage and cost for you and your farm. But first, here's a bit of background on the types of coverages most farms should know about.
Important Insurance Coverages for Your Agribusiness
There are all different types of insurance for everything you own, run, and drive in—farm insurance is no different. And the coverages you need all depend on the size and scope of your farm, your operations, employees, residential status, and more.
Common Included Farm Coverages:
Farmhouse: Yep, your agribusiness policy is a two-in-one, meaning it covers both your personal items like your farmhouse and your business items like your tractor or livestock.
Livestock: Your livestock would have coverage for injury or death, like if your cattle got attacked by a coyote or got caught in a barbed-wire fence.
Crops: Your crops have coverage as well against bad weather that may wipe out your product. Some may even have coverage for pests.
Equipment and machinery: You'll need coverage for all your tractors and farm equipment in order to do the heavy lifting, so be sure you include them on your policy.
Barns and other structures: Most farms have barns or other structures to store equipment and livestock, and this is something that is typically included with your policy.
Extra Farm Coverages Worth Considering:
Some extra coverages that could be purchased will depend entirely on your farm's specifics and needs. But here are just a few examples.
Windmill coverage: There is coverage for these giant energy propellers, but it would only apply if you actually had a windmill on your property.
Silo coverage: Some farmers have them for storing crops like wheat and barely, but unless you actually have a silo, then the coverage would be kind of pointless.
Bee coverage: Not protection from bee stings, it's protection for your bees. If you operate a honey-producing, beekeeping farm, then coverage for those little guys and the sweet nectar they produce is a must.
And on the business side:
Save On Farm Insurance
Our independent agents shop around to find you the best coverage.
Reasons Why You Might Need Different Farm Insurance Types
Simple, because no two farms are exactly the same. That means they need different coverages. Even if you are growing and selling the same type of soybeans as your neighbor down the prairie, you'll still have different inventory, different equipment, different housing, and more. There is no one-size-fits-all insurance policy, and that's even more true for your agribusiness.
Some examples of differences could be the following:
You have more acreage, which means you'll need more coverage for more land.
You have different or more machinery and equipment to run your farm, which means you'll need specific coverage for every piece and every dollar amount to replace them.
You have different crops, meaning your crops are your crops. They grow on your land, and even if your farm buddy down the street is similar, it's not the same and you'll need coverage to match.
Pole barns and other structures are essential when running an agribusiness and almost every farmer has them, but they're not all the same, are they? This means the coverages will be different and therefore you'll need a different policy.
Livestock is definitely not the same and they have the DNA to prove it, so you'll need coverage specific to your herd.
If your a beekeepin', honey makin' farmer, you'll need a whole different sort of coverage for your comb and product thereafter.
Show ponies are not just for kiddies, but can be a real-life moneymaker, and if you run a top-notch equine farm, you better have insurance different from the wheat fields down the road.
Example 1:
The farmer and his wife live in their modest farmhouse that was built in the 1800s. They run their farm solely by themselves and have for years. Each year they grow a full crop of soybeans and alfalfa, and each year they use their two tractors, which are worth a pretty penny, to produce their crop. The market where they sell their freshly produced crops is down the street at the local farmers co-op, which they drive to themselves in their heavy-duty farm truck.

Coverages needed for the farmer and his wife would look something like this:
Farmhouse coverage for their farmhouse, which has a special age endorsement to make sure there is coverage for ordinance of law changes and special coverages for a house that old.
Machinery coverage for their two tractors, providing full replacement cost, to be sure that pretty penny doesn't come out of their pocket.
Crop insurance providing coverage for their crops against weather claims, pest claims, low-yielding crop claims and in-transit coverage for delivery to that local co-op.
Farm automobile coverage for that heavy-duty truck they use to haul their precious cargo.
Example 2:
The farm crew lives right next door to the farmer and his wife. Their setup is different, in that they have actual employed farmhands helping till the crops and a lot more tractors and farm equipment, because their farmland is a doozy. With their hundreds of acres, there is wheat and corn as far as the eye can see. Since this farmer has so many crops to haul in for sale, they hire a trucking company to get it to their distribution centers all across the country.

Coverages needed for the farmer and the farm crew look something like this:
Workers' compensation insurance to cover the farmhands if they get injured or ill on the job.
A larger machinery and equipment policy to cover all the heavy machinery they have and work with on a day-to-day basis.
Crop insurance, which like in the first example will provide coverage for this farmer's crops during the season, but they will want to make sure there is a lot more coverage because they have more crops. And since they are hiring a trucking company to pick up their crops and bring them to the distributors, they need to ensure that the trucking company has coverage for in transit, but the farm also still needs to have coverage, since they still own the crops until they get to the buyers.
Example 3:
The farmer and the livestock are insured differently. After all, you have living, breathing animals to insure. This farmer will need coverage for the livestock as well as coverage for their extravagant, modern farmhouse and the cowhands who work the herds, keeping them out of harm's way. This farmer takes the meat that is produced each season to the meat market to be processed, packaged and sold at local farmers markets and grocery stores.

Coverages needed for the farmer and the livestock look something like this:
Extravagant farmhouse coverage that will make sure all upgrades are accounted for, like kind and quality.
Livestock insurance to protect the farmer's herds in case of disease, predators and even death. Distribution, in-transit and spoilage coverage can also be provided for the finished product before sale.
Workers' compensation for the cowhands is a necessity as well, especially if they are stickin' with the herd and could come across predators.
Save On Farm Insurance
Our independent agents shop around to find you the best coverage.
How Much Will Farm Insurance Cost?
Farm insurance rates can be costly, but it all depends on your farm's specifics. How the following will impact your premiums will at least keep you in the know while you and your agent find the best carrier to work with.
Items that impact your agribusiness insurance premiums:
Number of acres: How much land you have will cause pricing to go up or down. The more you have to insure, the more premium you will pay.
Barns and other structures: The number of barns and other structures and their size and quality will cost ya.
Production: What you grow, harvest, produce and sell will also impact premiums. It costs more to insure a tobacco farm than a wheat farm. The type of item and the more inherent risk before, during and after production of the product will affect pricing.
Farmhouse: The size, quality and features of your home on your agribusiness will also impact your pricing.
Equipment and machinery: Both motorized and unmotorized property such as tractors, rakes and other equipment will need insuring, and the replacement cost on some of those pieces could be high, which will impact rates.
Workers: Yep, farmhands and workers of any kind that you hire to run your farm will impact rates because you'll not only have more liability employing people, but you will also need a workers' compensation policy.
Best Insurance Companies That Offer Farm Coverage
When it comes to the best insurance companies for your farm coverage, the options are plentiful. The graph below shows some of the leading crop insurers, think of all the other types of insurance you'll need on all parts of your farm. Getting with your independent insurance agent is the best way to find a carrier that will suit your farm insurance needs and save on cost.
Largest multiple peril crop insurance companies in the United States in 2018, by direct premiums written (in million US dollars)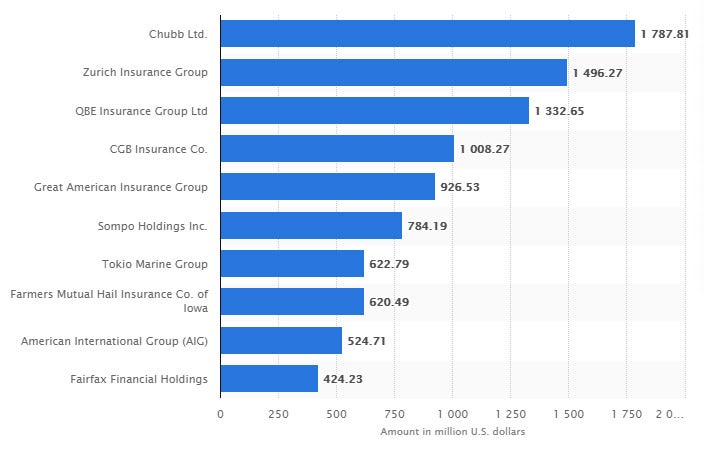 The Benefits of an Independent Insurance Agent
Independent insurance agents have access to multiple insurance companies, ultimately finding you the best coverage, accessibility and competitive pricing while working for you. And as your farm grows and your needs change, they'll be there to help you adjust your coverage, up or down, to make sure you're properly protected without overpaying. Find an independent insurance agent in your community here.
TrustedChoice.com Article | Reviewed by Candace Jenkins
©2023, Consumer Agent Portal, LLC. All rights reserved.
https://www.statista.com/statistics/689433/mpci-companies-market-share-usa-by-premiums-written/