Livestock Insurance
(How, when, and why it's important to insure your furry friends)

If you are a farmer, you most likely have livestock. Livestock are an essential means of income to farmers and should be insured properly. An independent insurance agent can help walk you through it all and even discover a few things you may have never expected.
Your independent insurance agent is a knowledgeable resource when it comes to insuring all aspects of your agribusiness, including your livestock. But before you have that conversation, here's a bit of background to give you a better understanding.
Understanding Livestock Insurance
Your livestock, such as cattle, horses, and other breeds, face death on a daily basis as a result of accidents or disease. How livestock insurance works is it applies an individual, blanket, or herd-specific coverage to your animals. These animals can be anything from cattle to emus — it makes no difference.
Your farm will need to have a secure footing on operations to avoid potential accidents and diseases that could befall your livestock. A trusted advisor aka independent insurance agent will make sure your farm's processes and procedures are sufficient enough to meet the insurance company's standards.
Some insurers may include a more broad animal mortality policy that includes sickness and disease, or policy options for a specialized type of animal. There are three ways to cover your animals:
Individual coverage: This insurance usually covers higher-value animals on an individual basis. The animals are listed on the policy according to some identifying marker or description, such as an ear tag, and covered for a specific dollar amount.
Blanket coverage: This type of policy allows you to insure all your farm property for a predetermined value. It includes structures, equipment, tools, and livestock.
Herd Coverage: This is the simplest and most prevalent type of insurance for livestock. This coverage allows you to insure a specific number of animals, for example, 200 diary cattle or 500 pigs.
Premiums are based on a per-head cost. Individual coverage will be more expensive than your blanket and herd coverages. Some policies will have coverage for accidents, but not sickness or disease listed in the fine print. To make sure you are adequately protected, it's best to check with your independent insurance agent.
How to Insure Your Farm's Livestock
Your farm's livestock are the lifeblood of your business. In order to operate a successful, functioning business, you'll need your livestock healthy and accident-free. Understanding how your livestock insurance works will keep you informed and ahead of the curve.
You'll want to start by having your independent insurance agent look at pricing and coverages for your herd's specifications. So whether you have a prize-winning steed or your typical grade-A beef, your coverage needs to apply adequately.
Your independent insurance agent will need to know the following to get started:
Your herd's specifics: What are they? What are they registered as? What will you be doing with them?
What is your livestock worth: This isn't the sentimental worth, this is the value you can get in the marketplace for them, and the replacement cost if something happened to them.
What preemptive protection do you have in place: Is there proper fencing? Do you have a way for the livestock to avoid predators? How do you keep them healthy?
When to Insure Your Livestock
Insurance for your animals needs to be purchased as soon as you take ownership of them. Best practices are key to making sure your farm has the coverage it needs to stay in business should a loss occur. The last thing you want to do is have to pay a claim out of pocket. The smaller claims may not have much of an impact on your bottom line, but when the big ones happen, you could be out of business for good.
For example, if your herd contracts a contagious disease that is fast spreading and killing off your cattle one by one, you'll want to recoup your losses. In this scenario, if you have a herd of 1,000 cattle that get taken out before you can capitalize on the profit, then you could be out over $2 million. That's assuming that the average per-head cost is roughly $2,000. That is a large loss that could put your farm under for quite some time.
Save On Farm Insurance
Our independent agents shop around to find you the best coverage.
Cost of Insuring Your Livestock
Let's take a moment to look over some cold, hard facts on livestock values throughout the United States. For cattle alone, there's a value of over one hundred million dollars. That's just in cattle, see the graph below for proof.
Statistics of Cattle, Hogs and Sheep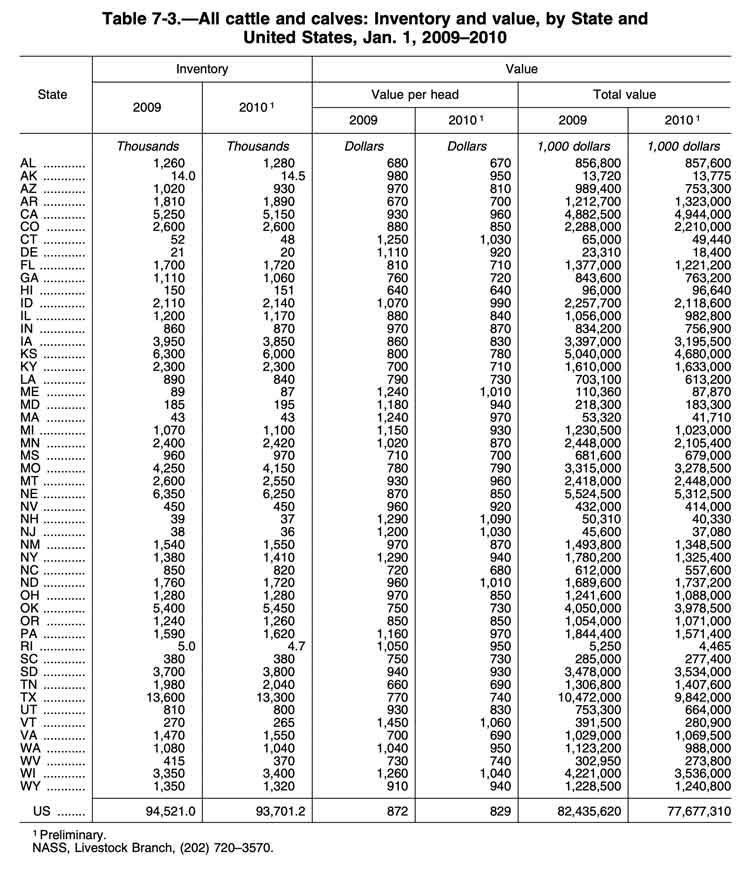 As mentioned above, the cost that your farm business would suffer for just one animal may not break your business, but if you lose a herd, you could be out of commission. The cost of insuring them, however, all depends on your livestock's specifics. Some premium deciding factors are as follows:
What is the livestock worth?
How is the livestock health?
How is the livestock managed and maintained?
Have your herds had any prior claims?
What Does Livestock Insurance Cover, and What Does It Not Cover?
Policy coverages can be confusing, mainly because the insurance companies have had their legal departments write the policy forms, and nobody wants to sit and read a 100-page document in their leisure. Without reading what coverages apply and what don't apply, you should still have some general knowledge of what could be included in your livestock policy.
What your livestock insurance generally covers:
Accidents: This can be anything from coverage for electrocution, fire, smoke, and loading and unloading of livestock.
Natural disasters: Volcanic eruption and sinkholes are covered. Typically floods and earthquakes are covered under a separate policy.
Weather events: Lightning, wind, hail, tornadoes, and more.
Crimes and civil unrest: This is for your theft and vandalism of livestock.
Collision or other death while transporting: This is in-transit coverage for your livestock.
There is typically an endorsement or included coverage depending on the carrier for the following:
Accidental shooting
Drowning
Attack by wild animals
The collapse of a building on livestock
What your livestock insurance doesn't cover:
Old age
Death by natural causes
Disease
Livestock Liability Insurance
If you're found to be responsible for your animals causing bodily injury or property damage to other people or their property, you'll have coverage under the liability portion of your livestock policy. Liability insurance is one of the most important coverages your farm can carry. Liability insurance will save you from lawsuits that may not be your fault, but because they happened on your property, you are liable.
For instance, if a town patron decides they want to bring their children on an impromptu field trip to watch how a farm operates, and one of those kids falls off a tractor and injuries occur, you're liable. Even if an uninvited "guest" arrives and steps on a rake knocking themselves out, your farm is liable.
Luckily, your independent insurance agent can discuss all potential risks of your farm and livestock making sure you've got the proper coverage in every area.
Save On Farm Insurance
Our independent agents shop around to find you the best coverage.
The Benefits of an Independent Insurance Agent
Independent insurance agents have access to multiple insurance companies, ultimately finding you the best coverage, accessibility, and competitive pricing while working for you. And as your farm grows and your needs change, they'll be there to help you adjust your coverage, up or down, to make sure you're properly protected without overpaying. Find a TrustedChoicel.com independent insurance agent in your local community here.
TrustedChoice.com Article | Reviewed by Candace Jenkins
©2023, Consumer Agent Portal, LLC. All rights reserved.
https://www.statista.com/study/70434/facts-and-figures-on-agriculture-in-the-us-2019/