Work Comp for Farmers
(Helping you protect those who help you)

If you're running an agribusiness, you're no stranger to having a helping hand plow the fields and get the work done. Your farmhands are your most valuable assets and, as such, need workers' compensation coverage to protect against injury. An independent insurance agent can help.
Your independent insurance agent is a knowledgable resource when it comes to insuring all aspects of your agribusiness, including your employees. Knowing how coverage works and where to get it is essential to running a business, so let's start with some important background info.
When to Get Workers' Compensation Insurance
In most cases, you should get it immediately. But it varies from state to state as workers' compensation insurance is state-mandated and regulated. Each state has adopted its own rules and regulations, and every state has a workers' compensation requirement except for Texas. The majority of states require you to have workers' compensation insurance when you obtain just one employee. Some are more lenient, requiring it when you have three, four, or five employees.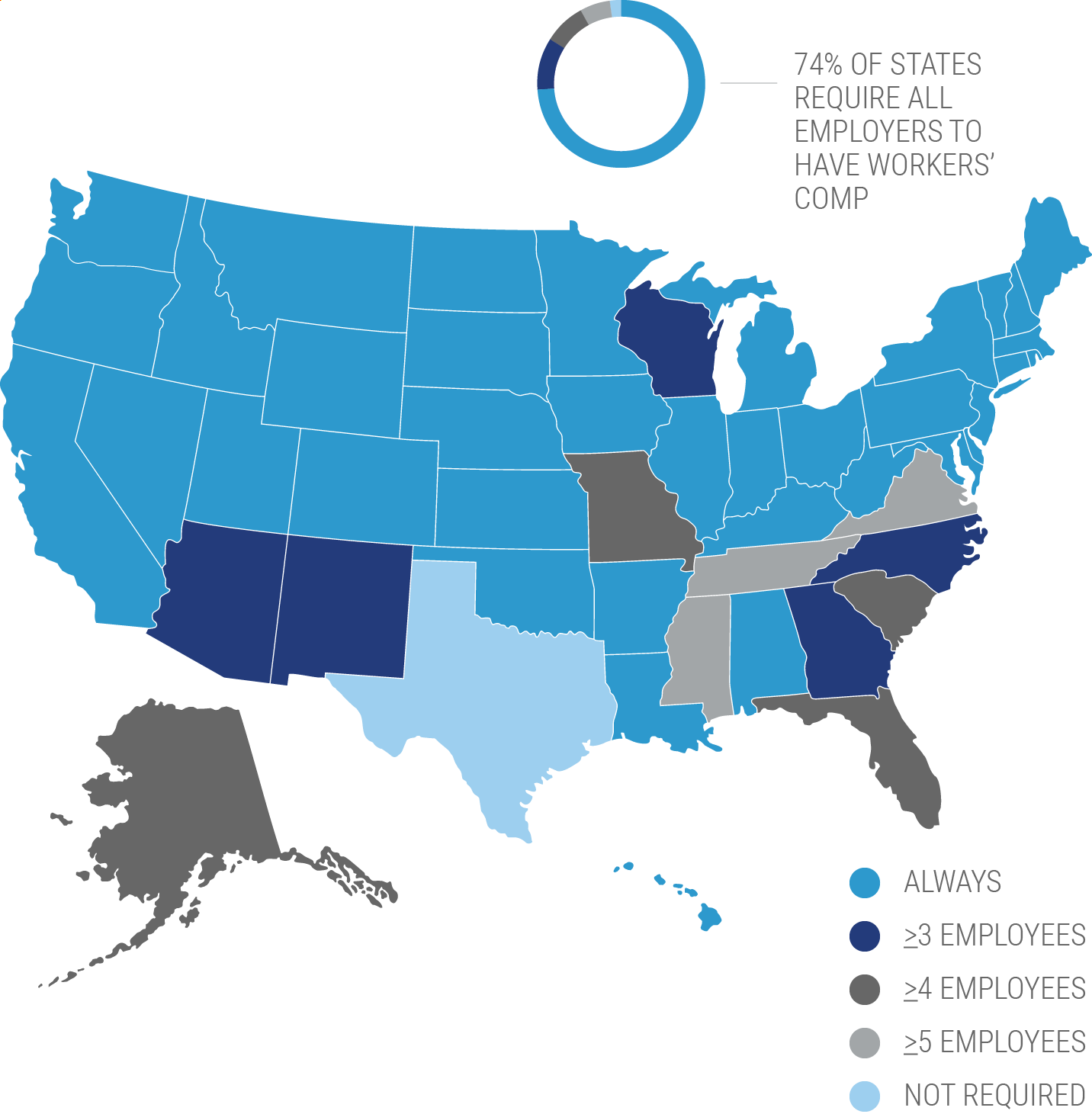 Either way, it's a conversation to have with your independent insurance agent to make sure you're totally compliant and your farm is properly covered.
How to Insure Your Farm's Employees
Insuring your farm is one thing, but your farmhands are a whole other bucket of apples. Your agribusiness needs help operating and completing its daily tasks, and those employees need coverage to help with injuries that may take place while on duty.
First, you'll need to have your independent insurance agent look at pricing and coverages for your employees' specifications. So whether you have a small employee count or loads of help, your coverage needs to apply adequately.
Your independent insurance agent will need to know the following to get started:
Each employee's specifics: What are each employee's duties? What is each employee's annual pay? Are there seasonal employees? Are there partners? What is the number of employees?
What preemptive protection do you have in place: Are there proper protocols to make sure each employee is trained on safety? Do you hold regular safety meetings? Is heavy machinery and equipment operated by qualified employees only? Are breaks and safety measures enforced? Is there a designated safety officer?
What Does Your Farm's Workers' Compensation Cover, and What Does It Not?
When it comes to worker's compensation insurance for your employees, it's essential to know what the policy covers and what it doesn't. Having all the facts will help you make an educated decision for your farm and your employees.
What your workers' compensation insurance generally covers:
It covers bodily injury and disease arising while at work and from work-related tasks and job duties. In short, if your employee gets injured or sick while on the job or as a result of working for you, then your workers' compensation policy would kick in.
A great example of illness is if an employee contracts health complications after exposure to farm pesticides or chemicals used to manage crops. If the medical professional can prove it was as a direct result of working on your farm, then your workers' compensation policy will take the hit.
What your workers' compensations insurance doesn't cover:
It does not cover bodily injury or disease of an employee that does not happen while at work or as a result of working. In other words, if it didn't happen on the job or because they worked for your farm, then it's not a covered claim on your workers' compensation policy.
Get a Workers' Comp Quote in Minutes
Let our independent agents do all the heavy lifting while you save.
Cost of Workers' Compensation Insurance
The cost for work comp is different for every farm. The number of employees you have versus the number the farmer down the street has is different and so are the risk factors that also calculate the costs.
Some premium affecting risk factors for your workers' compensation policy:
Training: How are your employees trained? Who are they trained by? The insurance companies will want to know that your employees are up to date on all training that speaks to safety in the workplace and that they are administered by a professional.
Safety: Insurance carriers want to know your safety practices, how they correlate to your employees and how they are adhered to. If you have the same safety standards for the entire farm staff across the board, and they all know what to expect and what rules to follow, you've done a good job.
Safety officer or advisor: Get yourself a safety officer or advisor. Whether its a full-time staff member or a contractor, you need one to make sure your farm is running as safe as possible.
Surveillance: Having surveillance cameras up and around the farm will help when there is a workers' compensation claim to report. By seeing exactly what happened, you can avoid false claims by your staff.
Meetings: Having regular safety meetings for your employees shows the insurance companies you mean business and they will knock off some premium for it too.
The average cost of just one workers' compensation claim according to a recent study is over $40,000. That's a lot of money, so it's best to be properly protected.
Get with your independent insurance agent to assess your farm's risk factors and how adhering to some new safety practices can help get you a better workers' compensation insurance premium.
Steps to Take in Minimizing Workers' Compensation Risk
By now you should know that the main purpose of insurance, any insurance, is a transfer of risk. You're essentially transferring your farm's risk to the insurance carrier and paying a monthly, quarterly, or annual premium for the right to tap into their reserves should a claim ever arise.
In order to get the best and lowest premiums, insurance companies like to see that you take farm safety seriously. And by that, they want you to be as proactive in your business at minimizing risk as possible. The more risk you avoid, the more they avoid, and they'll reward you with lower premiums.
Some premium saving, risk-minimizing things to do on your farm:
Hold regular safety meetings to educate employees on proper farm protocols.
Have regular training both in the forefront and ongoing for employees.
Have a designated safety officer to make sure rules are being complied with.
Have only qualified employees that operate farm equipment and heavy machinery.
Have regular breaks to avoid overworking and dehydration.
The Benefits of an Independent Insurance Agent
Independent insurance agents have access to multiple insurance companies, ultimately finding you the best coverage, accessibility, and competitive pricing while working for you. And as your farm grows and your needs change, they'll be there to help you adjust your coverage, up or down, to make sure you're properly protected without overpaying. Find an independent insurance agent in your community here.
TrustedChoice.com Article | Reviewed by Candace Jenkins
©2023, Consumer Agent Portal, LLC. All rights reserved.
https://www.statista.com/statistics/186480/workers-compensation-insurance-top-us-writers-by-direct-premiums/
https://injuryfacts.nsc.org/work/costs/workers-compensation-costs/