Hobby Farm Insurance
Everything you need to know about what it covers, where to get it, and more

Even if your hobby farm isn't your main source of income, it still deserves the right protection from many kinds of disasters. From storms to vandalism and beyond, there are tons of unforeseen risks that could possibly destroy the land and cost you in more ways than one. Thankfully there's hobby farm insurance.
An independent insurance agent can also help you find the right hobby farm insurance for your family's specific needs. They'll even get you set up with coverage before the time ever comes to file a claim. But first, here's a deep dive into hobby farm insurance.
What Is a Hobby Farm?
Though hobby farms can vary widely, the main thing they all have in common is that they're not used as a primary source of income. Whatever the livestock, crops, or other details of what's on your land, if it's not the main source of income for your household, your farm is probably a hobby farm. Regardless of its classification, though, your hobby farm is important to you and your family, and it needs to be covered.
What Does Hobby Farm Insurance Cover?
Hobby farm insurance includes a broad range of important coverages for small farm owners. From your barn to your chicken coop, hobby farm insurance has you covered. There are also additional coverages that can be added onto your policy's core coverages for the specifics of your hobby farm.
Hobby farm insurance often covers the following:
Farmhouses: Your home on the property is covered by hobby farm insurance, just like it would be with a homeowners insurance policy. But with farm insurance, it's grouped into the one policy.
Livestock: Your livestock is covered against injury or death. The cause of the injury or death must be listed on the policy.
Crops: Your crops are covered against many perils, including a few types of storm damage. Some may even have coverage for pests.
Equipment and machinery: Your hobby farm's equipment and machinery is covered against many perils as well. Though your farm may not have as much equipment as others, it would still be expensive to replace out of pocket.
Barns and other structures: Your barn, equipment buildings, pole barns, and more are covered against many perils as well, from vandalism to fire damage and more.
An independent insurance agent can help you select the right hobby farm insurance policy for you.
Additional Hobby Farm Coverages Worth Considering
After you've secured the main coverages your hobby farm needs, it's time to consider adding specifics tailored to your unique property's needs. Your independent insurance agent can help you choose the most important coverages for you, but here are a few of the most commonly added:
Fire: Though fire coverage is typically included to some extent, there are some important exceptions, like if your pole barn is 25 acres away from the main property with no access to water.
Fencing: Since fencing ranges in price and quality, it's normally an endorsement that gets added on to the main hobby farm policy.
Bee coverage: If you operate a honey-producing, beekeeping hobby farm, having additional protection for your bees against numerous disasters is crucial.
Windmill coverage: Only applicable if your hobby farm has one, obviously, but windmills often need their own separate coverage.
Silo coverage: If your hobby farm has a silo, for decoration or to house harvested crops, you may need separate coverage for it.
Poultry and eggs: Another coverage typically added as an endorsement to the main policy is coverage for poultry and eggs against many threats like theft, natural disasters, etc.
Business policies commonly added to hobby farm insurance:
Commercial vehicle coverage: Protects your cars, trucks and trailers that are used for hobby farm business. Coverage can qualify as a business auto policy, depending on how your vehicles are titled.
Commercial umbrella coverage: Extends the coverage limits of liability claims beyond your standard hobby farm policy's limits. If you have a lot of visitors on your hobby farm or your products end up in homes or farmers' markets, it's a good idea to increase your liability coverage with an umbrella policy.
An independent insurance agent can help advise you on which coverages would make the most sense to add to your main hobby farm insurance policy.
Save On Farm Insurance
Our independent agents shop around to find you the best coverage.
Most Common Hobby Farm Insurance Claims
Crop damage is the most commonly reported claim for hobby farms in the US by far. Check out the chart below for more details on crop claims for hobby farms across the country.
Loss ratio of crop insurance in the US by crop: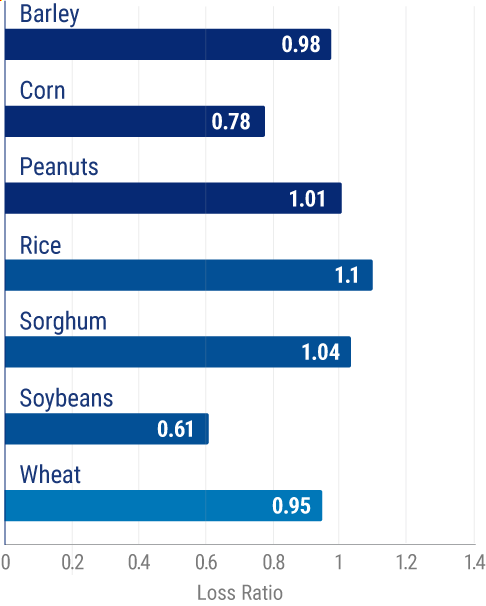 Rice crops had the highest loss ratio overall during the observed period, at 1.1. Next highest were sorghum crops, at 1.04. Peanuts came in third, with a loss ratio of 1.01.
Is Hobby Farm Insurance Mandatory?
Typically hobby farm insurance isn't mandatory, but depending on what you're producing and selling, you may have different insurance requirements. Farmers' markets may require proof of insurance before working with you or purchasing your product. Make sure to double-check with an independent insurance agent if you have any doubts about whether you should get coverage for your hobby farm.
Why Do I Need Hobby Farm Insurance?
Beyond just commercial relations, you need coverage for your hobby farm for many reasons. Here are just a few of the biggest.
Homeowners insurance doesn't cover hobby farms: Homeowners insurance policies won't cover your hobby farm against disasters the way they do regular homes. Standard homeowners insurance excludes business and farming activities.
Liability protection is a must: From visitors to commercial clients, your hobby farm is likely to interact with the public quite a bit. That's why you need liability protection against lawsuits stemming from injuries, illnesses, and more that relate to your hobby farm.
Loss of income: Even if your hobby farm isn't the main source of income, losing this income stream could still hurt your family after a disaster. You can often find loss of income protection in hobby farm insurance, or add it on if not.
Customizable coverage is important: Your hobby farm might differ greatly from your neighbor's down the road. That's why it's critical to find a policy that can be tailored to your specific property and its needs.
An independent insurance agent can rattle off many more reasons why it's important to protect your hobby farm with the right type of coverage.
How Much Does Hobby Farm Insurance Cost?
Hobby farm insurance rates are less expensive than those for full-blown commercial farms, but it all depends on your hobby farm's specifics. Like many types of insurance, there are a few factors that influence the cost of your coverage, like:
Number of acres: The more you have to insure, the more premium you will pay.
Barns and other structures: The number of barns and other structures, and their size and quality, will factor into your cost.
Production: The type of item and the amount of inherent risk before, during, and after production of that product will affect your policy's pricing.
Farmhouse: The size, quality, and features of your home on your hobby farm will also impact your pricing, just like a regular homeowners policy.
Equipment and machinery: Both motorized and unmotorized property, like tractors and other equipment, will need insuring, and the replacement cost on some of those pieces could be high, which will impact rates.
Workers: The farmhands and workers of any kind that you hire to run your farm will impact rates, because you'll not only have more liability from employing people, but will also need workers' compensation insurance for them.
When it comes to finding exact quotes for hobby farm insurance in your area, a local independent insurance agent can help.
Hobby Farm Insurance Discounts
There are a few common discounts you could score on your hobby farm insurance to help you save on your premiums. Here are some of the top examples:
Multi-policy discount: If you bundle your hobby farm insurance policy with another type of coverage through the same carrier, like auto insurance, you could save quite a bit on both.
Safety measures: Insurance companies reward hobby farmers who take extra safety precautions on their property, like having sprinkler systems in buildings and plenty of fire extinguishers handy.
Claim-free and longevity: Insurance companies commonly reward policyholders who remain claim-free for a period of time, as well as those who have been with them for several years.
An independent insurance agent can help you find any qualifying discounts you can earn on your hobby farm insurance.
Best Hobby Farm Insurance Companies
Hobby farm insurance is available from many different insurance companies, and the best way to find the right carrier for you is through working with an independent insurance agent. They know which insurance companies to recommend to meet your needs, and can provide informed suggestions based on company reliability, rates, and more.
While many insurance companies could create a hobby farm insurance policy for you, finding coverage could also depend on the area you live in. Here are a few of the top companies for hobby farm coverage.
Save On Farm Insurance
Our independent agents shop around to find you the best coverage.
Why Are Independent Insurance Agents Awesome?
It's simple. Independent insurance agents simplify the process by shopping and comparing hobby farm insurance quotes for you. Not only that, but they'll also cut the jargon and clarify the fine print, so you know exactly what you're getting.
Independent insurance agents also have access to multiple insurance companies, ultimately finding you the best hobby farm coverage, accessibility, and competitive pricing while working for you, free of charge.
TrustedChoice.com Article | Reviewed by Paul Martin
©2023, Consumer Agent Portal, LLC. All rights reserved.
https://www.statista.com/study/12270/us-agriculture-statista-dossier/