Hobby Farm Insurance
Hobby Farm Insurance
(And who, what, how and why you need it.)

Even your hobbies need some protection from all the what-ifs. But where do you even start? Or how do you know if you have the right kind of insurance for your hobby farm in place? An independent insurance agent can help.
An independent insurance agent will get to know all about you, your farm, and your goals to help decide on the right kind of coverages for you. And when it's time to secure a policy, they'll shop among the best farm insurance carriers out there to find the perfect blend of protection and price for you, your farm, and your business. But first, it helps to understand what you're looking for.
What Qualifies as a Hobby Farm?
It's important to know what the IRS says about hobby farms. They disqualify hobby farms from receiving tax breaks earmarked for small-farm owners. It only takes a few to ruin it for others, and some have claimed hobby farms as tax shelters by looking to avoid paying taxes on pastoral farming, horse shelters, ​and ranches that they maintain for pleasure and not as actual businesses. The US tax code explains the details of tax allowances for hobby farm owners. Small farms that are in business should be prepared to prove their business operations and income.
Simply put, though, a hobby farm is basically any farm that is for leisure and not a main source of income. It doesn't matter whether your hobby farm consists of bees, goats or fresh eggs. Hobby farms operate on all sorts of different scales. From a couple that retires and fulfills their dream of owning a hobby farm, to a young family that wants to make their own honey and have eggs in their own backyard, they are a little piece of the American pie and should be protected as such.
Of the 2.1 million farms in a 2012 study, about 1.2 million were hobby farmers. Compare that to just 30 years ago, when out of 2.1 million farms, about 1.8 million were actually producing crops and acting as commercial farms. This means that over half of the farms in the most recent study were hobby farms. What a shift, and it shows the appeal of the hobby farm lifestyle.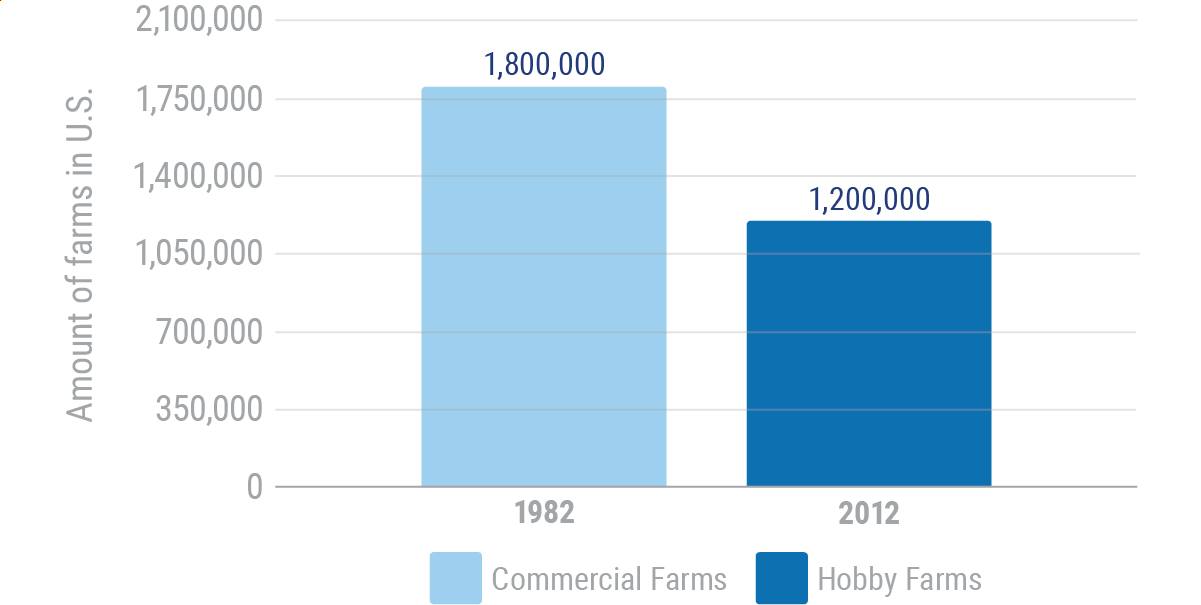 What Does Hobby Farm Insurance Cover, and Not Cover?
Your hobby farm insurance policy starts with a broad range of coverages that include common necessities for farm owners. From your barns to your little chicken coop and your leapin' goats, your hobby farm policy has you covered. From there, there are also additional coverages that can join your policy to help cater more specifically to your needs.
Common Included Hobby Farm Coverages:
Farmhouse: Covers your home on the property, like any homeowners insurance policy would. But with farm insurance, it's grouped into the one policy.
Livestock: Covers the replacement of your livestock due to injury or death. If, say, your little goat got attacked by a coyote, this policy would cover it.
Crops: Yes, you may have a little crop supply on your hobby farm, and this policy covers your crops against bad weather that may wipe out your product. Some may even have coverage for pests.
Equipment and machinery: You may not have a ton of heavy machinery or equipment for your hobby farm, but if you have any at all, you'll want coverage for it.
Barns and other structures: Covers your barns, equipment buildings, pole barns, and more. Pretty self-explanatory.
Extra Farm Coverages Worth Considering:
Fire: Yes, it seems like it would be covered automatically because, hey, it's a hobby farm and fire is a pretty common coverage. But whether this coverage is automatically included has a lot to do with your carrier, your access to a fire department, and how easily your fire can be put out. If your fire department is only a mile down the road, great! But if your pole barn is 25 acres down the property with no road or ease of access to put out that fire, that can be a problem. Your independent insurance agent should take a walk on the land prior to writing the policy to make sure you've got your bases covered, literally.
Fencing: Since fencing ranges in price and quality, it's normally an endorsement that gets added on to the policy so you can be sure you have enough and the right amount of coverage for your fenced-in hobby farm.
Bee coverage: Not protection from bee stings, it's protection FOR your bees. If you operate a honey-producing, beekeeping hobby farm, protecting the queens and their workers is a must.
Poultry, eggs and the like: Hey, most hobby farms are stocked up with farm fresh eggs from their hens. So whether you're selling these to the neighbors or at the local farmer's market, you should make sure your hobby farm policy has some sort of allowance in case your chickens get taken out by a sneaky fox.
And then there are business policies you'd want in place for your hobby farm:
Commercial vehicle coverage: Protects your cars, trucks and trailers should you be hauling any product to and fro. This can qualify as a business auto policy depending on how your vehicles are titled.
Commercial umbrella coverage: Extends the coverage limits of liability claims beyond your standard hobby farm policy's limits. If you have a lot of visitors on your hobby farm or your products end up in homes or farmers' markets, it's a good idea to increase your liability coverage with an umbrella policy.
Save On Farm Insurance
Our independent agents shop around to find you the best coverage.
Most Common Hobby Farm Insurance Claims
There are many claims that are common on American hobby farms, but one, in particular, seems to be paid out more than others, and it's also the fruit of your labor as a hobby farmer: the crop. Your crop, whether for the local farmers' market or you sell to a local community, are what you've been working so hard to produce, and it's also a common claim for crop insurers.
US Crop Insurance Snapshot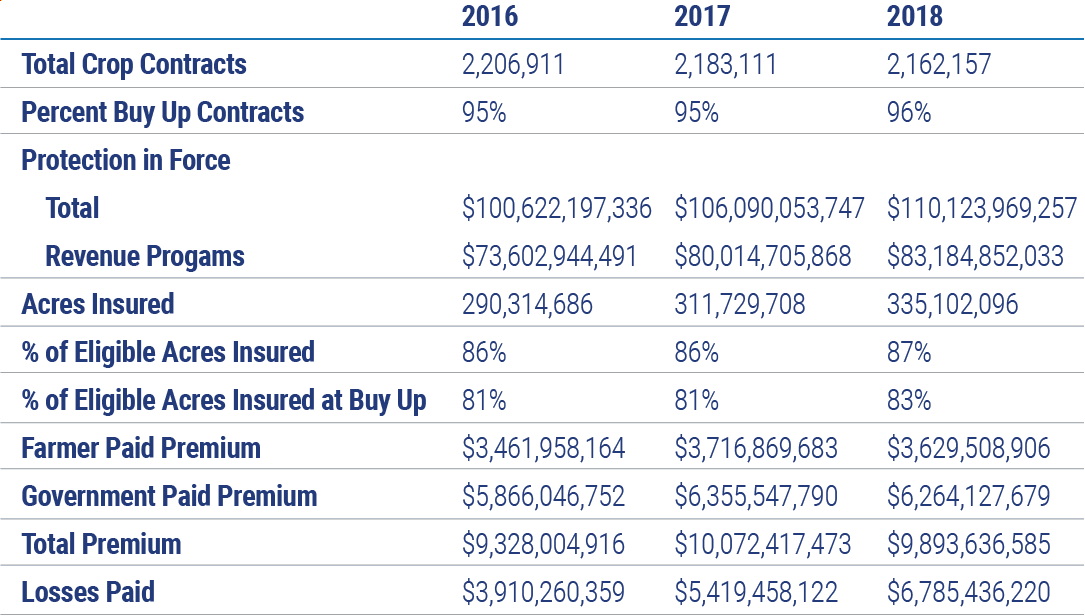 Another item that can cause some claims is your product itself. Milk can be sold at farmers' markets as pet supplements, and goat milk is commonly used to make artisan soaps and other products. Take a peek at how much milk is produced according to a recent study. That's a lot, and since there's no use in crying over spilled milk, you better find a way to protect it with insurance, even if it's a small supply.
Quantity of milk used on farms where produced in the US from 1999 to 2017 (in million pounds)*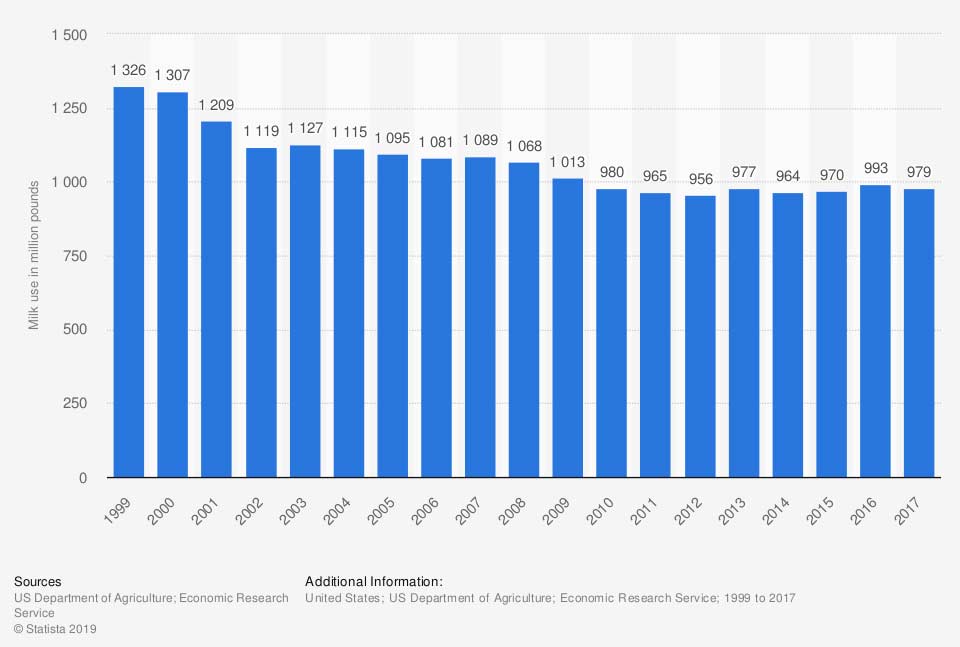 Farm equipment and machinery are still used on hobby farms, even if it's not the big rigs. They can be used to run and work your hobby farm, and as such have a lot of room for error when claims are involved. It just takes one bad claim, and that expensive tractor could make or break your little hobby farm heart. Check out just how much machinery is used by farmers. Here's a hint, it's in the millions. And even though you'd be a small piece of that pie, it's worth the coverage.
Farm production expenditures on machinery by US farms in 2017 (in million US dollars)

Is Hobby Farm Insurance a Requirement?
Typically not, but depending on what you're producing and selling, you may have different insurance requirements. Farmers' markets may require proof of insurance before working with you or purchasing your product. This is to protect their interests as well as yours.
How Much Does Hobby Farm Insurance Cost?
Hobby farm insurance rates are less expensive than those for full-blown commercial farms, but it all depends on your hobby farm's specifics. Possessing a good idea of the following before your conversation with an independent insurance agent will help get you a fairly accurate estimate.
Items that impact your hobby farm insurance premiums:
Number of acres: How much land you have will cause pricing to go up or down. The more you have to insure, the more premium you will pay.
Barns and other structures: The number of barns and other structures and their size and quality will factor into your cost.
Production: What you grow, harvest, produce and sell will also influence premiums. It may cost more to insure a milk supplier because of the contaminants that are involved than to insure someone who is selling melons. The type of item and the amount of inherent risk before, during and after production of that product will affect pricing.
Farmhouse: The size, quality, and features of your home on your hobby farm will also impact your pricing, just like a regular homeowners policy.
Equipment and machinery: Both motorized and unmotorized property like tractors and other equipment will need insuring, and the replacement cost on some of those pieces could be high, which will impact rates.
Workers: The farmhands and workers of any kind that you hire to run your farm will impact rates, because you'll not only have more liability from employing people, but you'll also need to add a workers' compensation policy.
Hobby Farm Insurance Can Actually Save Your Hobby Money Each Year
According to a recent study, the number of claims and payout of those losses could save you a lot of money. What is nice about insurance is that, yes, it will cost you premium up front, but it will save you way more than you put in when you actually have to use it.
Loss ratio of crop insurance in the United States between 2001 and 2017 by crop: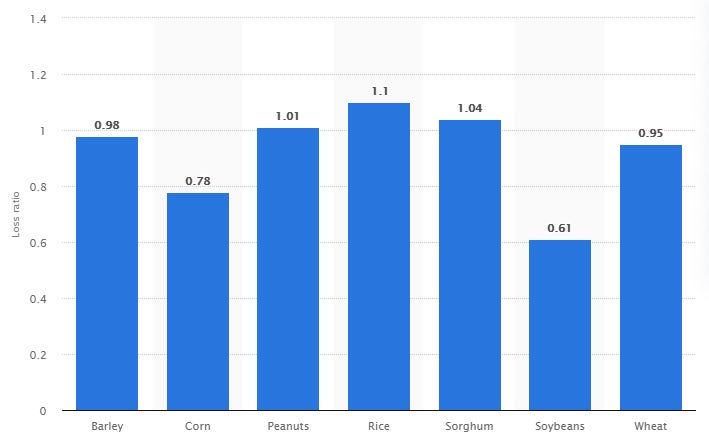 Best Hobby Farm Insurance Companies
It's only natural to want the best, and why shouldn't you have it for your hobby farm? Well, finding the best farm insurance company can be a daunting task if you go it all alone. Because what's best for you may not be best for every hobby farmer across America. Having a knowledgeable independent insurance agent in your corner is your best option. They work with carriers of all kinds each and every day and know all about the most reputable carriers with the best hobby farm insurance products.
Save On Farm Insurance
Our independent agents shop around to find you the best coverage.
The Benefits of an Independent Insurance Agent
Independent insurance agents have access to multiple insurance companies, ultimately finding you the best coverage, accessibility and competitive pricing while working entirely for you. And as your needs change, they'll be there to help you adjust your coverage, up or down, to make sure you're properly protected without overpaying. Find an independent insurance agent in your local community here.
TrustedChoice.com Article | Reviewed by Candace Jenkins
©2021, Consumer Agent Portal, LLC. All rights reserved.
https://www.statista.com/statistics/196103/number-of-farms-in-the-us-since-2000/
https://www.statista.com/statistics/649465/total-losses-paid-by-crop-insurers-usa-by-state/
https://www.lawinsider.com/dictionary/commercial-farming
https://www.statista.com/statistics/194940/quantity-of-milk-used-on-farms-where-produced-in-the-us-since-1999/
https://www.statista.com/study/12270/us-agriculture-statista-dossier/