Farm State Laws & Regulations
(What it means for your farm and how to handle it)

Whether you have a large commercial farm, pumpkin pickin' patch, or a hobby farm for your leisure, there may be state laws and regulations that apply. Knowing what your state says about your farm is key to following state guidelines and having the proper insurance coverage in place.
An independent insurance agent is the best resource when it comes to your farm insurance and following state laws pertaining to your farm. Talking with your trusted advisor is a good first step.
Are You In One of the Top Farming States?
There are a lot of states with farms, but sixteen of them are considered top farming states. Knowing how the state laws and regulations apply if you live in one of these states will help when you are setting up your insurance policies, and will also help you make sure you are on the right side of the law.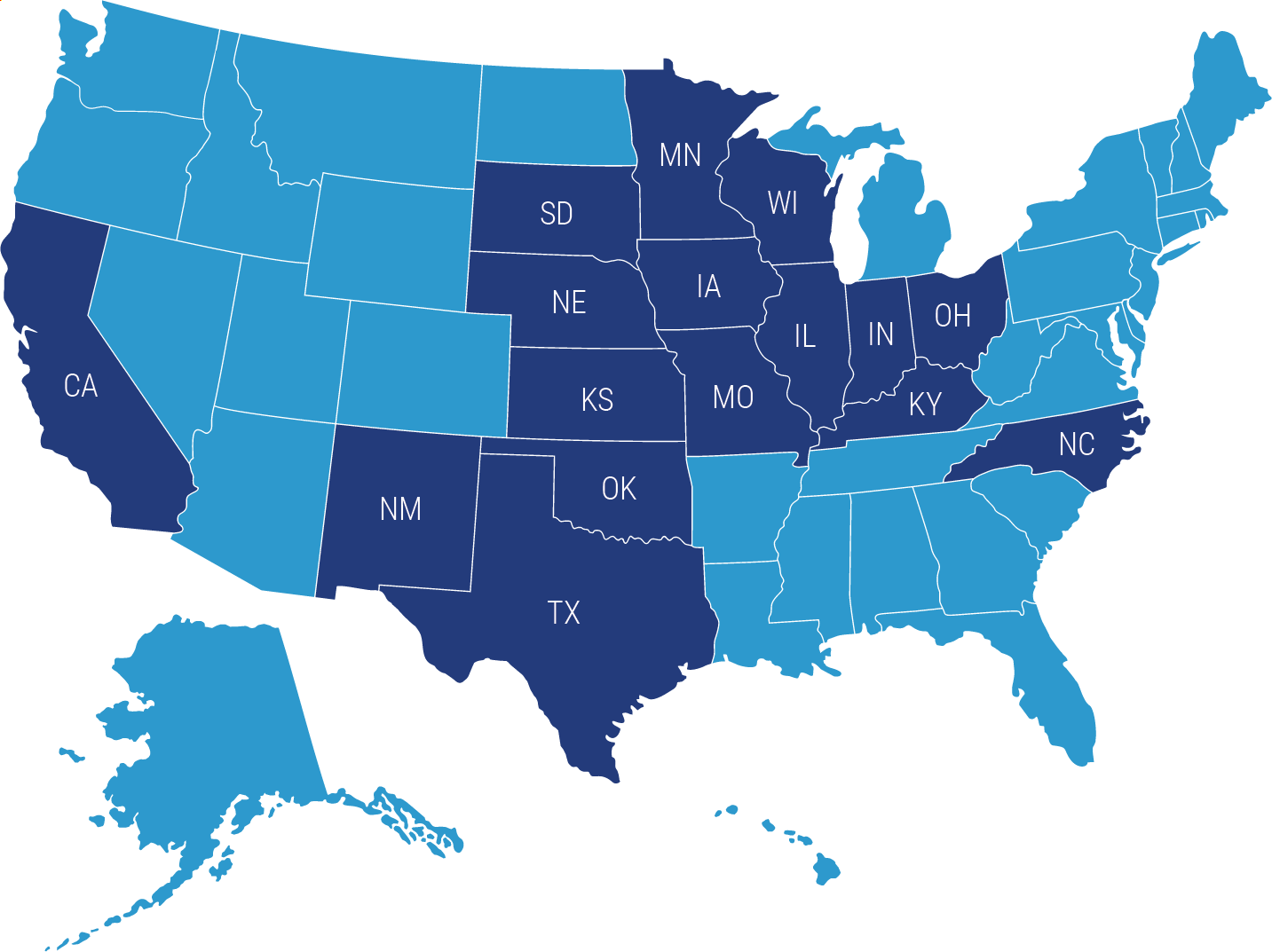 | | |
| --- | --- |
| Key 16 States | Number of Farms |
| Texas | 247,000 |
| Missouri | 95,200 |
| Iowa | 86,000 |
| Ohio | 77,800 |
| Oklahoma | 77,300 |
| Kentucky | 75,100 |
| Illinois | 72,000 |
| California | 69,400 |
| Minnesota | 68,500 |
| Wisconsin | 64,800 |
| Kansas | 58,900 |
| Indiana | 56,100 |
| North Carolina | 46,400 |
| Nebraska | 45,900 |
| South Dakota | 29,600 |
| New Mexico | 24,700 |
Next, going over some state laws and how they may affect your farm, big or small, is what this article is all about.
What Are Some State Laws and Regulations That May Apply to Your Farm?
Depending on what state you live in, there are agricultural laws that will apply to your farm, whatever its size. Most of these laws and regulations are addressed on your state government website and office of your Attorney General. Your independent insurance agent is abreast of your state laws as well and may even have a hand in legislation, depending on how involved in the community they are.
Oral leases
If you happen to have extra land that you lease out to other farmers for use, then you may come across an oral lease transaction. For instance, in South Dakota, an oral lease for your farmland is good year to year and typically for no more than 40 acres of farmland being leased out.
Oral leases are normally only good on a year-to-year basis, not long-term, and insurance will determine how your oral or written contract is set up. You own the land, and they may own the crops, livestock, and the like. Making sure their agreement is firm and their insurance policies cover their potential liability is essential to making sure your farm isn't on the hook for a big lawsuit.
Fencing laws
Most farmers have some fencing or even hundreds of acres worth. and somtimes there might be friction with neighbors who share the same borders. For example, who foots the bill when an adjoining fence is taken out by a tornado? Most insurance companies would have both parties file a claim under their farm insurance policies. The insurance companies would subrogate against each other and likely come to the conclusion that each insurance company pays equal amounts.
Keep in mind that each state has its own laws that govern farms and fencing, so you'll want to talk with your independent insurance agent to understand the language.
Open range laws
Some states have completely done away with this law. Open range in a number of states used to pertain to letting livestock roam free from range to range. The law now addresses livestock that get struck by a motor vehicle on the road.
Your insurance company would need to investigate how the livestock came to be on the road, what harm it may have caused or what harm was done to it, before it could be determined exactly how coverage would apply. In this respect, open range refers to an area where livestock are unattended and unrestrained.
How your state handles this law is going to affect what the insurance company may be willing to offer for coverage. Talking with your independent insurance agent on matters like this will ensure you are obtaining proper coverage.
Weed control laws
If your farm borders any township, county, or state-owned land or areas, and your weeds, brush, and grass is not maintained, you may be in violation. As a farmland owner, it's your responsibility to manage your farm and and maintain your borders including beautification as it relates to your state.
Your insurance isn't likely to have any coverage here if you get caught with an unkept farm and are fined or sent home with a violation. But where it would kick in is if you were using weed control chemicals such as pesticides. You'd want your policy to include coverage for inhaling chemicals or pollution coverage for disposal of chemicals. You would also be covered if your neighbor decides to sue you because of an infestation of noxious weeds which are harmful and can cause the destruction of land or crops.
Your independent insurance agent may have coverage under your farm policy for such an offense that could destroy a neighbor's livelihood. Talk with your agent as it relates to your farm's specifics and your state laws.
Save On Farm Insurance
Our independent agents shop around to find you the best coverage.
Right to farm
Some states will have a Right to Farm Act that protects farmers and ranchers from any public or private nuisance suits. This means that since agriculture brings value to the state, they are willing to forgive more noise, dust, and odors to the immediate community.
If the state doesn't allow farmers to do their job and farm, it may not be as productive which can cause problems for local communities. Insurance companies would not be able to step in and provide coverage either. Talk with your independent insurance agent for more information.
Farm food laws
If you're a farmer, you may be selling your well-produced food to consumers and local farmers markets alike. Most states have laws that permit local farmers to sell to such entities, and contacts for selling items like meat, jams, jellies, baked goods, eggs, milk, cosmetics. etc.
Your insurance policy will need to have coverage for spoilage and food poisoning, or harm that it may cause to the consumer. Talk with your independent insurance agent to find out what coverages would pertain to you specifically.
Pesticide laws
If you're dealing with crops, you're likely dealing with pesticides. Keeping the pests from destroying your crops is key if you're trying to make a livelihood from your produce. In most states there are laws pertaining to chemical pesticides, and your state may be no different. The guidelines that are in place in your state can be discussed with your independent insurance agent so you can be sure you're following proper protocol.
You'll want to have pollution insurance that will have coverage for pollution cleanup on and off the farm as well as the transportation of any fertilizers, pesticides, etc.
Farm acts
There may be various farm acts that are mandated throughout your state that aid and benefit local farmers. Brushing up on some of that knowledge is just plain smart. For example, South Dakota has a Family Farm Act that helps keep the land in favor of the family farm and doesn't allow corporate commercial farms to become established. This is a good thing for the family farm that built the foundation of America.
Where to Find Farm Coverage In Your State
It's only natural to want the best, and why shouldn't you have it for your farm? Finding the best farm insurance company can be a daunting task if you try to do it alone. Having a knowledgeable independent insurance agent in your corner and in your state is your best option. They work with insurance companies of all kinds each and every day and know the most reputable carriers with the best farm insurance products.
The Benefits of an Independent Insurance Agent
Independent insurance agents have access to multiple insurance companies, ultimately finding you the best coverage, accessibility, and competitive pricing while working for you. And as your farm grows and your needs change, they'll be there to help you adjust your coverage, up or down, to make sure you're properly protected without overpaying. Find an independent insurance agent in your community here.
TrustedChoice.com Article | Reviewed by Candace Jenkins
©2023, Consumer Agent Portal, LLC. All rights reserved.
https://www.statista.com/statistics/196114/top-10-us-states-by-number-of-farms/
https://sdda.sd.gov/documents/farming-ranching-agribusiness/AGRICULTURE%20LAW.pdf
https://www.mda.state.mn.us/environment-sustainability/farmland-protection-tools
http://www.ilstewards.org/wp-content/uploads/2013/09/ISA-LegalGuide-web-1.pdf