Home Replacement Cost
(And how it's different from market value)

Your home's replacement cost is a big deal. Making sure the number is as accurate as possible is key to making sure you have enough coverage in the event of a home insurance claim.
Your independent insurance agent is your best resource when it comes to getting the correct figure for your replacement cost. Knowing how to run the right reports and making sure all materials are accounted for is their job, and they are happy to do it.
What Is Replacement Cost in a Homeowners Insurance Policy?
Replacement cost for your home as it pertains to your homeowners insurance policy can be a bit confusing to understand simply because it gets confused with market value. A lot of insureds (and this may be true for you as well) think that their home's replacement cost listed on their insurance policy should match the market value of their home. Market value and replacement cost are not the same things, and the differences should be known for each.
Market value vs. replacement cost:
Market value - The definition of market value is the amount that something, in this case your home, can be sold in a given market. For example, a home that has a market value of $300,000 in a recession, but has a market value of $600,000 in a booming economy, fluctuates on the market.
Replacement cost - This is the amount it would take to replace and rebuild the home, regardless of what the market's doing at any given time.
Now you may say that the cost of materials and labor will change with the economic climate. And while this is true, it does not normally alter the replacement cost too terribly much. Not to mention that the replacement cost on an insurance policy will take into account inflation each year and increase the dwelling amount anywhere from 2% to 5%. Don't fret about the differences, your independent insurance agent can help make sure your home's replacement cost is on the right track by discussing what your home is made of.
Key Items That Determine Your Replacement Cost
There are key items that determine your replacement cost when it comes to insuring your home. They should be discussed with your independent insurance agent to make sure all the correct materials are being accounted for.
What goes into the replacement cost of your home:
Exterior: What the exterior of your home is made up of (e.g., vinyl siding, brick, hardie board, stone, etc.)
Interior: What the interior of your home is made up of (e.g., drywall, plaster, wood paneling, etc.)
Wall coverings: What is on your walls (e.g., tile backsplash, shiplap, stone, wallpaper, etc.)
Garages: Is your garage attached or detached? How big is your garage? Is it drywalled, etc.?
Attached decking, patio, or porch: Is it screened in? How big is it? What's it made out of (e.g., composite, wood, stone, concrete, etc.)?
Square footage: How big is your home? How many rooms, bathrooms, and more do you have?
Basement, crawl space, or slab: Which one do you have and how big is it? Is the basement finished if applicable?
Style: What style is your home (e.g., split-level, ranch, tudor, etc.)?
Age and updates: How old is your home and have you had any updates? When were the updates done?
Upgrades: Is your home upgraded with granite, crown moldings, wall treatments, designer kitchen, etc.?
There may be some other factors, too, depending on the replacement cost estimator that the carrier uses. Which brings us into our next section — replacement cost estimators.
Save on Home Insurance
Our independent agents shop around to find you the best coverage.
Replacement Cost Estimators
Replacement cost estimators are what each insurance company uses to calculate the replacement cost of your home, which results in the dwelling amount listed on your policy. This amount, depending on the carrier, can be 25%, 50% and even 100% coverage above and beyond the replacement cost listed.
This means that you will have an automatic extra coverage in case the replacement cost was off or labor and materials increased more than planned for. Examples are always a great visual, so enjoy the below example.
Example:
Your independent insurance agent ran your replacement cost based on the materials your home is made up of, taking into account any upgrades and additions you may have. The replacement cost came in at a nice round $250,000 which is now your dwelling amount on your home policy. Your agent helped you choose a fantastic policy that gave you 100% full replacement cost, which means that even if it costs the insurance company a million dollars to replace your home in the event of a claim to like, kind, and quality, they will pay it. Now, that much of a discrepancy is not likely and probably close to impossible, but it paints a good picture, so go with it.
Visuals of a replacement cost estimator:
It's nice to know what you're looking at when it comes to replacement cost estimators, so below is an example of what your agent is filling out and submitting the carrier.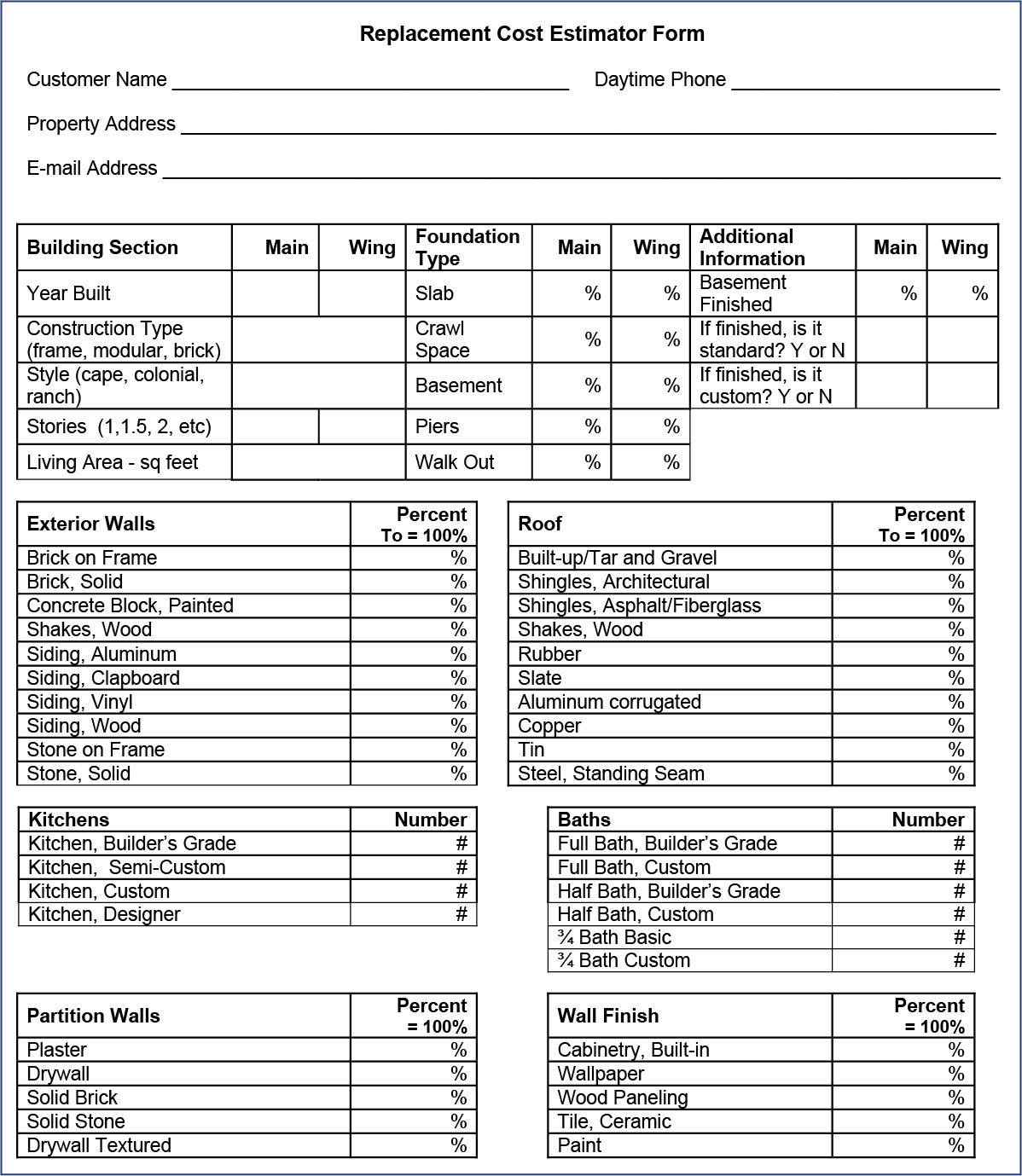 How to Know if You're Insured Properly
Going through how the insurance company comes up with the replacement cost of your home should have given you a pretty good understanding of how coverage is determined. But what if you are unsure if the replacement cost is the right number? It can be tricky waters to maneuver if the replacement cost estimator seems off and you're not sure why.
Getting with a knowledgeable independent insurance agent who is willing to take the time and go over bit by bit with you on your home's features and materials is key. Walking through the replacement cost estimator and getting it 100% accurate is essential in a correct dwelling amount coverage.
If you've been there and done that and it still seems off, then have your agent speak with the insurance company itself on the matter. If the company can see a reason for increasing or decreasing the replacement cost, then it may be willing to adjust it according to your needs.
Save on Home Insurance
Our independent agents shop around to find you the best coverage.
Benefits of an Independent Insurance Agent
Independent insurance agents have access to multiple insurance companies, ultimately finding you the best coverage, accessibility, and competitive pricing while working for you. And as your company grows and your needs change, they'll be there to help you adjust your coverage, up or down, to make sure you're properly protected without overpaying. Find an independent insurance agent in your community here.
TrustedChoice.com Article | Reviewed by Candace Jenkins
©2023, Consumer Agent Portal, LLC. All rights reserved.