Cabin Builders Risk Policies
(What is it, why do you need it, and where do you get it?)

Building a cabin is a great way to create the ultimate escape for your family, and maybe even friends, if they're lucky. But insuring your cabin with a builders risk policy while it's being built is just as important as insuring it when you're vacationing in it.
Your independent insurance agent can help sort through all the fine print when it comes to securing a builders risk policy and how it exactly works.
What Is Builders Risk Insurance?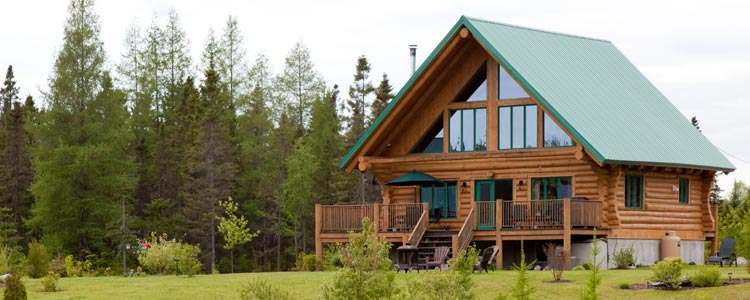 Simply put, it's insurance to help protect you during the cabin's building process. A builders risk policy will have specific coverages and account for specific risk factors that a regular homeowners insurance policy won't be able to.
Builders risk coverages:
Personal liability: Some builders risk policies will have a limit on personal liability so that you're covered if someone's hurt on the premises while the cabin is being built.
Theft and vandalism: This is a common risk to think about and it's important coverage to have with your builders risk policy. A worksites get raided more often than you would think, and you don't want to be on the hook for buying all new materials if a thief or vandal chooses to act.
Building materials coverage: Also very important, this will help cover any on-site materials that are damaged or destroyed.
Materials in transit: This covers your structural materials while they're being transported to and from the worksite.
Coverage for perils: Protects your cabin from perils and natural disasters like fire, wind, hail, and more.
Who Should Carry a Builders Risk Policy?
This is a good thing to know, since the waters can be a bit murky when it comes to who's responsible for carrying the builders risk policy. The party typically responsible would be either the cabin's owner or the general contractor hired to build the cabin.
Deciding whose job it is will depend on who is fronting the money for the labor and materials. Often the general contractor is purchasing the material and labor. Then, when the transaction goes through officially, that's when the general contractor will be paid. In this scenario, the general contractor would take out the builders risk policy.
There are other cases where you would purchase all the materials and pay for the labor, either in part or in total, and in that scenario, it would be your responsibility to obtain the builders risk policy.
It's important to remember this general rule of thumb: You can't insure what you don't own. That means the responsibility for the policy falls on the actual owner of the items, structures or materials at the given time. When the owner changes, then the new owner obtains the policy and the old owner cancels theirs.
Save on Home Insurance
Our independent agents shop around to find you the best coverage.
When To Get a Builders Risk Policy
Depending on how complex the build-out is, you'll typically want to obtain a builders risk policy 15 - 30 days prior to the project actually breaking ground. It's good to make sure you have all the coverage in case the project starts a little early. What you don't want to get into is if you forget to get the builders risk policy and the project is more than 50% completed.
Once the project hits a certain level of completion, insurance companies no longer will take on the risk of the project. This is because they would be responsible for any prior claims that occurred at the beginning of the build-out, and that's just not worth it for them.
What If Your Builders Risk Policy Is Up?
This is actually quite common. Maybe your general contractor said they'd be finished in 6 months, and now they are saying 8 months. Not to worry, even if you only purchased a 6-month term builders risk policy and now you need 8 months or longer. It's likely that your builders risk policy has an option to extend coverage for more months until the project is complete.
That is definitely one coverage option you want to be sure your independent insurance agent knows you want and can get for you. Because if you're over 50% complete in the build-out process and now you have a builders risk policy that is termed out and not willing to extend coverage, you could be self-insuring and crossing your fingers that nothing happens during the remaining months.
How Much Will Builders Risk Insurance Cost?
The cost is typically less than your primary homeowners insurance policy, but it can be comparable in price. If you're getting what is called a bare-bones builders risk policy, meaning you are accounting for everything except the personal liability, then the policies hover around $500 - $1,000.
This should only be an option if your primary homeowners insurance policy is willing to extend personal liability to that cabin worksite during the build-out. A lot of homeowners policies will do so, and save you a little money in the building process. Checking with your independent insurance agent is always recommended. Your specifics are different from anyone else, and knowing what they are will save you a lot of headaches in the long run.
Save on Home Insurance
Our independent agents shop around to find you the best coverage.
Benefits of an Independent Insurance Agent
Independent insurance agents have access to multiple insurance companies, ultimately finding you the best coverage, accessibility and competitive pricing while working for you. And as your needs change, they'll be there to help you adjust your coverage, up or down, to make sure you're properly protected without overpaying. Find an independent insurance agent in your community here.
TrustedChoice.com Article | Reviewed by Candace Jenkins
©2023, Consumer Agent Portal, LLC. All rights reserved.