Insurance Agent Home Insurance Rates
Get Lower Rates with Independent Insurance Agents
(Not only will they do all the hard work, they'll also save you a bundle of money.)

While being a new homeowner can be an exciting and rewarding rite of passage, shopping around for home insurance policies isn't nearly as much fun. No one wants to have to browse multiple insurance companies for not just the right coverage, but also the lowest rates. However, thanks to independent insurance agents, you don't have to. Not only will they shop multiple carriers for you, but they'll also set you up with the right coverage at the lowest rate. Here's how.
What Are the Benefits of Independent Insurance Agents?
Not only are independent agents good at finding lower rates and tons of available discounts, but they also come with a handful of other distinct benefits compared to captive or online agents. Best of all, your independent insurance agent works together with you to meet your needs, not theirs, and not the insurance company's. In other words, they work for you, and no one else.
Working with an independent insurance agent comes with the following benefits:
They represent multiple insurance companies, which offers you the most possible options for finding the right coverage at the right rate.
They know the insurance companies they represent, so they know which one will be the best fit for you.
They do the time-consuming shopping for you, which includes browsing policies from multiple insurance carriers.
They break down all the insurance jargon and boring tech-speak into a language you more easily understand.
They're taught which insurance companies fit which categories of people and respond to their specific needs.
They're able to assess your unique situation and coverage needs through asking the right questions.
They're prepared to offer suggestions about how to qualify for even better discounts.
They stay in touch throughout the life of your policy to inform you of any new discounts that may have become available.
They know the coverage needs of your specific area, and they'll shop local companies to hook you up with all the protection necessary.
They're able to stay with you even if you end up switching insurance carriers down the road.
Not only do independent insurance agents come with a well-educated background and know what they're doing, they're also your trusted friend throughout your insurance journey. No other insurance agents have your back quite the way independent insurance agents do.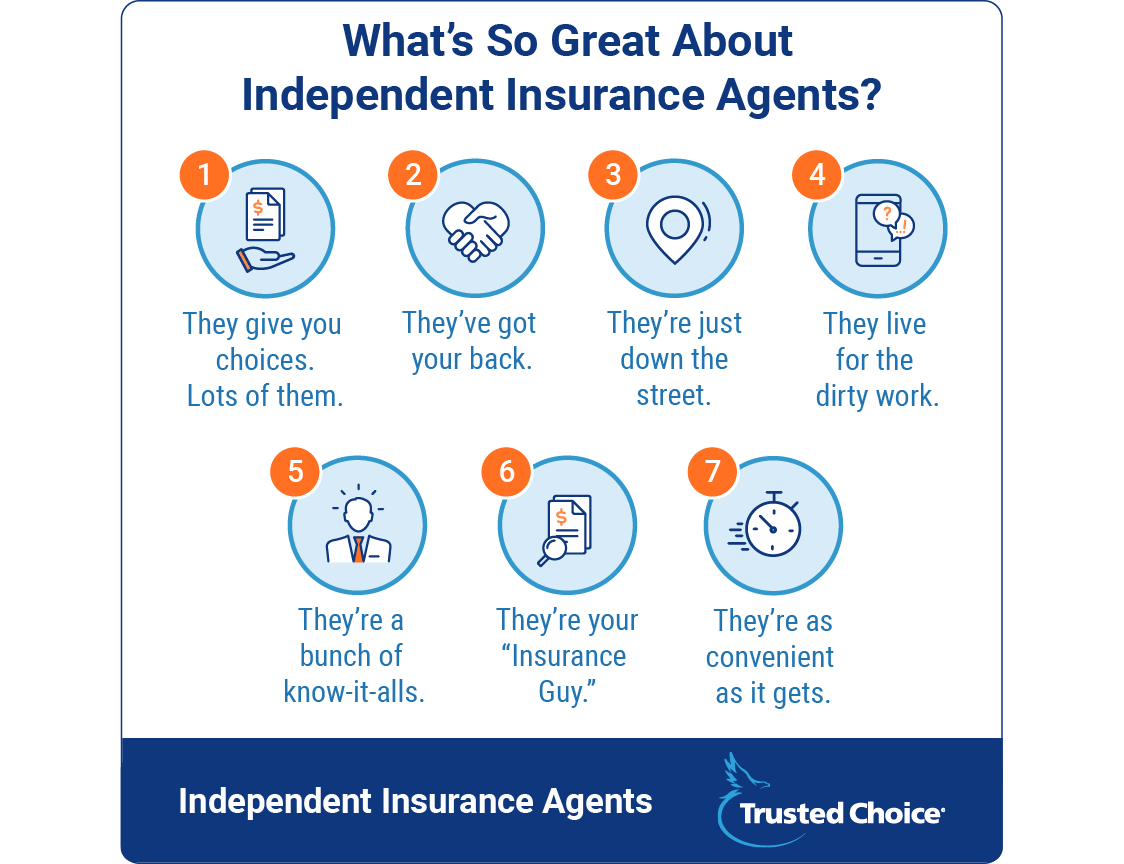 How Independent Insurance Agents Help You Find Lower Rates and Discounts
It all starts with shopping multiple insurance companies. Independent insurance agents not only know where to hunt for the right coverage for your personal needs, but they also know where to find the best deals. These agents have years of experience working with reputable insurance companies and they know the strengths and weaknesses of each. They're able to narrow down which companies offer the best prices and the highest quality of customer service.
While independent insurance agents don't have any authority over the home premium cost dictated by an insurance company, they can hook you up with any discounts they know you're eligible for. Your agent will ask you some questions about yourself and your coverage needs, and from there, they'll begin their search for the proper policy. They'll also take what they've learned about you and use it to your advantage when comparing various company rates and available discounts.
What Discounts Can Independent Insurance Agents Find for Me?
There are tons of insurance discounts floating around in the stratosphere, and one role of an independent insurance agent is to hone in on those that apply to you. While discounts and their specific rules will vary by insurance company, after your independent insurance agent gets to know you and your needs well enough, they'll be much better able to score you a sweet discount on what could otherwise be a dismal premium.
Here are just a few common insurance discounts our agents can score for you:
The companion policy discount: If you purchase your auto insurance through the same provider as your home insurance coverage, you're likely to receive a significant discount on both of your premiums.
The burglar alarm discount: Theft is a huge concern for insurance companies. If you install a burglar alarm or any kind of security system in your home, you can greatly reduce your risk of break-ins and theft. As a result, you're likely to be eligible for a discount.
The no-loss history discount: Insurance companies have access to your home's history of insurance claims. If you purchase a home with no claims history, you might just be a candidate for a discount on your home insurance premium.
The fire extinguisher discount: Insurance companies' number one concern when it comes to homes is fire damage. Any measures you take to reduce your risk of fire damage are likely to also qualify you for discounts on your home insurance premium. This includes purchasing a fire extinguisher.
The hail-resistant roof discount: This one only applies if you live in an area that's prone to hailstorms. If you've upgraded your roof to hail-resistant shingles, you're probably eligible for a significant home insurance discount.
The good driver discount: This is typically awarded to auto insurance policyholders who maintain a clean driving record for at least five years. If you've got a clean driving history, your independent insurance agent is likely be able to get you a discount on your auto insurance.
The affinity group discount: Groups and employees belonging to various business, professional, alumni, and other associations sometimes qualify for the affinity group discount. In such a case, all members are encouraged to purchase their policy from one specific insurance company to receive the group discount. Auto insurance companies often offer this discount.
The good student discount: Full-time students who maintain a B-average or higher on their report cards are often eligible for pretty significant discounts on various insurance premiums, including auto insurance.
The senior citizen discount: Policyholders of many forms of insurance who are age 55+, including auto and home insurance, are often eligible for a break on their premiums as a courtesy.
The military and federal employee discount: Another discount offered across several types of insurance, including auto and home insurance, the military and federal employee discount is available to policyholders who have served time in the US military or been employed by the federal government.
This list of available discounts on the insurance market is far from inclusive. It's also important to note that these discounts may not apply to everyone in each situation, and the availability and amount of the discount offered will vary greatly by insurance company. Your independent insurance agent can provide you with more information.
How Independent Insurance Agents Can Save You Time
Independent insurance agents eliminate the hassle of comparison shopping for you. While they're hunting for the right coverage for your needs, they're browsing through tons of available options across several different insurance companies, and they're looking for the best rate, all at the same time. Meanwhile, you're at home relaxing on the couch or tackling an important deadline, and your only requirement is to answer the phone when they call you back.
Not only do you not have to browse available insurance policy options by yourself, but you also don't have to be bothered to keep providing the same personal information over and over. Your independent insurance agent will gather all your necessary info like your address, Social Security number, claims history, and anything else that insurance companies need to know about you up front. That way, you only have to provide all your details once.
Your independent insurance agent also seriously cuts down on your required phone time by providing you with multiple quotes from different companies all in one call. So not only do they do the comparison shopping for you, but they also eliminate the countless rounds of phone tag you'd have to play with various other insurance agents if you were scouring for quotes yourself.
Save on Home Insurance
Our independent agents shop around to find you the best coverage.
How Independent Insurance Agents Can Spare You Frustration
The fact is, most of us aren't insurance experts. While hunting for a new insurance policy, you may be unsure of what coverage you even need. Independent insurance agents are familiar with many different forms of insurance, and even depending on your specific location, they'll know what coverages are required for your unique situation. They're also experts on what standard insurance policies include, and where they're lacking coverage you might have to add on.
Not only do they know what types of coverage to hunt for and ultimately hook you up with, but independent insurance agents also know how to explain to you what you're getting. Insurance companies love to spice up their policies with fancy technical terms that could have anyone scratching their heads. Independent insurance agents break this jargon down into plain old English to help you understand exactly what's included in your policy.
Why Choose a Trusted Choice Independent Insurance Agent?
At TrustedChoice.com, we'll match you with the right local agent for the job, for free. All you have to do is answer a few quick questions, like what kind of insurance you're looking for. Then you get to sit back and relax while they take care of all the dirty work for you. It's that simple.

How Do I Get Matched with an Independent Insurance Agent?
It's easy. Just head over to TrustedChoice.com's agent directory today to get matched with the perfect agent for the job. All you need to know is your name, zip code, and what kind of insurance you're looking for. Promise.
TrustedChoice.com Article | Reviewed by Paul Martin
©2022, Consumer Agent Portal, LLC. All rights reserved.