Why Do You Need Home Insurance?
FAQ: What Is Home Insurance?
(It's time to get all your homeowners insurance questions answered)
If you're looking to buy a home, you should know that insuring it is one of the most important things you can do to protect it. But the process can be a little daunting if you're new to it all, so here's a little background to help get you started. And when you're ready, an independent insurance agent is always ready to help answer any more questions and guide you to the finish line.
Table of Contents
Q. Why do I need home insurance?
Q. How much home insurance do I need?
Q. What does home insurance cover?
Q. What does home insurance not cover?
Q. How much does home insurance cost?
Q. When should I get home insurance?
Q. How do I get home insurance?
Q. How do I find the best insurance company?
Q. How do insurance companies come up with homeowners rates?
Q. How can an independent insurance agent help me find the right home insurance policy?
Why Do I Need Home Insurance?
Your home is one of the most valuable assets you have. Homeowners insurance helps protect that investment and your family in a variety of ways
Let's begin by saying that home insurance isn't mandatory or required by law if you own your home outright. However, many real estate experts and independent insurance agents strongly recommend having home insurance for a multitude of reasons:
Replacement and repairs to your home's structure: Homeowners insurance safeguards your home and unattached structures on your property from a multitude of hazards. Having a policy in place ensures that your home is repaired so you're not left footing the entire bill.
Lawsuit liability coverage: Because we live in a litigious society, having a liability policy in effect on your homeowners insurance helps pay for legal fees and settlements you may incur. Liability insurance is designed to cover you in the event of a lawsuit arising from an injury on your property. Or if your pet bites someone, you're covered - even off your property. Even slander and libel lawsuits are covered with liability coverage, so it's fairly broad coverage for your home.
Property: No one likes to have their property destroyed or stolen, so home insurance provides the opportunity to have those items repaired or replaced within policy limits. For high-ticket items, you may have to purchase scheduled coverage to receive full reimbursement if those items are affected.
Lender requirements: If you currently owe money on your home's mortgage, then more than likely homeowners insurance is required by your mortgage lender. In essence, home insurance protects the lender's investment from loss or damage. Lenders typically have a minimum coverage amount that you must meet, or you may be faced with paying the tab for buying an insurance policy that the lender imposes on you
HOA: Similar to mortgage lenders, many HOAs require members to have insurance coverage in place to maintain the integrity of the neighborhood and shared property.
Temporary housing after an accident or catastrophe: If your home is rendered uninhabitable after a covered event (see below), insurance coverage can help pay for temporary living costs while your home is being repaired. These costs may include hotel expenses, storage space, interim housing, food and more.
Peace of mind: Perhaps the main benefit of homeowners insurance is that it enables those with property and their family to sleep a little more soundly at night. Having a safety net against life's unpredictability can reduce your stress and provide confidence in the world.
How Much Home Insurance Do I Need?
Make sure your homeowners insurance covers the following areas:
Structure of home: Insure your home for its replacement value. This is how much it would currently cost to build your home from scratch. (Be sure you have an accurate estimate of your home's value.) The amount it would cost to sell your house is not a good indicator of the replacement value.
Personal belongings: Most policies cover your personal belongings at 50% to 70% of your home's value. This may not be enough coverage if you have many valuable items. Conduct an inventory of your personal belongings to find out how much coverage you need and insure them at replacement cost. For antiques or high-value items, you may need to purchase a personal articles policy or an additional rider that can provide more complete coverage.
Liability: A basic policy might include $100,000 to $300,000 of liability coverage. Considering the cost of personal injury lawsuits, you may want to purchase liability insurance with higher limits of $300,000 to $500,000.
For additional protection and peace of mind, consider buying an umbrella liability policy, which can add another $1 million or more in liability coverage.
An umbrella policy is an excellent way for anyone to increase liability protection, but it's an especially good idea for anyone with assets to protect that are more valuable than average, or particular liability concerns.
Save on Home Insurance
Our independent agents shop around to find you the best coverage.
What Does Home Insurance Cover?
A standard homeowners insurance policy is a bit of a misnomer. While the policy is geared toward protecting the physical structure of your home, these policies also protect your personal belongings, cover liability issues that occur on your property, and more.
The most common types of homeowners insurance coverages include:
Dwelling coverage
Personal property insurance
Liability protection
Additional living expenses (ALE)
And other coverages
| | |
| --- | --- |
| Coverage | Why You Would Need It |
| Dwelling coverage | Pays to rebuild or repair the physical structure of your home if it's damaged by a covered peril. This includes attached structures, such as a roof or a deck |
| Personal property | Provides protection for your personal belongings, whether they are damaged or stolen. Bear in mind that you would have to pay a deductible to make a personal property claim. |
| Liability protection | Protects you when someone is injured on your property or believes that you committed slander or libel against them Liability coverage pays for legal defense fees and can pay damages if you're found to be liable up to your coverage limit. |
| Guest medical protection | Provides payments for medical bills that result from your guests being injured on your property. |
| Other structures | Provides coverage for permanent structures that aren't permanently attached to your modular home, such as a garage or barn. |
| Additional living expense (ALE) | This coverage provides you with compensation up to your coverage limit for additional expenses if you are unable to live in your home due to a covered loss. |
These coverages are further defined under what insurance will cover vs. what it excludes. These coverages are known as "perils" and are typically the same among insurers. However, depending on the type of homeowners insurance policy you choose, the list of covered perils will differ.
Perils covered by home insurance policies
There are a few basic home insurance policies offered to homeowners: HO-1, HO-2, and HO-3. Starting with the HO-1, the most basic policy, each of the following plans will include all the coverages of the previous types and then some.
Types of Homeowners Insurance Policies and Their Coverages
Description: HO-1 is the most basic policy, covering only a few perils. Because of its limited coverage and competitive pricing compared to the next step up in coverage, the HO-2, this type of policy is being phased out.
Covered Perils: Theft and vandalism, damage from vehicles, damage from aircraft, fire or smoke damage, explosions, lightning, hail and windstorms, riots and civil commotion and volcanic eruption
Description: Expanding on HO-1, this type of policy offers broader coverage for your home, belongings, and sometimes even your personal liability as well. Be aware that this is also a named peril policy, so damage caused by events other than those listed on your policy will typically be excluded from coverage.
Covered Perils: Falling objects, weight of ice, snow, or sleet, freezing of household systems, like AC or heating, sudden and accidental tearing apart, cracking, burning, or bulging of pipes and other household systems, accidental discharge or overflow of water or steam, sudden and accidental damage from artificially generated electrical current
Description: An HO-3 policy covers everything except certain perils outlined in the policy. It is for these reasons that it is the most popular type of policy.
Policy Exclusions:
Earth movement: Such as earthquakes, shockwaves, sinkholes, landslides and mudflows.
Government actions: Such as the destruction, confiscation or seizure of covered property by any governmental or public authority.
Intentional loss: Meaning something you did on purpose with the intent to cause a loss.
Loss to property: Resulting from faulty zoning, bad repair or workmanship, faulty construction materials and defective maintenance.
Neglect: Meaning you failed to take reasonable means to save your property during or after a loss.
Nuclear hazard ordinance or law: Such as demolition or construction required to bring your house up to code.
War: Including undeclared war and civil war.
Water damage: Such as floods, sewer back-ups and water that seeps through the foundation.
Be aware that there are other forms used for different types of homeowners insurance that are beyond the scope of this article. These include:
What Does Home Insurance Not Cover?
While home insurance can be fairly comprehensive, it does not cover every single catastrophe that can occur. As you may have noticed, certain home insurance policies provide exclusions or gaps in coverage that can leave you and your family vulnerable if something should happen.
There are a number of notable exceptions to homeowners insurance, where you'll have to purchase additional policies or pay out of pocket to get coverage for damage resulting from:
Earthquakes
Sinkholes
Landslides
Mudflows
Government action (i.e. destruction, confiscation or seizure of covered property by any governmental or public authority)
Floods
Wildfires
Sewer back-ups
Intentional loss
Loss to property resulting from faulty zoning, bad repair or workmanship, faulty construction materials and defective maintenance.
Neglect of your property
Nuclear hazard
Ordinance or law: (i.e., demolition or construction required to bring your house up to code.)
Power failure
War
Water damage such as floods, sewer back-ups and water that seeps through the foundation.
That being said, homeowners insurance policies can be customized to your coverage needs for your home and your family
Umbrella coverage for increased liability
Business property insurance
Earthquake insurance
Flood insurance
Fire insurance (for wildfires)
And more
To get an idea of which policies you'll need to be adequately covered, consider speaking with an independent insurance agent today. You'll learn in the next section why an independent agent is an indispensable part of finding the right insurance.
Save on Home Insurance
Our independent agents shop around to find you the best coverage.
How Much Does Home Insurance Cost?
The average annual cost of homeowners insurance is $1,132 nationwide, but that cost can vary region to region, based on nasty hazards like floods and earthquakes. Find a complete state average cost list here >
Here's an idea of how much homeowners insurance varies by state: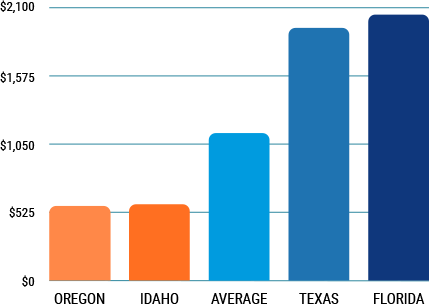 When Should I Get Home Insurance?
You should purchase homeowners insurance before you contact a mortgage company for a loan. Most mortgage companies will require you to have homeowners insurance in place prior to giving you a home loan, but don't wait until the last minute to start thinking about insurance.
It's important to shop around for the right policy for your needs. There are many factors that determine the right insurance coverage. An independent insurance agent in your area can help you compare policies and quotes to find the best coverage for your needs.
How Do I Get Home Insurance?
There are a number of different ways you can buy home insurance. You can go through a captive agent in your area, though you'll only be able to get one company's coverage options to choose from. You can shop online, though you may be missing out on the coverage you need in exchange for lower rates. Or you can go through an independent insurance agent.
With an independent insurance agent, you'll have someone local who you can speak face-to-face with. They'll walk through your needs with you, get a better understanding of your situation, and start shopping around with multiple carriers. They'll obtain the quotes you're looking for and bring them straight to you.
Then, you'll review your options, and they'll offer their expertise on customer needs and their background with all of these different carriers to help you decide what's right for you. You'll sign some papers and it's a done deal. Simple.
How Do I Find the Best Insurance Company?
Insurance companies range from big to small and each will offer their own unique sets of coverages. So how do you know how to find the right one? One of the easiest ways is to talk to an independent insurance agent. They work with all sorts of carriers every single day and can help steer you toward the most reputable. But if you want to take the research into your own hands, you should consider things like:
Home insurance discounts: Discounts lower your premiums. Carriers offer all sorts of discounts, from common ones like military and veteran discounts to more niche ones like clergy and farmer discounts. Don't be shy about asking what discounts a company offers and which discounts have already been applied to your quote.
Company size: Would you prefer a mom 'n' pop shop on Main Street or a sleek high-tech corporation? There's no right answer, just your preference, but be sure to factor it into your decision.
After-hours support: Check out a carrier's website to feel out their hours and claims support options. Most home insurance companies offer 24/7 claims reporting, but their hours for regular customer support with your bill or policy may be much more restrictive.
Ratings: A.M. Best. BBB. There are all sorts of company rating systems out there, all with information online that's only a click away. But sometimes the ratings that mean the most are the ones that come from friends and neighbors you trust.
Find more info on the best home insurance companies here.
How Do Insurance Companies Come Up with Homeowners Rates?
When you get a home insurance quote, your first concern is often the cost. How do insurance carriers decide that's the rate you should pay? Well, it goes a little like this:
They start by evaluating a series of risk factors that have number values (costs) associated with them, in a rating manual.
Risk factors may be things like age, gender, location, etc.—things that could increase the chances of you filing a claim.
The cost of the risk factors is determined through studies of historical trends, or via analytical models (basically, super sciency/mathy stuff).
They'll check off those attributes that apply to you.
A quote comes from the sum total of everything checked off on the list—plus a bit extra factored in for the insurance company's profit margin. However, due to competition from other companies, they might lower the price a bit.
NOTE: Quotes are subject to change—the insurance company may gradually increase your premium over time to keep up with the financial demands of offering the coverage.
Save on Home Insurance
Our independent agents shop around to find you the best coverage.
How Can an Independent Insurance Agent Help Me Find the Right Home Insurance Policy?
As you may be thinking, home insurance is a bit complicated and difficult to understand. That's why having an insurance expert to guide you along is a smart decision.
First, independent insurance agents can explain any concepts or parts of a policy that you may be unclear about. Knowing the exact coverage limits and how your policy functions is essential to finding the right home insurance policy, so having an expert to guide you is invaluable.
Second, an independent insurance agent can help you find the best insurer and policies. Instead of spending an inordinate amount of time comparing multiple quotes, an independent agent can suggest which policies are best suited to your needs.
Independent insurance agents have access to multiple insurance companies, ultimately finding you the best coverage, accessibility, and competitive pricing while working for you. Instead of settling for coverage offered by an insurer, you can get a broader view of what coverage you qualify for at the most affordable rates This is in contrast with dealing directly with an insurer, where company-specific agents may be more inclined to offer their company's coverage over its competitors, or they may work on a commission basis and won't have your best interests in mind.
Third, an independent insurance agent can accurately assess your property needs. Many independent agents serve a local community, so you can deal directly with someone who is aware of the challenges and risks that your property faces. Some agents will even visit a home if needed, especially on larger homes or extensive properties that need a professional's eye for potential risk factors.
Your home may be near waterways that could be a flood risk. A local independent agent can inform you of the risk, whereas an agent that takes your call would be unaware of this potential hazard. Find an independent insurance agent in your community here.
TrustedChoice.com Article | Reviewed by Paul Martin
©2022, Consumer Agent Portal, LLC. All rights reserved.
https://www.allstate.com/tr/home-insurance/why-do-i-need-home-insurance.aspx
https://www.esurance.com/info/homeowners/6-reasons-why-you-should-get-homeowners-insurance